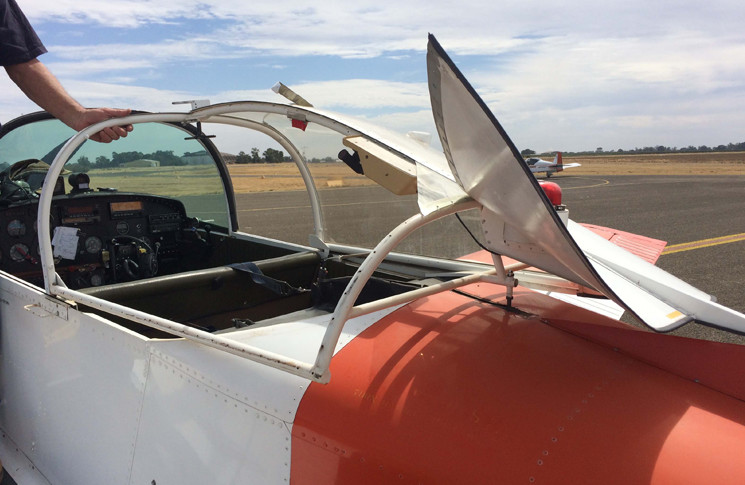 AESL Airtourer T-6 Flight compartment windows—canopy disengaged. SDR 510022875 (photo above)
While conducting aerobatics, pulled 4.8 G into a looping manoeuvre when the left hand side of the canopy transparency departed the aircraft. Recovered upright then landed. It is though that initially attaching rivets failed with lift loads, giving way to canopy peeling off thereafter.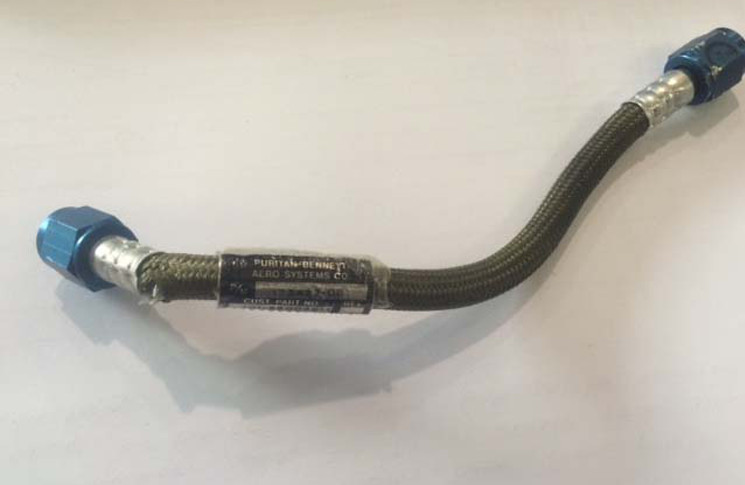 Beech 200BEECH Crew oxygen system—hose fitting ruptured. SDR 510022888 (photo above)
Oxygen turned on and leak heard from behind pilot oxygen trim jack. Investigation found that hose had ruptured at swaged end of hose. P/No: 17342708. TSN: 7788 hours/7720 cycles.
Beech 200BEECH Fuselage plates/skin—skin cracked. SDR 510022892
During rectification of a high cabin leak rate, crack was found in Stringer No. 9 and the associated skin between FS305 and FS307 (Rear Pressure Bulkhead) along the rivet line.
Beech 58 Landing gear actuator—actuator leaking. SDR 510022658
During progressive care check six of 12 the operational check for landing gear serviceability was carried out. An abnormal mechanical noise was heard. Further inspection found actuator assembly was weeping oil. Landing gear actuator assembly and landing gear motor removed. Split the actuator to find sector gear upside down and found contamination of the oil. Operational check of gear motor found satisfactory. P/No: 9581001737. TSO: 992 hours.
Beech B200C ATC transponder system—transponder slow response. SDR 510022764
On climb, the captain reported that both ATC transponders were not working. On the advice from the chief pilot, the captain was informed that these transponders take some time to warm up, but as the aircraft was approaching Brisbane airspace, the captain decided to return. Shortly before touchdown the transponders indicated they were being interrogated, but as more fuel was now required, the aircraft landed. After refuelling and establishing that both transponders were operating normally, the aircraft completed its rotation.
Beech B200C Cabin compressor system—compressor misaligned. SDR 510022848
Following an air conditioning compressor installation, engine RPM dependent vibrations felt in the cabin. Compressor replaced. One similar defect reported. P/No: 1015552117. TSN: 6 hours/6 cycles.
Beech B200C Cabin pressure controller—flow control unit failed. SDR 510022631
Pilot reported unable to maintain cabin altitude in auto/low mode. LH flow control valve replaced. P/No: 10138002521. TSO: 3 hours/2 landings.
Beech B200C Flight compartment windows—windshield damaged. SDR 510022768
Two contributory factors (intermittent temperature sensor shorting to the frame resulting in a low current and loose earthing terminal creating high resistance) identified in windshield overheat event. A fleet wise campaign planned for windshield inspection. P/No: 10138402523.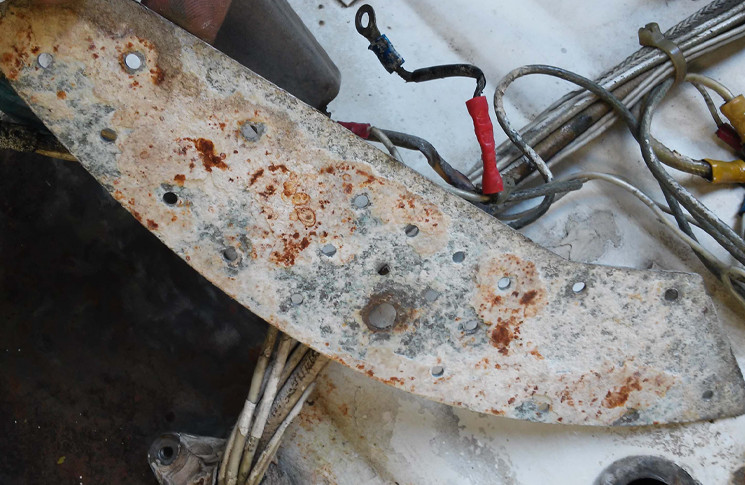 Cessna 150L Engine mount section—doubler corroded. SDR 510022622 (photo above)
During a periodic inspection it was noticed that there was eight x missing rivets and extensive corrosion around the firewall doubler top left side. Engine mount and doubler was removed, the area had not been primed between the Alclad doubler and the steel firewall and severe corrosion had taken place to the doubler and rivets. A serviceable doubler was etch primed and refitted. This area would be prone to corrosion with dissimilar metals and probably required more detailed attention possibly at Engine change or when carrying out the engine frame inspection SID. P/No: 04531165. TSN: 8549 hours/480 months.
Cessna 172R Engine oil system (airframe)—oil line cracked. SDR 510022734
Oil leak reported from right nacelle, sump level had decreased four quarts in flight. Stainless oil line on right side of crankcase found cracked in bend radius. P/No: 0500118170.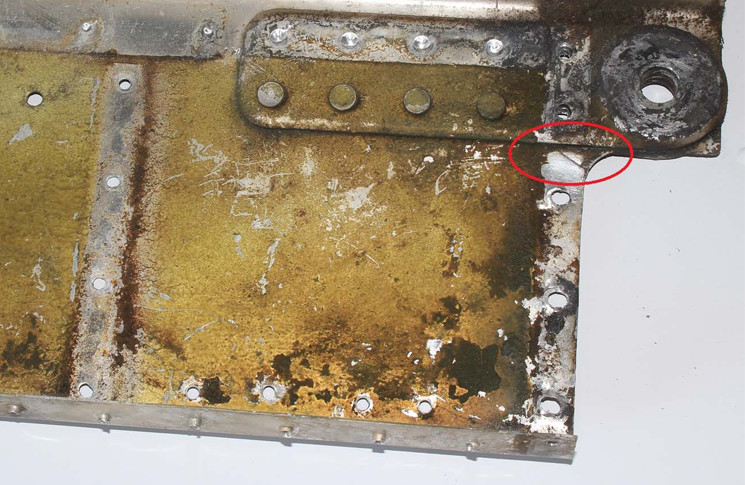 Cessna 182L Wing spar—spar cracked. SDR 510022686 (photo above)
Crack found visually during routine CASA Schedule five periodic inspection and AD/CESSNA 180/15 Amdt 4. Crack is in a known area indicated by an AD. Repaired in accordance with Engineering Order. P/No: 0523400111. TSN: 8447 hours TSO: 8447 hours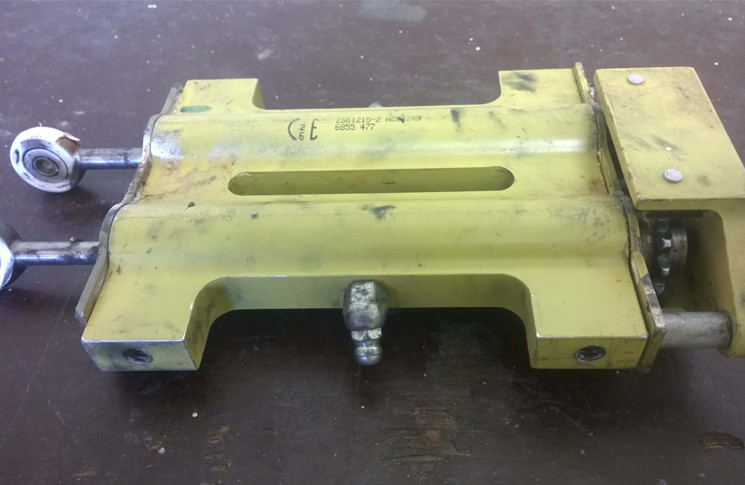 Cessna 208B Elevator tab control system—actuator SUP. SDR 510022791 (photo above)
The component has been fitted with grease nipples. No evidence of an order or bulletin for this approving this modification can be found. An internal investigation has commenced in order to try and ascertain when this has occurred. Initial observations are that the component has been fitted since manufacture of the aircraft and it has been modified whilst under control of a previous operator. P/No: 26612151.
Cessna 402B Landing gear retract/extension system—retraction rod serviceable. SDR 510022814
Pilot reported that RH nose gear door retract rod appears to be bent. Consequent to a maintenance error, LH and RH nose gear door retract rods were fitted to the opposite side. Minor scratch was observed on the LH nose gear door retract rod. No other damage was found. Both retract rods were refitted to the correct side and rigging carried out satisfactory.
Cessna 441 Landing gear retract/extension system—hose leaking. SDR 510022752
Pilot reported landing gear failed to retract. Both low HYD flow lights illuminated and flaps retracted very slowly. It was found that hydraulic fluid was leaking from the aft end of nose gear extension line at union where the nut was found loose. All fittings of nose gear extension and retraction lines re-torqued. Leak checks carried out satisfactory. System tested & serviced. P/No: 57170224.
Cessna 441 Landing gear retract/extension system—hydraulic line corroded. SDR 510022697
Flight crew observed hydraulic fluid under fuselage. On inspection, it was found two hydraulic lines P/N 5717022-4 (Nose Gear Extend Line Assembly—Union to Union) and 5717022—three (Nose Gear Retract Line Assembly—Union to Union) unserviceable. One line found to be corroded and one leaking from air ducting causing corrosion. P/No: 57170225457170223. TSN: 8869 hours.
Cessna A150M Fuselage stabiliser attach fittings—fitting cracked. SDR 510022850
Vertical stabiliser attach fitting had been undergoing repeat NDT inspections (IAW AD/C150/31 Amdt 4) revealing no flaw. However, inspections under SIDs revealed a crack. P/No: 04310093. TSN: 6889 hours.
Cessna P206E Wing attach fittings—strut cracked. SDR 51002264
Eddy current inspections carried out on the following SIDs on the above aircraft:
57—11—01 Wing Structure
57—40—01 Strut & Strut wing attach
Crack indication detected on the RH Strut, Lower fwd lug.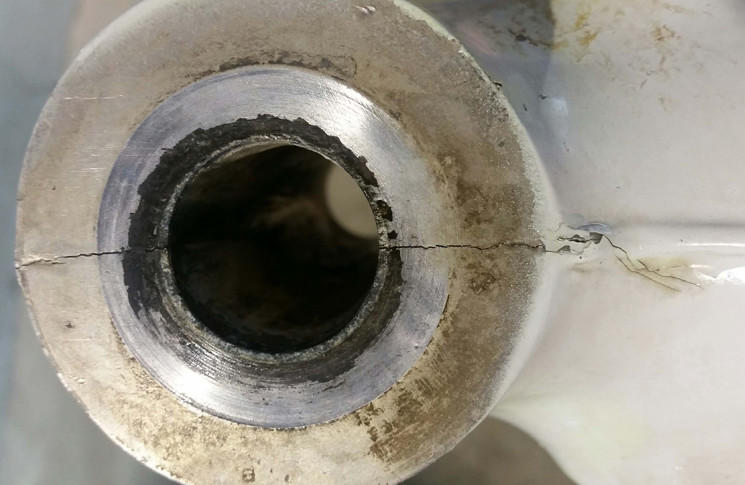 Cessna T303 Main landing gear—torque link cracked. SDR 510022876. (photo above)
During periodic inspection, crack found in upper cast mark in LH MLG lower link assembly. P/No: 25410411.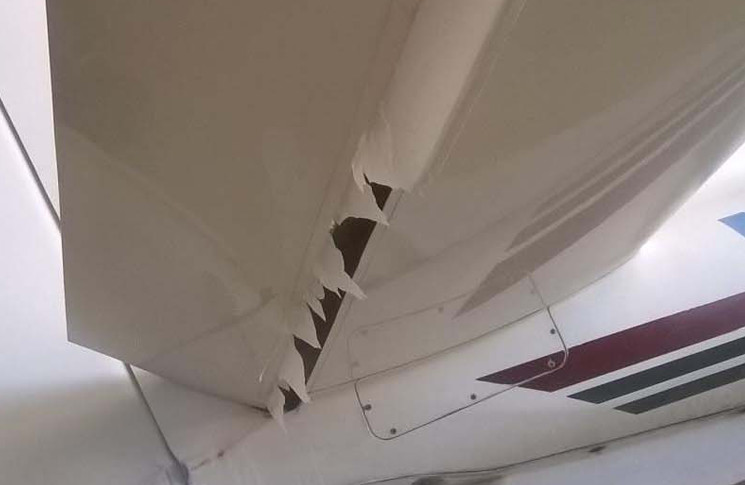 Grob G115C2 Elevator control system—seal damaged. SDR 510022893 (photo above)
The right hand elevator Teflon gap seal was found damaged after the instructor returned to base because of the need for excessive back pressure on the elevator after conducting an unusual recovery lesson with a student. After return to the hangar it was discovered that the gap seal had come out of its position between the elevator and horizontal stabiliser and was damaged considerably. The gap seal then hindered elevator operation in nose down control. This is the first occurrence of this failure in the 20 years of operating the Grobs Type and are an on condition maintenance item. Recommended to limit 3000 hour life limit to the gap seals to ensure good reliability. P/No: 1460856512.
Grob G115C2 Flight control system—interconnector failed. SDR 510022792
Interconnect spring between aileron and rudder failed. Two springs are in the system. The forward spring failed which biases the control yoke over to the left (left wing down). Slight positive RH pressure on the control column was thus required to fly straight and level. One similar defect reported. P/No: GS513017RZ1241.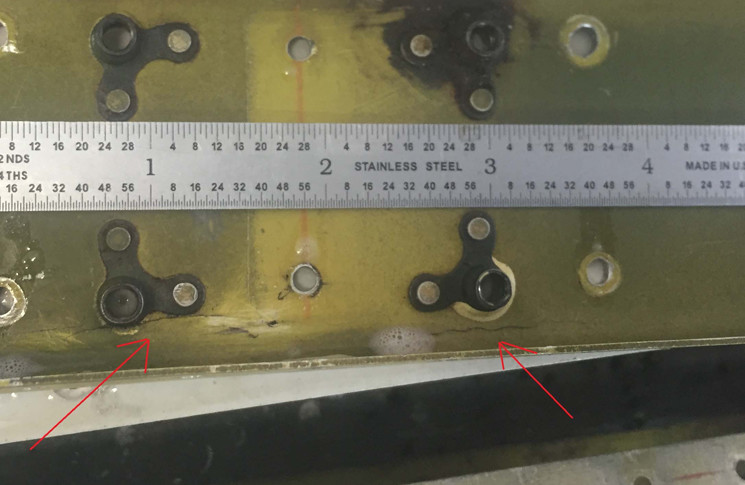 GULFSTREAM AEROSPACE 500S Wing spar—spar cap cracked and corroded. SDR 510022873 (photo above)
L/H aileron was removed for access to leading edge skin for repair of corrosion. During the disassembly process, spar was inspected and found cracked (one inch typical length running longitudinally) in the area of the middle hinge mounting. Other ailerons were also found with similar cracks. Repairs in progress. P/No: 25000166.
Gulfstream G73AT Elevator structure—hinge corroded. SDR 510022701
After removal from the aircraft the elevator was undergoing an 800 hourly scheduled inspection when the corroded hinge fitting was discovered. This fitting cannot be seen without removal of the elevator and is not normally subject of 100/200 hourly inspections. This corrosion not being detected in a lesser calendar time is possibly due to the reduction in aircraft utilisation thus extending the 800 hour inspections from approximately 12 months to in excess of 24 months in some cases. P/No: 112203TDE2527. TSN: 790 hours/35 months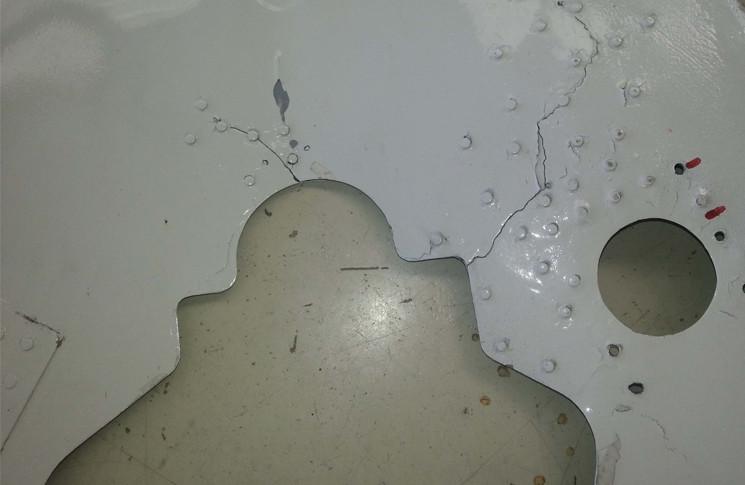 Piper PA22108 Engine cowling system—cowling cracked. SDR 510022793 (photo above)
Extensive cracking on lower engine cowl surrounding air duct. Cracks stop drilled. Cracking continuing through repair patches and stop drills. Cowl old and fatigued. Cowl skin renewed. P/No: 1425605.
Piper PA24250 Flight control system—cable corroded and frayed. SDR 510022839
During scheduled inspection, corroded flight control cables were found that apparently escaped previous many inspections due to difficult access conditions. Possible non-compliance of ICA. P/No: Various.
Piper PA28151 Fuselage wing attach fittings—spar corroded. SDR 510022614
During a periodic inspection in accordance with AD/PA28/40, evidence of corrosion and missing rivets was found at the LH rear wing spar attachment fitting. Fitting was removed and serious corrosion and some cracking found in the rear spar, structure repaired IAW Piper service kit 764998 aft spar rework.
Piper PA32301 Ailerons—rib cracked. SDR 510022643
Fluorescent dye penetrant inspection carried out on LH and RH Aileron ribs on above aircraft IAW SB 1216B. Crack indication detected on LH Aileron rib.
Piper PA32R300 Horizontal stabiliser structure—bracket corroded. SDR 510022803
Horizontal stabiliser attach bracket assembly was found to have exfoliation corrosion during scheduled maintenance. P/No: 62645004. TSN: 4415 hours.
Piper PA32R301 Landing gear retract/extension system—microswitch failed to engage. SDR 510022838
After landing gear retraction, gear up indication failed. No lights for gear down either. P/No: PIP36742015. TSN: 1972 hours/1806 landings/50 months.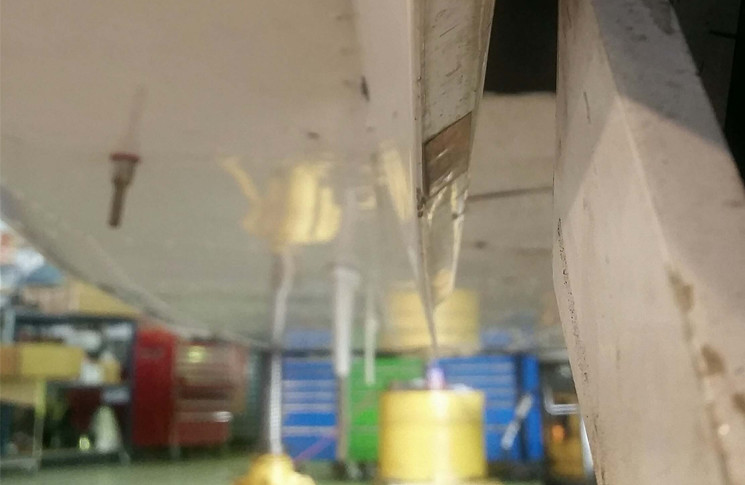 Tecnam P2006 Main landing gear attach section—hinge incorrect rigged. SDR 510022718 (photo above)
After reports of in transit light illuminated after gear retraction troubleshooting was carried out. A screw was discovered on the RH nose gear door which interfered with the operation of the nose wheel fork. There is no rigging procedure for the undercarriage and gear door systems in the maintenance manual. P/No: 26217161.
VICTA 100 Fuselage longeron/stringer—longeron corroded. SDR 510022663
Inspection carried out per CASA AWB 53-008 Issue 1: Right hand steel splice found corroded. Skin panels de-riveted for access to longeron joint. Steel reinforcement removed and corrosion cleaned off all parts. Thorough inspection carried out—all parts found to be within acceptable limits. Area primed with epoxy primer and reinforcement reassembled. Skin panels re-riveted together. No corrosion evident on LH side of aircraft. P/No: 330171. TSN: 15230 hours.