Continental IO360HB Reciprocating engine power section—valve lifter faulty. SDR 510022695
The pilot felt a heavy vibration and heard the engine tone change, when the engine instruments were checked the RPM had decayed and was rising back through 2300RPM. After two to three seconds the engine recovered to normal indications. The rough running checklist was completed and the aircraft turned towards low key. After extensive engine inspections it was found that the Check Valve Assembly Cap had become loose within the Hydraulic Lifter, consequently affecting valve lift and causing the rough running experienced. Due to the number of Hydraulic Lifters Assemblies affected it was concluded to be a batch issue, research was conducted to determine the impact on our fleet and all affected aircraft removed from service until Hydraulic lifters had been replaced. Defective Hydraulic Lifters and all batch related Lifters to be returned to TCM for further investigation. P/No: 658106. TSN: 328 hours TSO: 328 hours.
Curtis Wright R335093 Reciprocating engine cylinder section—cylinder barrel damaged. SDR 510022627
Ignition analyser indicated possible defect in No. 2 engine and No. 6 cylinder. Aircraft landed shortly after with engine at min power. No. 2 cowls opened, found cylinder exhaust pipe clamp loose, exhaust pipe detached from cylinder. Exhaust blow by damaged cylinder baffle and cylinder fins. No. 6 cylinder removed and inspected. Inspection revealed a small section of cylinder material supporting the exhaust valve guide had broken off, and presumably, subsequently severely damaged cylinder adjacent to the exhaust port enabling exhaust blow by damaging left side cooling baffles and eroding cylinder fins below the exhaust pipe location. Cylinder replaced with serviceable unit. P/No: 434182. TSO: 1474 hours.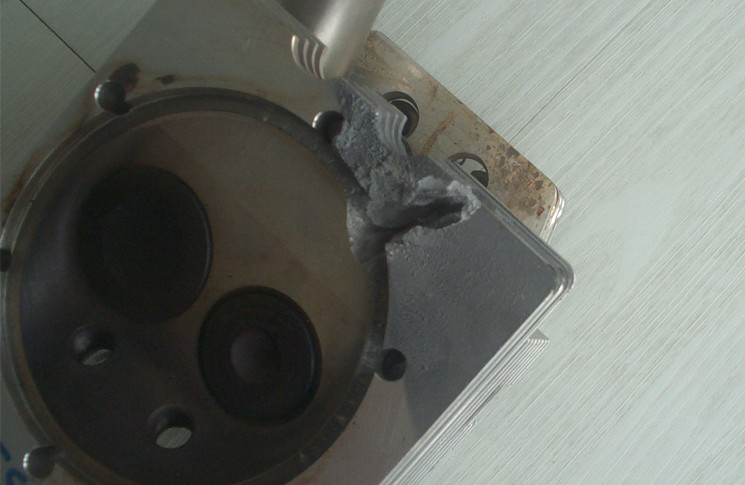 Jabiru JABIRU3300 Reciprocating engine power section—cylinder head damaged. SDR 510022804 (photo above)
Pilot applied full power for a climb to 4000ft for stall testing. Extensive vibration was experienced from the engine bay, power was reduced and an incident free landing was carried out. Cowls were removed and revealed a hole was in the bottom of cylinder head No 6. The head was removed revealing a 40mm hole between the barrel and the cylinder head.
Lycoming IO360L2A Engine fuel pump—pump leaking. SDR 510022737
Pilot reported oil beneath aircraft when not used for two days, high oil level (approx. 15qts) and engine felt like it had a hydraulic lock when propeller was turned. Upon inspection that engine fuel pump was leaking form the accessory case side of the diaphragm filling the engine with fuel. Fuel pump was replaced & oil system drained & serviced. P/No: LW1547362B26931. TSN: 97 hours/4 months.
Lycoming IO360M1A Engine reciprocating—filter split. SDR 510022728
Air filter base split. Four similar defects reported. P/No: FR08504. TSN: 187 hours.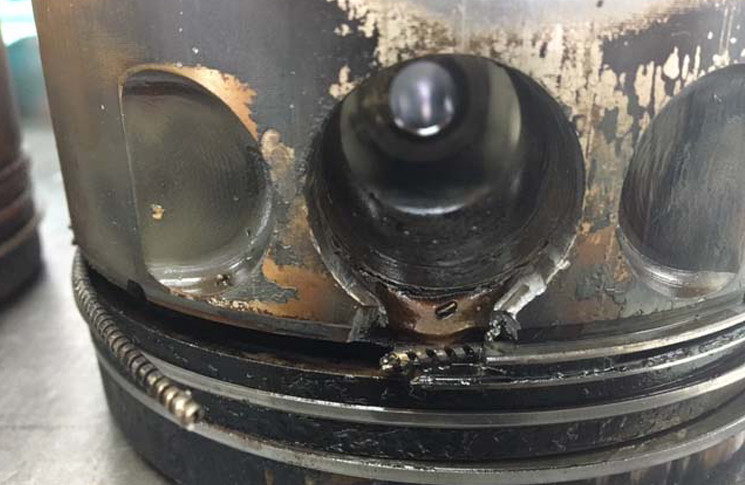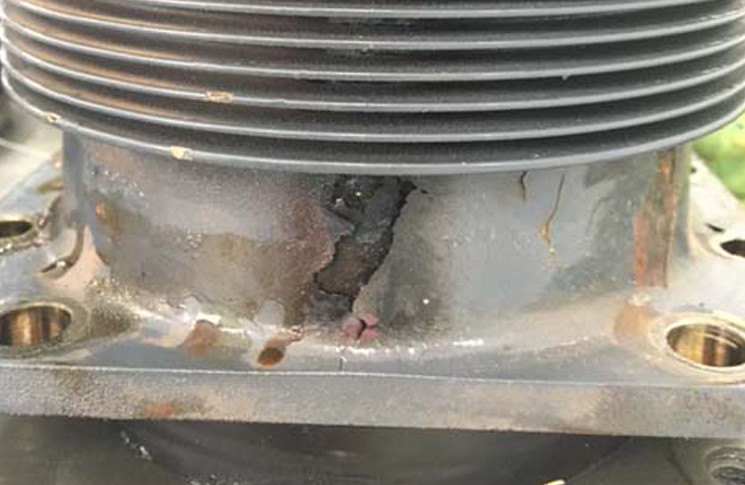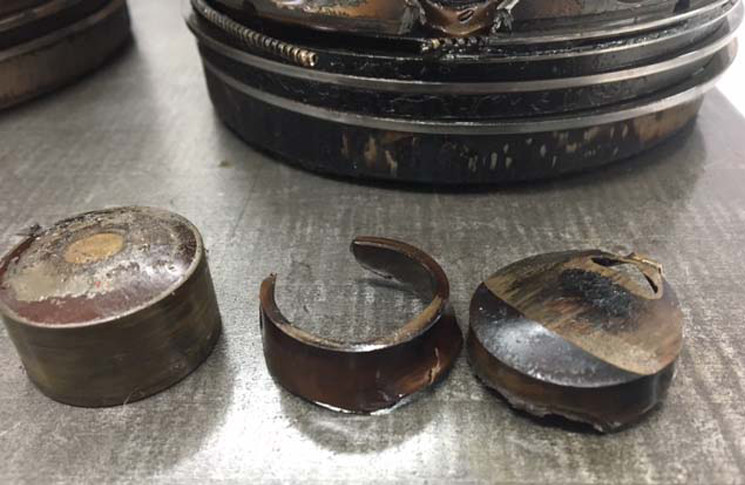 Lycoming IO540F1B5 Engine reciprocating—piston engine worn and damaged. SDR 510022815 (photos above)
Major engine damage reported due to a badly worn piston pin plug in the No. 2 cylinder. Engine recently inspected against 100 hour and oil filter contamination. Oil filter contamination was excessive. Other 11 piston pin plugs were all either moderately worn or severely worn (up to 0.040 wear on some). This engine was previously overhauled with new cylinder kits which come with new pistons, piston pins and piston pin plugs. This problem seems to be only occurring on R22/R44 engines—not on fixed wing with the same parts fitted. P/No: 0540F1B5. TSN: 5508 hours TSO: 1390 hours.
Lycoming O320 Engine fuel/oil cooler—hose time expired. SDR 510022615
During other maintenance it was noticed that the oil cooler hoses where not in compliance with AD/PA28/94 in that they were not clearly marked with TSO 53A type D and were manufactured over 17 years ago. AD/PA28/94 list replacement at eight years for non TSO 53A type D hoses. Hoses replaced with new TSO 53A type D hoses iaw AD. P/No: 124J0018CR0494. TSN: /211 months.
Lycoming O540A1D5 Engine reciprocating—hose fitting broken. SDR 510022823
Engine power loss as a result of fuel starvation due broken fuel pipe fitting from the fuel pump. Incorrect PN installation identified as the root cause of the event. P/No: MS208236. TSO: 527 hours.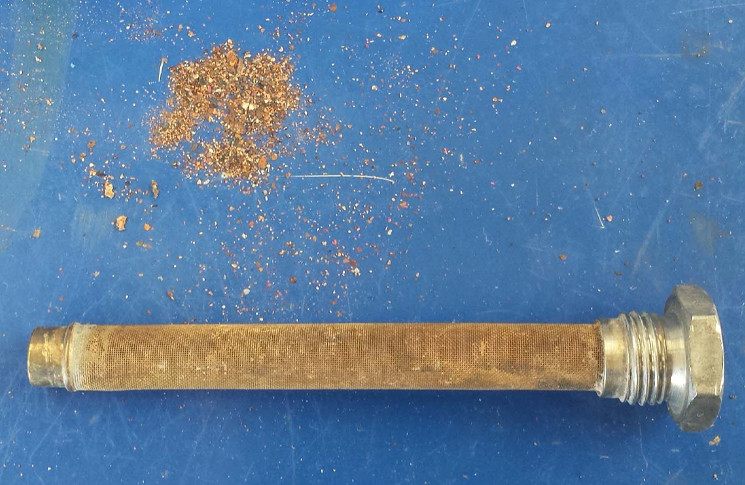 Lycoming O540E4B5 Reciprocating engine power section—carburettor contaminated. SDR 510022859 (photo above)
During first annual maintenance check, carburettor bowl was drained and fuel finger filter checked. Significant fuel contamination was found in both places. Consequently, carburettor was removed and sent for repairs. Fuel system flushing followed.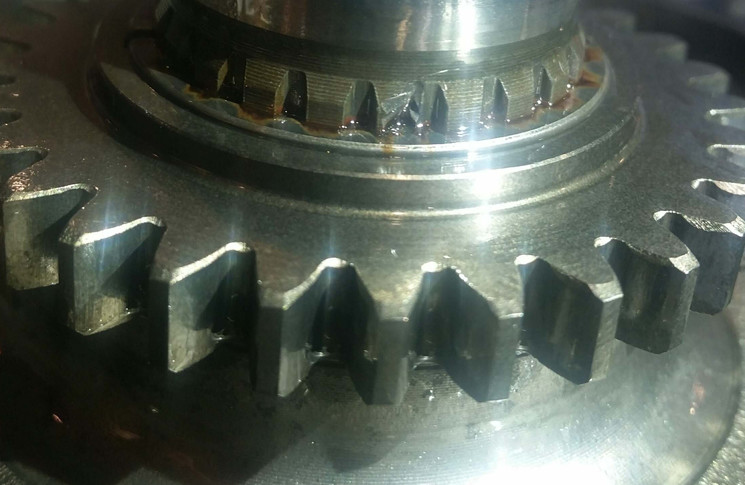 Rotax ROTAX912 Engine reciprocating—reduction gearbox unserviceable. SDR 510022820 (photo above)
A large chip of metal was located on reduction gearbox magnetic plug during scheduled maintenance. Gear box removed and broken spline was located on the propeller shaft. One similar defect reported. P/No: 887708. TSN: 1014 hours.