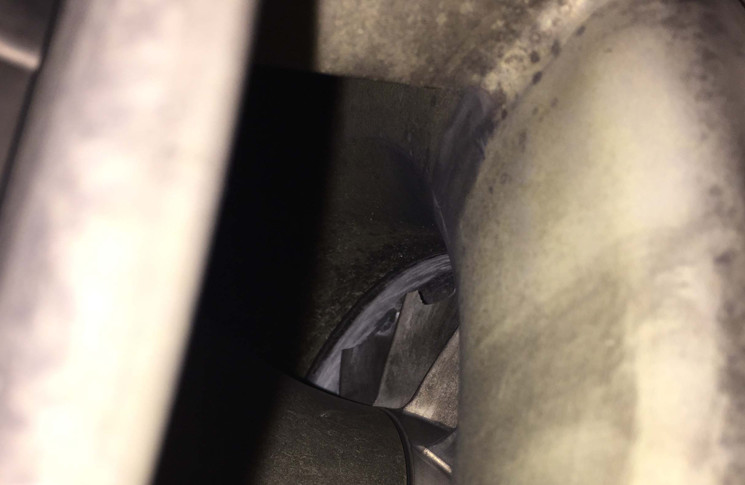 Airbus A319-115 APU system—APU damaged. SDR 510022883 (photo above)
While APU in operation on the ground, inlet guide vane delaminated and passed through APU. Three of the compressor blades were damaged. APU replacement is in progress. P/No: 4500001B. TSN: 6850 hours/6626 cycles/176 months.
Airbus A320-232 Landing gear steering system—nose wheel steering faulty. SDR 510022743
At approximately 800 feet on the final approach to land, crew received ECAM: WHEEL. N/W STRG FAULT. Crew completed ECAM actions, checklists, reviewed resets, QRH and FCOM. No other ECAM messages were evident. Crew landed uneventfully with significant rudder input required to maintain the centreline, and when at a slow taxi speed, captain checked the tiller control but there was no response. Nosewheel servo control assembly replaced IAW AMM. Functional test carried out with no faults found.
Airbus A320-232 Pneumatic distribution system—fan air valve faulty. SDR 510022676
After landing, crew reported ECAM message Air Eng No. 2 bleed hi temp (phase 9). Eng No. 1 bleed was under MEL at that time. CNS engineering carried out troubleshooting and No. 2 Eng fan air valve (FAV) was slow to move to open position. No. 2 FAV was replaced. Ops test of No. 2 Eng bleed air system carried out and all operations and indications normal. Outlet temp sensor was replaced on No. 1 Eng. Ops test of No. 1 Eng bleed air system carried out and all operations and indications normal. MEL removed. P/No: 6730F010000. TSN: 22658 hours/13092 cycles
Airbus A330-243 Hydraulic power accumulator main—check valve moved. SDR 510022716
EASA AD 2015-0009 repeat inspection of the high pressure manifold check valves, head migration found on the green, yellow and blue hydraulic system check valves. No signs of fluid leak were observed and the associated lock wires found not broken. Lock wires replaced, torque restored and paint markings reapplied in accordance with AOT A29L001-12 instructions. One similar defect reported. P/No: CAR401.
Airbus A330-301 Fuel selector/shutoff valve—spar valve failed. SDR 510022847
During pre-flight checks, the flight crew noted ECAM msg 'FUEL ENG 1 LP VALVE FAULT'. Troubleshooting confirmed LP valve failed in the open position as could not be controlled by operating fire handle either. Valve actuator was replaced. P/No: FRH010041. TSN: 28242 hours TSO: 28242 hours.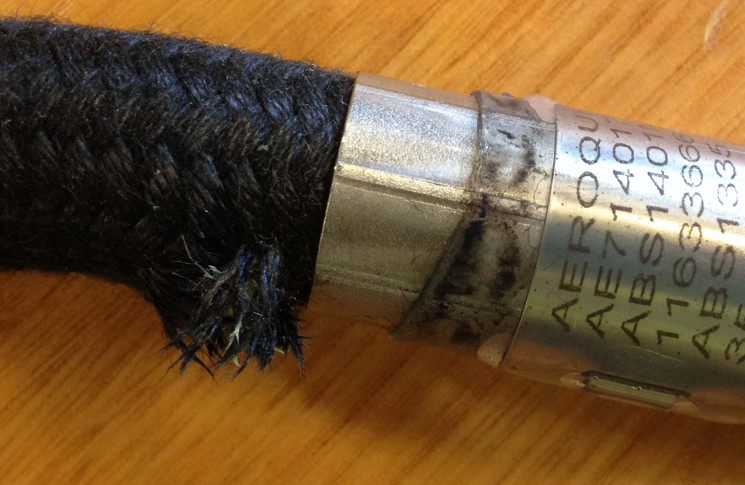 Airbus A380-842 Landing gear door retract section—hose damaged. SDR 510022696 (photo above)
One hour into cruise, Y hydraulic system lost fluid. On arrival, hose for L/H BLG centre door was found to have failed. Defective hose replaced, aircraft cleaned and returned to service. These hoses are due for replacement in accordance with SB A380-29-8031. P/No: ABS1401M00AF544.
ATR ATR72212A Brake—clevis pin SUP. SDR 510022635
The flight crew reported RH brake pedal spongy. Troubleshooting determined the brake force feel spring of the RH brake pedal required replacement. During replacement of the pedal spring, the attachment pin was found to be a suspected unapproved part. Inspection confirmed there appears to be some grinding work carried out on the ends of the pin halves to allow fitment. Pin had to be cut in two to facilitate removal. P/No: S2728117920200.
Beech 1900C Oxygen system—bolt unapproved part. SDR 510022827
While removing oxygen bottles during scheduled maintenance event, T-bolts and mounting brackets attaching oxygen bottles appeared unapproved as per their physical appearance, brown colour and commercially welded. Approved Mounting Brackets were fitted to the aircraft (both Mounting Bracket Assemblies). Installation history could not be traced from the maintenance records.
Boeing 717-200 Aircraft fuel filter—filter missing. SDR 510022740
While carrying out scheduled maintenance on RH engine, the low pressure filter was found not to be fitted. Engineers replacing the low pressure fuel filter and inspecting the high pressure filter IAW Rolls Royce instructions. Investigation ongoing P/No: MFFA1010.
Boeing 737-838 AC inverter—inverter burnt out. SDR 510022884
During close up of heavy maintenance, power reconnected, a strong burning smell with smoke was witnessed from electronics rack. Smoke/smell was traced back to burnt static inverter with associated CB tripped. Static inverter replaced, follow up tests satisfactory. P/No: 100201022090. TSN: 21692 hours TSO: 21692 hours.
Boeing 737-838 Crew oxygen system—oxygen system failed test. SDR 510022732
During pre-flight checks crew oxygen found to drop to approx. 400 psi during test and return to 1800 psi after test complete. Investigation found crew O2 bottle 1/2 a turn from off/closed and flow restricted.
Boeing 737-8BK Fuselage structure—doubler corroded. SDR 510022759
Corrosion was found LH side of production external doubler around tailskid support structure. As a rectification action, IAW Boeing category A repair approval, damage was trimmed. Skin and open fastener holes were inspected. Three oversized fasteners and one protruding head were installed. P/No: 148A33256.
Boeing 737-8FE Crew oxygen system—transducer faulty. SDR 510022709
During maintenance engineer noticed crew oxygen bottle gage indication at zero. Transducer/Regulator assembly found leaking at a high rate. Leaking, regulator/ transducer assembly replaced and emptied bottle replaced. System re-pressurised with nil further evidence of leak. P/No: 80316313. TSN: 41805 hours/24519 cycles.
Boeing 737-8FE Dependent position determining system—antenna unserviceable. SDR 510022901
Flight crew reported Transponders 1 and 2 failed on taxi out. CB's cycled under engineering guidance and problem was not rectified. Fault confirmed. ATC XPDR BITE check carried out IAW approved data. Bottom Antenna replaced and tested satisfactory IAW AMM. No previous history and no further occurrences. P/N in question is under monitoring by Reliability Program with no alerts and no current emerging issues. P/No: DM1601354001.
Boeing 737-8FE Fuselage plates/skin—skin corroded. SDR 510022805
During heavy maintenance check, corrosion was found on the FWD Edge of the APU at BSTA 1088, S-21L Skin. Corrosion removed by blend out in accordance with manufacturer's data.
Boeing 737-8FE Hydraulic system main—pump faulty. SDR 510022724
The flight crew reported, No. 2 engine hydraulic low pressure (EDP) indication light and feel diff pressure light illuminating in cruise. Troubleshooting detected, large amount of hydraulic fluid was coming out from under the No. 2 engine fan cowls. The No. 2 hydraulic pump had failed and contaminated the 'B' system case drain filter, reservoir and hydraulic lines. No. 2 engine hydraulic (EDP) pump and case drain filter replaced. 'B' system flushed including lines. Test satisfactory with nil leaks. P/No: 66087. TSN: 31719 hours/15705 cycles
Boeing 737-8FE Trailing edge flaps—flap corroded. SDR 510022777
During scheduled maintenance, corrosion was evident on Inboard Flap Trailing Edge and top of wedge. Corrosion was removed and surface blended. HFEC carried out with nil defects evident.
Boeing 747-438 Escape slide—slide low pressure. SDR 510022742
During scheduled inspection of the Door 3L slide inflation bottle, it was found that the pressure gauge reading was below the green band. The slide assembly was replaced with a serviceable unit. The subject slide was dispatched to the workshop for investigation. P/No: 7A141823. TSO: 2487 hours.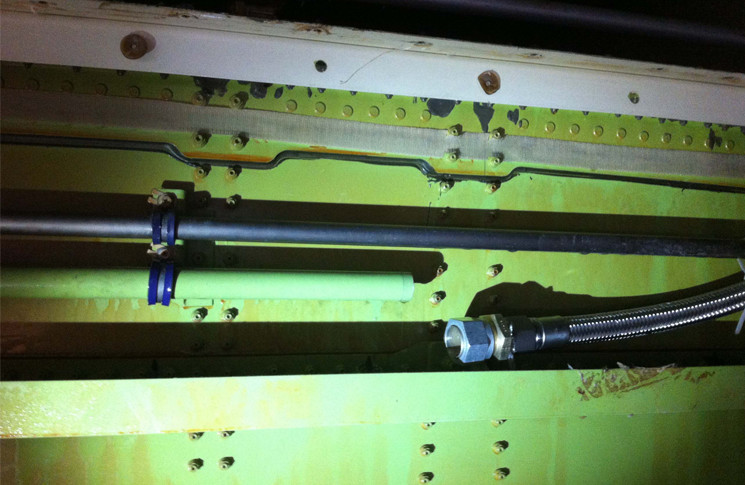 Boeing 747-438 Hydraulic power system—hydraulic line failed. SDR 510022783 (photo above)
During approach, following gear down selection, HYD QTY LOW 4 and HYD PRESS SYS 4 EICAS msgs flagged, with complete loss of No. 4 hydraulic system. The NNC was completed and the landing was uneventful. Preliminary engineering investigation found that a temporary repair fitted to a No. 4 system hydraulic line in the aft cargo area had failed. The temporary repair had been fitted during the preceding transit to address a minor hydraulic leak.
Bombardier DHC8-102 Electrical power system—connector contaminated—water. SDR 510022904
During cruise, captain flight instruments and FMS power down as well as cabin pressure surges were reported. Cabin pressure light also illuminated. After two to three minutes, instruments and cabin pressure re—established. Lightning strike was suspected but not agreed upon between the crew. After safe landing, lightning strike inspection was carried out. In addition, LH bus and CB panel connections were inspected for condition and signs of arching. Various relevant connectors were checked for integrity. OEM was contacted and no additional work instructions received. Extensive ground runs and simulations conducted and all systems tested serviceable IAW AMM, Aircraft was returned to service.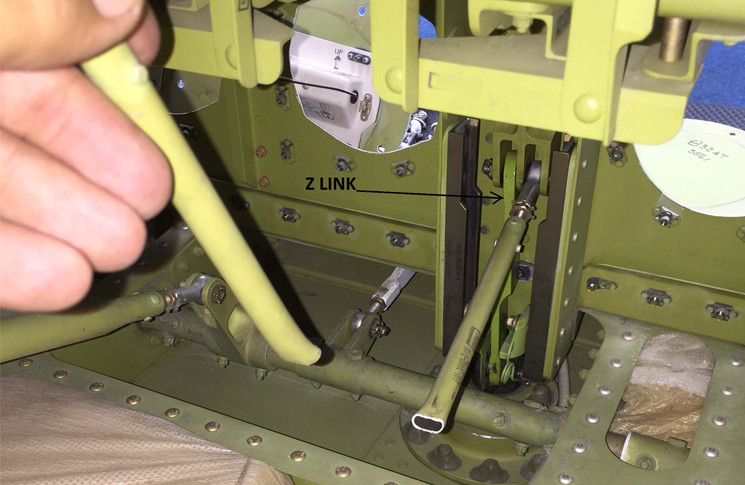 Canadair CL6002B16p passenger/crew doors—linkage incorrect assembly. SDR 510022710. (photo above)
Crew noticed cabin door support foot which usually retracts was extended. Z link incorrectly installed (backwards). Disassembled during SB. Full investigation to follow.
Embraer ERJ-190-100 Fuselage internal stairs—bracket corroded. SDR 510022843
Level 2 corrosion was found on Aft Cargo Floor Panel support bracket/channel at frame 77. Corrosion repaired IAW approved data and structural integrity tests satisfactory. Several similar defects reported. P/No: 17085659001.
Fokker F27MK50 Air intake anti-ice/de-ice system—anti ice valve unserviceable. SDR 510022667
On descent, LH engine experienced anti- ice fault. With unserviceable anti ice, descent was not possible due unfavourable weather conditions. Air return was planned and landed safely. Ground checks included examination of brush block and slip rings for oil contamination, slip rings cleaned. L/H spinner removed, inspected for burning marks, correct alignment of contacts and contamination. All contacts cleaned, resistance checks prop deice assembly checked satisfactory. Spinner reinstalled and ops check of prop anti-icing system C/O satisfactory IAW AMM chapter 30.
Fokker F27MK50 Engine indicating system—engine indicating low reading. SDR 510022693
On application of power all indication were normal, however the 60 KIAS power check showed the left torque to be below the calculated torque by 2.7%, outside of the 2% tolerance at 81.4% and the take—off was rejected—right torque was 85.3%. During the taxi in it was noted that the Left Torque Bug was indicating approximately 4% lower than the Right torque bug. Investigation ongoing.
Fokker F28 MK0100 Airspeed/mach indicator—pitot head blocked. SDR 510022652
During take-off, the flight crew identified that the co-pilots side air-speed indication was zero, with the captain's side was indicating 80 Knots Indicated Air-Speed (KIAS). Engineering staff carried out troubleshooting, with the associated pitot tube identified to be blocked by a wasp which had been roasted by the hot pitot tube. Subsequently the pitot tube was cleared, leak and operational checks were carried out without fault, and the system was declared serviceable.
Fokker F28 MK0100 Landing gear brake system—brake unserviceable. SDR 510022711
Right hand brakes locked up during taxi-out. Engineering found the No. 4 brake unit jammed inside the Main Landing Gear (MLG) wheel. The brake assembly was replaced and brakes bled. A large amount of air was noted in the brake system during the bleeding process. Engineers replaced the RH Normal Brake Control Valve as a precaution. Investigation ongoing.
Fokker F28 MK0100 Passenger station equipment system—seat frame damaged. SDR 510022837
Multiple passenger seat assemblies found structurally unserviceable that necessitated application of MEL and stagger so as to maintain condition of safe emergency exit intact.
Fokker F28 MK070 Elevator structure—bolt sheared. SDR 510022678
During scheduled maintenance inspection, engineering staff identified a left hand elevator inboard Hinge Point aft bearing retainer plate bolt, which had sheared in line with the split pin hole. The sheared bolt, two remaining retainer plate bolts, and their associated parts, are scheduled to be replaced during the aircrafts current maintenance check, once the required parts are sourced. Preliminary investigation has identified that the sheared bolt and associated split pin have remained secured in place, despite bolt failure, with no loosening or insecurity of the retainer plate. Investigation ongoing.
Saab SF340A Shimmy damper—shimmy damper low oil quantity. SDR 510022775
Crew noted an oscillation and shudder during descent. Inspection revealed rudder trim tab damper low on oil (nil damping action). Damper removed, serviced and reinstalled. P/No: 43026.