Beech 200 wing attach fittings—bolt damaged. SDR 510023154
During inspections as per AD/BEECH 200/38 Amdt 6, damage was observed on LH/RH upper forward bolt (washer impression on bolt head), LH/RH lower rear bolt (corrosion on shank), LH lower forward bolt (mechanical damage) and LH/RH upper forward attach fittings (washer impressions on the counter bore radius and mechanical damage in the bore). All unserviceable bolts were replaced with new items. Damage to the attach fittings was repaired as per advice from OEM Technical Services.
Beech B200C fuel storage—fuel cell punctured. SDR 510023020 (photo above)
Post maintenance, fuel leak detected in one of the flexible fuel cells. It appears to be an adhesive failure. Investigations in progress. P/No: 21026. TSN: 210 hours/205 landings/59 months TSO: /205 landings.
Beech B350 aileron control system—barrel loose. SDR 510023205
While rectifying defect of low aileron trim cable tension, one of the cable turnbuckles was found loose, not locked. Rectifications planned.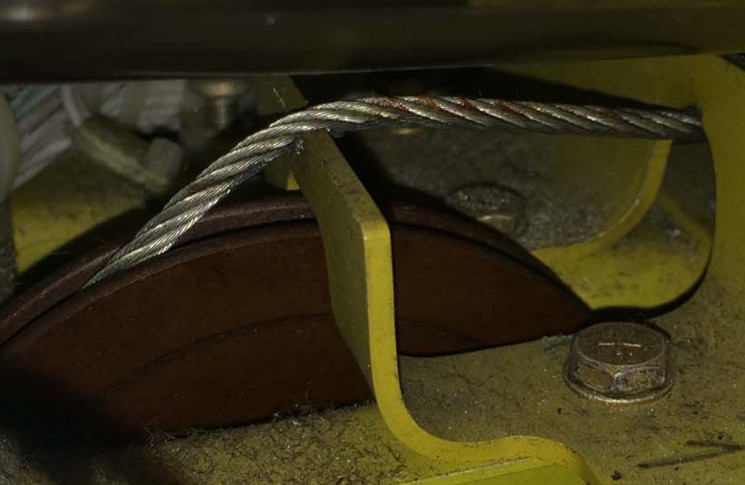 Beech F33A elevator control system—cable incorrect routed. SDR 510023170 (photo above)
During ADS-B equipment upgrade, an incorrectly routed elevator control cable was observed. Attaching guard bolt was loose.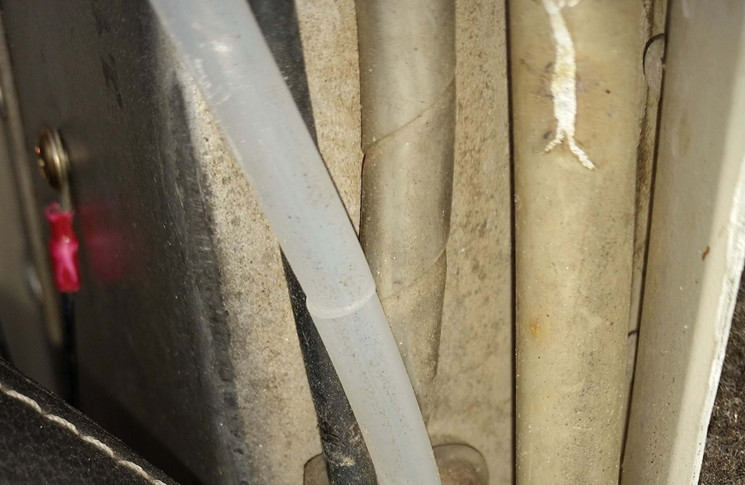 Cessna 152 pitot/static system—pitot tube unserviceable. SDR 510023127 (photo above)
Following a post-flight poor performance report, detailed inspection revealed split and leaking pitot air tube at entrance to upper instrument panel. It was noted that only the portion of tube that was exposed to direct sunlight (via the front windscreen) was found to be brittle. Tube was renewed and secured to fuselage structure as to limit the exposure to sunlight as much as possible without modifying the existing design.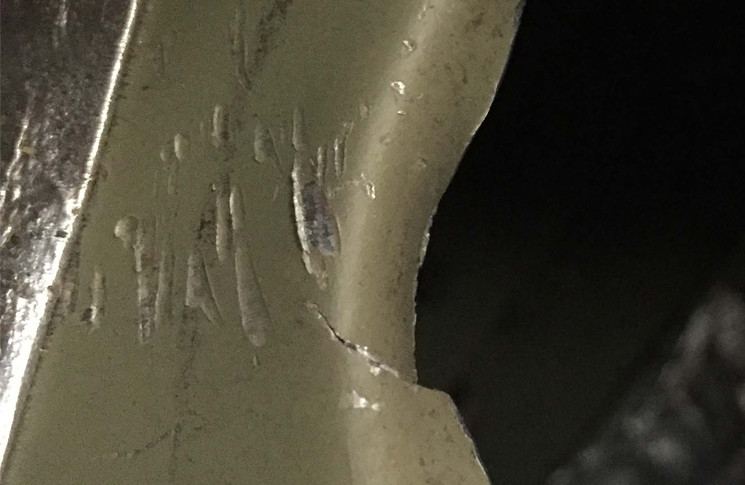 Cessna 172R fuselage floor beam—floor damaged. SDR 510022985 (photo above)
LH and RH floor damaged to lightning hole structure. LH lightning hole cracked. RH lightning hole is buckled. Suspect damage occurred during bolt removal. Six similar defects reported. P/No: 05114792. TSN: 8393 hours.
Cessna 172R landing gear retract/extension system—cartridge corroded. SDR 510023005
While aircraft undergoing inspections as part of SIDs, corrosion found on LH and RH main landing gear spring assembly near step bracket. P/No: 054119813AND054119814. TSN: 5211 hours.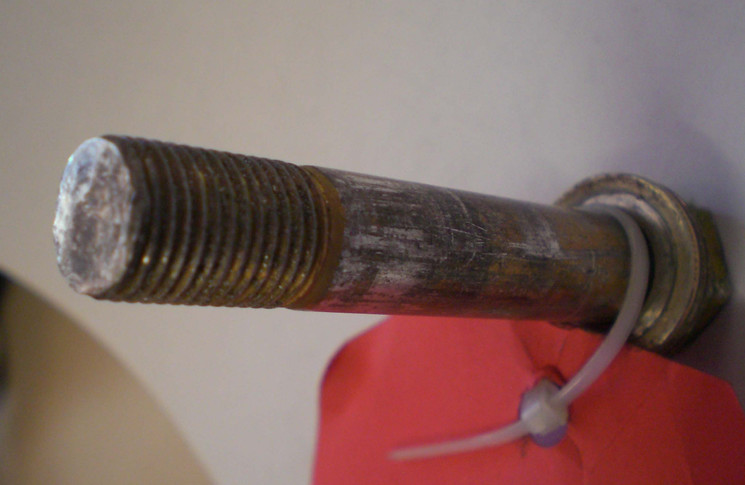 Cessna 172R wing attach fittings—bolt distorted. SDR 510022980 (photo above)
During disassembly, bolt peening over threaded portion of bolt observed. P/No: S3461111. TSN: 5437 hours.
Cessna 172R wing spar—spar damaged. SDR 510022981
During disassembly, LH and RH strut hole found damaged. LH and RH wing spar damage also noted. P/No: 05236141AND052301413. TSN: 5085 hours
Cessna 172R wing spar—spar scored. SDR 510022977
Suspected scoring of top LH strut fitting as well as LH and RH wing spars during disassembly. One similar defect reported. P/No: 05236141AND052301413. TSN: 8295 hours.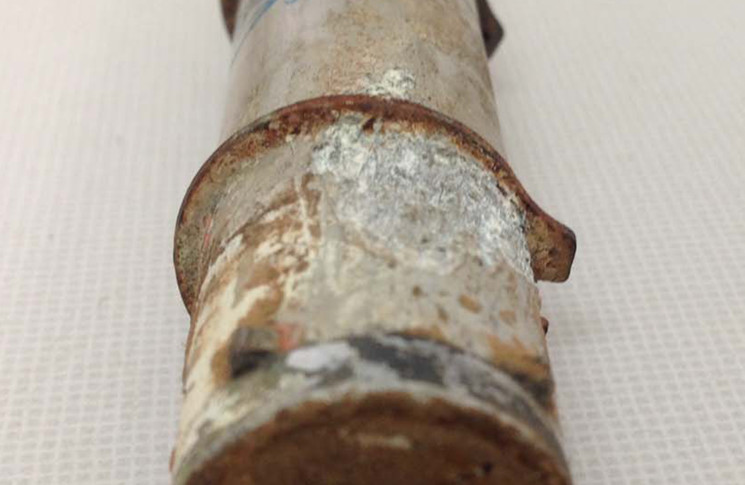 Cessna 182E elevator tab control system—trim jack corroded. SDR 510023004 (photo above)
In parallel with horizontal stabiliser removal, severe corrosion was found on trim actuator body. Actuator also found to have extended free. Rectifications planned. P/No: 03102932.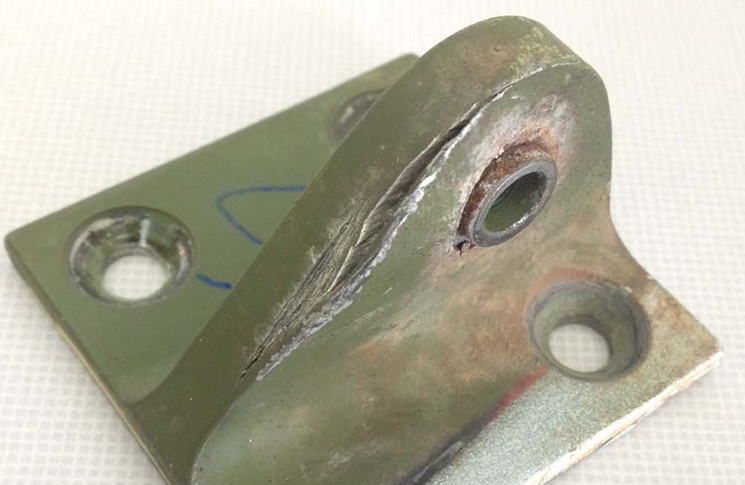 Cessna 182E horizontal stabiliser attach fitting—hinge corroded. SDR 510023001 (photo above)
Severe corrosion found on horizontal stabiliser right hand rear attach hinge assembly during routine maintenance. Horizontal stabiliser was removed to facilitate removal of the attach hinge assembly. Upon removal, corrosion was found to have exfoliated aluminium assembly. P/No: 07326122.
Cessna 182G aircraft fuel system—vent blocked. SDR 510023138
Emergency landing carried out after power loss. During checks, main fuel vent was found to be completely blocked with wasp nests. Main fuel filter found loose. CASA AWB 02-052 was found not to be complied with for prevention of wasp infestation. During taxi, wheel bearing was found noisy necessitating replacement.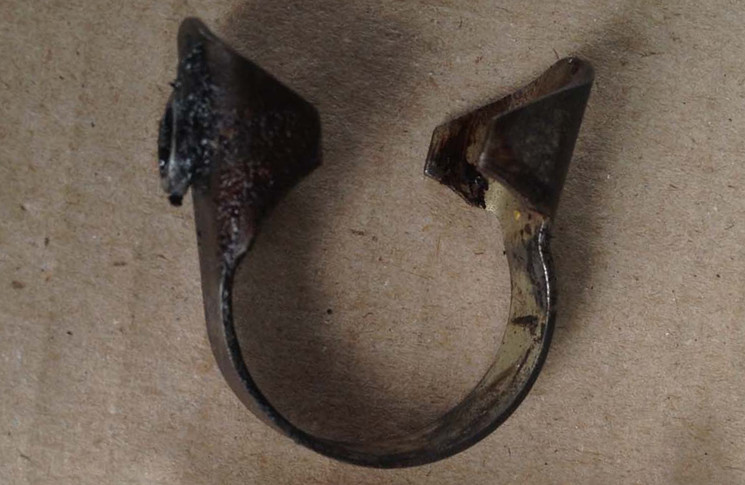 Cessna 208B engine mount section—mount damaged. SDR 510022965 (photo above)
Engine mount frame damage caused by air conditioning condenser clamps. Engine mount frame repaired and clamps replaced. This is a known issue to Cessna, CAB91-12 refers; however, production aircraft appear to have the defective clamps installed until at least 2009. One similar defect reported.
Cessna 210L landing gear retract/extension system—hydraulic line cracked and leaking. SDR 510023293
When gear selected down, failed to get green light and motor continued to run. Troubleshooting carried out, two hydraulic lines for rear up lock actuator found leaking at fittings. Both had cracked sleeves bearing PN MS20819-4D. Corrosion was found under sleeves. Lines repaired, gear swings carried out, system tested serviceable. P/No: VARIOUS. TSN: 13329 hours.
Cessna 402C fuselage wing attach fittings—fitting cracked. SDR 510022916
While conducting AD/CESSNA 400/92 lower forward wing spar fitting inspection the engineer noticed a small crack on the left wing lower aft fitting on the forward spar (P/N: 0822550-19) in the area specified in the AD. The engineer conducting the inspection proceeded to inspect all wing fittings not mentioned in AD/ CESSNA 400/92 for cracks. The left wing upper aft wing fitting on the forward spar (P/N: 0822550-21) was also found with a small crack along with the lower fuselage to wing fitting (Cessna P/N: 0811350-8). The fuselage to wing lower fitting was found with a crack approximately five inches long and was a J and R aerospace fitting (P/N: JRA-445-1), while the other two wing fittings were found with textbook cracking as per AD/CESSNA 400/92 no longer than one inch running between two rivets.
It is believed the lower fuselage to wing fitting (P/N: JRA-445-1) may have been fitted under stress due to poor design causing the fitting to be too small for the channel it is riveted in. At this stage this is only an assumption due to the nature of the crack measurements have not yet been taken. There is also the possibility of improper installation and that a hard landing that may not have been reported could have contributed to the cracked fittings. P/No: JRA4451. TSN: 2831 hours
Cessna 441 wing plates/skin—access panel corroded. SDR 510022975
During a scheduled inspection, corrosion was found in the LH upper wing panel between the nacelle & fuselage where it attaches to the rear spar at approximately CWS 70. Affected panel is a bonded aluminium honeycomb composite panel. Area has been disassembled sufficiently to gauge the full extent of the corrosion, and also to check the adjoining panel and the rear spar cap. It has been confirmed the corrosion is restricted to the composite skin panel only and extends approximately 16 inches between the top, centre and bottom laminates. A repair is being developed under Part 21. P/No: 57223011. TSN: 25104 hours/20744 cycles
Cessna T303 main landing gear strut/axle/truck—arm cracked. SDR 510023017
During SIDs inspection, retract arm found cracked.
Flight Design MC aircraft fuel distribution system—hose ruptured. SDR 510023018
Extensive fuel leak originating from left side fuel feed hose observed. Leakage seeped into cockpit and LH wing root. Chaffing at clamp identified as probable root cause. NAV system power wire found to be chaffing (insulation melted) with the composite structure in the vicinity. P/No: Unknown. TSN: 1053 hours/90 months.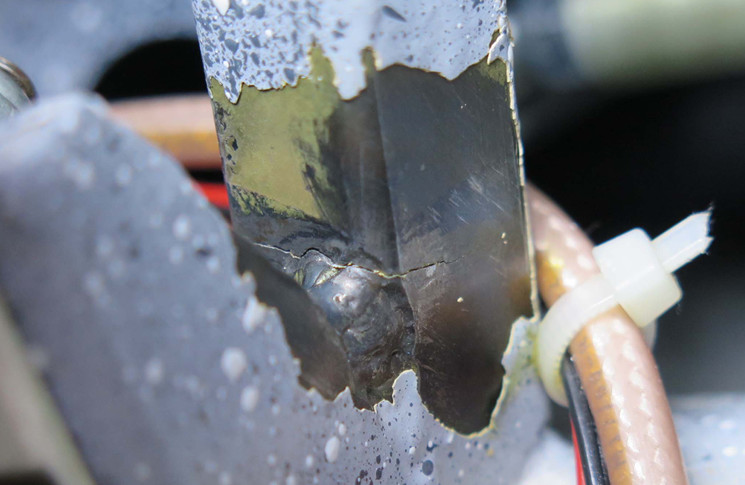 Flight Design MC fuselage attach fittings—bracket cracked. SDR 510023061 (photo above)
During scheduled maintenance inspections, cracks were found in tail beam, forward lower support steel brackets that attached the tail beam to the fuselage cabin area. OEM provided approved data to weld repair the cracks. P/No: DA53102173ANDDA53102166. TSN: 709 hours.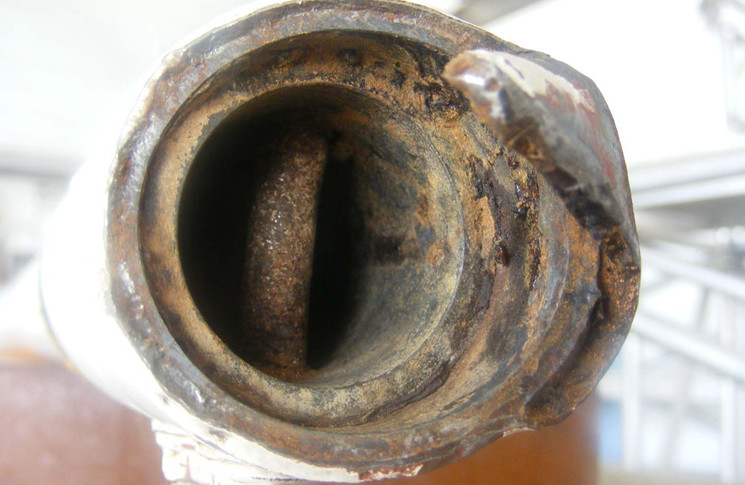 Gippsland Aeronautics GA8 main landing gear strut/axle/truck—axle fractured. SDR 510023074 (photo above)
Main undercarriage axle broke off at weld during landing towards end of roll. Wheel and brake recovered with axle portion, nut and pin still in place. Main undercarriage leg replaced. Failed part under dispatch to OEM for detailed analysis. One similar defect reported. P/No: GA8321013011.
Gippsland Aeronautics GA8 rudder control system—cable broken. SDR 510023194
On detailed rudder control system inspection, LH rudder control cable was found to have broken strands. The cable was renewed. P/No: GA8272012017.
Gippsland Aeronautics GA8 rudder spar/rib—spar cracked. SDR 510023193 (photo above)
On a detailed internal inspection of the rudder structure, two cracks were found on the rudder spar extension piece in one of the corners. The part was replaced with a new item. P/No: GA8554021023.
Gippsland Aeronautics GA8 wiring—wire burnt. SDR 510023067
12V power supply wire to blower fan connector found burnt with signs of overheating and discoloration of melted plastic at wire terminal visible. Connector and wiring terminals renewed.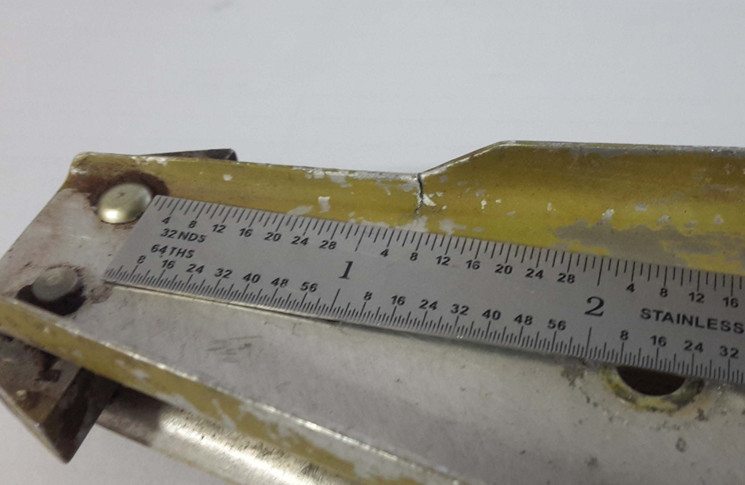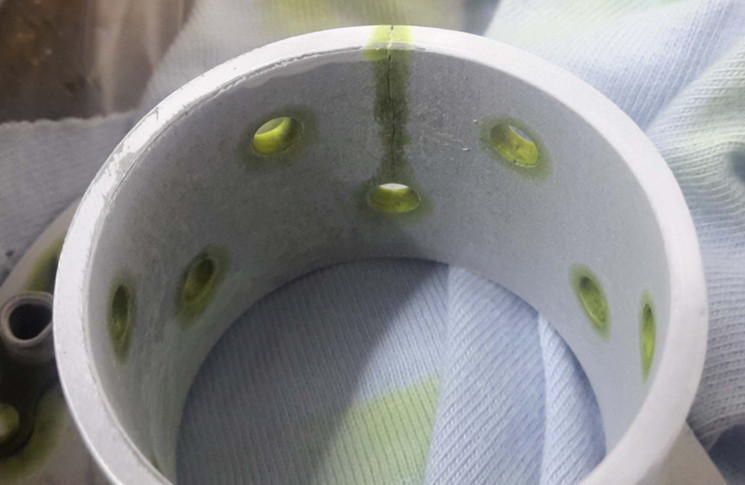 Gulfstream 500S rudder miscellaneous structure—channel cracked. SDR 510023105 (photos above)
During scheduled inspections, upper channel of the rudder torque tube and arm assembly was found with a minor crack in the return approximately one inch from the rudder stop striker plate. Post removal of the rudder torque and arm assembly for replacement, further inspection was carried out. The lower channel was also found cracked. Further, fitting was found cracked through longitudinally at an upper fastener hole. Attaching collar was found cracked through longitudinally from a lower fastener hole. Failure of either the rudder torque tube lower fitting or upper collar could lead to loss of control of the rudder. The rudder torque and arm assembly was replaced with a serviceable item and the aircraft returned to service.
Kavanagh B400 balloon reports—load frame cracked. SDR 510023143
Multiple cracks found in welded joints of load frame. All cracks repaired in an approved manner. OEM notified. Defect reported IAW CASA AWB 14-004 requirements. Two similar defects reported. P/No: LF238. TSN: 525 hours.
Piper PA31350 elevator spar/rib—spar loose rivets. SDR 510023058
RH elevator assembly was found to have excessive amount of working rivets on preliminary inspection for 100 hourly. A slight bulge was also noted on the spar line approximately 47 inches outboard of the butt rib. A flex test was carried out and an abnormal twist was noted in the bulge area. A further investigation has been carried out by de-riveting the aft skin, with nil cracking found. The number of working rivets is unacceptable by any means and the entire elevator assembly will be replaced. P/No: 40075021.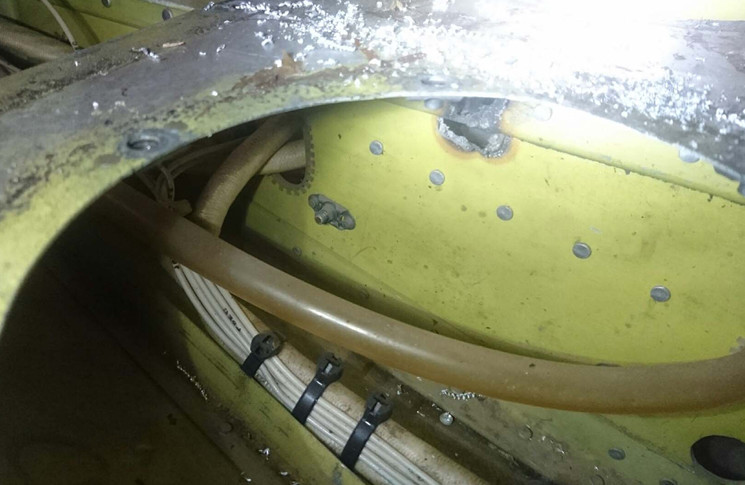 Piper PA31350 servicing—beam burnt out. SDR 510023296 (photo above)
Electrical arc damage has been found in the upper web and cap of the main longitudinal beam on the LHS of the aircraft at F/S 12 creating a hole in the area. The area it is in provides evidence of an incorrect installation process of the GPU receptacle main power terminal. P/No: 4487700. TSN: 15741 hours/10241 landings.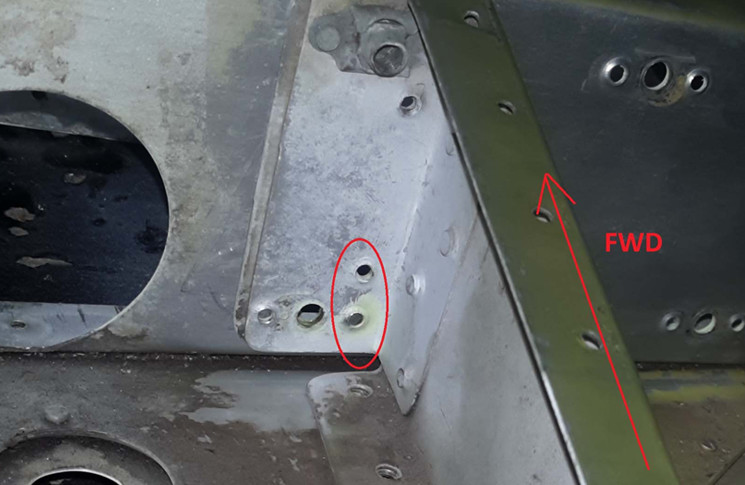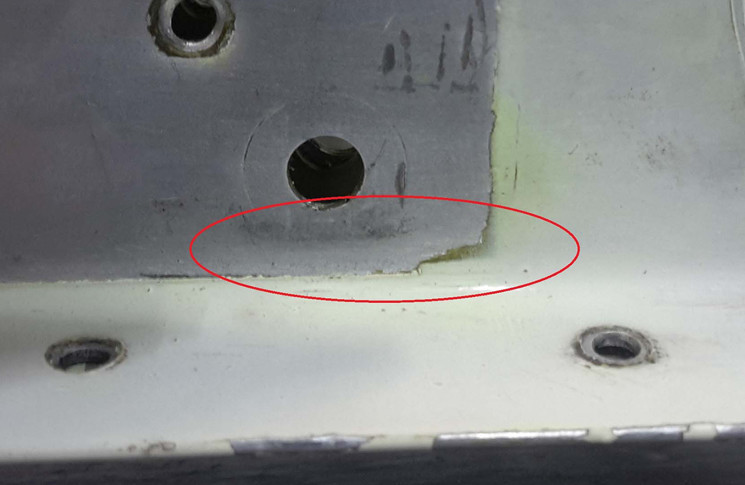 Piper PA31 ailerons—doubler cracked. SDR 510023178 (photos above)
During inspections IAW AD/PA-31/118, a minor crack indication was noted on the R/H aileron spar doubler via dye penetrate inspection. This crack indication was confirmed by further eddy current inspection. Further inspection was conducted as per requirement two of the AD and the aft rib was also found cracked on a previous doubler repair and the forward flange.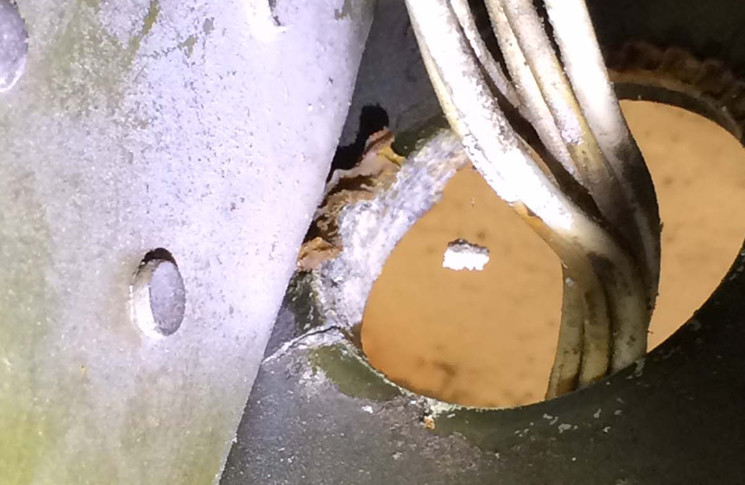 Piper PA44180 wing spar—spar cracked. SDR 510023160 (photo above)
In the course of carrying out a periodic inspection and double engine change, grommet was removed from a lightning hole in the RH wing main spar at WS 57.47. Once removed, exfoliation, corrosion and cracking was observed that had been obscured by the grommet. The grommet was removed for cleaning purposes only, exfoliation was not observed with the grommet in place.