Airbus A320-232 airconditioning system—skin air valve faulty. SDR 510023186
After take-off ECAM reported VENT SKIN VALVE FAULT. Decision was made to divert to alternate due nature of defect and engineering requirements. TSM carried out identifying a faulty skin air outlet valve. Maintenance procedure carried out and MEL applied. P/No: VFT210B00.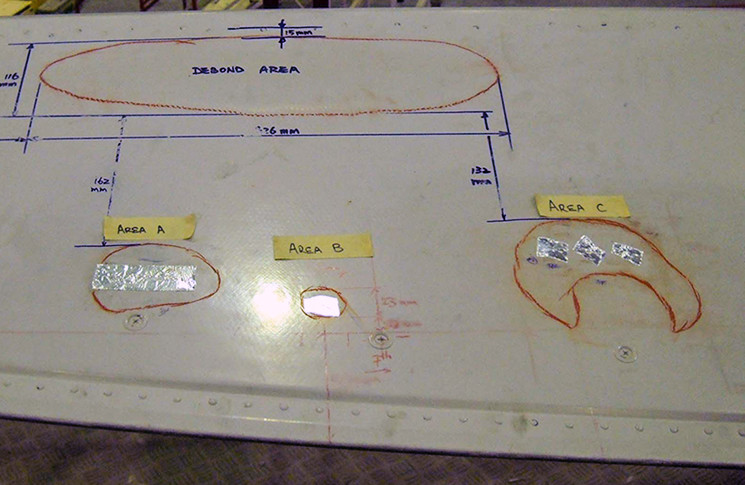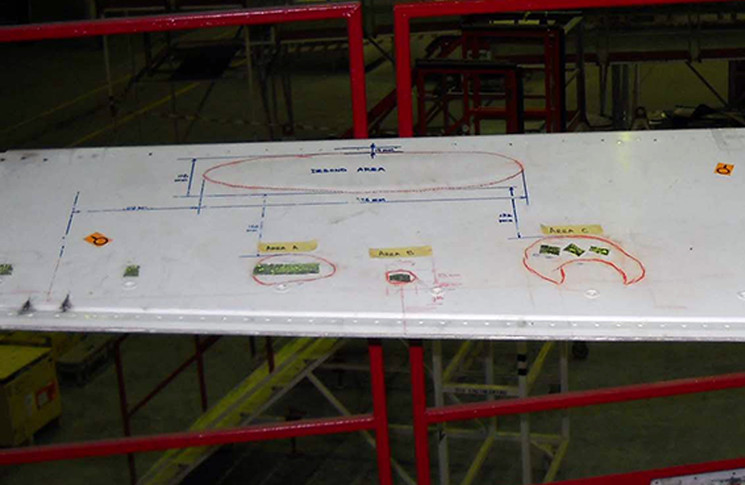 Airbus A320-232 elevator structure—elevator debonded. SDR 510023202 (photos above)
During heavy maintenance, inspection of the LH elevator was carried out in accordance with EASA AD 2014-0014/SB A320-55-1046. Inspection found delamination due water ingress at four places. Defects evaluated found to be out of repair limits and a replacement elevator is being sourced. P/No: D5528000302400.
Airbus A320-232 fuselage miscellaneous structure—mount plate corroded. SDR 510023279
During 4C/6YR inspection, corrosion was found on FWD belly fairing support centre plate RH forward corner. Repair managed IAW OEM RDAS and TD. P/No: D53260241200.
Airbus A330-243 fuel storage–drain valve leaking. SDR 510023174
During aircraft refuelling, contractors reported a fuel leak evident from the LH and RH outer cell sump drain valves. Leak cleaned and sump drain valves cycled in accordance with AMM. Nil faults found. There is no history and there have been no repetitive occurrences. Event monitoring will continue.
Airbus A330-301 AC generation system—generator leaking. SDR 510022968
On departure, abnormal plastic smell in cockpit and several positions within the cabin was reported. Initial APU was suspected, consequently APU bleed supply carried forward. Cabin air quality confirmed fit for the flight. On subsequent flight, during descent, engine oil smelt in cabin and cockpit. Engine oil leak check was carried out satisfactory. Further trouble shooting at APU found APU generator oil leak being introduced into APU air intake. APU generator replaced and associated areas cleaned IAW approved data. Ducts and bleed valve ensured clear of contamination. Extended packs runs carried out. Unable to detect any smell. Aircraft considered return to service. Any follow-up reports will be monitored by reliability report. P/No: BA04104.
BAC 146-100 APU start/ignition system—starter motor leaking. SDR 510022929
During taxi, strong oil contamination odour detected. Investigation of the air quality was carried out IAW approved data. APU and engine ground runs conducted with nil odour detected. Nil evidence of oil contamination in airconditioning packs one or two. Engines and APU inspected for signs of oil leakage. APU starter motor found leaking. APU starter motor replaced with a serviceable item. APU run conducted with nil faults/odour evident. P/No: 4951799. TSN: 1120 hours/1079 cycles/18 months.
Beech 1900D engine BMEP/torque indicating system—gauge faulty. SDR 510023268
On take-off roll, left engine torque indicating gauge was showing zero. A high-speed exit was made and propellers feathered. Indication again was zero supporting the fact of unserviceable torque instrument. Problem reported to engineering.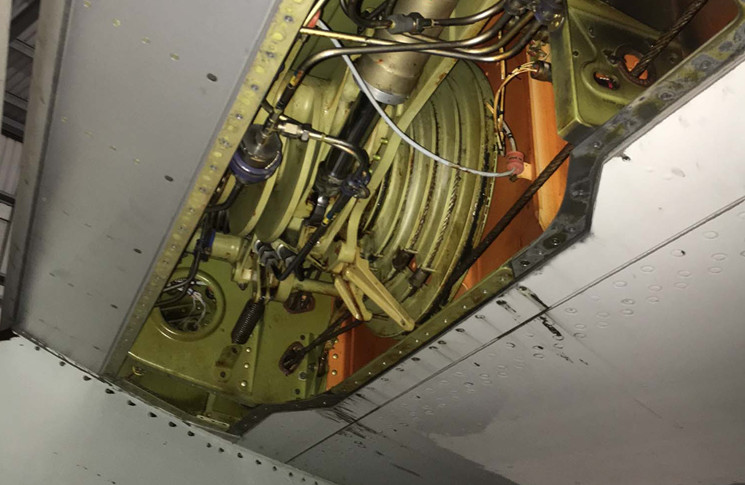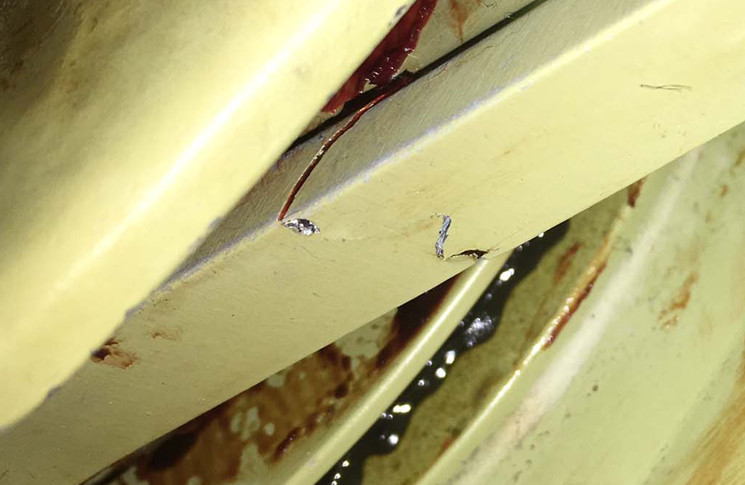 Boeing 717-200 leading edge devices—support cracked. SDR 510023224 (photos above)
During carrying out an 1800-hour work pack, RH wing leading edge slat drive mechanism assembly support found cracked. The damage seen is identical to that reported by OEM Fleet Team Digest article 717-FTD-27-15001. This slat drive damage is currently under review by OEM and was originally discussed at the 717 fleet team meeting Sept 2014. Fatigue is seen as the main player in these failures. Internal task card is scheduled and repeat inspection is due at next heavy maintenance event. One-time fleet inspection is completed. Replacement part is sourced and installation/rigging is planned. Further follow up is due after OEM finalises recommendations. P/No: 5920287504.
Boeing 737-300 fuselage miscellaneous structure—seat track cracked. SDR 510023203
First officer seat was removed for access to perform routine maintenance in the area. Upon inspection, the F/O inboard seat track was found cracked at the forward end of the travel stop bolt location. P/No: 1A0870124.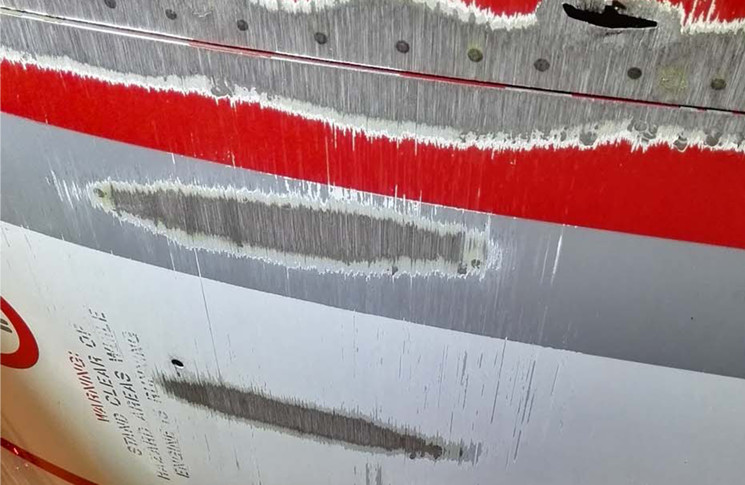 Boeing 737-800 engine cowling system—cowling worn and damaged. SDR 510023135 (photo above)
Following a hard landing, ground inspections revealed severe damage to RH engine cowling. Damage is consistent with No. 2 engine contacting the runway upon landing at speed. Damage beyond OEM SRM limits.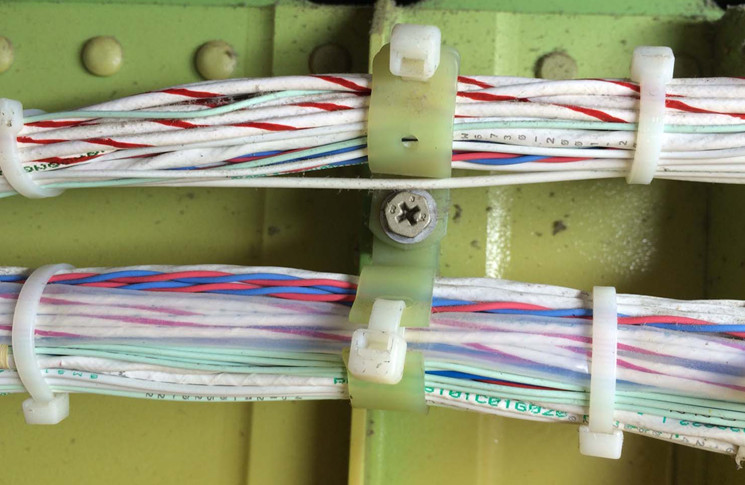 Boeing 737-838 fuel wiring—wire incorrect routed. SDR 510022940 (photo above)
During routine inspection of wire bundles over centre tank and under main floorboards, a wire (w5204-1009-20) was found incorrectly routed outside the securing clamp under RH floor panel. This particular wire runs between nitrogen generation system controller and one of the status lights in the cockpit. Electrical energy running through it consists of low rating. Wire number w5204-1009-20 was inspected for damage. Nil damage found. Wire re-routed through open-ended clamp and secured.
Boeing 737-8FE auto throttle system—auto throttle split. SDR 510023049
On top of descent, when level change was selected with auto-throttle engaged, left thrust levers split halfway to idle. Auto-throttle disengaged and flight continued with no further issues. Auto-throttle BITE test carried out IAW FIM, fault found recorded for no data on Channel A. DFCS BITE carried out IAW FIM with no faults. Auto-throttle interactive test carried out with no faults found. Investigation initiated.
Boeing 737-8FE elevator control system—pilot tube blocked. SDR 510023036
Flight crew reported 'feel diff pressure' on departure through 1500 ft. Flight continued with no issues. Inspection confirmed RH elevator feel pitot probe blocked. Unable to remove debris (suspect mud wasp). Pitot probe replaced IAW AMM. Operational test carried out satisfactory. P/No: 0851HT1. TSN: 2713 hours/1227 cycles.
Boeing 737-8FE fuselage structure—strap corroded. SDR 510023134
During heavy maintenance check, level 2 corrosion was found on the aft service door at the lower aft corner bear strap. Corrosion blended out IAW SRM procedures.
Boeing 737-8FE traffic collision avoidance system (TCAS)—antenna failed. SDR 510023198
Flight crew reported TCAS 'fail' message on ground. Aircraft returned to the gate and MEL applied for TCAS Inoperative. Subsequent troubleshooting confirmed upper TCAS antenna at fault. Antenna replaced and tested satisfactory IAW AMM. MEL removed. There have been no repetitive occurrences. P/No: 6228973001. TSN: 11375 hours/7018 cycles.
Boeing 737-8FE wheel—bolt broken. SDR 510023266
No. 3 main wheel assembly tie bolt was found broken during maintenance. Main wheel assembly was replaced IAW AMM. Investigation initiated.
Boeing 737-8FE wheel—bolt sheared. SDR 510023009
Sheared tie bolt discovered from one of the company airplane wheel assemblies. Bolt recovered from the parking bay. Wheel assembly replaced with relevant checks satisfactory.
Boeing 737-8KG fuselage plates/skin–strap corroded. SDR 510023232
Minor corrosion around fasteners on cargo door bear strap surrounding structure FWD and AFT. Corrosion removed and area assessed. Reworked areas treated and re-protected IAW SRM. HFEC inspection carried out with nil cracks found.
Bombardier BD7001A10 landing gear retract/extension system—control valve failed. SDR 510022994
On approach, LG failed to extend when selected. After missed approach, another failed attempt to land was made. Alternate gear extension made and landed safely. Landing gear control selector valve was identified as failed component, which has now been replaced and all relevant checks carried out. Aircraft returned to service. P/No: GW41560253.
Cessna 750 fuselage equipment attach fittings—doubler corroded. SDR 510023083
During scheduled inspections, corrosion was found under the TCAS antenna doubler and skin. Corrosion repaired under OEM minor repair authorisation.
Embraer ERJ-190-100 fuselage floor beam—beam corroded. SDR 510023260
During scheduled maintenance, level two corrosion was found on top surface of cross beam FR 90 common to RBL 20. Corrosion removed on cross beam FR 90 RBL-20 IAW SRM. HFEC carried out IAW NTM with nil defects noted. Permanent repair carried out IAW OEM ETD. P/No: 17066327005.
Embraer ERJ-190-100 fuselage plates/skin—skin corroded. SDR 510023262
During scheduled maintenance, level two corrosion was found at LH top, LH side and lower position common to tail cone skin panel. Corrosion removed IAW SRM, HFEC of affected areas carried out IAW NTM with nil defects noted. Permanent repair carried out IAW OEM ETD.
Embraer ERJ-190-100 fuselage structure—support structure cracked. SDR 510023034
Following a heavy landing, mandatory inspections (Phase I & II) revealed cracked weather radar supporting brackets. Cracks stop drilled, daily inspections scheduled and necessary fly by from OEM arranged. No other abnormality found. Brackets replacement planned accordingly.
Embraer ERJ-190-100 trailing edge flap actuator—actuator jammed. SDR 510023062
On approach, flight crew reported FLAP FAIL message when flap position 3 was selected. Go-around conducted and QRH checklist completed with flaps at position 2. Flight concluded with no further issues. Troubleshooting confirmed the flap actuator (LH INB) Torque indicator was tripped. Rectification of defect is ongoing by replacing the flap actuator. P/No: C1588191. TSN: 18918 hours/13296 cycles.
Fokker F28 MK0100 crew oxygen system—harness leaking. SDR 510022963
During cabin crew training, co-pilot's oxygen mask failed to inflate. Leak was traced to a faulty inflatable harness. Masks replaced and follow up operation checks completed.
Fokker F28 MK0100 fuel indicating system—refuel panel burnt out. SDR 510023252
An acrid smell, getting stronger with time, was noticed in the flight deck after landing. Smell was traced to an overhead fuel panel. Panel was noted to have a bubble forming on the LHS that was heat related. The aircraft was shut down immediately and an appropriate entry made in the maintenance log. P/No: W42707429.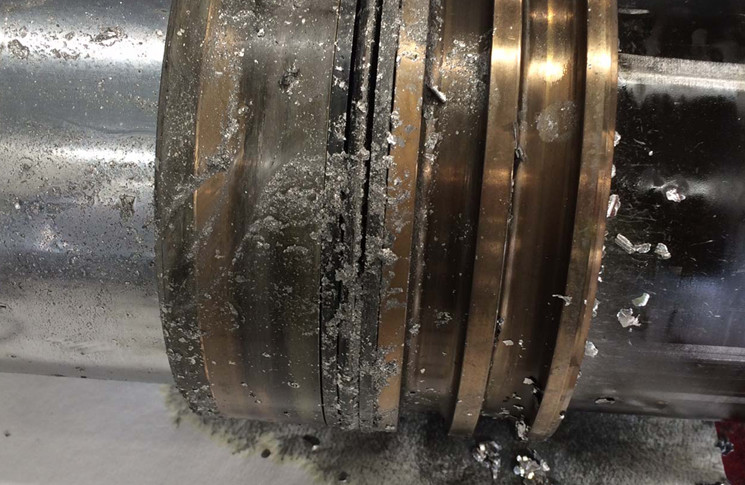 Fokker F28 MK0100 main landing gear strut/axle/truck—oleo strut leaking. SDR 510023040 (photo above)
After arrival, post-flight inspections found RH MLG leaking with oil and metal particles visible. Upon shock strut disassembly, lower bearing found covered in metal particles. Upper bearing found damaged, suspecting this failure caused secondary damage to seals. Investigation under progress. P/No: 411009. TSN: 36818 hours/26332 cycles TSO: 5935 hours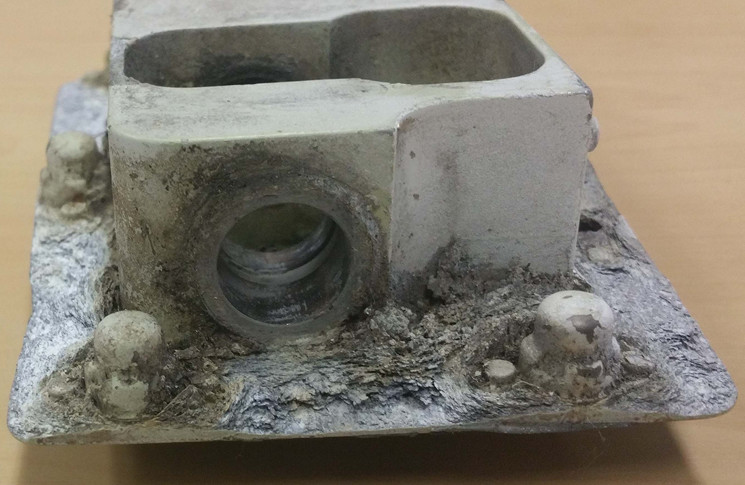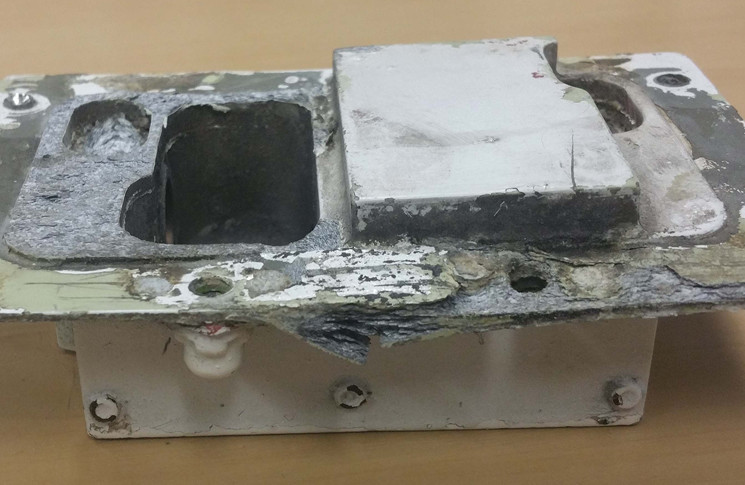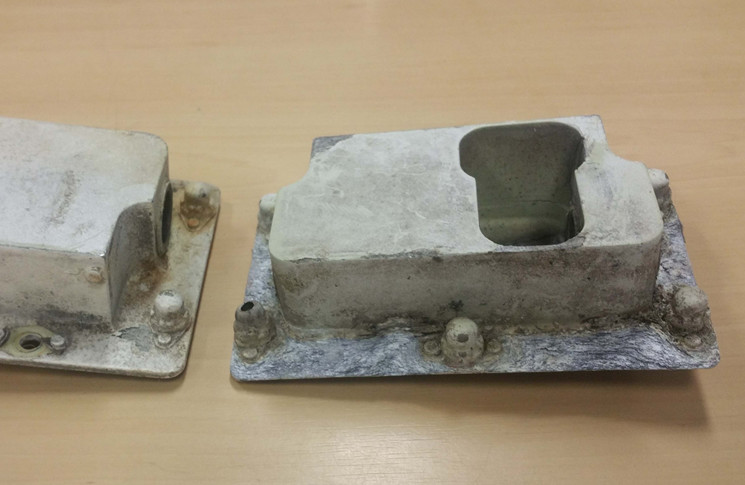 Fokker F28 MK1000 cargo/baggage doors—housing corroded. SDR 510022938 (photos above)
While undergoing scheduled inspections, bracket housings (quantity three) were found to be corroded. Parts replaced accordingly. P/No: D28453.