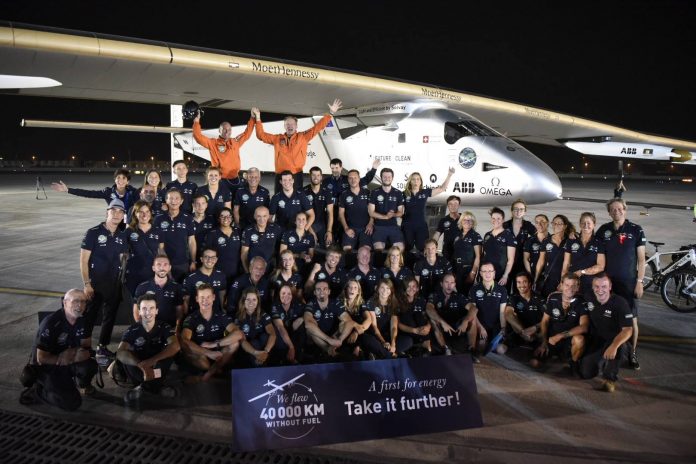 Experimental solar-powered aircraft, Solar Impulse 2, has completed the first round-the-world solar flight.
The historic flight saw the aircraft fly over 40,000km without fuel, before touching down in Abu Dhabi at around 10am AEST.
'We have now just watched our shared dream unveil, becoming a reality,' a Solar Impulse 2 spokesperson said. 'It's with great emotion that I write this last blog to report on the round-the-world solar flights.
'Emotions, tears, relief, exhilaration is what we are all feeling right now after completing the first round-the-world solar flight in history.'
Bertrand Piccard, one of the two Solar Impulse 2 pilots, made the final flight, taking off from Cairo on Saturday before landing in Abu Dhabi in the early hours of Tuesday morning.

'The Mission Control Centre in Monaco exploded with relief (and perhaps a little grief), as if the 13 years of weight on everyone's shoulders had just evaporated,' said a Solar Impulse 2 spokesperson after the landing.
The around-the-world attempt by Solar Impulse 2 is part of a wider effort to promote environmentally clean technologies in the hope of reducing global energy consumption and saving natural resources.
André Borschberg, the other pilot of Solar Impulse 2, said, 'What is really special, is that it is the first and only aeroplane in the world which has unlimited endurance.
'To build an aeroplane of the size of a 747 with the weight of a car, something which was considered impossible by the aviation industry, we had to develop the right mindset in order to push the limits of the technologies.'
BREAKING: it's a first in the history of #energy, @solarimpulse is only the beginning, #futureisclean pic.twitter.com/sRjD59Gi2x

— Bertrand PICCARD (@bertrandpiccard) July 26, 2016
The round-the-world attempt was not without its hurdles.
The longest leg of the flight, an endurance effort of five days and five nights from Nagano, Japan, to Hawaii, last year, saw human error badly damage the aircraft's batteries, taking nine months to fix.
The Flight Safety Australia news site covered Solar Impulse's flight back in April after its successful crossing of the Pacific from Hawaii to California. In the upcoming September-October edition of the digital magazine, Flight Safety Australia will examine the emergence of electric aircraft and their potential benefits, not only for the environment but safety.