Beech 200BEECH Flight compartment windows—windshield cracked. SDR 510023422
Shortly after commencing descent from FL270, FO's wind shield cracked significantly. The approach was conducted and the aircraft landed without further problems. Recovery actions planned.
Beech 95B55 Cabin heating system—tube cracked. SDR 510023524
During overhaul, combustion tube found cracked. New combustion tube installed. P/No: AHE87D13C2.
Beech B200C Entrance stairs—airstairs broken. SDR 510023404
While opening the door, AirStair door cable bracket broke away from mounting. Area repaired and a new bracket fitted. P/No: 1014301423. TSN: 12194 hours/6284 cycles.
Beech B200C Fuselage door hinges—hinge cracked. SDR 510023477
During scheduled maintenance, 3 cracks were detected in lugs in the cargo door hinges. 2 lugs were cracked through and a crack has initiated in the 3rd lug. An OEM statement and PUS was obtained to allow continued operation of the aircraft for 60 FH for hinge replacement. P/No: 1014301973. TSN: 6870 hours/10158 cycles.
Beech B200C Fuselage plates/skin—cargo door delaminated. SDR 510023405
Delamination found adjacent to #2 lower cargo door latch. Delamination and corrosion repaired IAW approved procedures. P/No: 1014301403. TSN: 12194 hours/6284 cycles.
Cessna 150 Horizontal stabiliser attach fitting—fitting cracked. SDR 510023521
While carrying out Eddy current inspections on vertical and horizontal stabiliser attach brackets IAW SIDs 55-11-03, cracks were detected on 1. Bracket 0432001-5. 2. Horizontal rear spar reinforcement 0432001-15. 3. Horizontal rear spar 0432001-56. P/No: 04320015043200115043200156.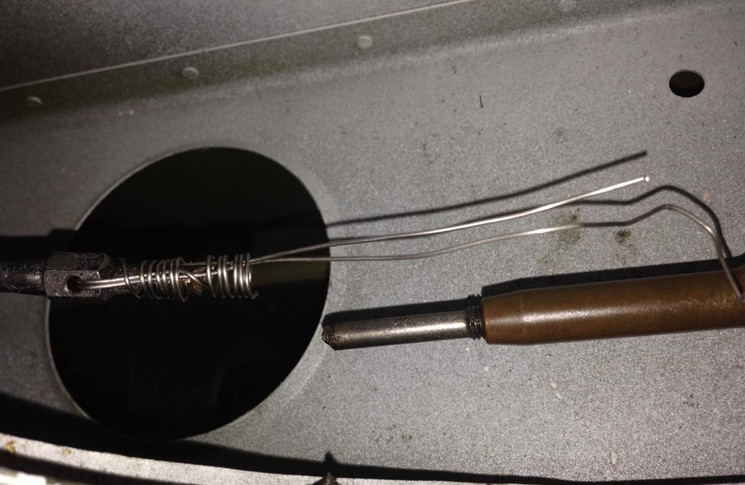 Cessna 150L Aileron control system—turnbuckle fractured. SDR 510023517 (photo above)
During SID inspections, cable end fractured at turnbuckle in RH aileron channel. Inspections followed after loss in motion was reported in aileron controls. Turnbuckle/cable assemble saved by lockwire preventing separation of cable and loss of control. Cable removed and all control cables replaced. No indication when part failed with cable appeared to be back to birth installation. P/No: 040010741. TSN: 3089 hours.
Cessna 172R Fuselage plates/skin—rivet worn. SDR 510023301
Suspect worn rivet heads on LH and RH fuselage stations between FS124 – FS178. Area stripped and found to have worn by up to 40% head profile affecting 75% of rivets in this location. Rivets replaced with new IAW manufactures data. Mechanical sanding (abrasion) evident on rivet heads. 3 other company airplanes also have similar reports. P/No: MS20470AD. TSN: 8393 hours.
Cessna 172R Trailing edge flap control system—microswitch contaminated. SDR 510023383
Flaps failed to retract in flight. Flaps retracted successfully on the ground. Flap motor removed, tested serviceable. System switches were replaced as well as new flap motor fitted. Check flight was done satisfactory. On close examination, micro switches were found to be internally contaminated with grease. This might be a contributing factor even though the switches were tested ok with a multi meter. P/No: V71C17E9201ANDS19061.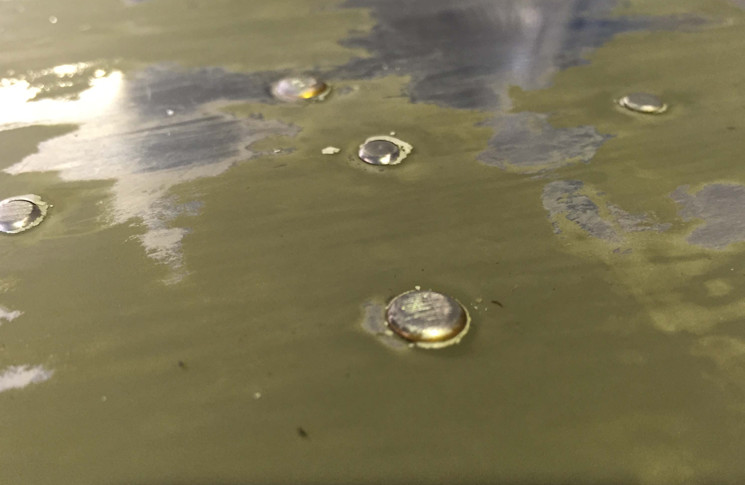 Cessna 172R Wing plates/skin—rivet worn. SDR 510023303 (photo above)
Suspect worn rivets, paint stripped on registration area at LH wing lower surface between WS 100.50 – WS208. Rivets found worn up to 50% of head profile including 75% of rivets in area. Suspect 6 total aircrafts affected, paint still need to be stripped. P/No: MS20470AD4AND3. TSN: 8393 hours.
Cessna 172S Fuel quantity indicator—transmitter unserviceable. SDR 510023443
RH fuel quantity indicator intermittently reading zero. RH fuel sender intermittently open circuit at the full and near full position of the float arm. Common problem with the plastic body senders. P/No: S38522. TSN: 249 hours/4 months.
Cessna 172S Master cylinder/brake valve—O ring worn and leaking. SDR 510023578
Master cylinder found with defective seal consequently brake pedal was ineffective. O-ring replaced with new item. Master cylinder refitted, system bled and tested satisfactory. Aircraft returned to service. P/No: MS28775110. TSN: 5068 hours.
Cessna 180K Elevator control system—torque tube damaged. SDR 510023380
Elevator torque tube found dented during SIDs inspection.
Cessna 180K Elevator spar/rib—spar cracked. SDR 510023379
During inspections against SIDs, spar found cracked.
Cessna 180K Elevator tab control system—actuator jammed. SDR 510023381
During SID inspection, fault found in trim system that was traced to actuator bearings.
Cessna 182P Main landing gear strut/axle/truck—spring cracked. SDR 510023530
While taxiing aircraft on undulating ground, L/H MLG spring adjacent to & inboard of the MLG axle fitting cracked. Could be possibly caused by fatigue. P/No: 07416301. TSN: 3189 hours.
Cessna 208B Air conditioning system—aircraft contaminated. SDR 510023554
Pilot reported strong burning electrical smell in cabin on descent and in engine bay 20 minutes after shut down. The aircraft had flown a total of 6 hours for the day. Visual inspection was carried out with nil defects noted. Twenty minute ground run was carried out by the reporting pilot and engineer where all systems that could be checked on the ground were checked. Nil defects noted and the aircraft was released to service for the purpose of a flight check by the reporting pilot and engineer. No further burning smell was noted. N.B. It was noted that the aircraft may have flown through smoke from a fire on the ground.
Cessna 210 Elevator plates/skin—skin corroded. SDR 510023540
Internal corrosion, would not have been found without detailed inspection. P/No: 12346604. P/No: 1241638.
Cessna 210M Landing gear position and warning system—saddle suspect faulty. SDR 510023567
Upon selecting gear down, Pilot noticed gear down light failed to illuminate. Pilot went through appropriate failure management procedures and decided to return to base. The pilot made a safe landing and down lock light illuminated on landing. During initial investigation, probable cause suspected is RH saddle (Shell Assembly) chafe liner. P/No: 1241638.
Cessna 210M Landing gear retract/extension system—pushrod broken. SDR 510023610
Pilot reported gear pump continued to run after take-off followed by strong burning smell in cockpit. Pump stopped once gear CB pulled. During the course of rectifications, RH nose gear door push-pull rod end found broken. Consequently, door was closed from ram air and nose gear could not complete retraction cycle. New rod end fitted & rigged followed by satisfactory ground tests. Hydraulic power pack motor also replaced to complete rectification. P/No: S2321L3.
Cessna 310H Nacelle/pylon structure—nacelle corroded. SDR 510023375
Left and right main nacelles aft of firewall internally corroded with severe damage on wing skins with missing rivets.
Cessna U206G Elevator control system—cable disconnected. SDR 510023325
Shortly after take-off, pilot in command noticed excessive free play in pitch control system. The instructor on board assumed control and landed the aircraft. After visual inspection, elevator down cable was found dis connected at the forward bellcrank on the pilots side. After extensive visual inspection the clevis pin could not be located. The elevator down cable was reconnected and tension checked and found within limits IAW C206G AMM.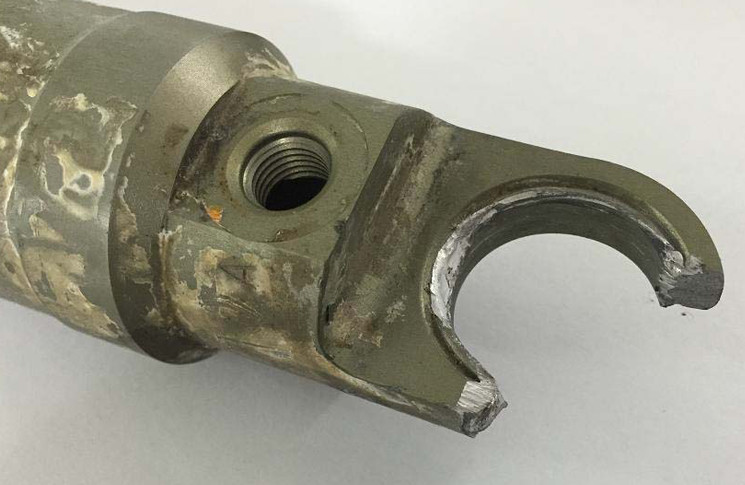 Diamond DA42 Landing gear door actuator—actuator broken. SDR 510023579 (photo above)
L/H MLG actuator broken at MLG attachment. Pilot reported an inflight gear unsafe flight. P/No: X110061. TSN: 5039 hours.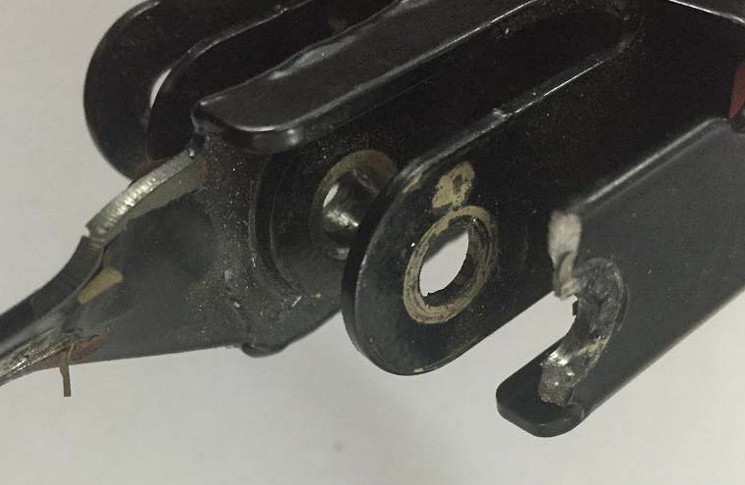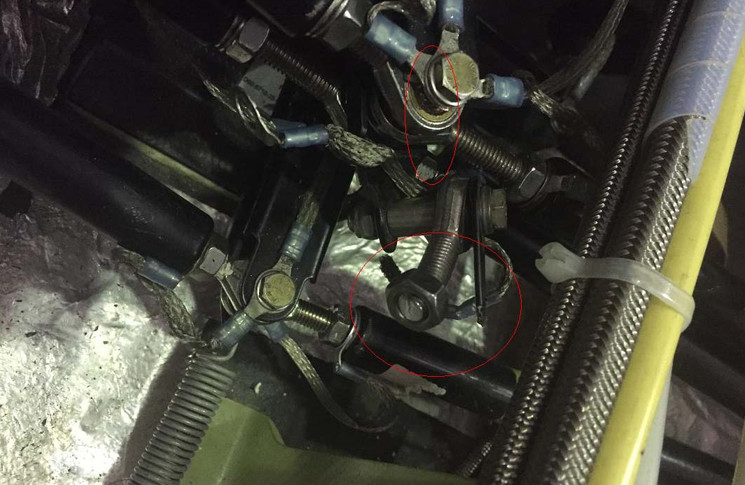 Diamond DA42 Trailing edge flap actuator—bellcrank broken. SDR 510023363 (photos above)
Flap bell crank upper arm broken at flap actuator attachment. Last installation verified IAW AMM with spacer and actuator eye end orientation. This arrangement, did not work and fatigue failure occurred. OEM confirmed correct spacer orientation with fleet wise inspections done to validate this. This leading to conclusion of incorrect AMM assembly instruction. P/No: D6027571100. TSN: 4677 hours.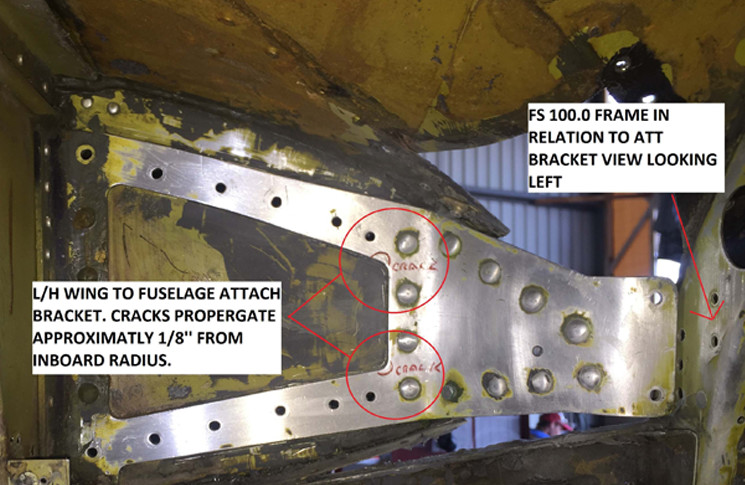 Gulfstream 500S Wing miscellaneous structure—strap cracked. SDR 510023330 (photo above)
During accomplishment of AD AC 093 & SSB:223 PART 1 inspection, R/H lower strap was found cracked from lower side of Hi-lock fastener and confirmed by NDT. Upon removal of strap, strap was broken into two pieces, upper crack went undetected. As per SB:223 PART 2, inspection was carried out and L/H wing to fuselage bracket, was found cracked from inboard forward radius upper and lower and confirmed by NDT. No further defects were found by visual or NDT inspections. SB: 223 PART 3 inspection was carried out and L/H frame at FS 100.0 was found cracked under tee bracket in two positions. These cracks were confirmed by NDT with no further defects found on left or right frames. All repairs done in an approved manner using Part 21 design approvals and approved data. P/No: 1700368.
Pilatus PC12 Landing gear position and warning system—relay short circuit. SDR 510023368
On descent, while gears were selected down, left main gear green came however, nose and right main gear indication remained in transit. Appropriate warning was presented on the HYD crew alerting and warning panel. During the course of troubleshooting, Indication relay K601 was found internally short circuited. K601 relay replaced and tested serviceable. P/No: 9740926112. TSN: 7695 hours.
Piper PA28R200 Landing gear position and warning system—light failed. SDR 510023314
LH main gear light didn't illuminate with gear selected down. LH MLG switch replaced.
Piper PA44180 Landing gear retract/extension system—actuator leaking. SDR 510023590
Gear unsafe warning illuminated after take-off. Hydraulic pack did not appear to run as no sound, no amps increased when switch moved to up. Power pack fluid level checked & observed low; inspection of MLG actuators performed with left one found with static leak. Same rectified. Power pack fluid level adjusted & retractions, extensions carried out satisfactory.
Piper PA44180 Landing gear retract/extension system—hydraulic unit suspect faulty. SDR 510023520
Gear unsafe warning light illuminated after take off. Hydraulic pack did not appear to run (no sound, no Ampere increase when switched moved up).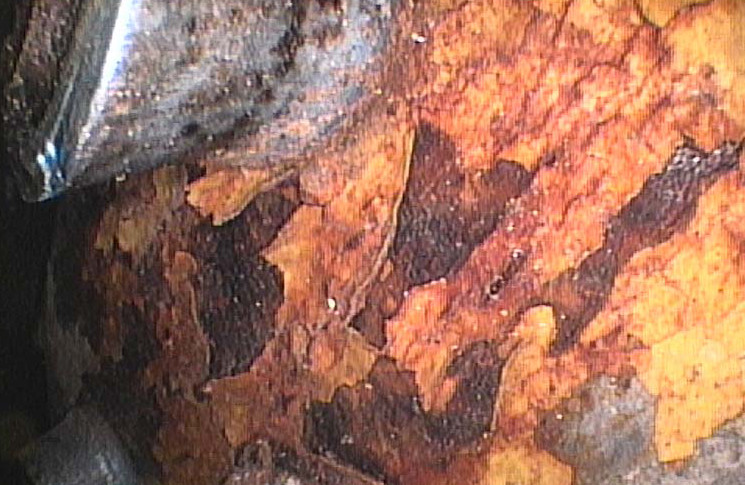 Swearingen SA227TT Wing spar—strap corroded. SDR 510023511 (photo above)
During scheduled inspection of the wing main spar centre webs for cracks between LH WS 27 and RH WS 27 in the area where the spar passes through the lower fuselage, moderate corrosion was found on the main spar forward and aft upper spar cap steel reinforcement straps between fuselage stringers 13L and 13R. Access to the affected area is extremely restricted with estimates that the worst area of corrosion may be up to 0.040 inch deep and several areas up to 8 inches in length found. P/No: 2731160003.