Adapter loose. SDR 510023362
Filter adapter fitting to the filter found loose. This fitting is checked at each inspection and if found loose complete adapter is replaced. Adapter replaced with new unit. P/No: SL2157L.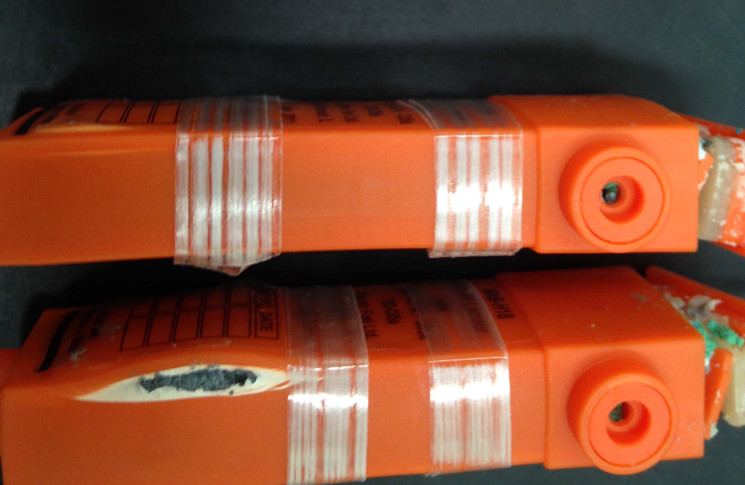 Eastern Aero Marine KSE35L8LIFEJACKET light fitting unserviceable. SDR 510023392 (photo above)
During scheduled 5 year maintenance, large number of unserviceable light assembly powering batteries were recovered from a batch of passenger life jackets. Batteries were reportedly swollen beyond CMM limits. The Unserviceable Battery may lead to the Life Jacket Lighting system not illuminating in the event of use, once water immersed. Part number (battery Orange) in question has poor reliability and this had been reported to CASA in the past. Previous battery failures were dealt under warranty replacement. P/No: PN51709.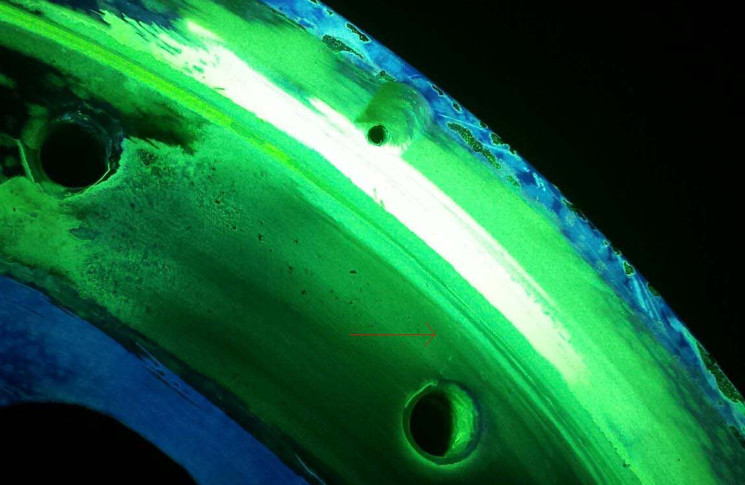 Messier-Hispano ATR72 wheel cracked. SDR 510023482 (photo above)
During workshop inspections, a minor crack indication was found on the mating face of outer wheel half, on the outer edge of the tie bolt hole bore. Dye Penetrant Inspection per CMM rev latest was completed in the immediate area to confirm the indication. The length of the crack was approximately 0.165 inches. The crack had not extended into the tie bolt hole bore. No sign of damage to the wheel rim was detected. Nil defects on the inboard hub were identified. To avoid fatigue cracking from corrosion pits that emanate while fretting between the wheel halves compromising the surface finish, Repair facility had been stripping both wheel half mating faces entirely of all primer back to the bare metal, then alodining and re-priming these surfaces. P/No: A365593. TSN: 4332 hours TSO: 3562 hours.
Screw SUP. SDR 510023495
Part supplied with incorrect Thread Per Inch pitch. Could be suspected unapproved part. P/No: NAS1352C3H20.
Shaft sheared. SDR 510023606
During major inspection, MLG was found to have excessive rotational movement. Investigations found Lower Tq Link shaft sheared at one end. Shaft replaced. As a preventive measure, all shafts will be non-destructively tested (magnetic particle Inspected) before installation. P/No: ED12406.