Airbus A320-232 Air conditioning system—bleed air contaminated. SDR 510023568
On descent, cabin crew reported strong oil smell throughout the aircraft. The smell was most noticeable at rows 24-30. Engineering were called and inspections carried out on LH/RH ACM inlet duct, mix chamber, internal plumbing of HP air source, with nil contamination evident. The LH pack was operated with no signs of smell in cabin or cockpit. Engine Ground Run was carried out with smell still evident. Troubleshooting is still ongoing.
Airbus A320-232 Air distribution fan—fan noisy. SDR 510023528
In cruise, both flight crew detected fumes similar to electrical burning. No smoke was visible and the fumes were not toxic nor did they cause any discomfort. A humming noise was detected coming from under the floor in the right rear of the flight deck. Avionics vent sys blower and extract override were selected and the fumes dissipated immediately with no further smells. ECAM reported vent blower fault. Flight continued. On arrival, avionics extract fan was observed running louder than usual, however nil smoke or fumes. MEL applied and aircraft declared serviceable. P/No: EVT3454HC.
Airbus A320-232 Air distribution fan—recirculation fan contaminated. SDR 510023463
After 2nd engine start, both the cockpit and cabin had a strong foul odour that lasted for 3 minutes. The odour was also present at engine shutdown. APU cooling fan duct and load control valve were removed and inspected for oil leaks and contamination with nil found. Engine Ground Run carried out on both engines with nil odours present. Re-circulation filters were then replaced and APU bleed air operated with packs on. No odours were present in the cabin or cockpit and the aircraft declared serviceable.
Airbus A320-232 Airfoil anti-ice/de-ice system—anti ice valve unserviceable. SDR 510023390
During flight ECAM reported WING ANTI ICE L HI PR. Decision was made to divert to alternate due nature of defect and engineering requirements. LH wing anti ice valve replaced and tested satisfactorily IAW TSM. Diversion categorized as ETOP significant event. P/No: 38E936.
Airbus A320-232 APU engine fuel and control—APU unserviceable. SDR 510023403
3 unsuccessful inflight APU starts were attempted. Airplane declared non EDTO compliant. During the course of troubleshooting fuel divider valve was flagged. Replacement plan made accordingly. APU started successfully on ground. P/No: 4500001B. TSN: 21098 hours/14653 cycles.
Airbus A320-232 Brake—impeller broken. SDR 510023394
On arrival, flight crew noticed that the wheel temperature on the No2 wheel was high compared to the other wheels. Engineering called and wheel assembly inspected. Engineer identified that the brake fan impeller blades had sheared and the resulting shrapnel had damaged and become embedded in several areas of the wheel and brake assembly. No 2 wheel and brake assembly were replaced and the aircraft was declared serviceable.
Airbus A320-232 Communications system—communications failed. SDR 510023454
Prior to take off during lineup with runway , flight crew experienced total communication failure across all systems. Flight crew vacated runway and returned to bay. Engineering called and TSM carried out. Post Flight report logged Com Single PTT stuck. AIS, RMP 1 and 2, and ACP all interrogated with no fault found and BITE tests passed. Captains hand mic and Audio management unit replaced. System tested and considered serviceable. Aircraft returned to service
Airbus A320-232 Control column section—sidestick loose connection. SDR 510023490
On selection of Autopilot, flight crew noticed that FO side stick locking solenoid did not engage. During the course of troubleshooting, electrical connector 12CA2 was found disconnected. Other connectors in the vicinity were found intact. The assembly was removed, inspected and reinstalled IAW AMM. Operational and independent inspections were performed with aircraft declared serviceable. P/No: D27310002000AQ.
Airbus A320-232 Engine oil quantity—turbine engine low pressure. SDR 510023347
During take-off run, prior to airplane reaching V1, pilot monitoring observed, engine #1 oil quantity had dropped to 5.5 Quarts (within green band). Take off continued as there was no ECAM activation. Crew kept an observation on the quantity that climbed to 8 Quarts then to 9.5 by FL300. In the interest of the safety, diversion to suitable airport was planned during which oil quantity continued to fluctuate. After landing, inspection of No #1 engine found some engineering issues. Flight declared AOG with rectifications planned.
Airbus A320-232 VHF communication system—antenna corroded. SDR 510023318 (photo above)
While undergoing heavy maintenance, VHF antenna was removed corroded. While removing antenna, co axial cable was also noted to be cut. No apparent cause of cable cut was established however cable connector will be replaced during the grounding. P/No: 240389.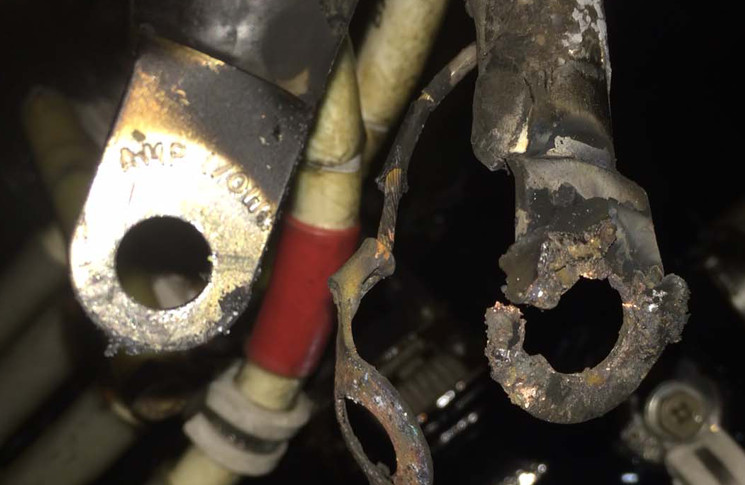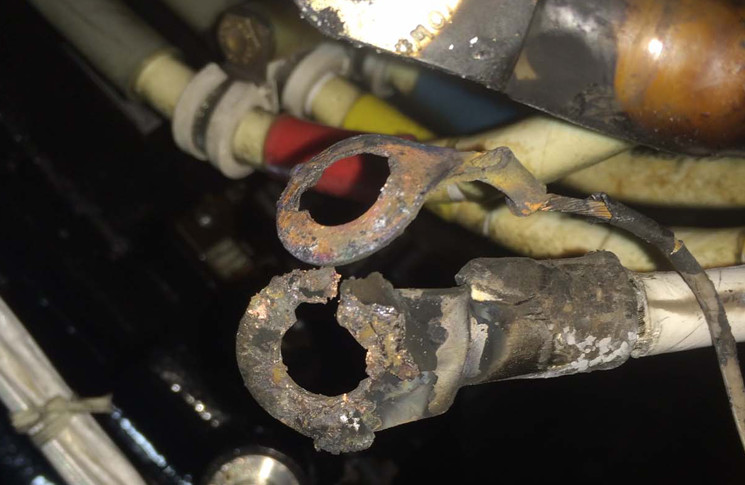 Airbus A321-231 APU start/ignition system—starter motor welded. SDR 510023570 (photos above)
After landing at destination, APU failed to start after 2 attempts. The APU last leg report faulted the APU starter motor (8KA) and MEL 49-10XX was applied. Carried out TSM 49-00-XX, identified an open circuit in the starter motor. On inspection the starter terminals were found welded to the starter motor due to arcing. MEL remains in place pending wire and starter motor replacement. P/No: 27045062.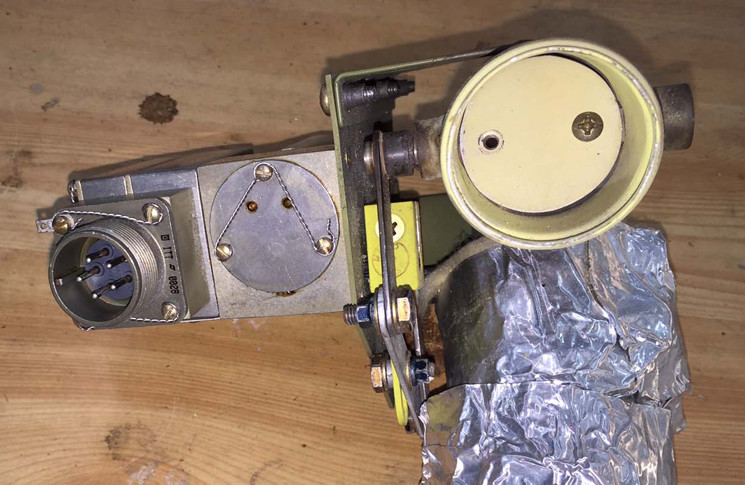 Beech 300 Air distribution system—bypass valve contaminated. SDR 510023485 (photo above)
Suspect strontium chromate residue found inside the right hand bleed air bypass valve. Screw missing from right hand bleed air bypass valve plate. The strontium chromate residue observed within the duct housing is likely to have originated from degradation of the corrosion protection coating applied to the inner surface of the valve duct housing. The missing screw was possibly due to insufficient locking on the attachment screw allowing the screw to work loose and detach from the plate and shaft. To rule out fleet wise contamination, fleet wise inspection has initiated. P/No: 10155008725. TSN: 7396 hours/6473 cycles.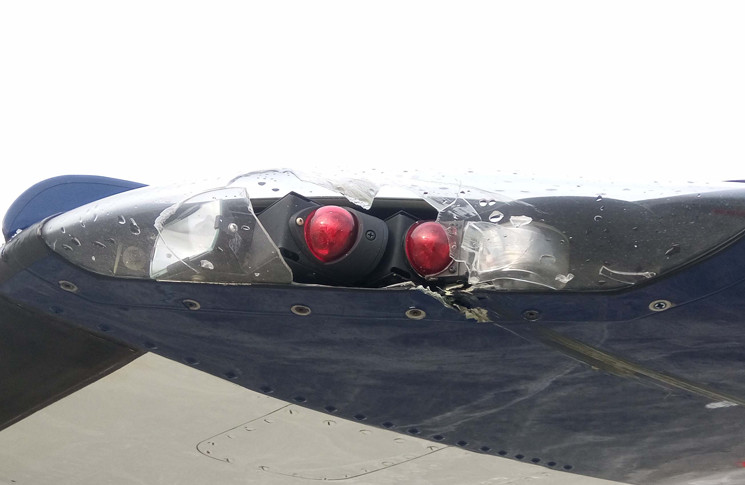 Beech 300 Exterior lighting—light fitting damaged. SDR 510023334 (photo above)
LH wing tip strobe/ navigation light assembly got damaged during towing. Apparent reason understood was non application of parking brake after the tow bar attachment sheared. P/No: 1307003245. TSN: /1860 cycles/862 landings.
Boeing 737-7FE Galley station equipment system—oven burnt. SDR 510023327
Cabin Crew reported rear Galley Oven#3 emitting a burning smell. Defect confirmed and rectification accomplished by replacing the affected oven IAW AMM. Initially applied MEL was removed. There have been no repetitive occurrences. P/No: 8201110000. TSN: 32945 hours/19479 cycles.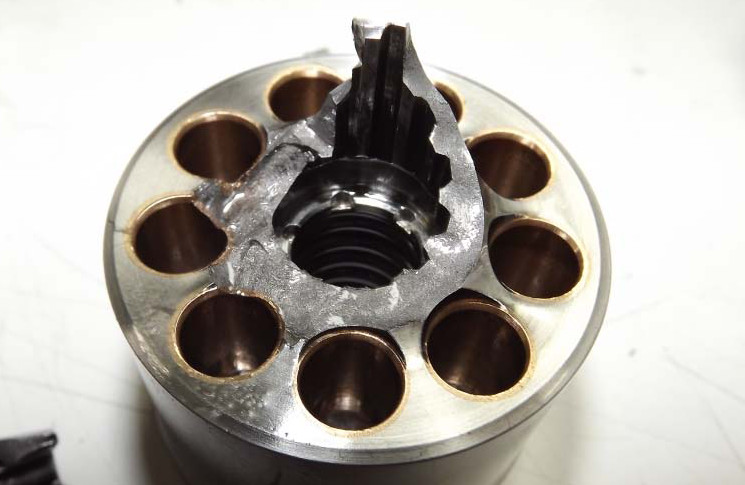 Boeing 737-838 AC inverter—inverter failed. SDR 510023423 (photo above)
During end of heavy maintenance check, after power being connected to the airplane for some time, heavy smoke and burning smell was noticed that was traced to burned static inverter with associated CB tripped on P6 panel. Inverter was inspected at the repair facility and was declared beyond economical repair. Inverter was found with burnt Flyback power stage. Failure mode remains unknown and no recommendations at this stage. P/No: 100201022090.
Boeing 737-8FE Ground proximity system—EGPWS intermittent. SDR 510023401
In flight, flight crew reported GPWS INOP light illuminated along with TERR FAIL on both NDs. No Automatic height Callouts on approach. Relevant FIM carried out, GPWS BITE carried out with nil faults found. Operational test of the GPWS carried out satisfactory IAW AMM. No faults found. Considered transitory. There have been no further occurrences. Honeywell has determined that the issue is being caused by EGPWC Central Processing Unit (CPU) loading, and has identified a software solution that optimizes the software throughput in order to improve processor efficiency. The software change is expected to reduce nuisance fault occurrences by freeing up the CPU to process more ARINC 429 inputs during periods of high input loading. No functional changes are being made to the EGPWC and the software upgrade will be aircraft loadable. Vendor, OEM SB and SLs are due soon. P/No: 9651690055. TSN: 41448 hours/24186 cycles.
Boeing 737-8FE Traffic collision avoidance system (tcas)—computer spurious. SDR 510023402
Descending through 6000′ terrain failure on FOs ND. BITE test carried out, no faults. System CB reset & tested satisfactory. Terrain display on both sides checked satisfactory. AC returned to service.
Boeing has determined that the TCAS 7.1 computers can raise nuisance faults which are usually not the result of an actual internal TCAS computer failure.
The TCAS 7.1 computer has the potential to experience a nuisance fault for the switch card diode monitor which causes an internal reset and a temporary TCAS FAIL EICAS message or annunciation on the navigation display. This fault occurs primarily on the ground, when the unit is likely to be in standby. Only about 1% of the recorded faults have been observed to occur while the unit is airborne. If the self-test passes and the TTR-2100 PASS/FAIL Light Emitting Diode (LED) remains green, the TTR-2100 should not be removed. Necessary instructions in this regard have been given to the AMOs and maintenance crew.
Boeing 747-438 Passenger station equipment system—seat burnt. SDR 510023429
A phone was dropped into the seat. The passenger was advised not to move the seat. He moved the seat and a fire ensued. The fire was extinguished with a BCF. The smoke dissipated and the flight continued to destination.
Boeing 747-438 Passenger station equipment system—seat odour. SDR 510023431
During flight, smoke from a charging mobile phone caught attention of the cabin crew. Phone started emitting smoke when it was crushed by passenger while straightening his back rest for a meal service. Smoke and debris removed from the seat. Seat functional test carried out IAW AMM. Seat covers deodorised and strong smell removed.
Boeing 777 Extinguishing system—extinguisher empty. SDR 510023393
STATUS message bottle 1B for cargo fire extinguisher. MAINT PAGE dictates low pressure. Squib verified not fired through continuity check. Bottle replaced as weighs empty. Unit returned to vendor for investigation. P/No: 4768543. TSN: 15315 hours/1171 cycles.
Boeing 7878 Aircraft fuel distribution system—O ring damaged. SDR 510023553
Fuel leak noticed on arrival in the RH C-Duct inner skin. Fuel was leaking from the coupling, through the rubber boot and onto the RH Thrust Link down to the rear of the fan frame. Left fuel coupling O rings replaced IAW approved data. Main fuel coupling reconnected, engine runs carried out, nil leaks apparent.
Boeing 7878 Aircraft fuel distribution system—O ring damaged. SDR 510023571
Fuel leak report from engine main fuel supply hose at the pylon disconnect panel. Leak was traced to a disconnect at pylon coupling. Rectification by replacement of O-ring and back-up seals at pylon coupling per AMM Task.
Boeing 7878 Air distribution fan—coupling broken. SDR 510023467
During inspection of R/H ECS bay, two plastic flappers from the recirculation fan coupling and duct fell out upon opening the panel. On further inspection, it was noticed that the lower aft recirculation fan coupling and duct have come away completely from the recirculation fan. The escaping air from the separated duct has also caused damage to the CAC orange insulation, initially suspected to be attributed to the uncontrollable temperature in the cabin.
Boeing 7878 Fuel storage—fuel tank leaking. SDR 510023577
Fuel leak (outside limits) originating from R/H wing junction area observed. Aircraft defueled IAW AMM with remaining fuel transferred from centre to wing tanks. Fuel leak repair in progress.
Boeing 7878 Galley station equipment system—oven leaking. SDR 510023299
Mid galley oven is producing smoke when in use. The oven is having water leak even when switched off. MEL applied and oven removed. C/B pulled & collared & EA requested. OEM advised blanking of water line. In the absence of suitable blank, all galley water supply cut off pending rectifications. P/No: 4323200916600.
Boeing 7878 Passenger station equipment system—pivot disengaged. SDR 510023389
Seat pan link pivot pins found missing from five economy class seats. It is believed that the loss of the pivot pins is due to set screws becoming loose, and over time and operation of the seat recline, the pivot pin disengages and falls out. Missing pins replaced and set screw tightness checked across the aircraft and retightened as required. Plan in place to inspect the remaining aircraft and rectify accordingly. Additionally, all set screws will be removed and reinstalled with application of Loctite to prevent further occurrences.
Bombardier CL604 Landing gear retract/extension system—valve out of limits. SDR 510023457
During routine functional checks of Air Driven Generator (ADG), priority valve was found to be exhibiting out of AMM operational limits. Same was replaced. In consultation with OEM, it was agreed to review the requirement for a scheduled task interval to be added to the maintenance program. This could help arrest latent failure of the valve. Fleet inspection also completed with failed valves replaced. P/No: 46193. TSN: 9343 hours.
Bombardier DHC8-102 Flight compartment windows—windshield shattered. SDR 510023439
Captains windshield's outer ply shattered during flight. After landing, inspections carried out IAW approved data and windshield was replaced. As a precautionary measure, window heat controller was also replaced.
Bombardier DHC8-201 Engine bmep/torque indicating system—torque signal condition suspect faulty. SDR 510023421
Over torque of #2 engine, No 2 Propeller exceeded 1200RPM. Suspected interruption of signal to Torque Signal Condition Unit (TSCU). Rejected Take off. Propeller assembly, Torque Signal Condition Unit (TSCU) both were replaced. FDR data reviewed by OEM confirmed an over torque event. Based on the estimated over torque peak value and the over torque duration, Boroscope carried out on reduction gears, found serviceable IAW PW 05-50-00, Scavenge filter patch carried out, found serviceable. Gear box MCD found clear IAW PW 05-50-00. EGR carried out, no leaks. P/No: 3014403. TSN: 1990 hours/1566 cycles.
Bombardier DHC8-202 APU start/ignition system—generator failed. SDR 510023545
Prior to departure, APU had an under speed protection trip with a high pitched sound. Restart attempt failed. APU starter generator removed with internal commutator was found failed. P/No: 23088008. TSO: 14 hours.
Bombardier DHC8-202 Fuel storage—fuel tank contaminated. SDR 510023543
Inter tank fuel transfer slow and difficult as reported by crew. After gaining access to the tank, tank sealant recovered from auxiliary motive flow jet pump. Pump refitted and follow up checks satisfactory.
Bombardier DHC8-315 Engine cowling system—cowling damaged. SDR 510023516
On pre-flight walk around, pilot noted heat damage on RH engine cowl. Further investigation revealed that the engine Ignition B ignitor was not installed in the engine (HF issue). As per OEM request, area cleaned of soot and dirt with detailed visual inspection of Engine struts, lower cowl assembly, composite structures and nacelle side panels carried out. Aft cowl door (INBD) found damaged, same replaced with serviceable item. RH engine Inboard lower engine strut found with missing paint in path of ignitor port. Structure in the vicinity also inspected. Further details to follow.
Bombardier DHC8-402 Fuel boost pump—ejector pump partially separated. SDR 510023536
On departure, fuel pressure caution light illuminated. Light went away after the auxiliary pump was selected on. On investigation, internal flapper valve in primary ejector pump was found detached causing partial blockage of fuel feed line. Failed component is the subject of an Airworthiness Directive which mandates the installation of a containment device in the fuel manifold IAW Bombardier SB 84-28-16. The effect on fuel flow is dependent on whether the liberated flapper is contained upstream or downstream of the Auxiliary Pump Outlet. The containment device ensures that the flapper is contained upstream of the junction. Subject aircraft was post SB. P/No: 2960008102.