Agusta Westland AW139 Fire bottle fixed—extinguisher blew out. SDR 510023679.
Walk around inspection noticed #1 engine fire bottle discharged indicator missing. Bottle was confirmed discharged. Replaced fire bottle and system check satisfactory IAW local work order. P/No: 3G2620V00131.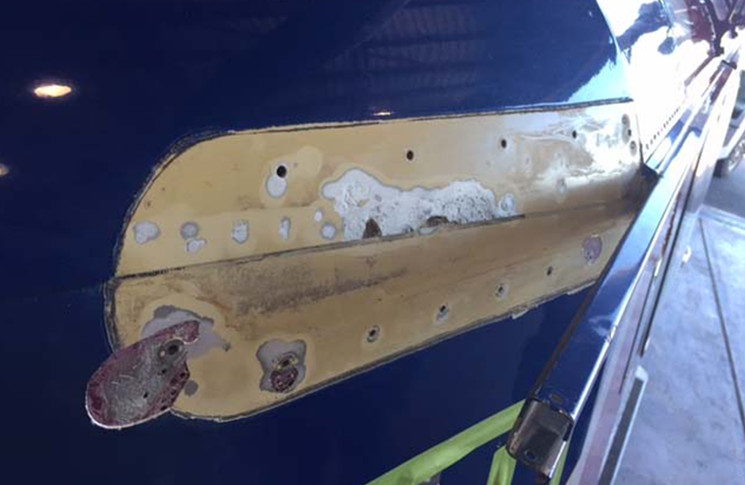 Agusta Westland AW139 Fuselage plates/skin—skin corroded. SDR 510023829 (photo above)
During inspections, level 2/3 corrosion found behind upper sliding door rail. OEM notified and repair scheme requested. Frequency of repeat inspections increased targeting weak areas. P/No: NA. TSN: 2157 hours TSO: 2157 hours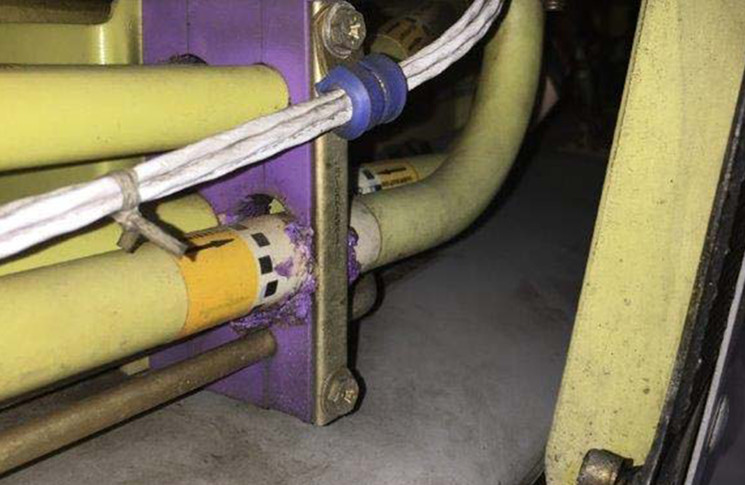 Bell 429 Miscellaneous hardware—block melted. SDR 510023794 (photo above)
Engine oil cooler pipe holding clamp block found melted, probably from heated pipe. This resulted in chaffing damage to the pipe itself. Necessary rectifications planned. P/No: 429365230101. TSN: 2154 hours.
Eurocopter AS350B3 Main rotor mast/swashplate—scissor arm worn. SDR 510023719
During inspection of the rotating scissor link and carbide spacers of the main rotor swash plate, gouging and scoring was found on the bearing surfaces. This is common wear found at inspection of the scissors. Scissor and carbide bushes required replacement regardless of the TSI. P/No: 350A37112603. TSN: 21 hours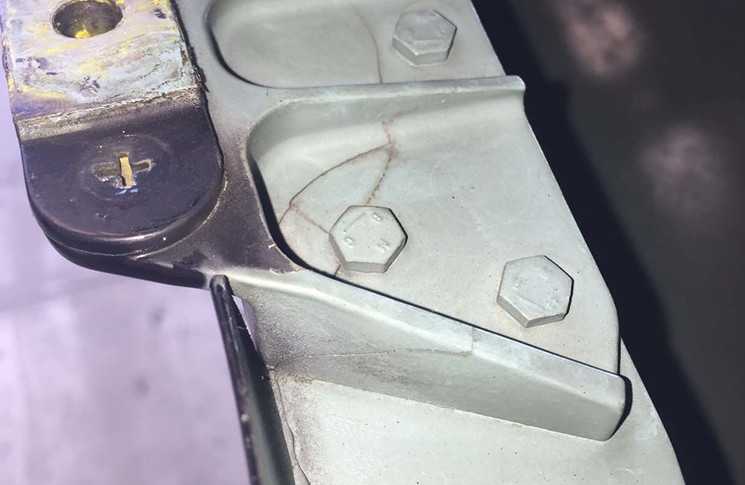 Eurocopter EC130B4 Rotorcraft tail boom—stiffener cracked. SDR 510023883 (photo above)
Structural member was discovered cracked beyond serviceable limits during scheduled maintenance. Five similar defect reported. P/No: 350A23404323. TSN: 4208 hours/17347 cycles/16202 landings
Robinson R22BETA AC generator-alternator—alternator unserviceable. SDR 510023718
After carrying out 100 hour inspection and engine ground run, flickering alternator light was noticed. Installed unit has low TSI. Could be faulty diode in alternator. P/No: D7483R. TSN: 324 hours.
Robinson R22BETA Main rotor blades—rotor blade delaminated. SDR 510023939
Pilot reported, main rotor blades had delamination at the tip. P/No: A0164.
Robinson R22 Tail rotor drive shaft—pitch control rough. SDR 510023762
During pre flight inspection while turning the tail rotor, pilot heard a noise from the tail rotor area. Upon investigation by a LAME, the noise was coming from the tail rotor pitch control assembly. Upon removal, bearings had signs of lubrication failure. Exchange item requested. P/No: A0311. TSO: 807 hours
Schweizer 269C1 Wheel cap cracked. SDR 510023896
During 100 hour inspection, top cap on the forward LH undercarriage damper assembly was found cracked across the top section above the bearing. This helicopter is used for flight training. P/No: 269A3170.
Sikorsky S76A Emergency equipment system—rescue hoist sparking. SDR 510023675
Prior to a SAR mission, ACM reported observing sparks, immediately followed by fire coming from the Hoist Assembly as the hook was stowed. The ACM called for power off and Captain responded immediately. With power in the off position, sparks and fire ceased. ACM continued to monitor the Hoist as the aircraft was shutdown without further incident. P/No: 42325120. TSN: 654 hours/1215 cycles.
Sikorsky S92A Weather radar system—guide non compliant. SDR 510023735
Replacement wave guide arrived non compliant as physically longer. Same confirmed with local technical representative. P/No: 9260001811101.