Airbus A320-232 Elevator structure—elevator contam-water. SDR 510023761
During 8C/12 YR check, while performing inspection IAW SB A320-55-1046, LH Elevator assembly upper surface skin found with water ingress at 4 places. This is a known issue that has repeat inspections per EASA AD 2014-0014 / Airbus Service Bulletin A320-55-1046. Airbus Service Bulletin A320-55-1046 details the corrective actions if water ingress is found. Elevator assembly already replaced. P/No: D5528000302400.
Airbus A320-232 Pneumatic distribution system—fan air valve faulty. SDR 510023813
Dual engine bleed faults after engine #1 start up. During the course of troubleshooting, fan air valve and control thermostat were replaced on #1 and #2 engines respectively. Both units were confirmed FF with faulty micro switch being the root cause of fan air valve failure. Filter designated as an expendable item. Airplane returned to service with satisfactory system performance. P/No: 6730F010000. TSN: 37871 hours/22179 cycles
Airbus A320-232 Rudder miscellaneous structure – protection strip debonded. SDR 510023751
During walk around, it was observed that the rudder upper left hand lightning strip has peeled back from structure and exposed into air stream. Damaged found out of limit and EO requested for permanent repair. Damaged rudder lightning strip had the potential of becoming a hazard to Aircraft and or persons.
Airbus A330-243 Escape slide—slide disengaged. SDR 510023843
Crew reported Door L1 slide raft dislodged when door was being closed for departure. Slide inspected and found quick release pins had migrated out of the release bars, allowing the slide to fall out of the release bars on to the cabin floor. Slide removed, pins and slide inspected with nil faults. Slide reinstalled as per AMM 25-62-XX. Aircraft released to service. Cause of the defect remained in determinant. OEM advised no similar events have been reported in the field. In addition, the removal of the pins would not affect the slide deployment as it is retained by the Girt Bar in the event of an emergency, thus risk to safety & airworthiness is minimal. P/No: 7A1508125. TSN: 5498 hours/1436 cycles
Airbus A330-243 Hydraulic system main—check valve rotated. SDR 510023736
During repeat inspection of yellow hydraulic system HP check valve, valve head found migrated by 3mm, yellow system high pressure check valve head re torqued & re wire locked IAW EASA AD instruction and AOT A290001-12 para 4.2. Until modification, repetitive inspection of the hydraulic check valves remain effective with the release of EASA AD2015-0009 and is scheduled at every 1000 FH. One similar report received. P/No: CAR401.
Airbus A380-842 Air distribution system—oxygen system leaking. SDR 510023750
Passing FL 310 on climb, ECAM warning of duct leak followed by Pack 1 and 2 Fault was presented. ECAM actions carried out, with descent to 10,000′. Air turn back to departing base initiated. A leak was evident at the Ozone Convertor Coupling, believed to be the trigger for the Overheat and Leak ECAM Messages. The unit was removed, inspected & re installed with new duct clamp. Leak with APU Bleed still persisted. The unit was again removed and the mating flanges more closely inspected for damage. Minor scoring and distortion was evident. Necessary rectifications planned. P/No: 23417981. TSN: 19227 hours TSO: 19227 hours
ATR ATR72212A Emergency lighting—battery discharged. SDR 510023913
Several emergency exit lights found inoperative during maintenance. Battery pack 43WL was found at fault. Rectification accomplished by replacing the Battery IAW local task card and AMM. Condition satisfactory. P/No: 3013017. TSN: 4714 hours/4701 cycles
BAC 146-300 Landing gear retract/extension system—actuator motor intermittent. SDR 510023776
After under carriage were commanded up, retraction cycle started with a delay of 2.5 to 3 minutes. An air return was initiated. During the course of rectifications, an intermittent fault (delay) with the landing gear selector valve actuator was found.The landing gear selector valve actuator was replaced and function checks carried out with nil defects. Defect & SDR considered closed. P/No: HTE210014. TSN: 25827 hours/20147 cycles/302 months
BAC 146-300 Landing gear retract/extension system—hose burst. SDR 510023698
During climb, after the landing gear was retracted, green hydraulic system LO PRESS and LO QTY annunciators illuminated. The crew conducted an air return to departing base and carried out emergency gear extension prior to landing without further incident.
The subsequent engineering investigation found LH MLG downlock flexible hose ruptured. Down lock pipe was replaced hydraulic system serviced, gear retraction checks carried out with nil defects. Defect & SDR considered closed. P/No: SA7670006149. TSN: 25779 hours/20111 cycles
Boeing 717-200 EICAS—avionics system failed. SDR 510023945
Versatile Integrated Avionics unit suspected faulty with associated warnings and symptoms presented in the cockpit. Replacement unit failed on fitment. Strip report awaited. P/No: 4081570909.
Boeing 737-376 Fire bottle portable—fire bottle unserviceable. SDR 510023825
X2 flight deck BCFs extinguishers found with wire through the transit lockout hole.
Boeing 737-838 Passenger oxygen system—oxygen mask unserviceable. SDR 510023872
Three O2 bottles ( located at forward galley, L1 door, forward lavatory) rendered in operative due to latching in a non normal position.
Boeing 737-8FE Autothrottle system—autothrottle disengaged. SDR 510023888
Flight crew reported auto throttle disengaged during take-off. Manual thrust was then used. Tried to re-engage in climb and cruise but disengaged again after a short while. Thrust lever#2 was observed to move but the #1 was not affected by Auto Throttle commands. Flight fault history showed multiple events of Maintenance Message 22-31687. Auto Throttle DC 1 Circuit Breaker cycled as per FIM 22-32 Task 819 and servo motor test carried out satisfactory. There is no history and there have been no repetitive occurrences. Three similar reports received.
Boeing 737-8FE Crew oxygen system—oxygen cylinder leaking. SDR 510023951
Shop report of the removed bottle confirmed Oxygen Leak was caused by indentation on the seal P/N 801581-00 inside the valve body and gauge assembly. The AMO is currently following up with the OEM. Awaiting feedback. P/No: 80130700. TSN: 32524 hours/19579 cycles
Boeing 737-8FE Ground proximity system—EGPWS intermittent. SDR 510023734
The flight crew reported GPWS Inop and associated Terrain Fail annunciated for last hour of flight. GPWS reset, CB cycled and BITE test carried out with nil faults current. Carried out system test and unable to fault. Defect closed IAW AMM 34-46-XX. No previous history and no further occurrences. Considered as transitory. Investigation carried out by the OEM determined that this failure mode is caused by EGPWS Central Processing Unit (CPU) loading, and has identified a software solution that optimizes the software throughput in order to improve processor efficiency. The software change is expected to reduce nuisance fault occurrences by freeing up the CPU to process more ARINC 429 inputs during periods of high input loading. Seven similar reports received.
Boeing 737-8FE Inertial guidance system—ADIRU suspect faulty. SDR 510023720
Flight Crew reported successive indications over a 10 minutes period: Pitch Fail, Auto Brake disarm, Captains ND Fail, Weather Radar Amber Flags, TCAS fail and IRS fault. Defect was confirmed and Left ADIRU replaced IAW AMM 34-21-XX with nil further events evident. There is no history and there have been no repetitive occurrences. P/No: HG2050AC07. TSN: 11879 hours/7337 cycles.
Boeing 737-8FE Leading edge slat position indicating system—proximity sensor faulty. SDR 510023831
Flight crew reported LE FLAPS TRANSIT light along with associated overhead indication LE DEVICES illuminated intermittently during climb. Air turn back conducted and flight concluded with normal approach and landing. BITE test carried out confirmed F3 proximity retract at fault. Sensor replaced and tested satisfactory IAW AMM 27-88-XX. Aircraft released to service with nil further occurrences. Performance of proximity sensors PN: 1-899-29 is currently being monitored by the approved reliability program. AMP task is in place for checking of on-wing resistance of the sensor IAW FIM 27-88 at every C-Check. Improved sensor available as referred in OEM SL 737-SL-32-167-A. P/No: 189929.
Boeing 737-8FE Traffic collision avoidance system (tcas)—TCAS intermittent. SDR 510023696
Flight crew reported TCAS fail message on display. FIM 34-45 Task XX carried out with no faults found. CB cycled satisfactory. No previous history and no further occurrences. Considered as transitory. Four similar reports received.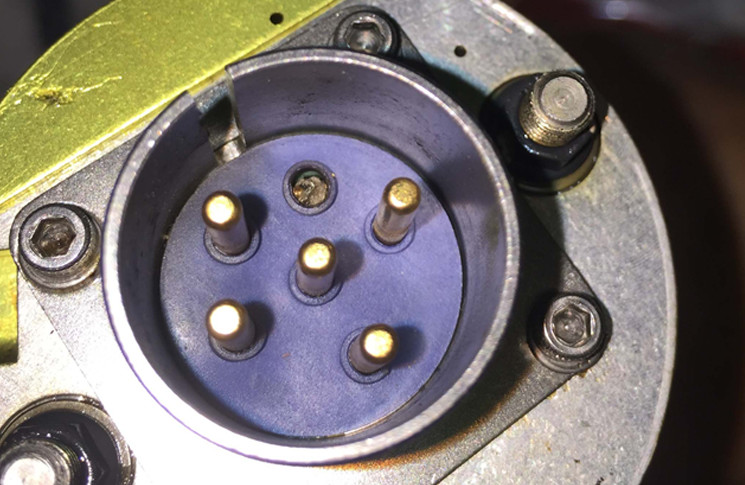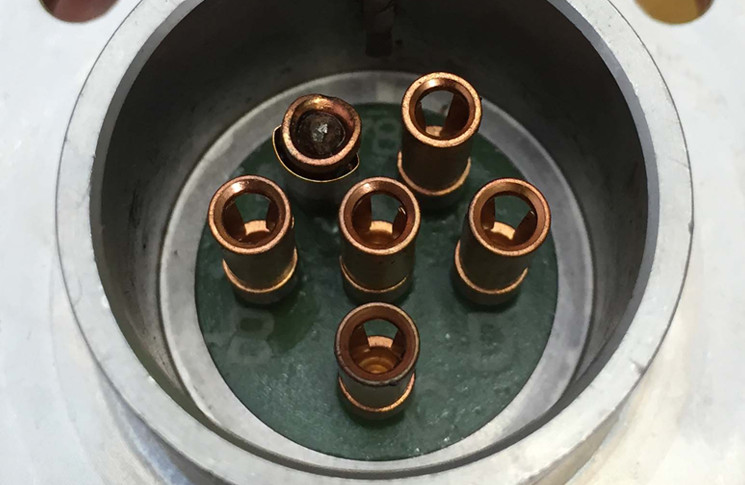 Bombardier BD7001A10 Fuel wiring—cartridge broken. SDR 510023693 (photos above)
LH DC auxiliary fuel pump found with broken connector pin. Pin was found stuck in socket with arcing marks. P/No: F61003. TSN: 5800 hours/2234 cycles.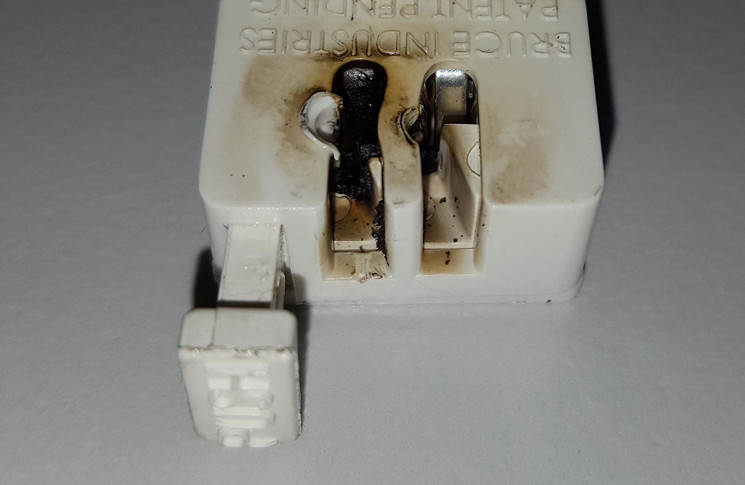 Bombardier DHC8-202 Passenger compartment lighting—lamp holder burnt. SDR 510023876 (photo above)
During pre flight checks, crew reported burning smell in cabin and around the radar console. Smell was traced to X2 burnt cabin sidewall fluoro tube holders. Affected tubes removed from holders and MEL applied. During the course of rectifications, suspect lamp holders were replaced. One was found badly burnt where as the other was cracked. System tested serviceable. P/No: BV033021148BV033001248.
Embraer ERJ-190-100 Aileron control system—bearing jammed. SDR 510023889
Flight crew reported flight controls notchy in aileron roll channel. LH & RH aileron fuse torque sector shaft upper and lower bearings replaced IAW AMM 27-11-XX. There have been no repetitive occurrences.
Embraer ERJ-190-100 Fuselage floor beam—beam corroded. SDR 510023664
During inspection of passenger cabin floor structure, level 2 corrosion was found on cross beam at FR17. Cabin floor cross beam corrosion is classified as Primary Structural Element 53-10-0XX. Corrosion removed in affected areas IAW SRM 51-12-XX followed by HFEC inspection. Repair doubler installed IAW SRM 51-40-XX and others. Embraer ETD 2016-190-XX applied. Three similar defects reported P/No: 17011697001.
Embraer ERJ-190-100 Hydraulic pump main—pump failed. SDR 510023787
During climb out of departing base, Flight Crew reported Hydraulic System #2 Low Quantity followed by Low Pressure indication. Air turn back conducted and flight concluded with no further issues with normal braking and steering. Troubleshooting confirmed leaking fluid from the Engine #2 hydraulic pump housing. EDP was replaced and tested satisfactory IAW AMM 29-11-XX. Associated Engine Starter and IDG were also replaced due to fluid contamination IAW AMM 80-00-XX and AMM 24-21-01.Tests carried out satisfactory. Aircraft released to service. P/No: 5116404. TSN: 1817 hours/1431 cycles.
Fokker F28 MK0100 Air conditioning system—coupling ruptured. SDR 510023955
Before landing, one air-conditioning pack failed with loud bang. Initial MEL was applied form further operation. On return to base, during pack leak check, coupling assembly was found to have failed/ad rifted at compressor outlet / secondary heat exchanger bypass valve junction. The coupling assembly was replaced with a new part (PN FON4-1420040). The compressor outlet and the secondary heat exchanger bypass valve were inspected with no defects detected. MEL was cleared and the aircraft returned to service. P/No: FON41420040.
Fokker F28 MK0100 Fuel storage—jet pump contaminated. SDR 510023877
At top of aircraft ascent, COLL TK 2 LO LVL warning presented with approximately 1,800 kilograms (kg) of fuel remaining in each wing Tank. Fault self-cleared approximately 5 minutes after its occurrence. Ground checks verified serviceability of low level warning system. Continued investigation identified debris inside of fifteen out of eighteen of the collector tank # 2 Jet Pump Tube, Venturi Nozzles. As such, all debris was removed from Jet Pumps # 1 to 11 and the pumps were cleaned. All debris removed from Jet Pumps # 12 to 18 and then cleaned the pumps. All affected hoses of all pumps were then reconnected, and collector tank # 2, Jet Pump operational check was carried out without fault. As continuation of Fokker Fault isolation, right hand collector tank filter / bypass check valve was inspected , subsequently identifying further debris, replacing the valve. Investigations started.
Fokker F28 MK0100 Pressure regulator valve—pipe cracked and leaking. SDR 510023743
Just after leaving FL 350 on descent, CABIN ALT alert presented. After stabilizing below 10000 feet, completed all relevant checklists, re appraised the situation and conducted the approach. That approach resulted in a go around and the second approach led to a successful landing. Investigation revealed poor condition of flare in static line on primary outflow valve as well as a cracked flare in static line on secondary outflow. Both pipes were repaired on site IAW approved data. Aircraft pressurisation checks satisfactory. No further action has been recommended at this stage. The issue has not re-occurred and therefore it has been considered as an isolated event.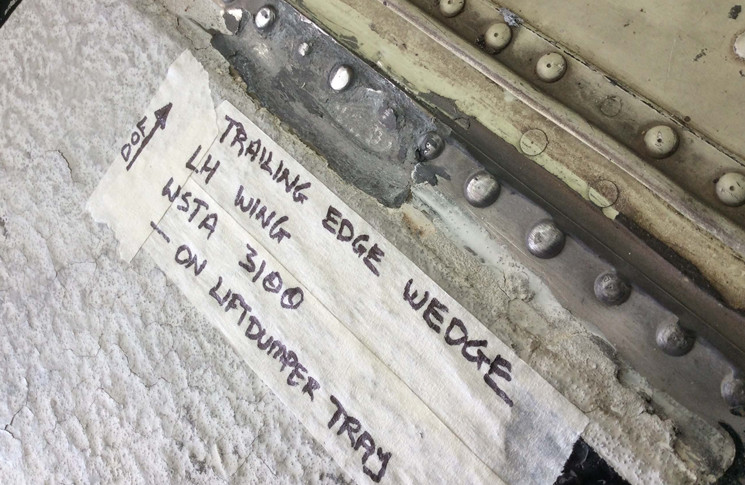 Fokker F28 MK0100 Wing control surfaces—wing box corroded. SDR 510023678 (photo above)
During base checks, out of limit corrosion was found on the upper trailing edge shroud adjacent to #2 lift dumper. OEM technical services contacted.
Fokker F28 MK070 Fuselage plates/skin—skin cracked. SDR 510023820
During base checks, two cracks on the right hand side of the Fuselage, emanating from a counter-sunk rivet, approximately 100 Millimetres (mm) forward of Frame Station (FSTA) # 17011, approximately 14 mm below the skin splice between Stringer (STR) 46 and 47 were reported. Non-Destructive Testing (NDT) measured the crack to extend approximately 9 mm from the top of the associated rivet to the edge of the Fuselage skin and approximately 3 mm long from the bottom of the Rivet.Repair not covered by OEM manuals so an approved repair has been requested. Same will be embodied after receipt. Reliability Engineering investigation into this Incident has commenced. P/No: 17011.
Saab SF340A Pneumatic distribution system—clamp sheared. SDR 510023929
Following report of high delta T on right hand engine, troubleshooting found bleed duct clamp failed at wing to fuselage interface. Clamp replaced followed by satisfactory leak checks. Engine trend recovered. P/No: A40C60.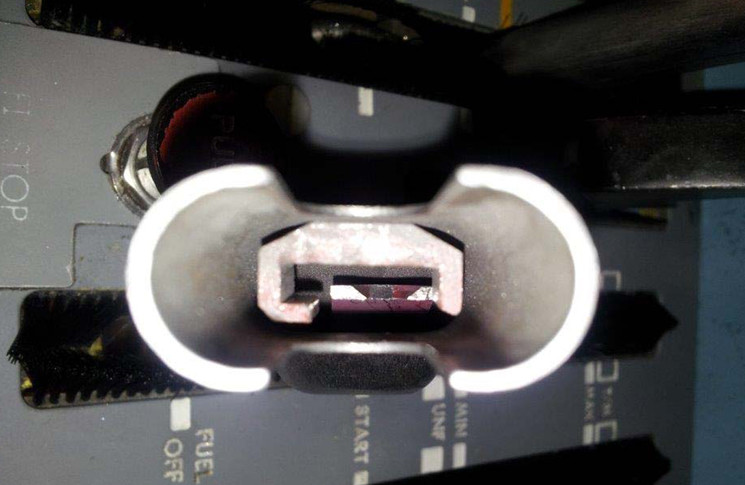 Saab SF340B Power lever—condition lever cracked. SDR 510023702 (photo above)
During start, when moving LH condition lever to the start gate detent, upper part of the lever separated from the lower half. A control quadrant replacement was carried out. P/No: 64198.