CESSNA 402 C—ATA 3222 NOSE/TAIL LANDING GEAR STRUT/AXLE BRACE CRACKED. DR 611649111
During inspection against SIDs 32-20-00, Eddy current technique detected cracks on nose gear drag brace upper inboard web forward of strut attachment lug.
CESSNA 404—ATA 5714 WING, CENTER BOX SPAR BOX DEBONDED. DR 611649113
An ultrasonic bond test was carried out on centre wing spar web, I.A.W approved specifications found the following flaws: 1. A 6.0 inch x 3.0 inch disband indication was detected at CWS 16-22 (LHS). 2. A 12.0 inch x 2.0 inch disband indication was detected at CWS 10-22 (RHS). Rectifications planned.
CESSNA 210 M—ATA 2312 VHF COMMUNICATION SYSTEM MICROPHONE LOOSE CONNECTION. DR 611649120
COM 1 and 2 transmission failure. During trouble-shooting, hand mic jack found not fully inserted. System became serviceable after jack was inserted properly.
BEECH 200—ATA 3251 STEERING UNIT ROD END LOOSE. DR 611649140
Nose steering became very bumpy with little feedback through rudder pedals. NLG steering bungy, forward attachment rod end had unwound itself remaining engaged on only one thread. Rod end inspected, reinstalled and lock nut tightened.
CESSNA 402 C—ATA 3233 LANDING GEAR ACTUATOR ACTUATOR SUSPECT FAULTY. DR 611649174
After touch-down 'gear unlocked' light momentarily illuminated. NLG found difficult to lock down and suspected having defective NLG actuator. NLG actuator was replaced with a repaired actuator. Landing Gear functional check carried out found satisfactory.
BEECH 33 F33A—ATA 2421 AC GENERATOR-ALTERNATOR ALTERNATOR UNSERVICEABLE. DR 611649180
AC alternator suspected faulty as aircraft was experiencing radio interference as well as no fuel flow indications. Alternator removed and was confirmed faulty. Internal slip rings/drive bearings were loose and had moved on shaft. Brushes were worn beyond limits. Rendered beyond economic repair so new one sourced.
CESSNA 210—ATA 2497 ELECTRICAL POWER WIRING TERMINAL BROKEN. DR 611649216
Pilot reported 'Discharge and electrical failure during take-off'. Ground check found one terminal broken on alternator. Terminal replaced & checked satisfactory. Aircraft returned to service.
CESSNA 210 L—ATA 2430 DC (DIRECT CURRENT) GENERATION SYSTEM GENERATOR UNSERVICEABLE. DR 611649252
Pilot reported in flight alternator failure. Alternator field windings open circuit. Alternator replaced.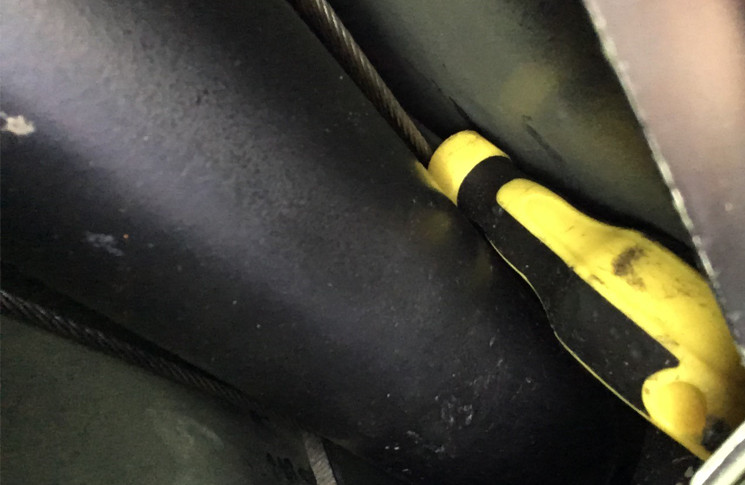 CESSNA 208 B—ATA 2730 ELEVATOR CONTROL SYSTEM TOOL STUCK. DR 611649156 (photos above)
During flight control rigging check, pilot checked full and free movement of all flight controls. Very slight friction or binding of the elevator control was identified. The issue was discussed with the LAME who investigated further and discovered an object wedged between the control column shroud and the control column attaching cables. The shroud was removed and a screw driver was found.
CESSNA 208 B—ATA 7720 ENGINE TEMPERATURE INDICATING SYSTEMS THERMOCOUPLE OUT OF LIMITS. DR 611649188
In climb phase, there was Torque roll back on #1 Engine. On advancing the power lever, target Tq was not reached while ITT reached red limit. Aircraft returned to Base. Relevant external inspections completed. However, T5 trim thermocouple harness reading was unstable and erratic. T5 Trim harness removed from protective tube for inspection and found the insulation on both wires damaged and ¾" of both wires exposed, thereby shorting intermittently to each other and to the metal tube. Wires were separated from each other and calibration test carried out again—reading stable and within limits. Wires temporarily repaired and reinserted in protective tube. Trim harness re-installed and connected and another ground run conducted. Engine Tq and ITT indications now normal and take-off power no longer temperature limited. T5 Trim thermocouple requisitioned for replacement.
ALPHA R2160—ATA 5511 HORIZONTAL STABILISER, SPAR/RIB SPAR CRACKED. DR 611649137
During inspections, cracks were found above the holes at the stabiliser spar hinge bracket installation. Original French built Robins had the anchor nuts mounted vertically which allowed spar to take more stresses. The new Alpha have anchor nuts mounted horizontally causing the stabiliser spar to fatigue crack over the top of the holes. Cracks are detectable by eddy current inspection.