CONTINENTAL GTSIO520 M—ATA 7414 MAGNETO/DISTRIBUTOR GEAR WORN. DR 611649029
While performing Continental Service Bulletin SB 669 Inspection & 500 hourly Magneto Inspection, LH Engine LH & RH Magneto gear assembly were found to have sidewise movement on block. Both distributor block & the distributor gear were replaced with new items. This bushing failure is also described in CASA AWB 74-005 Issue 3, Section 3 & figure 5. The loose bushing may result in an offset or disengaged distributor gear, damaged distributor gear teeth, and/or rough running engine operations.
LYCOMING TIO540 J2BD—ATA 8510 RECIPROCATING ENGINE FRONT SECTION SEAL WORN. DR 611649084
Alternate air door sealed shut with silastic due to poor maintenance.
ATA 8500 ENGINE RECIPROCATING—PISTON ENGINE ROUGH RUNNING. DR 611649086
On trimming up aircraft after a 100-hour inspection, pilot found it hard to start the engine. Once started, the engine ran rough through to around 80%. During the course of troubleshooting, throttle drum found hard to turn on FCU. FCU unit replaced and faulty unit sent for overhaul. Replacement unit fitted with nil defects noted.
ATA 8550 RECIPROCATING ENGINE INTERNAL OIL SYSTEM—RIVET SHEARED RIVETS. DR 611649176
A rivet head was found inside the engine suction filter. After removal of the oil sump and induction housing assembly, missing rivet head was found to be sheared off the oil sump baffle.
PRATT & WHITNEY R1830 43—ATA 7414 MAGNETO/DISTRIBUTOR MAGNETO Tracked. DR 611649191
During magneto ground checks after flight, tracking was evident on forward face of distributor finger. Moreover a number of cracks and distortion was also evident. There was a chance that defective magneto would not present itself on performance test prior to take-off however, once the engine had heat soaked, magneto would become unserviceable.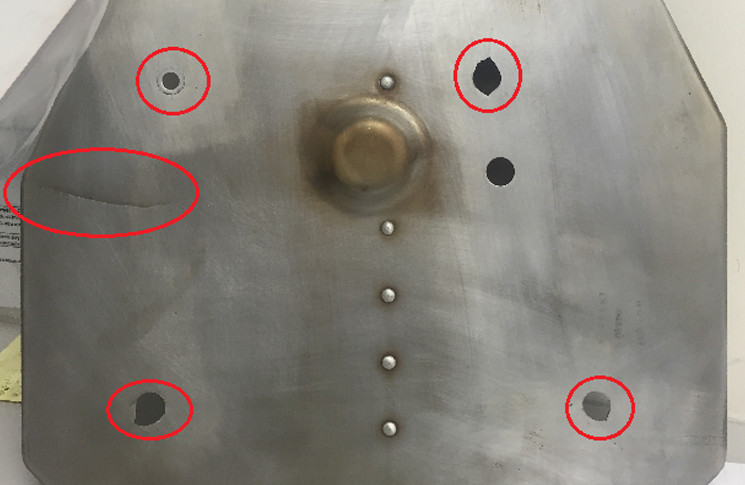 ATA 8550 RECIPROCATING ENGINE INTERNAL OIL SYSTEM—BAFFLE DAMAGED. DR 611649231 (photo above)
During inspections, engine sump baffle was found damaged. Part replaced.
ATA 7322 FUEL CONTROL/RECIPROCATING ENGINES—CARBURETTOR LEAKING. DR 611649260
Fuel leak observed from carburettor bowl only when turbo boost power applied. Leak is from gasket area where bowl joins body of carburettor. Leak overflowed the carburettor tray and ran over the top of the metal exhaust shroud. Lock wire on the nut at the bottom of the carburettor was loose. Retightening and re-lock wiring solved the problem.