AIRBUS A330 243—ATA 2913 HYDRAULIC PUMP, (ELECTRIC/ENGINE), MAIN PUMP LEAKING. DR 611649020
Flight crew reported ECAM message HYD G SYS LEAK during short final approach followed by HYD G RSVR UNDERFILLED message after landing. Leak was traced to #2 EDP pressure line rosan fitting. EDP was replaced IAW AMM 29-11-XX. Follow-up checks satisfactory.
BOEING 737 8FE—ATA 2731 ELEVATOR TAB CONTROL SYSTEM SPRING BROKEN. DR 611649039
During scheduled detailed visual inspection of the right elevator tab and right elevator tab mechanism per Boeing Task Card, the upper O/B spring was found broken. Spring was replaced satisfactory per CMM 27-34-03.
AIRBUS A320 232—ATA 3520 PASSENGER OXYGEN SYSTEM OXYGEN GENERATOR UNSERVICEABLE. DR 611649049
During replacement of oxygen generators IAW EASA AD 2015-0117, 13 out of 63 generators (PN: 117042-04) manufactured in the year 2004 failed to activate upon removal. Findings have been supplied to Airbus per the mandatory reporting requirements. It is highly probable that generators manufactured in year 1999 through 2001 are unreliable. To address this potential unsafe condition, Airbus issued Alert Operators Transmission (AOT) A35N006-14, making reference to B/E Aerospace Service Information Letter (SIL) D1019-01 (currently at Revision 1) and B/E Aerospace Service Bulletin (SB) 117042-35-001. As a terminating action, this AD requires replacement of oxygen generators within a specific time.
AIRBUS A320 232—ATA 3242 BRAKE BRAKE CONTAMINATED. DR 611649085
Post arrival checks noted hydraulic leak from main landing gear contaminating both LH MLG doors and brakes. Brake units and wheels were replaced and the aircraft was returned to service.
BOEING 787 8—ATA 2110 CABIN COMPRESSOR SYSTEM FAN ASSEMBLY BROKEN. DR 611649104
CAC appears to have had internal failure with debris damaging CAC outlet check valve. CAC inlet duct interior also found delaminated. R2 CAC removed and inspection carried out, noted CAC fan failed with large quantities of debris. All debris removed up to ozone filter. R2 CAC replaced. CAC not tested due further heat damage noted on the CAC inlet duct. Duct requires replacement. CAC placed on MEL.
BOEING 787 8—ATA 3230 LANDING GEAR RETRACT/EXTENSION SYSTEM ACTUATOR LEAKING. DR 611649125
During pre-flight inspection, RH MLG Actuator found to be leaking at a rate of 20 drops per minute against the AMM limit of 30 drops. Considered within limits and airplane dispatched under deviation guidelines. Replacement planned.
AIRBUS A320 232—ATA 3230 LANDING GEAR RETRACT/EXTENSION SYSTEM HOSE RUPTURED. DR 611649127
Inflight green hydraulic system failure detected. LH Main Landing Gear also failed to retract. ECAM actions were completed by flight crew and an overweight landing was made at the destination. During ground checks, hydraulic hose was found ruptured on LH MLG. Further inspections are continuing.
AIRBUS A330 243—ATA 2910 HYDRAULIC SYSTEM, MAIN CHECK VALVE ROTATED. DR 611649131
During repeat inspections against EASA AD 2015-0009, HP Manifold Check Valves of green, blue and yellow systems were found rotated. No signs of fluid leak were observed and the associated lock wires found not broken. Torque restored, lock wires replaced and paint markings re-applied in accordance with AOT A29L001-12 instructions. EASA AD 2015-0009 effective from 30 Jan 2015 supersedes EASA AD 2012-0244 R1 and introduces a terminating action to the repetitive inspections of the Hydraulic Check Valves by the replacement of Check Valves P/N CAR401 by an improved check valve P/N CAR402. OEM notified IAW AOT instructions. No further actions are recommended at this time.
AIRBUS A330 202—ATA 2910 HYDRAULIC SYSTEM, MAIN O RING DAMAGED. DR 611649162
During flight crew observed green system leak related ECAM message. ECAM actions carried out with pumps switched off and gears gravity extended. On arrival, G hydraulic quantity observed at half. Leak was traced at left wing outboard aileron inboard actuator part no C38657-002 filter cap. Rectifications planned.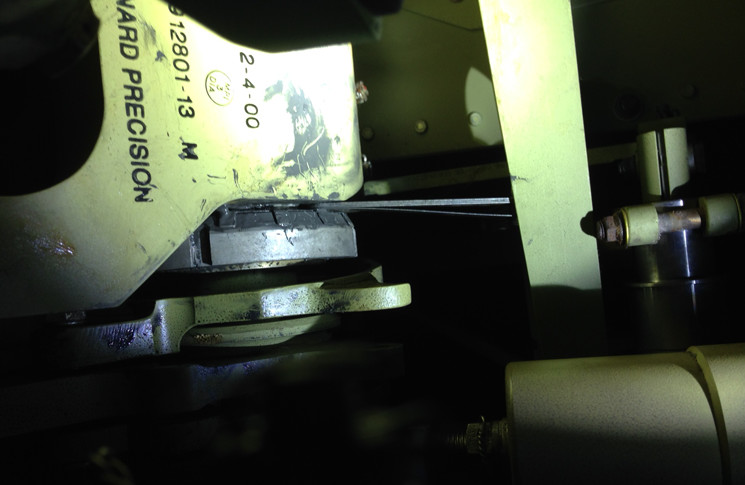 BOEING 717 200—ATA 5544 RUDDER, MISCELLANEOUS STRUCTURE WASHER LOOSE. DR 611649166 (photo above)
Following multiple reports of cracked brackets and rods holding heat exchanger and ACMs, Engineering discovered excessive play within the aft Rudder mechanism. Apparent lack of positive locking found at this installation. Boeing confirmed this finding and provided relevant drawing to enable this installation to be adjusted into the correct configuration. Aft Rudder mechanism was re-assembled with positive locking achieved through star washer. Post maintenance check flight has been conducted with nil discrepancies noted.
BOEING 737 8FE—ATA 3461 FLIGHT MANAGEMENT COMPUTING SOFTWARE SYSTEM COMPUTER INTERMITTENT. DR 611649189
Flight Crew reported LH and RH FMCs went offline for 3-4 minutes during descent. The OEM believes, possible cause is atmospheric radiation inducing a Single Event Upset (SEU). The OEM is currently collecting failure data for root cause validation. FMCs BITE procedure carried out as per FIM 34-61 Task 801 found FMCs PRES POS LAT – RATE Intermittent. FMCs sensor tested with nil faults. Nil current or inflight ADRIS faults noted. ADRIS and FMCs CB's cycled satisfactory. There is no history and there have been no repetitive occurrences.
BOEING 717 200—ATA 3510 CREW OXYGEN SYSTEM HOSE RUPTURED. DR 611649196
Flexible crew oxygen hose ruptured during taxi. Oxygen hose replaced.
FOKKER F27 50—ATA 2520 PASSENGER STATION EQUIPMENT SYSTEM CROSS MEMBER CRACKED. DR 611649200
During scheduled inspection against AD 'CASA AD/SEATS/16 Amdt 1, CSB 312/91202 Detailed Inspection of Aisle Side x Mem' a crack was identified on a cross-member of the row 3, left hand Passenger Seat Assembly. Cracked Cross-Member was repaired with a modified component as per AVIO Interiors Service Bulletin (SB) 312/912-04. Defect has been submitted IAW CASA reporting requirements.
BOEING 747 48E—ATA 7600 ENGINE CONTROLS RESOLVER Out of range Voltage. DR 611649210
Aircraft rejected take off and returned to bay due power shortfall on #1, #2 & #4 engines. CMC indicating #3 engine TRA resolver signal fail. Review of exceedance report confirmed #3 resolver higher output. Resolver was replaced. Auto throttle response on following take-off was normal. Review of company's Reliability data suggested this to be an isolated incident. Removed resolver has accumulated >100K TSO. There is no World Fleet issue identified through Boeing Ideas Exchange or Boeing Fleet Reliability Statistics.
BOEING 737 7FE—ATA 3445 TRAFFIC COLLISION AVOIDANCE SYSTEM (TCAS) COMPUTER Transient. DR 611649215
Flight crew reported TCAS failure annunciated. TCAS C/B reset carried out as consulted and approved by maintenance. Fault cleared and TCAS system tested OK. No recent history and there have been no repetitive occurrences. Fault considered as transitory. TCAS operational test carried out per AMM 34-45-00-XX and all indications normal. As per 737-SL-34-235, Rockwell Collins TCAS computer TTR-2100, P/N 822-2911-001/-002, has the potential to experience a nuisance fault for the Switch Card Diode Monitor which causes an internal reset and a temporary TCAS FAIL on the Navigation Display. OEM recommendations were adopted.
BOEING 787 8—ATA 5532 VERTICAL STABILISER, PLATES/SKIN SKIN DAMAGED. DR 611649229
During routine inspection, vertical stabiliser RH main torque box was found with skin damage between ribs 7 & 8. Damage found to be outside allowable damage limits. Boeing contacted for repair instructions.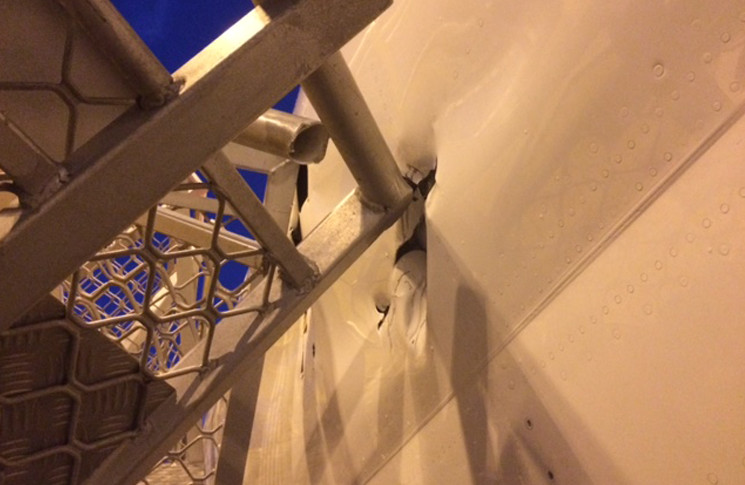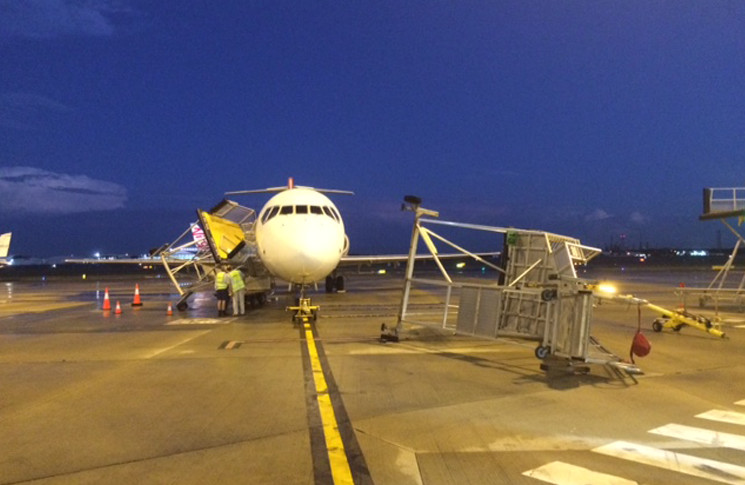 BOEING 717 200—ATA 1200 SERVICING AIRCRAFT ground damage. DR 611649230 (photos above)
Extreme weather initiated ground equipment movement caused damage to the aircraft.
BOEING 737 319—ATA 1200 SERVICING FUSELAGE DAMAGED. DR 611649232
With no wind warning, unsecured stairs stuck aircraft. Appropriate actions taken.
BOEING 737 8FE—ATA 2611 SMOKE DETECTION SYSTEM DETECTOR False warning. DR 611649233
Cabin crew reported R2 toilet fire warning / smoke detector activated during flight. No trigger located. Detector was tested per AMM 26-14-00-XX unable to fault. Crew monitored throughout flight and lavatory was locked off. No previous history and there have been no repetitive occurrences.
AIRBUS A320 232—ATA 3414 AIRSPEED/MACH INDICATOR ASI DISCREPANCY. DR 611649241
During take off, flight crew noticed airspeed indicated on the Captain's PFD and the First Officer's PFD had a difference of 10 KTS. The First Officer's pitot system was already on MEL. Tests of the altitude and airspeed data were carried out per the AMM and aircraft declared serviceable.
BOEING 717 200—ATA 1200 SERVICING COWLING ground damage. DR 611649245
During towing, aircraft stuck lavatory servicing truck contacting LH lower engine cowl and LH flap fairing. Cowl replacement planned whereas other inspections normal.
FOKKER F28 1000—ATA 5230 CARGO/BAGGAGE DOORS STRINGER CORRODED. DR 611649271
During scheduled inspection, level 2 corrosion on Stringer (STR) 69A of the aft Cargo Door cut-out was observed. Fokker Services were contacted for repair advice. Embodiment planned during current grounding.
Further to the above, Fokker CAS instructions constitute a permanent repair, with no follow-up action required.
BAE AVRO146RJ 200—ATA 2750 TRAILING EDGE FLAP CONTROL SYSTEM COMPUTER SUSPECT FAULTY. DR 611649018
In cruise, the flap fault annunciator illuminated on MWS. The crew conducted an air return to departing base where on approach, flaps failed to operate and a flap less landing was made. Engineering carried out a flap less landing inspection with nil defects evident. All main and nose wheels were replaced as their critical speeds had been exceeded. Flap computer 'code 15' was logged, flap computer CB reset and flaps operated normally. All flap system component resistance checked within limits. Flap Control Computer replaced and tested serviceable. Defect considered closed.
EMBRAER ERJ 190-100 IGW—ATA 3441 INERTIAL GUIDANCE SYSTEM IRS INTERMITTENT. DR 611649024
During flight, multiple automation and navigation failures experienced. AT fail, erroneous flight path angle FPA guidance, Auto pilot fail, shaker anticipated EICAS, along with scratch pad message, check IRS 2 position.
Automation attempted to be re-engaged, would only maintain control for few seconds. Descent to a non-RVSM level conducted and ATC advised. CMC interrogated, 2 faults confirmed. IRS fail fault code 342655151R2 and AFCS fault code 22110227PA 1 present. Aircraft powered down, up twice. Fault cleared on initial power up and didn't reoccur. G10 module 1A reset test c/o IAW FIM 34-26-00-XX. Test passed and defect considered a transitory condition of IRS 2 system.
EMBRAER ERJ 170-100 LR—ATA 3411 PITOT/STATIC SYSTEM—PROBE—INCORRECT SECURE. DR 611649031
Aborted take-off due nil airspeed displayed on co-pilots PFD. N4 pitot probe cover found installed. Cover removed. Probe inspected for condition and serviceability.
ATR ATR72 212—ATA 2150 CABIN COOLING SYSTEM AIRCYCLE MACHINE FAULTY. DR 611649040
Strong burning smell in flight deck and centre of cabin was reported with packs at high flow. During the course of troubleshooting, it was found that LH pack was unable to cool below 30 C cabin temperature. Air Cycle Machine (ACM) suspected as being at fault. L/H Air Cycle machine was replaced along with TIC valve. Testing was completed IAW Honeywell SIL GP22. ACM on the ATR is an open reliability issue with on ongoing OEM (Honeywell) investigation. Design improvements are being reviewed with an update expected in 4th Q of 2016.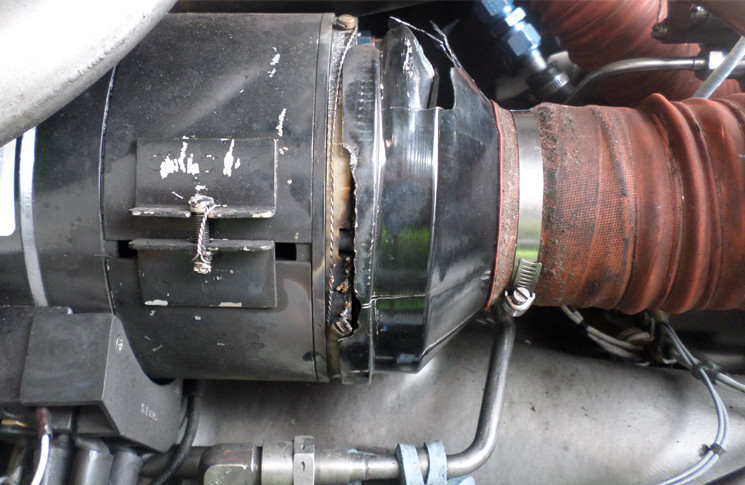 EMBRAER EMB120 ER—ATA 2420 AC (ALTERNATING CURRENT) GENERATION SYSTEM FAN BROKEN. DR 611649046 (photo above)
PAX and FA reported sparks coming from the LH exhaust. All engine indications were reported normal.
LH Starter Gen Cooling Fan and Cooling Duct had come into contact with each other causing damage and sparks. It appears that part of one of the fan blades became detached which resulted in the damage.
LH Starter Gen replaced with a serviceable item. Unserviceable part has been sent to approved repair station for repair.
ATR ATR42 212—ATA 7714 ENGINE RPM INDICATING SYSTEM O RING DAMAGED. DR 611649047
On starting Engine#1, slight oily smell and haze was noticed in the flight deck and cabin. Bleed and Packs were selected OFF and fumes began to dissipate.
Boroscope inspection found oil around the NL sensor probe with oil extent decreasing downstream. Suspect oil leaking into the plenum via sensor probe O-Ring.
NL Sensor removed, O-Rings replaced and sensor re-installed IAW MM PWC 127 72-XX. Engine ground runs carried out satisfactory with nil abnormal smells noted.
SAAB 340 B—ATA 2613 OVERHEAT DETECTION SYSTEM DETECTOR FALSE INDICATION. DR 611649050
During flight, R FIRE DET FAIL master caution occurred intermittently for a short period. Later in the flight, R ENG FIRE master caution occurred and crew actioned the checklist. This involved shutting the RH engine down and releasing the fire extinguisher. After landing and parking on the bay, second R ENG FIRE master warning occurred and the second fire extinguisher was also released. Engineering initial inspection did not find any sign of fire or overheat inside the engine nacelle. Investigation is ongoing.
FOKKER F28 0070—ATA 7600 ENGINE CONTROLS PEDESTAL FOD. DR 611649099
While shutting down engine, crew encountered difficulty in putting the fuel shut-off lever to closed position. During the course of troubleshooting, FOD was found stuck in the thrust lever/FSO quadrant. Foreign object was removed. Further inspections were carried out on the LH FSP control system from the pedestal to the Installation channel. Foreign object (paper towel) was found jammed between the cable and pulley located aft of the aircraft under the pedestal in the Installation channel. System checks were carried out with the LH FSO control now operating smooth with the force required to open at 46N and 30N to close, both within AMM limits IAW 76-13-00-XX. Investigation concluded. FOD found in the pedestal was a monetary coin, origin of which could not be established with certainty so event taken as Isolated. Second instance of FOD was caused by unsecured storage of amenity consumables and an unlatched upside down Blow-Out Panel. A Fleet inspection has been raised to secure all consumables stored in the Wardrobe/Stowage Compartments.
DE HAVILLAND DHC8 20—ATA 2422 AC INVERTER INVERTER BURNT OUT. DR 611649116
During pre-flight preparation, before the commencement of boarding, smoke was observed coming from underneath the Captain's circuit breaker side panel. This was accompanied by a strong smoke smell. Smoke was traced to primary inverter. Inverter replaced and tested serviceable IAW MM 24-22-XX. Aircraft returned to service. Inverter confirmed fault found with premature failure of filter components (dielectric failure and electrolytic eruption). This is a common type of failure although in this instance failure is premature.
FOKKER F28 0100—ATA 2200 AUTOFLIGHT SYSTEM AUTOPILOT UNCOMMANDED ACTIVATE. DR 611649123
During cruise at Flight Level (FL) 340 with Auto-Pilot (AP) #2 engaged and the Flight Management system (FMS) selected to 'GNSS' (Global Navigation Satellite System), Aircraft commenced a gradual right-hand turn, with a Bank Angle of approximately 15 degrees. Upon identification of the occurrence, Flight crew disconnected the AP System, with the aircraft having travelled approximately 1.7 nm right of track. Flight continued with AP #1 engaged with no issues. Automatic Flight-Control and Augmentation System (AFCAS) and FMS testing was then carried out, however, failed to identify any system faults or messages, systems were subsequently declared serviceable. Investigations initiated.