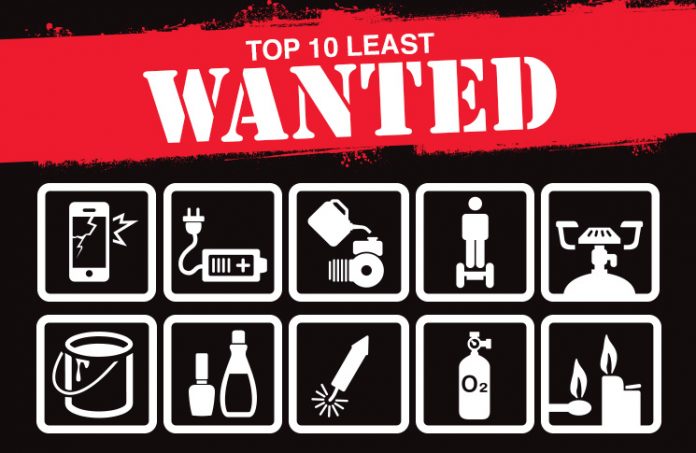 Lost and damaged smartphones have been named as the most problematic passenger item in Australian skies for 2016.
The 'least wanted' dangerous goods list, released annually by the Civil Aviation Safety Authority (CASA), highlights the top ten most hazardous items air travellers' pack in their luggage and carry on board domestic flights.
Smartphones topped the list for the first time after numerous incidents of passengers accidently crushing their smartphone with the reclining mechanism of their chair, damaging the phone's battery and starting an in-flight fire.
The growing rate of these incidents has seen major carriers review seat designs and update passenger safety videos, including Qantas and Virgin, warning travellers not to move their seat if they lose an electronic device.
The issue of crushed smartphones first came to prominence in 2015, when a British Airways 787 was forced to declare an emergency and land in Russia after reports of smoke in the cabin. It was later revealed the smoke came from a passenger's damaged phone that had been crushed between two seats.
Spare batteries and portable power packs were named at second on the list with chainsaws, whipper snippers and other petrol-powered devices rounding out the top three.
The top ten 'least wanted' dangerous goods for 2016 are:
Lost and damaged smartphones
Spare batteries and portable power packs
Chainsaws, whipper snippers and other devices with internal combustion engines
Hoverboards
Gas cylinders and camping stoves
Paint and paint related products
Nail polish remover (Acetone)
Fireworks
Compressed Oxygen
Lighters and matches
Passengers packing spare and loose batteries into checked luggage remains a constant threat to aviation safety despite widespread warnings. The most serious of these breaches occurred in 2014 when undeclared lithium batteries short-circuited in a passenger's checked bag, igniting a fire in the aircraft's cargo hold before passengers boarded the flight from Melbourne to Fiji.
It's for this reason that all spare batteries not contained within equipment must be in carry-on luggage with their terminals protected. CASA stresses at no point are spare batteries—regardless of size—allowed in checked luggage.
Batteries were named 'Least Wanted' for two consecutive years in 2014 and 2015.
Hoverboards made the list for the first time, with passengers still packing the self-balancing scooter in luggage despite wide-spread warnings about the lack of manufacturing standards for these devices; believed to have caused several fires around the world since the product's release in late 2015.
The other notable inclusion on the list is compressed oxygen, which has shot to prominence over the last year with Australian companies selling fresh air to consumers in countries with poor air quality like China and India.
Classed a pressurised, non-flammable gas, oxygen and compressed air stored in aerosol cans are prohibited from carry-on luggage. They can be packed in passengers checked luggage.
Passengers carrying oxygen cylinders for medical purposes are also forgetting to contact their airline before travelling, causing delays and putting themselves at risk of missing their flight. While medically required oxygen cylinders are allowed on aircraft, travellers must gain approval from their airline before flying. This allows the airline to ensure that cylinders, valves or regulators fitted on the cylinder are protected from damage.
To help educate the travelling public about the dangers associated with these items, CASA released the 'Can I pack that?' Dangerous Goods App in 2014, telling passengers what they can and can't pack in their luggage. And—if it can be brought aboard—guide them on how to do it safely.
CASA has also created a 'Battery Safety' webpage detailing the different safety issues batteries pose including battery health and what to look out for when buying batteries online.
You can find more dangerous goods safety information via CASA's website.