LYCOMING IO360 A1A–ATA 8500 ENGINE RECIPROCATING–PISTON ENGINE–Indication. DR 611649321
Oil annunciator panel light illuminated. Oil pressure gauge reading low pressure. Oil temperature gauge reading high temperature. During investigation, insufficient oil in engine for proper operation was found.
LYCOMING IO360 L2A–ATA 8530 RECIPROCATING ENGINE CYLINDER SECTION–PISTON ENGINE–ROUGH RUNNING. DR 611649419
During cruise, engine developed vibration/rough running. Height was able to be maintained, and the pilot decided to divert to a nearby airport. Compression check was carried out by maintenance. Cylinder 4 was found to have a large leak past the exhaust valve. During removal of the cylinder it was found the exhaust valve had remained open. No other damage was caused to the engine. Complete cylinder was replaced with new assembly.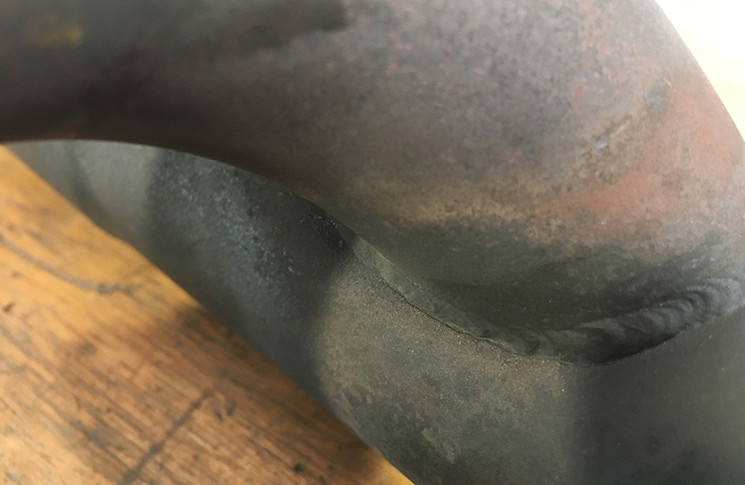 LYCOMING TIO540 J2BD–ATA 7810 ENGINE COLLECTOR/TAILPIPE/NOZZLE–RISER–CRACKED. DR 611649470 (image above)
During scheduled inspections IAW AD 2013-10-04, crack was found on aircraft exhaust collector. Riser assembly was replaced.
LYCOMING IO540 AE1A5–ATA 7414 MAGNETO/DISTRIBUTOR–Drive bearing cage–LOOSE. DR 611749478
During left hand magneto installation it was noticed that the drive gear seemed looser than normal inside the engine. Upon investigation it was found that the cage of the drive bearing was missing.
DE HAVILLAND GIPSY MAJOR A–ATA 7322 FUEL CONTROL/RECIPROCATING ENGINES–CARBURETTOR–WORN AND LEAKING. DR 611749504
On initial climb, after take-off, engine failed. There were no indications of engine rough running. Carburettor disassembled and parts of sealant covering the float were found in and around the main jet, in addition, part of the sealant was missing from float assembly.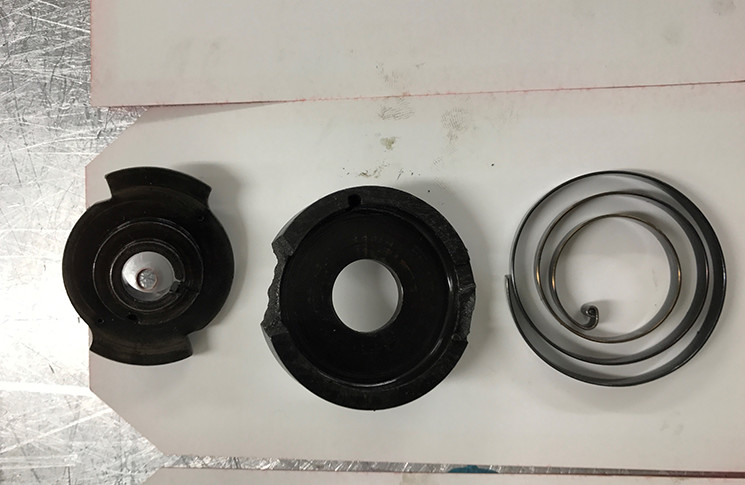 CONTINENTAL IO360 A–ATA 7414 MAGNETO/DISTRIBUTOR–IMPULSE COUPLING–FAILED. DR 611749507 (image above)
During aircraft run up at pre take-off, engine started rough running coupled with oil pressure loss. Later on, it was learned that magneto (impulse coupling) had failed. Engine removed due metal contamination.
LYCOMING IO540 K1A5–ATA 8530 RECIPROCATING ENGINE CYLINDER SECTION–PISTON–WORN AND DAMAGED. DR 611749583
Aircraft suffered partial power loss and rough running shortly after take-off. Inspection revealed metal in both the oil filter and oil sump screen. Further it was learned that there was no compression in cylinder 5. Borescope inspection found signs of piston degradation (around the edges), whereas valves appeared to be intact. Engine planned removal for strip down.
CONTINENTAL IO550 A–ATA 7920 ENGINE OIL DISTRIBUTION (AIRFRAME)–SYSTEM–OIL COOLER–Manufacturing defect. DR 611749590
Manufacturing errors identified in oil cooler during inspections.
CONTINENTAL IO550 N–ATA 7920 ENGINE OIL DISTRIBUTION (AIRFRAME)–SYSTEM–OIL COOLER–Manufacturing defect. DR 611749591
Manufacturing errors detected during inspections.
LYCOMING IO720 A1A–ATA 8530 RECIPROCATING ENGINE CYLINDER SECTION–Connecting Rod–FAILED. DR 611749595
Engine rough running coupled with oil pressure loss. During inspections, # 4 Conrod bolts were found failed causing # 4 cylinder to break away. Engine shut down. A/C landed safely. Engine and propeller was replaced.
CONTINENTAL GTSIO520 M–ATA 8500 ENGINE RECIPROCATING–CRANKCASE–CRACKED AND LEAKING. DR 611749635
During investigation of post-flight engine oil leak, a hairline crack in the R/H crankcase between cylinder #1 and #3 was detected. Dye penetrant confirmed the flaw. The crankcase was then analysed IAW continental motors maintenance manuals and continental motors SB M90-17. The crack was found to be beyond the airworthiness limits of the SB page 2 Item C. Aircraft was grounded requiring removal of the R/H engine and replacement of the crankcase.