CESSNA 402 C–ATA 5346 POWERPLANT ATTACH FITTINGS–CHANNEL–CRACKED. DR 611649328
During the course of detail visual inspection of external surfaces of RH Engine Beam called by FAA AD 2015-07-03, a crack was found on inboard channel P/N 5654107-16 attached on inboard engine beam and aft engine beam assembly. Channel will be replaced.
CESSNA U206 G–ATA 2730 ELEVATOR CONTROL SYSTEM–WIRING–FOULED. DR 611649376
Pilot reported elevator stuck in up position. Un-used wiring fouling on pilots control column. Wiring removed.
BEECH 200 B200C–ATA 2820 AIRCRAFT FUEL DISTRIBUTION SYSTEM–HOSE FITTING–LOOSE AND LEAKING. DR 611649378
During daily inspection, a fuel leak was noted on the RH lower wing root O/B of the nacelle and fuel on the O/B U/C gear door. Investigation found a fuel interconnect hose on fwd spar near lower attach fitting weeping, this fitting was not tight. Also hose clamps on rear fuel interconnect tube and various clamps on fuel vent system found to be finger tight, also requiring tightening. Weeping interconnect hose was correctly torqued and all loose hose clamps tightened. Nil leaks were evident on completion.
PIPER PA28 161–ATA 3213 MAIN LANDING GEAR STRUT/AXLE/TRUCK–BOLT–SHEARED. DR 611649401
After take-off, left main wheel and lower oleo section were seen hanging by the brake line. Short time later, wheel/lower oleo section detached and fell free. Aircraft landed safely with no further damage. Failure was traced to lower torque link bolt AN5-23. The broken bolt and torque link shims were found on the runway. Fleet wise replacement supplemented by repeat inspection planned.
CESSNA 404–ATA 3233 LANDING GEAR ACTUATOR–ACTUATOR–UNSERVICEABLE. DR 611649421
Pilot reported RH main landing gear down & locked light intermittent directly after take-off, three greens indicating on landing. The subsequent landing was uneventful. Engineers carried out control function indication check. Fault isolated to main landing gear actuator. The defective main gear actuator replaced with serviceable item. Gear swings & functional check carried out, the undercarriage tested serviceable.
CESSNA 210 N–ATA 3221 NOSE/TAIL LANDING GEAR ATTACH SECTION–TRUNNION–CRACKED. DR 611649433
After landing during taxi, nose gear collapsed and propeller struck the taxi way. During inspections, nose gear lower trunnion was found to have cracked. Part dispatched for inspection.
CESSNA 404–ATA 2421 AC GENERATOR-ALTERNATOR–Drive key–WORN AND DAMAGED. DR 611649458
Pilot reported 'RH Alt Out in Flight, Works on ground at Taxi Power'. Engineers inspected the aircraft and found alternator keyway broken on alternator shaft and damaged Elastometer bearing (alternator coupling). Alternator and coupling replaced with serviceable items, engine parameter check carried out and aircraft released to service.
BEECH 200–ATA 5270 DOOR WARNING SYSTEM–MICROSWITCH–Out of Adjustment. DR 611749484
After reaching top of climb, master warning for 'door unlocked' illuminated. Engineering found cargo door FWD upper latch, lower handle, doorsill and air stair door sill micro switches required adjustment.
CESSNA 210 N–ATA 3222 NOSE/TAIL LANDING GEAR STRUT/AXLE–Schrader valve–LEAKING. DR 611749500
LG fails to retract with gear selector in up position. Gear motor CB did not 'pop'. No audible indication of gear motor. NLG strut found flat. It did not allow squat switch to make contact. Schrader valve replaced. Oleo serviced.
CESSNA 402 C–ATA 2610 DETECTION SYSTEM–FIRE DETECTOR–SHORT CIRCUIT. DR 611749510
LH fire warning heard faintly and intermittently during flight. Other indications normal with nil evidence of fire. During troubleshooting, it was found that LH air box alternate air cable was shorting fire detector. Alternate air cable re-positioned.
CESSNA 182 K–ATA 51 Unscheduled Inspections Fuselage external–AIRCRAFT–Wasp Infestation. DR 611749537
During annual inspection of long-term parked aircraft, a significant quantity of mud wasp nests were found in the wing cables runs, on cable pulleys, electrical wiring and structure, tail cone of the aircraft, cylinder head fins. Wasp nests were removed and the operator advised to inspect the cable runs, engine bay for nests and ensure that all controls are full and free, especially following rain events, prior to flight.
PIPER PA31 350–ATA 2497 ELECTRICAL POWER WIRING–CIRCUIT BREAKER–BURNT OUT. DR 611749559
Pilot reported on final approach, considerable smoke noticeable from the circuit breaker panel. Inspection of the circuit breaker panel found evidence of corrosion and overheating at the R/H alternator circuit breaker to alternator cable terminal. A new circuit breaker was installed and alternator cable was re-terminated.
CESSNA 182 H–ATA 5511 HORIZONTAL STABILISER, SPAR/RIB–SPAR–CORRODED. DR 611749569
After removing tail cone, elevator and horizontal stabiliser, new LH rear spar, lower centre skin fitted due corrosion.
CESSNA 182 H–ATA 5531 VERTICAL STABILISER, SPAR/RIB–SPAR–CORRODED. DR 611749570
After removing rudder, tail cone and fin, new doubler fitted to rear spar due corrosion. New Dorsal fairings fitted due corrosion.
CESSNA 182 H–ATA 5500 EMPENNAGE STRUCTURE–BULKHEAD–CRACKED. DR 611749571
After removing tail cone, Cessna kit SK 210-161A fitted following cracks found in aft bulkhead.
PIPER PA28 181–ATA 2822 FUEL BOOST PUMP–HOUSING–RUSTED. DR 611749577
Fuel leaking from pump housing. Pump replaced.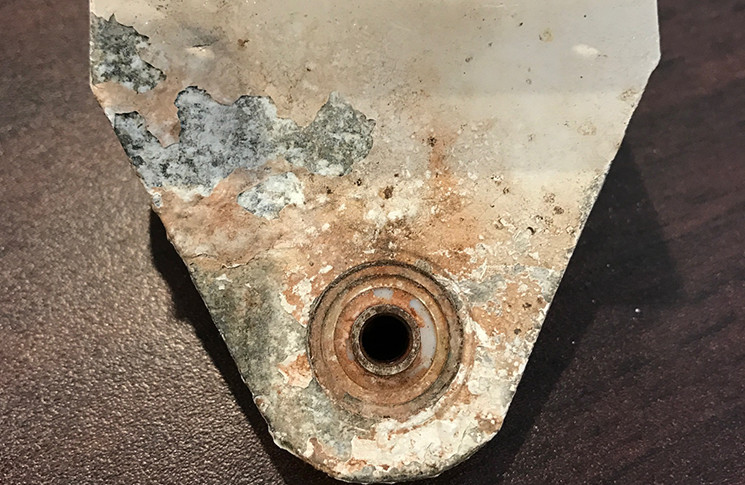 PIPER PA28 181–ATA 5554 RUDDER/TAB, ATTACH FITTINGS–HINGE–CORRODED. DR 611749579 (image above)
Upper rudder hinge assembly badly corroded. Hinge assembly was replaced.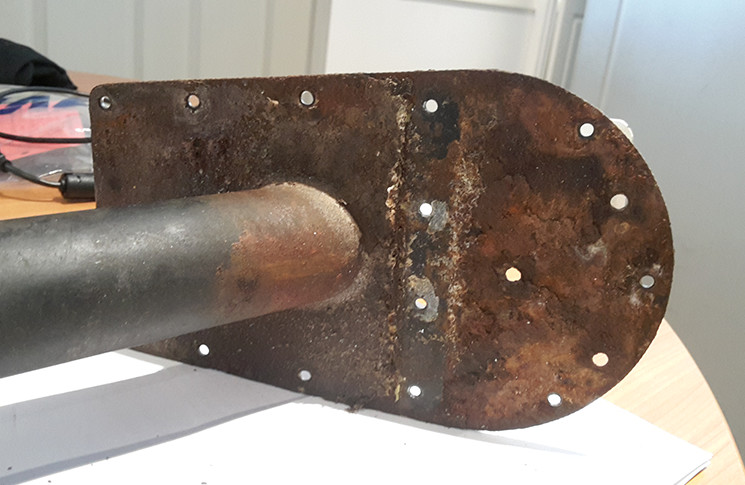 PIPER PA31–ATA 5544 RUDDER, MISCELLANEOUS STRUCTURE–TORQUE TUBE–CORRODED. DR 611749608 (image above)
In the course of carrying out AD/PA-31/130, it was suspected that the rudder torque tube supports had minor surface rust on the very edges of the material. Upon disassembly for cleaning and repainting, it was found that the internal surface and mating surfaces between rib and torque tube were severely rusted. The inspection procedure and SB 1105A does not provide for a means of inspecting the inside of the torque tube.
CESSNA 172 S–ATA 5554 RUDDER/TAB, ATTACH FITTINGS–HINGE BRACKET–CRACKED. DR 611749614
Lower fin/rudder hinge Assy cracked. Possibly by excessive wind forces when moored; no rudder control lock system in place. Hinge assembly was renewed.
CESSNA 172 S–ATA 5544 RUDDER, MISCELLANEOUS STRUCTURE–HINGE BRACKET–CRACKED. DR 611749615
Lower fin/rudder hinge Assy cracked. Possibly by excessive wind forces when moored; no rudder control lock system in place. Hinge assembly was renewed.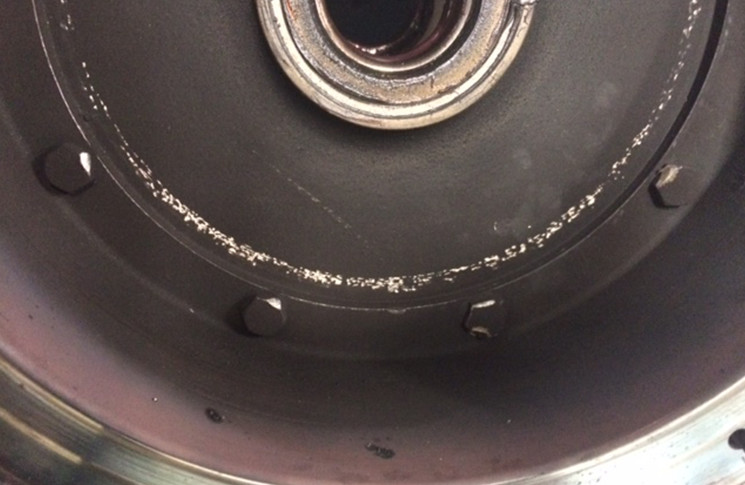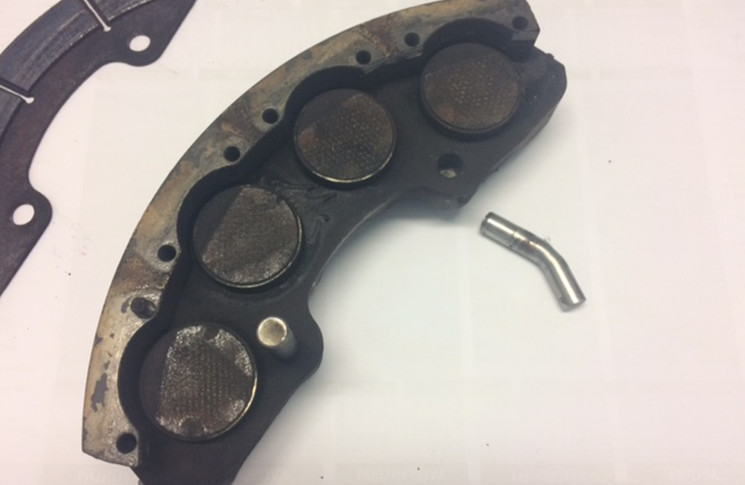 CESSNA 208 B–ATA 3242 BRAKE–Calliper bolt–SHEARED. DR 611749618 (images above)
R/H brake calliper assembly lower anchor bolt was found to have sheared at the retention stud end allowing the anchor bolt to work its way through the torque plate assembly and contact the heads of the wheel half retention bolts, causing the wheel to lock up until the anchor bolt had bent enough to release the wheel. New brake calliper assembly and serviceable wheel assembly were installed.
CESSNA 208–ATA 2121 AIR DISTRIBUTION FAN–FAN–NOISY. DR 611749642
In flight, noise in the cabin was heard coming from the left wing root. Noise stopped when vent fan was commanded off. It was established that the LH vent fan motor was operating normally, but a fan blade had failed and was rubbing within the vent fan housing assembly causing a noise. Blower replaced. No more defect noted.
PIPER PA28 181–ATA 8597 RECIPROCATING ENGINE WIRING–CONTROL SWITCH–SHORT CIRCUIT. DR 611749494
Engine had a tendency for rough running. Prime switch was traced to be faulty, causing fuel pump to activate, fuel prime valve to open to make mixture rich. Switch was replaced and tested serviceable.
GIPPSLAND GA8–ATA 3213 MAIN LANDING GEAR STRUT/AXLE/TRUCK–AXLE–CRACKED. DR 611749586
Crack discovered on RH main landing gear during scheduled magnetic particle inspection (IAW SB GA8-2016-169 issue 3). New axle assembly fitted to RH main landing gear to complete rectifications.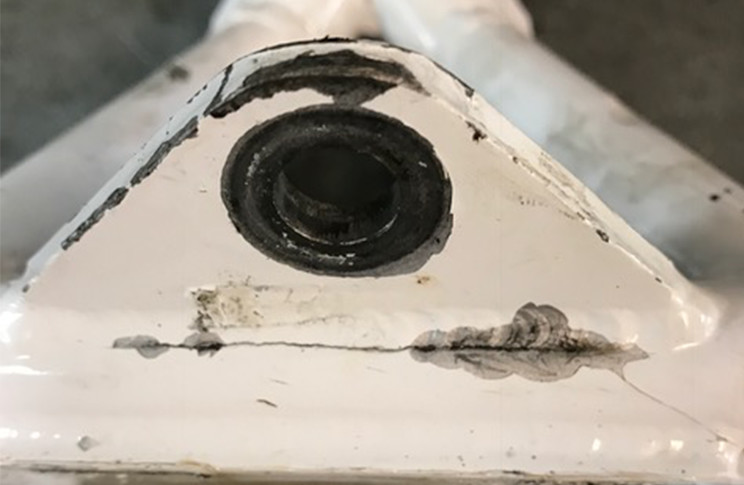 MOONEY M20–ATA 3213 MAIN LANDING GEAR STRUT/AXLE/TRUCK–TRUSS–CRACKED. DR 611749584 (image above)
During inspections, nose gear truss assembly along lower pivot bracket found cracked. Truss assembly was replaced.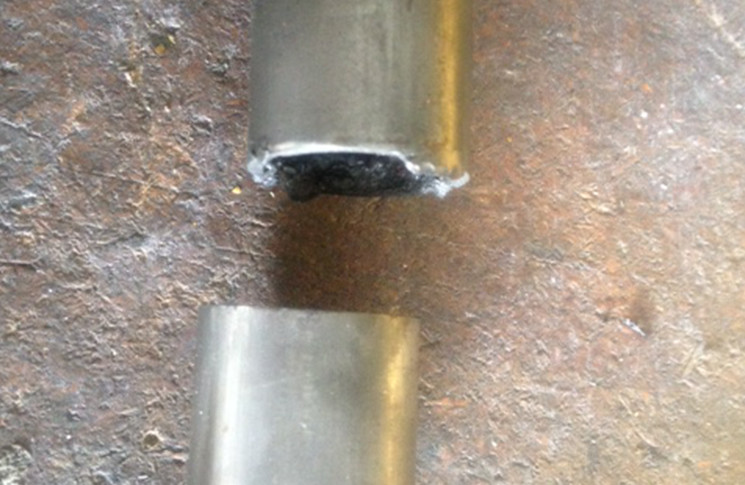 INTERMOUNTAIN A-9A–ATA 3213 MAIN LANDING GEAR STRUT/AXLE/TRUCK–END CAP–Weld failed. DR 611749521 (image above)
The weld that secured the end cap to the shock strut plunger failed. Part required re-welding.