CESSNA 172 S – ATA 5540 RUDDER STRUCTURE – HINGE – CRACKED. DR 611749672
Lower fin/rudder hinge assembly cracked. It could be possibly due to excessive wind forces when moored; no rudder controls lock system in place. Hinge assembly renewed.
PIPER PA31 350 – ATA 3411 PITOT/STATIC SYSTEM – HOSE – LEAKING. DR 611749680
Pitot static system rubber hoses showing signs of ageing and leaks. All affected hoses were replaced. Leaks were detected in post ADSB installation checks.
PIPER PA31 350 – ATA 3100 INDICATING/RECORDING SYSTEM – COMPASS – FAULTY. DR 611749706
No.1 H.S.I compass system slaving not working. System only works in free mode (basic DG mode). H.S.I requires repair/calibration. H.S.I repaired for flag errors and calibrated. Slaving accessory circuit board repaired followed by functional/calibration tests.
PIPER PA31 350 – ATA 3120 INDEPENDENT INSTRUMENTS (CLOCK, ETC.) – ASI – UNSERVICEABLE. DR 611749708
Pilot A.S.I found out by 6 knots during pitot static test for Transponder Installation. Suspected internal fault in the A.S.I. unit repaired/calibrated.
PIPER PA31 350 – ATA 3120 INDEPENDENT INSTRUMENTS (CLOCK, ETC.) – GAUGE – LEAKING. DR 611749709
Fuel smell noticed in the cabin. Fuel found leaking from fitting screwed into the fuel flow gauge. It is suspected; fittings were not sealed & torqued correctly during last installation. Fittings were resealed & torqued. Fuel leak check carried out.
PIPER PA31 350 – ATA 3110 INSTRUMENT PANEL – INSTRUMENT PANEL – Detached. DR 611749710
Pilot Instrument panel detached from mounting panel. Pilot instrument panel rubber shock mounts broken at top of panel attachment. New rubber shock mounts installed.
PIPER PA31 350 – ATA 3197 INSTRUMENT WIRING – WIRING – INCORRECT ROUTED. DR 611749711
Wiring found rubbing on and wrapped around control column shaft during other rectification work. Suspected, wiring not installed or secured correctly amongst previous installations. Wiring repositioned away from avionics racks and secured correctly.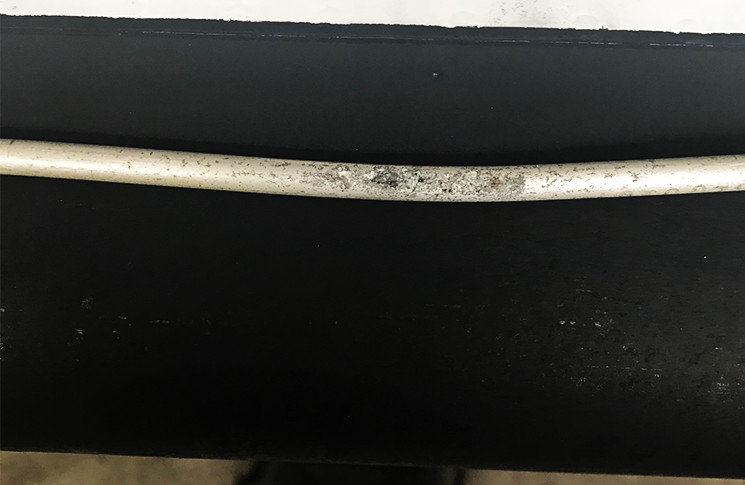 CESSNA 402 C – ATA 3240 LANDING GEAR BRAKE SYSTEM – LINE – Pin hole leak. DR 611749719 (photo above)
Brake system unable to hold pressure on landing role. Defect was traced to pin hole leak in supply line. Line repaired.
CESSNA 172 S – ATA 2840 FUEL INDICATING SYSTEM – Sender – HIGH RESISTANCE. DR 611749748
LH fuel low light with (full tank) flashing during taxi. Sender confirmed faulty as intermittently reading high resistance at the full position. New sender fitted.
CESSNA 210 M – ATA 3210 MAIN LANDING GEAR – MLG – Failed to retract. DR 611749758
Crew reported that the gear would not retract on multiple cycles. Occasional flicker of yellow "up and locked" light, however would extinguish and gear motor would continue to run. Engineering placed the aircraft on jacks and carried out gear functional checks with nil fault found. All gear switches were cleaned and lubricated. Nose oleo serviced. The aircraft has been release back to service.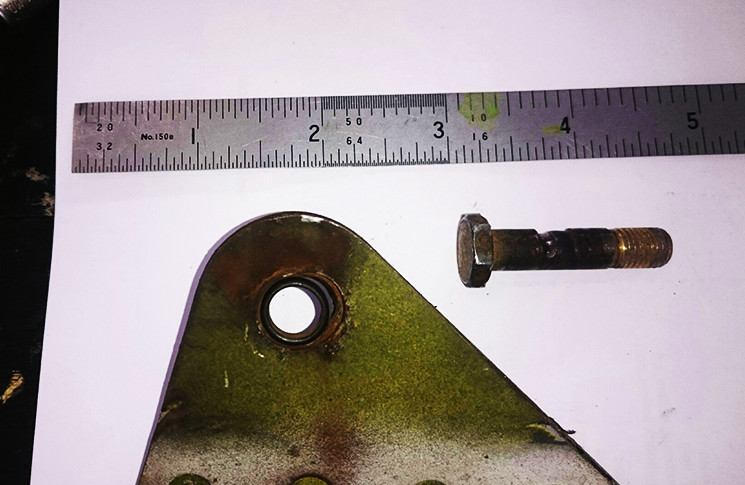 PIPER PA44 180 – ATA 5740 WING, ATTACH FITTINGS – FITTING – HOLE WORN ELONGATED. DR 611749760 (photo above)
Whilst carrying out 100 hour inspection, two deep steps in forward RH wing attach bracket bolt were witnessed. At some point, bush in the wing spar assembly had been dislodged or worn to move sideways allowing the larger diameter hole in the bracket to wear into the bolt. The aircraft had been reported flying wing heavy a number of times. Rear wing fitting was also found to be worn beyond limits as stated in Piper SL 1087.Forward wing spar assembly and bolt to be replaced with new items.
PIPER PA44 180 – ATA 5741 WING, FUSELAGE ATTACH FITTINGS – HOLE – HOLE WORN ELONGATED. DR 611749762
Whilst removing RH wing to address fwd spar wing attach hole elongation. It was noted that when the (correctly torqued) rear bolt was removed, wing attach plate P/N 66762-00 hole was found to be worn beyond limits. Piper limits are .3745″-.3765″ against the hole dimensions of .381″ in the horizontal plane and .383″ vertically. FWD wing attachment found to be severely worn. Bushing had migrated out of spar assy and bolt was stepped allowing the wing to change angle of incidence. Advise being sought from Piper IAW service letter. New fuselage and wing plates were ordered.
CESSNA 402 C – ATA 2731 ELEVATOR TAB CONTROL SYSTEM – trim actuator – Loose hardware. DR 611749777
While performing AD/CESSNA 400/52 on Trim Control System, elevator trim tab was found to have excessive play. The play was found to be caused by the actuator nut being loose in the elevator trim actuator housing. The trim actuator was replaced with a serviceable item.
CESSNA 402 C – ATA 5210 PASSENGER/CREW DOORS – CABIN DOOR – UNLOCKED. DR 611749793
Pilot reported "Door warning light illuminated in flight followed by top half of rear entrance door opening in flight. Door indicating and warning light all indicated closed prior to departure". Nil fault found. Door and door warning inspected. Latches lubricated. Aircraft returned to service.
CESSNA 402 B – ATA 5551 HORIZONTAL STABILISER, ATTACH FITTING – HINGE BRACKET – CRACKED. DR 611749825
While performing scheduled maintenance, LH O/B elevator hinge attach bracket on the LH horizontal stabiliser was found to be cracked. The attach bracket was replaced.
CESSNA 172 S – ATA 2840 FUEL INDICATING SYSTEM – Sender – HIGH RESISTANCE. DR 611749829
RH fuel gauge was intermittently reading zero during flight. Sender found to be reading 200 plus ohms at the near fill position. New unit fitted.
CESSNA 402 C – ATA 3230 LANDING GEAR RETRACT/EXTENSION SYSTEM – ACTUATOR – JAMMED. DR 611749838
Left Main Gear would not extend hydraulically with gear selector in down position. Emergency T handle pulled and blow down bottle activated. Gear extended with 3 greens. Trouble shooting carried out. LH up lock actuator found not releasing. Actuator removed, cleaned, resealed and refitted. Gear swings carried out. Tested serviceable. Aircraft returned to service.
CESSNA 210 M – ATA 5720 WING, MISCELLANEOUS STRUCTURE – MOUNT PLATE – DEBONDED. DR 611749854
Fuel was leaking from top access panel on wing. Leak was found to be caused by the access panel mount which de bonded from the wing skin. Panel mount was riveted and sealed to the wing skin.
CESSNA 210 M – ATA 3260 LANDING GEAR POSITION AND WARNING SYSTEM – WIRE – SHORT CIRCUIT. DR 611749855
LG did not extend on normal system. Wire G25 found shorted to ground to nose squat switch terminal block in nose wheel well. Wiring repaired. Aircraft returned to service.
BEECH 200 B200 – ATA 3040 WINDSHIELD/DOOR RAIN/ICE REMOVALTEM – Wiper arm rubber – LEAKING. DR 611749682
On departure, GTN750 screen froze rendering touch screen feature unusable. In addition, water contamination accompanied with electrical smell was noted in avionics panel between the GTN 750 and 650. On investigation, it was learned that water entered through defective wiper shafts. Wiper shafts resealed. Could not fault GTN 750 upon return to hanger but replaced precautionary. Systems tested and area checked for further water leaks after resealing with nil defects found.
GIPPSLAND GA8 – ATA 3213 MAIN LANDING GEAR STRUT/AXLE/TRUCK – AXLE – CRACKED. DR 611749701
Detected during compliance with SB-GA8-2016-169 Issue 3. Axle replaced with new one.
BEECH 200 B200 – ATA 2100 AIR CONDITIONING SYSTEM – BLEED AIR – CONTAMINATED. DR 611749702
On take-off, slight turbine engine oil smell in the cockpit was noted. Suspected RH engine bleed at fault. Unable to establish the cause, since RH engine had been recently installed, it is believed that small amount of turbine oil may have seeped into the compressor section of the engine while being removed, installed or during transport. Relevant maintenance completed.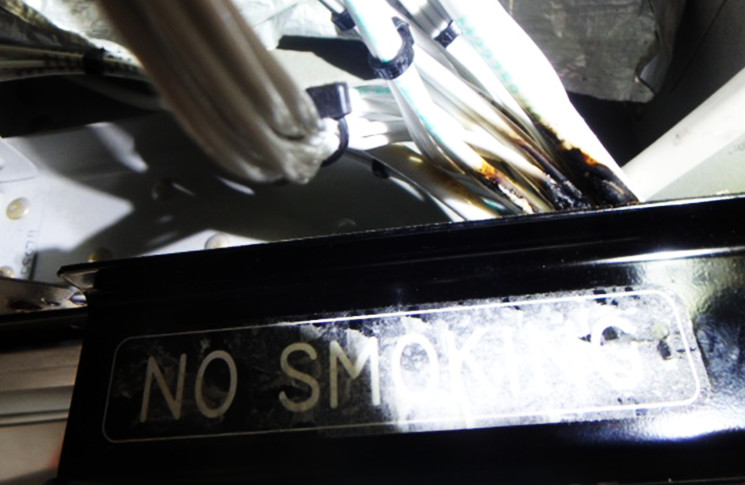 GIPPSLAND GA8 – ATA 2497 ELECTRICAL POWER WIRING – WIRING – CHAFED WIRING. DR 611749820 (photo above)
During inspection, chaffing on overhead loom found on forward roof panel. Suspected it is due to absence of rubber edge capping.
BEECH 100 C90GTI – ATA 3260 LANDING GEAR POSITION AND WARNING SYSTEM – MICROSWITCH – FAULTY. DR 611749887
On approach, landing gear was lowered and the right main gear had an unsafe indication. The gear was cycled with same unsafe indication. Landing gear lowered manually and landed safely. Defect was traced to faulty down lock micro switch on right MLG leg. Switch replaced with new unit, retractions carried out and aircraft returned to service.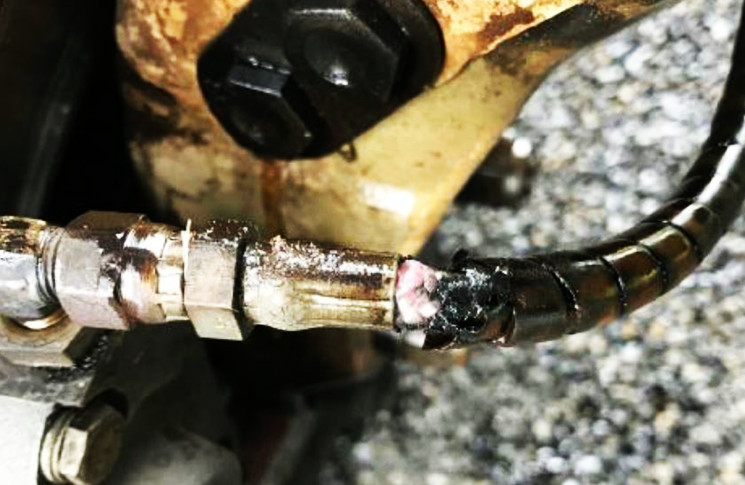 CESSNA 208 B – ATA 3242 BRAKE – HOSE – CHAFING. DR 611749718 (photo above)
On taxi, no brake pressure on right hand side. Later on, brake hose was found failed (chaffing) near the swage at the end of the hose at the brake end. Hose replaced.
CESSNA 208 – ATA 2210 AUTOPILOT SYSTEM – AUTOPILOT – Altitude deviation. DR 611749864
During surveillance flight, uncommanded altitude loss with AP engaged. No deviations noted with manual flying. Next pilot briefed.
CESSNA 208 B – ATA 3242 BRAKE – CABLE – BROKEN. DR 611749885
Pilot pulled on park brake and cable broke approximately 1 inch from park brake valve. Probably could be due to age / fatigue. Aircraft proceeded under MEL – new part ordered.