PIPER PA32R 300–ATA 2821 AIRCRAFT FUEL FILTER/STRAINER–FILTER–CRACKED AND LEAKING. DR 611749958
Fuel leak was observed from airframe fuel filter bowl. Later on, it was found that filter bowl is cracked. New item fitted.
SWEARINGEN SA227 DC–ATA 2613 OVERHEAT DETECTION SYSTEM–Fire detector loop–FIRE WARNING. DR 611749979
After landing aircraft backtracked and flight crew got RH engine fire indication. Appropriate actions planned.
CESSNA 310 R–ATA 3260 LANDING GEAR POSITION AND WARNING SYSTEM–ACTUATOR–BROKEN. DR 611750031
LH gear failed to indicate down and locked, investigation found a broken switch actuator. New actuator fitted.
CESSNA 441–ATA 7120 ENGINE MOUNT SECTION–FRAME–CRACKED. DR 611750056
Engineering found the engine frame cracked while completing a pre-engine cowl installation check following maintenance. This is an identified problem covered by AD/CESSNA 400/89, which references CQB85-24 for inspection details. Remove affected frame for weld repair or replacement.
PIPER PA31 350–ATA 2160 CABIN TEMP. CONTROL SYSTEM–FAN–FAILED. DR 611750059
Heater failed on the ground, the ground fan disintegrated. Fan to be replaced.
CESSNA 172 S–ATA 2840 FUEL INDICATING SYSTEM–Sender–FAULTY. DR 611750060
During taxi RH fuel gauge dropped to zero and fuel low light illuminated, tank had just been filled. Investigation revealed RH fuel sender has high internal resistance at the full position. Fuel sender replaced under warranty.
CESSNA 404–ATA 5300 FUSELAGE STRUCTURE (GENERAL)–BULKHEAD–CRACKED. DR 611750063
Three cracks found in aft bulkhead sta 387.22 (fwd horizontal stabiliser attach). One crack .050″ in l/h upper in/bd bend relief cutout/notch. One crack .200″ in r/h upper in/bd bend relief cutout/notch. One crack in r/h in/bd flange at lower fastener hole of upper attach angle approx .200″ long. Bulkhead replaced.
CESSNA 310 R–ATA 2150 CABIN COOLING SYSTEM–DRIVE BELT–WORN. DR 611750065
Pilot reported small amount of smoke visual from LH engine cowl gill while awaiting further taxi from the holding point. Air-conditioning drive belt slipping on drive pulleys enough to create small amount of smoke. Further investigation resulted in the discovery of an unapproved belt not in accordance with the engineering order had been fitted. Attempt to fit the correct belt IAW the engineering order unsuccessful due to the belt recommended being too long, not being able to be tensioned correctly. Attempts have been made and are currently in progress to make amendments to the EO to allow a different length of belt to be fitted.
PILATUS PC12 47E–ATA 2720 RUDDER CONTROL SYSTEM–CABLE–INCORRECT ROUTED. DR 611750070
During inspection, rudder cable found incorrectly positioned. No symptoms reported. Frame 22 damaged. Damaged frame to be repaired and new cable to be installed.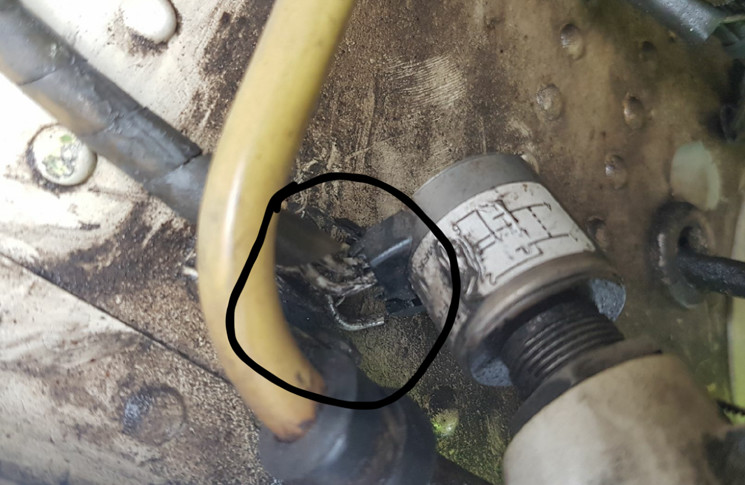 CESSNA 402 C–ATA 3297 LANDING GEAR WIRING–SENSOR–SUSPECT FAULTY. DR 611750074 (photo above)
Upon selecting u/c down on approach LH MLG showed no green indication. Bulb test OK. Gear recycled, indications still the same. Fly-by carried out, no abnormal indications. Emergency extension system activated as a precaution and successful landing carried out. Suspect broken wire. To be confirmed following rectifications and retracts.
BEECH 200 B200–ATA 5711 WING SPAR–SPAR CAP–CORRODED. DR 611750087
During the conduct of inspections as per B200 SIRM 57-17-01 O/B Wing–main spar crack and corrosion to comply with AD/B200/038 Amdt 6, corrosion was detected at the following locations: R/H LWR Spar Cap WS 132, L/H UPPER Spar Cap WS 173. The corrosion was assessed as light and treated as per B200 SIRM 20-20-00.
PIPER PA31 350–ATA 5711 WING SPAR–SPAR–CRACKED. DR 611750088
A crack was found in the second laminate of the wing main spar under the splice plate.
CESSNA 210 M–ATA 3297 LANDING GEAR WIRING–DOWNLOCK–OUT OF TOLERANCE. DR 611750089
During pre-landing checks prior to landing the gear extended but would not lock in position. The issue was not able to be resolved and a landing was made and the aircraft was shut down after vacating the runway. Engineers inspected the aircraft and initially found the RH main gear downlock switch open and not providing the locked indication.
CESSNA 441–ATA 3260 LANDING GEAR POSITION AND WARNING SYSTEM–INDICATOR–WORN. DR 611750091
On approach the undercarriage was extended but no green indication was observed for LH or RH mains. Testing the bulbs with the PUSH TO TEST button indicated two failed bulbs on the LH and RH lights. The bulbs were replaced, however on refitting the fixture only the NOSE indication was GREEN. On reselecting the PUSH TO TEST, the NOSE indication also went out and I was no longer able to get any green indication on the gear. A manual extension procedure was carried out IAW the FCOM. A normal landing was carried out without further incident. Troubleshooting was carried out and the positive terminal in the nose and main gear indicator was found to have lost spring tension. The indicator was replaced with a serviceable item and the undercarriage tested serviceable.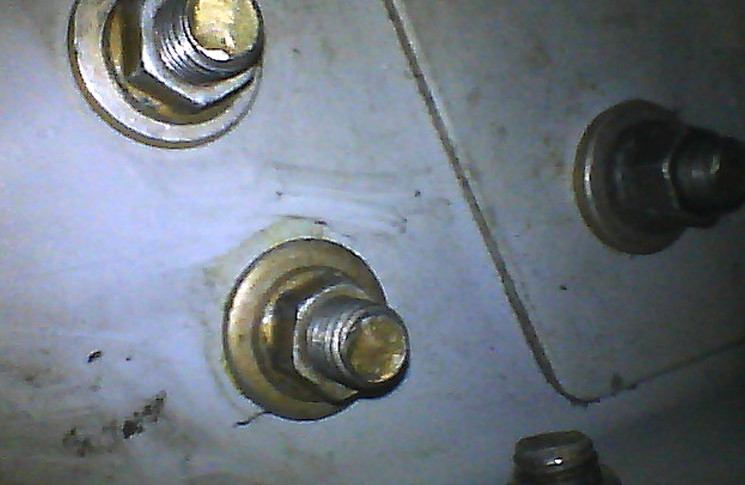 GIPPSLAND GA8–ATA 5511 HORIZONTAL STABILISER, SPAR/RIB–SPAR–CRACKED. DR 611750119 (photo above)
Crack found in horizontal stabiliser rear spar during scheduled maintenance, repaired in accordance with service bulletin.
GIPPSLAND GA8–ATA 7600 ENGINE CONTROLS-LINKAGE–Loose hardware. DR 611750128 (photo above)
Loosened nut and insecure throttle control cable rod-end and bolt discovered, caused by engine vibration. New nut installed and tightly secured to the throttle control linkage on fuel injector.
DIAMOND DA40–ATA 2720 RUDDER CONTROL SYSTEM–CABLE–WORN. DR 611749937
Rudder cables found to be worn to limits in area of Teflon guide tubes. All rudder control cables replaced with new items.
DIAMOND DA40–ATA 5751 AILERONS–BRACKET–CORRODED. DR 611749938
Corrosion found on aileron lever arm brackets (both LH and RH ailerons). New brackets fitted.
BEECH 76–ATA 3213 MAIN LANDING GEAR STRUT/AXLE/TRUCK–CLEVIS PIN–SHEARED. DR 611749957
Clevis Pin PN MS20392-1C53 sheared allowing shock strut attachment Pin PN 105-810026-1 to migrate from the R undercarriage leg which then fully extended jamming the tyre in the wheel well during the retraction cycle.
CESSNA A152–ATA 5530 VERTICAL STABILISER STRUCTURE–BRACKET–CRACKED. DR 611749974
Vertical fin bracket found cracked during SID inspection.
CESSNA A152–ATA 5511 HORIZONTAL STABILISER, SPAR/RIB–SPAR–CRACKED. DR 611749976
Horizontal stabiliser spar doubler found cracked during inspection.
CESSNA A152–ATA 5511 HORIZONTAL STABILISER, SPAR/RIB–SPAR–CRACKED. DR 611749977
Horizontal stabiliser LH and RH spar found cracked during inspection.
CESSNA 172 S–ATA 7330 ENGINE FUEL INDICATING SYSTEM–Sender–FAULTY. DR 611749999
RH fuel gauge intermittently flicking to zero and low fuel light flashing. Testing revealed fuel sender intermittently reading high resistance. Up to 265 ohms. Warranty replacement sender fitted.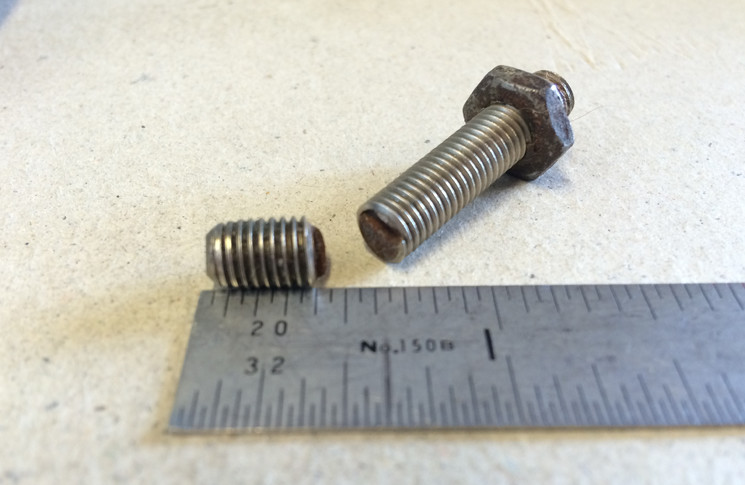 CESSNA 208–ATA 3233 LANDING GEAR ACTUATOR–SCREW–SHEARED. DR 611750073 (photo above)
LH Main landing gear would not extend using normal system. Up-lock actuating screw sheared, preventing the ram from being able to lift the up-lock off the pin to allow the main landing gear to extend. The screw had worn a small recess in the actuating ram until the recess/step was sufficient to catch and snap the actuating screw when main landing gear ram retracted. The ram and adjusting screw have been replaced. The up-lock adjustment has been set so that the screw does not rest on the ram in service but the ram can still lift the lock clear of the latch pin.
CESSNA 152–ATA 2720 RUDDER CONTROL SYSTEM–RUDDER BAR–BROKEN. DR 611750081
Tube attaching rudder pedal to rudder bar broken away at weld.
CESSNA 208–ATA 2720 RUDDER CONTROL SYSTEM–RUDDER–OUT OF BALANCE. DR 611750023
While attempting to statically balance the rudder, after repairs and repaint, it was found to be grossly under balanced. (Requiring weight to be added the mass balance weight) The mass balance weight was already at the max allowable weight and the rudder had no additional material added. The rudder and balancing procedure were thoroughly examined and it was noted that the rudder had multiple layers of paint. Paint was removed from the trailing edge of the rudder which resulted in the rudder becoming more balanced. It was concluded that the rudder had too much paint on it making it too trailing edge heavy. The rudder was stripped to bare metal and the balancing procedure attempted with favourable results. The rudder was treated, painted and balanced successfully IAW the aircraft manufacturers instructions.