AIRBUS A330 202–ATA 3246 WHEEL/SKI/FLOAT–WHEEL–Uneven wear. DR 611749921
Aircraft returned to blocks post rejected T/O at approx. 100 kts. Upon investigation, R/H nose wheel found substantially worn, L/H nose wheel was well above level of wear as compared to R/H. Moreover, both nose wheel tyre assemblies were found to be crept by 4 inches. Both nose wheels replaced. AMM inspection carried out. Crew asked to report using reporting form from TSM. Both wheels quarantined.
EMBRAER EMB120 ER–ATA 3260 LANDING GEAR POSITION AND WARNING SYSTEM–LG control lever–FOD. DR 611749925
After lift-off with gear selected up, LH main gear did not retract. Both red A/B lights remained on. Vibration felt. Selected gear down, 3 greens and landed. During the course of troubleshooting, L/H main gear up lock metallic target actuating level not getting full travel due to small rock jammed behind level. Rock removed, up lock proximity sensor adjustment checks c/o, satisfactory.
SAAB 340 B–ATA 2910 HYDRAULIC SYSTEM, MAIN–ACCUMULATOR–FAILED. DR 611749926
Hydraulic master caution illuminated in flight (Hydraulic pressure 2100 psi/emergency 1800 psi). Pump selected off. MLG and flaps actuated manually followed by normal landing. Hydraulic system leak down checks confirm that the emergency system was losing pressure at above maintenance manual limits. All other systems maintaining pressure within limits. Pressure below 1850+- 50 PSI in the emergency accumulator will illuminate the master caution on the CWP. Accumulator manifold replaced including all 4 system pressure dump valves.
EMBRAER ERJ190100–ATA 2710 AILERON CONTROL SYSTEM–CABLE–WORN. DR 611749928
At basic 1 check, four aileron control cables P/N 170-03664-401, 170-03510-401, 190-07376-401 and 190-07377-401 in centre fuselage I (CFI) were found worn above 40% (> AMM limits). Control cables have been replaced with new ones and operational test of aileron control system carried out with result satisfactory.
EMBRAER ERJ170100–ATA 3610 PNEUMATIC DISTRIBUTION SYSTEM–FILTER–BLOCKED. DR 611749955
After take-off, bleed 1 failed. Reset was successful. Repetitive defect, reset OK. After inspections, TM filter found blocked @ NPRSOV line. New filter fitted.
BOEING 717 200–ATA 2821 AIRCRAFT FUEL FILTER/STRAINER–FILTER–LOOSE AND LEAKING. DR 611749963
At top of descent, fuel loss (approximately 700 L) was identified from R/H fuel tank group. Leak was traced to R/H engine area at the LP fuel filter housing cap. Replacement planned.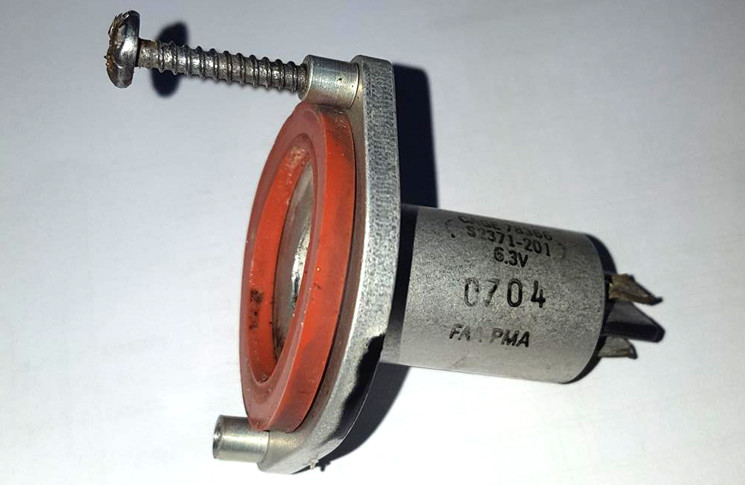 BOMBARDIER CL600 2B16–ATA 3340 EXTERIOR LIGHTING–NAVIGATION LIGHT–INCORRECT FIT. DR 611749967 (photo above)
During rectification of NAV light defect, it was discovered that the upper tail navigation light was installed with self-tapping screws. The use of these self-tapping screws had damaged both the navigation light assembly and anchor nuts in the upper tail fairing. Damaged anchor nuts removed and replaced. New light assembly fitted.
AIRBUS A320 232–ATA 3340 EXTERIOR LIGHTING–LANDING LIGHT–Part Departed Aircraft. DR 611749969 (photo above)
On arrival, LH landing light was discovered missing from the aircraft. Engineering investigation found LH landing light was damaged with majority of glass missing from the light assembly. Light assembly found to be intact and subsequently the lamp was replaced. Aircraft declared serviceable. Airbus notified.
BOEING 737 7FE–ATA 5210 PASSENGER/CREW DOORS–PIN–SHEARED. DR 611749981
On arrival at gate left no 1 door (L1) difficult to open. Inspection of L1 door identified screw on the upper guide arm lower link radius had sheared. New pin assembly 141A6076-1 washer NAS1148D0616J and screw BACS12ER06K6 installed. Door operationally checked IAW AMM 52-11-XX. Door operation found normal, AC released to service. This event type is a known issue with the OEM. Fleet Team Digest 737NG-FTD-52-14001 addresses the issue which predominantly affects the L1 door. OEM has issued Service Bulletin SB 737-52-1175 that replaces the existing hardware with a larger screw and accompanying pin and washer to increase the shear load capacity of the guide arm attachment.
FOKKER F28 0070–ATA 5347 SEAT/CARGO ATTACH FITTINGS–SEAT–BROKEN. DR 611749996
During pre-flight, flight attendant staff reported that passenger seats 13 and 16 G were broken. Following initial investigation engineering staff identified that the seat back of seat 13 G required replacing, and that the outboard armrest and seat back of seat 16 G had come adrift from the seat base. As a result a replacement passenger seat back and assembly were sourced and replaced for seats 13 and 16 G respectively, and each location was declared serviceable.
FOKKER F28 0100–ATA 5347 SEAT/CARGO ATTACH FITTINGS–SEAT–BROKEN. DR 611750000
Latch of tray table attached to the back of passenger seat 11 G broken and fuel venting from both wing fuel tanks. Tray table latch replaced Service Bulletin (SB) SBF10028062, and 'Fuel tank ventilation inspection and modification/repair of fuel vent lines in the main tanks' incorporated on affected vent line and line reconnected.
AIRBUS A320 232–ATA 3010 AIRFOIL ANTI-ICE/DE-ICE SYSTEM–ANTI ICE VALVE–FAILED. DR 611750003
During climb, the crew received 'WING A. ICE L HI PR' ECAM. System reset was carried out at lower power setting. The fault returned momentarily and then returned with the crew selection of the climb thrust. The crew decided to return, the aircraft had a safe landing. Engineering team carried out troubleshooting and determined that the wing anti-ice valve had faulted. PN 38E93-5 SN 3419 was replaced and the aircraft was declared serviceable and released back to service.
FOKKER F28 0100–ATA 2750 TRAILING EDGE FLAP CONTROL SYSTEM–FLIGHT CONTROL UNIT–FAULTY. DR 611750008
After reaching top of climb a FLAP POS CMPTR fault alert appeared. SPD LIM flags were displayed at both PFD's. The FO's PFD also indicated complete high speed barber pole display across the entire speed tape. High speed barber pole on captain's side was OK. Neither of the SPD LIM flags was able to be removed. Approach and landing was normal apart from the fact that there was no green dot on the PFD's or approach speed bugs and a SPD LIM flag was displayed (on both sides). Investigation ongoing.
DE HAVILLAND DHC8 402–ATA 3230 LANDING GEAR RETRACT/EXTENSION SYSTEM–SHEATH–DETERIORATED. DR 611750009
R/H MLG doors failed to open with alternate release handle, whilst carrying out ramp service check (RSC). The outer sheath of the P/N 48501−3 cable assay attached to the 48520−1 MLG emergency release handle was found degraded and cracked. The damaged outer sheath was observed to catch on the fairlead adjacent to the handle, inhibiting operation of the MLG emergency extension system. The outer sheath of the cable was trimmed to allow clearance in accordance with approved data. Door release op test carried out and aircraft returned to service.
DE HAVILLAND DHC8 101–ATA 3246 WHEEL/SKI/FLOAT–WHEEL–CRACKED. DR 611750011
Utilising Eddy current inspection, a 10 mm crack was found in bead seat of the inboard hub half of the wheel assembly.
ATR ATR72 212A–ATA 3445 TRAFFIC COLLISION AVOIDANCE SYSTEM (TCAS)–ANTENNA–INCORRECT ASSY. DR 611750015
On ground, the flight crew reported TCAS indications intermittent. Fault found in TCAS upper antenna. No previous history and there have been no repetitive occurrences. Traffic appears to be 180 degrees out. TCAS/T2CAS upper antenna replaced per JIC 34-43-21 RAI 10000.
SAAB 340 A–ATA 2914 HYDRAULIC HANDPUMP, MAIN–HANDLE–FRACTURED. DR 611750016
During auxiliary hydraulic check pump handle snapped at weld. Normal operational load was being placed on the handle. The handle broke through the welded area. Contributing factors such as fatigue, stress corrosion or improper weld are possible but unknown without further analysis. Handle replaced with serviceable item.
EMBRAER EMB120 ER–ATA 3297 LANDING GEAR WIRING–PROXIMITY SENSOR–FAULTY. DR 611750017
IDLE UNLK 1 & 2 lights illuminated in flight. After troubleshooting carried out, hard fault discovered on jacks. LH WOW PROX sensor replaced and tested serviceable, LH strut serviced with nitrogen. Operational check carried out satisfactorily.
SAAB 340 B–ATA 3130 DATA RECORDERS (FLIGHT MAINTENANCE)–FDAU–SMOKE. DR 611750032
On departure through 500 feet electrical smell was apparent in the flight deck. 'Avionic Smoke' master warning illuminated for approx. 5 seconds then went out and stayed out. Smell persisted till landing. On inspection FDAU had a strong burning smell and FDAU lamp on FDEP illuminated. FDAU replaced with serviceable item IAW AMM 31-30-05.
FOKKER F28 0100–ATA 2897 FUEL WIRING–CONDUIT–CORRODED AND LEAKING. DR 611750043
Corrosion has caused fuel to leak into the fuel boost pump wiring conduit. Conduit pipe replaced.
BOEING 787 8–ATA 2510 CREW STATION EQUIPMENT SYSTEM–SEAT–MOVED. DR 611750047
While aircraft was taxiing onto the gate, the captain's seat horizontal lock failed and the seat moved backwards freely. Engineering were able to replicate the issue only when the captain's seat was in the fully down position. Fore/aft cable adjusted and seat functions correctly.
BOEING 737 8FE–ATA 2760 DRAG CONTROL SYSTEM–CABLE–LOW TENSION. DR 611750066
Flight crew reported aircraft rolled slightly to the right on deployment of speed brakes during descent. Troubleshooting confirmed spoiler cable tensions to be low. Spoiler cable adjustment carried out IAW AMM 27-61-00-820-801 and all spoiler cables now in correct tension and rig. Independent inspection carried out satisfactory. Aircraft released to service.
BOEING 737 3H6–ATA 3231 LANDING GEAR DOOR RETRACT SECTION–CABLE–STIFF. DR 611750071
At the completion of the current C check, the aircraft undertook a test flight. The landing gear failed to retract during the test flight. Ground spoiler interlock cable on landing gear was found to be stiff with dimensions outside AMM limits. Adjustment was carried out per AMM 27-62-51-825-001 Rev 85. Functional test carried out per AMM 27-62-51-725-011 found satisfactory. The aircraft had another test flight and landing gear retraction tested normal.
FOKKER F28 0100–ATA 2520 PASSENGER STATION EQUIPMENT SYSTEM–SEAT–BROKEN. DR 611750075
Incident: Seat back of passenger seat 13 E fractured through part of pivot quadrant, originating from contour on leading edge of quadrant, and propagating through to the breakover cut-out. Seat back assembly replaced.
AIRBUS A321 231–ATA 5320 FUSELAGE, MISCELLANEOUS STRUCTURE–FRAME–CORRODED. DR 611750077
During 11C check inspection, corrosion was found on the right hand side bottom skin panel number 3 upper surface outboard of gear support RIB5. Moreover, cracks were noticed on the left-hand and right-hand sides windshield framing doubler lateral side post.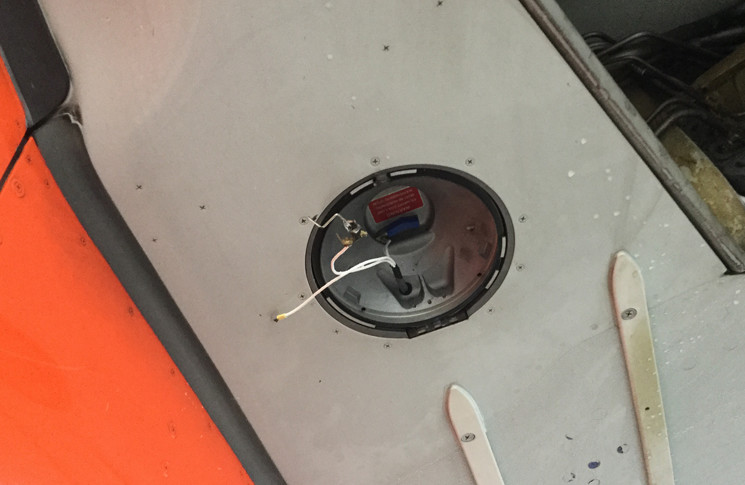 AIRBUS A320 232–ATA 3340 EXTERIOR LIGHTING–LANDING LIGHT–MISSING. DR 611750084 (photo above)
During flight crew walk around, RH landing light reported broken. On closer inspection engineering noticed that the whole landing light lamp was missing, with only a piece of broken element attached to one terminal lead.
FOKKER F28 0070–ATA 5220 EMERGENCY EXITS–SKIN–CRACKED. DR 611750095
Three cracks discovered in corners of right-hand overwing emergency exit door skin. Joggles cracked portion of joggle removed, manufactured and installed repair filler.
SAAB 340 A–ATA 1200 SERVICING–ACTUATOR–Wasp Infestation. DR 611750104
During visual inspection for bird nests, L & R elevator actuator/hinge area was found to be infested with mud wasp nests. Same removed.
AIRBUS A330 202–ATA 3211 MAIN LANDING GEAR ATTACH SECTION–TURNBUCKLE–SHEARED. DR 611750105
Following take-off, landing gear handle would not move up. Aircraft was levelled at 5000 ft and flaps retracted to 1. ATC advised. ECAM actions carried out for L/G R lengthening fault. Aircraft returned. Subsequent engineering inspection of the R/H main landing gear found the shortening mechanism turnbuckle link had sheared at the lower eye.
DE HAVILLAND DHC8 402–ATA 3220 NOSE/TAIL LANDING GEAR–ACTUATOR–Internally leaking. DR 611750113
Nose landing gear failed to extend on approach. Alternate landing gear extension carried out. Aircraft landed safely. Following event, NLG door actuator PN 47830-1 was replaced. Wear of the nose gear door actuator (and subsequent piston seal bypass) is a known issue on the Q400. UTAS (actuator OEM) have advised of design improvements (New PN 47830-3) to the actuator to eliminate this failure mode. Estimate of availability of improved actuator is DEC18. Furthermore, Bombardier SB 84-32-132 alerts operators to the possibility of absence of inline filters in SSV supply/return lines (i.e. omitted at production). It is believed absence of these filters accelerates wear of the internal bore of the NLG door actuator, allowing fluid to bypass the actuator piston seal.
FOKKER F28 0100–ATA 5330 FUSELAGE MAIN, PLATES/SKIN–ANGLE–CRACKED. DR 611750132
Cracking found on forward coupling angles of stringers (STGR) 45 and 46, at circumferential skin joint at frame (FRA) 17011. Fokker CAS repair instructions detailed that the cracked coupling angles were approved to remain as is, with replacement to be carried out no later than the aircrafts next heavy maintenance check.
FAIRCHILD SA227 DC–ATA 3210 MAIN LANDING GEAR–ROLL PIN–SHEARED. DR 611750027
During transit check inspection RH MLG lower torque link shaft found to have migrated inboard. The shaft had migrated far enough inboard to disengage from the outboard lug of the lower torque link. RH MLG lower strut assembly, lower torque link and torque link shaft replaced. Investigation found that the spring pin (roll pin) securing the lower torque link shaft had sheared allowing the shaft to migrate. It is suspected that there was a tight spot between the shaft and bush that may have cause the spring pin to shear allowing the shaft to migrate.