BOEING 737 8FE–ATA 3497 NAVIGATION WIRING–WIRE–DISCONNECTED. DR 611750198
Flight crew reported GPWS inoperative light illuminated momentarily on descent with associated RA/terrain fail/TCAS fail flags on PND. Failure and flags removed with no further indications. During ground test, GPWS test fails Rad Alt Bus 2 input. Rad Alt transceivers transposed to no avail. Returned to original positions and tested serviceable per AMM 34-33-XX. GPWS new computer fitted for troubleshooting purposes and original Rad Alt input fault exists. Original GPWS computer refitted. Fault was traced to a wire W0111-2003B-24 pulled from TB1101. Wire re-inserted and system tested satisfactory per AMM 34-46-XX. No previous history and there have been no repetitive occurrences.
AIRBUS A320 232–ATA 5420 NACELLE/PYLON, MISCELLANEOUS STRUCTURE–CLAMP–MISSING. DR 611750199
During routine maintenance, it was identified that support bracket and drain line clamp block assembly were missing from the RH pylon fixed fairing. It is being suspected that lower pipe (D717-10036-000-00) not being clamped, free to wear against the lower rib, elongating the holes was the contributory factor. Rework of the lower rib 14 was carried out to ensure there were no sharp edges. A new clamp block assembly was installed.
BOEING 717 200–ATA 3250 LANDING GEAR STEERING SYSTEM–SHEAR PIN–FAILED. DR 611750211
Whilst towing, during RH turn, tow bar shear pin sheared and the left steering actuator contacted L/H NLG bulkhead. Furthermore, NLG operated beyond its steering range. Steering lever stop was also damaged during this event. Relevant maintenance regarding steering angle exceeded/tow pin shear completed. Observed dents/gouges repaired. Steering travel and ranges checked ok. Aircraft returned to service.
AIRBUS A320 232–ATA 5270 DOOR WARNING SYSTEM–CARGO DOOR–WARNING MESSAGE. DR 611750216
Before departure, difficulty was faced in locking the aft cargo door. The locking mechanism was lubricated and door was able to be latched safely. No interference with door latch interlock was noted. In flight AFT CARGO DOOR message on the ECAM presented. A precautionary air turn back executed. On ground, door confirmed locked. MEL applied.
BOEING 737 838–ATA 4930 APU ENGINE FUEL AND CONTROL–FITTING–LEAKING. DR 611750217
Just prior to boarding, crew reported a strong fuel smell evident throughout the aircraft. Flight was subsequently cancelled. Later on, it was discovered that APU primary fuel manifold fitting is leaking. MEL 49-01 was applied, RTS completed. Detailed rectifications planned.
SAAB 340 B–ATA 3411 PITOT/STATIC SYSTEM–CIRCUIT BREAKER–SHORT CIRCUIT. DR 611750218
Passing 9000 feet on climb, FO side altimeter started trending down (eventually settling at 8300 feet). The FO ASI indicated zero knots and remained there for the rest of the flight and CB E28 popped. E28 able to be reset IAW company policy. Later on it was discovered that CB E28 had contacted airframe. Subsequent arcing melted the static line thereby causing leakage.
BOEING 737 7FE–ATA 3460 FLIGHT MANAGEMENT COMPUTING HARDWARE SYSTEM–FMC–Transient. DR 611750254
Flight crew reported that on ground, the Capt.'s and F/O's display units lost FMC #1 and FMC #2 information for a brief second before returning to normal. Fault Isolation Task 34-61 / 801 performed with nil faults evident at this time. FMC # 1 and # 2 reset performed. Failure is a known issue to OEMs which was initially thought to be caused by radiation induced upset however could not be reproduced in a controlled environment. Root cause is still being investigated.
BOEING 737 8FE–ATA 2751 TRAILING EDGE FLAP POSITION INDICATING SYSTEM–TRANSMITTER–FAULTY. DR 611750257
Crew reported flap asymmetry when flap lever selected from 10 to 15. Flaps remained at 25 when selected. Go around conducted with no further issues. FIM 27-51 Task 840 carried out with nil faults. History shows Maint Msg 'TE FLAP SNSR L' with Maint Code 27-52259 and 'INTRMTNTINACTIVE'. Flap inspections and functional test carried out satisfactory. Defect could not be reproduced. LH TE flap position transmitter was replaced IAW AMM 27-58-01 to prevent any further occurrence. There have been no repetitive occurrences.
DE HAVILLAND DHC8 102–ATA 3260 LANDING GEAR POSITION AND WARNING SYSTEM–Phototransistor–Defective. DR 611750272
'ALT GEAR IND FAIL' CAUTION illuminated in flight. During the course of rectifications, nose gear phototransistor found failed.  Same replaced and tested serviceable.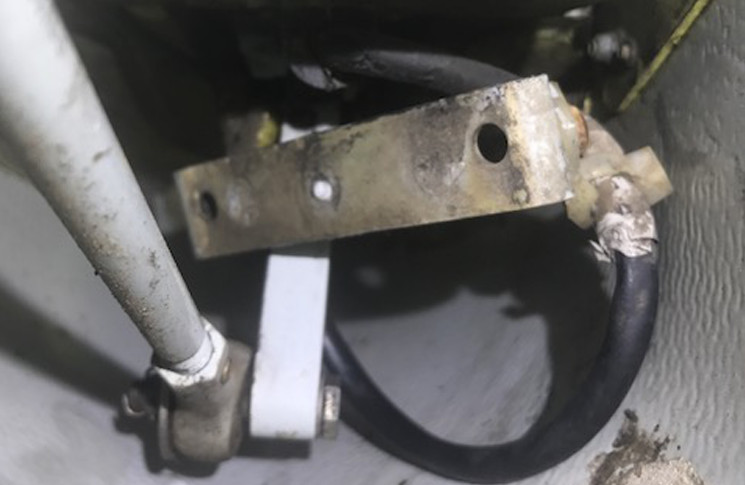 SAAB 340 B–ATA 2710 AILERON CONTROL SYSTEM–BRACKET–Detached. DR 611750279 (photo above)
During approach & landing, excessive force required to move ailerons left from centre position. Movement in RH direction appeared normal. Aileron operating forces were within normal range on ground. LH & RH aileron mechanical channel inspected under the cockpit floor, found satisfactory except LH aileron harness bracket found detached from actuator assembly. It was fouling with the aileron movement. LH aileron trim actuator replaced. Servicing/greasing of LH & RH aileron flight controls completed.
BOMBARDIER CL600 2B16–ATA 2530 GALLEY STATION EQUIPMENT SYSTEM–Cabin Monitor–SMOKE. DR 611750285
Pilot in command observed smoke coming from the cabin monitor screen when the galley was powered. Consequently, cabin monitor went blank and inoperative. PIC pulled cabin monitor circuit breaker and applied approved MEL 25-60-XX.
FOKKER F28 0100–ATA 2710 AILERON CONTROL SYSTEM–CABLE–BROKEN. DR 611750294
Upon engaging the flight control lock, it was identified that the control yoke was not locked. Investigation found that rear flight control lock system control cable, from the aileron to the elevator, was broken at a Pulley where the cable makes a right angle direction change. Broken cable replaced system declared serviceable. Cable to be shipped to external facility for failure mode and root cause determination. Due reliability actions planned.
BOEING 737 8FE–ATA 2100 AIR CONDITIONING SYSTEM–BLEED AIR–transitory condition. DR 611750296
Crew reported unidentified fumes through the cabin during pushback and taxi. Aircraft returned to the gate. All galleys, ovens, lavatories, cargo holds and cabin space inspected with nil faults. Both engines ground run carried out, air conditioning packs run extensively with all operations found satisfactory.
BOMBARDIER CL604–ATA 2410 ALTERNATOR-GENERATOR DRIVE SYSTEM–IDG–FAILED. DR 611750323
On descent, passing 9000 feet AMSL, EICAS Message 'GEN 2 OFF' was displayed. QRH Checklist was carried out; the generator could not be reset. The A/C landed without incident. Following removal of the IDG, it was evident that there was significant lateral play in the input drive shaft, suggesting an internal failure. IDG was replaced. Part fitted during the recent 'Mid-Life' check and had accrued 3.9 Hours & 3 cycles post shop O/H. Strip report has been requested.
FOKKER F28 0100–ATA 2810 FUEL STORAGE–FUEL CELL–PUNCTURED. DR 611750328
Fuel was noted to be dripping from the centre wing tank drain and vent fairing assembly beyond allowable rate. Leak was traced to be originating from the #1 flexible fuel cell. Faulty fuel cell was replaced. Inspection at the repair facility concluded, sometime during the cells installation, adjacent fuel probe had contacted and damaged the cell wall, resulting in the split. Correct probe installation (shorter in length) verified IAW Fokker Service Experience Digest (SED) number 2812/001, 'Fuel–Center wing tank–Center Tank Number 1 Bladder Type Fuel Cell damage due to Fuel Quantity Indication Probe'. Event classified as isolated.
BOEING 717 200–ATA 2822 FUEL BOOST PUMP–FUEL–Imbalance. DR 611750336
Air return to departing base due LH engine low fuel pressure during cross feed operation. Left pumps turned back on and low pressure indication went off. Left tank steady fuel decreased to 400 kg causing fuel asymmetry. Cross feed turned off, total fuel on board, fuel bias steadily returned to normal.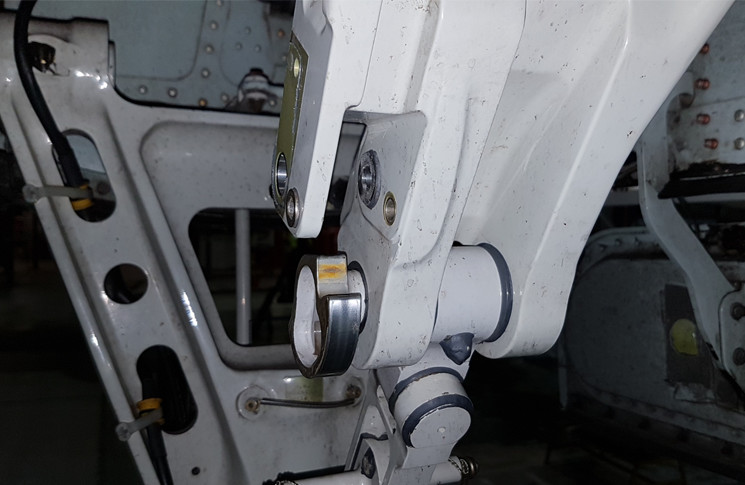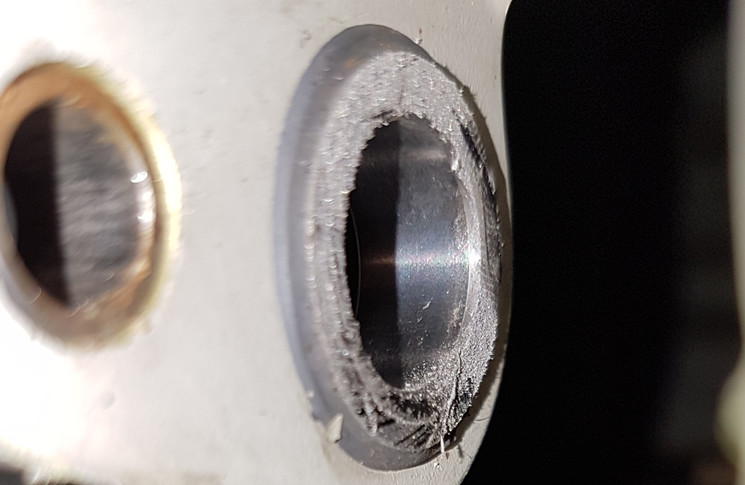 SAAB 340 B–ATA 3260 LANDING GEAR POSITION AND WARNING SYSTEM–WARNING LIGHT–ILLUMINATED. DR 611750338 (photos above)
On selecting gear down on approach, NLG light failed to illuminate with in transit light still illuminated. Crew cycled the gear with the same result. Lamps tested, OK. On return to base, the gear was cycled again, this time with 3 green indications with in transit light extinguished. Normal landing performed. During the course of maintenance, NLG down lock switch replaced as a precaution. During functional checks, defect re-occurred after 5 retractions, NLG inspected while no green light illuminated, gear was fully down with drag brace down, but the down lock actuator was not fully engaged. The down lock roller was freely rotating and had not entered the cam. After applying light pressure to the lock lever the down lock actuator fully retracted and the roller entered the cam, correct indications were illuminated. NLG drag brace replaced with serviceable item.
AIRBUS A330 243–ATA 5400 NACELLE/PYLON STRUCTURE–BEARING–MIGRATED. DR 611750341
During inspection of the thrust reverser beam and hinge assembly as per AD 2010-0187R1, the number 1 engine inboard thrust reverser # 5 hinge attach fitting has a migrated bearing. The bearing has migrated forward, leaving 5.5 mm of the bearing housing sitting proud of the fitting. Affected fittings to be replaced IAW OEM instructions. Recurrent inspections scheduled as per MPD.
AIRBUS A320 232–ATA 5730 WING, PLATES/SKIN–PANEL–CORRODED. DR 611750342
During inspection, corrosion was found on top skin panels 1 and 2 upper surface, between ribs 9-17 and stringers 11-16, at bolt locations #360, #380 and #382 sheet 6, #264, #281 and #282 sheet 8, #142 and #343 sheet 12, #225 sheet 13 and #255 sheet 14. Affected fasteners removed, corrosion was cleaned by smooth blending and NDT inspections performed with NIL findings. Oversize fasteners were installed and surface protection restored.
SAAB 340 B–ATA 5740 WING, ATTACH FITTINGS–FITTING–CRACKED. DR 611750347
LH wing flap has cracked fitting at WS 123.8. During inspections, upon flap removal, L/H flap, nacelle hinge attachment bolt large bush PN S5017-06E007 found missing. As a result wing flap hinge attach fitting PN 7257500-601 at the nacelle was also found damaged. Free play resulted due missing bush. SB 340-57-037 will be embodied.
AIRBUS A320 232–ATA 4990 APU OIL SYSTEM–APU–Residual Oil Leak. DR 611750352
Crew reported a musty sock smell at 10,000 feet on descent lasting for 15 minutes. After detailed troubleshooting, it was established that reported smells originated from trace amount of oil that remained in the APU bleed ducts or ECS system post APU maintenance. Task card has been added to the APU change procedure in use to inspect the APU compartment, intake and exhaust for any signs of contamination, regardless of the removal reason, and to clean/decontaminate as necessary.
SAAB 340 B–ATA 3230 LANDING GEAR RETRACT/EXTENSION SYSTEM–CABLE–BROKEN. DR 611750355
During landing gear emergency extension functional check, release cable inner broke, allowing the cable to be pulled completely out of the outer sheath. Rectifications initiated.
DE HAVILLAND DHC8 315–ATA 2721 RUDDER TAB CONTROL SYSTEM–Trim Panel–BURNT. DR 611750369
On approach, smoke observed in cockpit emanating from trim console panel. Aircraft landed safely. Aileron/rudder trim control panel removed and inspected. Rudder potentiometer was found to be blackened and burnt. Aileron/rudder trim control panel replaced and tested IAW AMM 27-22-XX.
BOEING 737 8FE–ATA 2230 AUTOTHROTTLE SYSTEM–AUTOTHROTTLE–UNCOMMANDED ACTIVATE. DR 611750379
During taxi, crew reported uncommanded auto throttle movement to take off power 3 times. Aircraft returned to the gate. Troubleshooting completed satisfactory with nil defects confirmed. Further troubleshooting completed per AMM 22-31-XX including auto throttle system test and no faults found. Flight plan entered to FMCS, LNAV and VNAV and both armed correctly on ground. Auto throttle also engaged with normal operation with TO/GA selection made. System found satisfactory. There have been no repetitive occurrences on subsequent flights.
AIRBUS A320 232–ATA 3260 LANDING GEAR POSITION AND WARNING SYSTEM–PROXIMITY SENSOR–FAULTY. DR 611750395
In flight, captain advised of LGCIU fault that was unable to be reset. Due to previous history, decision was made to divert to alternate for positive maintenance. On the ground engineers performed troubleshooting resulting in proximity sensor 28GA being replaced. Aircraft declared serviceable.
FOKKER F28 0070–ATA 2520 PASSENGER STATION EQUIPMENT SYSTEM–QUADRANT–BROKEN. DR 611750396
During inspections, crack to outboard seatback pivot quadrant of passenger seat number 10F, to forward edge contour above pivot point was detected. Seatback assembly was replaced. Deeper investigations have found that stiffness created by hydro lock might have contributed to extra flexing, fatigue, and subsequent cracking. Recently, rising trend in ATA 25 passenger seats failures has been detected. Reliability investigations are continuing.
SAAB 340 B–ATA 2130 PRESSURE CONTROL SYSTEM–CABIN–DEPRESSURISATION. DR 611750429
Crew suffered rapid loss of cabin pressure at FL170. Cabin alt took less than 1 minute to reach actual altitude. No loud 'bangs 'were noticed by the crew. Cabin alt reached 16000 feet approximately. Crew ran failure management.
AIRBUS A380 842–ATA 2520 PASSENGER STATION EQUIPMENT SYSTEM–Personal Electronic Device–CRUSHED. DR 611750439
Engineering notified on arrival, phone had been lost at seat 11J. Seat was moved with electronic controls and crushed phone emitting smoke was recovered. Relative inspections completed. Investigations have been initiated.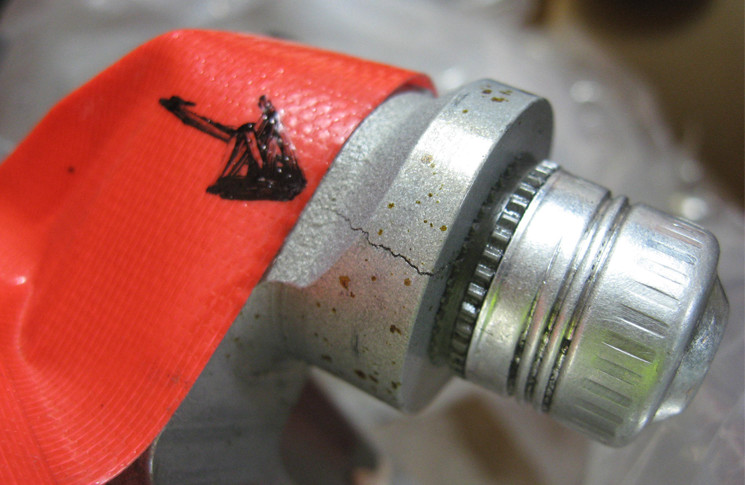 SAAB 340 B–ATA 2916 HYDRAULIC RESERVOIR, MAIN–Hydraulic Reservoir–CRACKED AND LEAKING. DR 611750446 (photo above)
While towing, a large puddle of hydraulic oil was noted on the ground underneath the nose landing gear bay. After removing the hydraulic bay access panel, the leak was traced to the bottom of the hydraulic reservoir originating from a cracked hose fitting. Reservoir removed and replaced with a serviceable unit.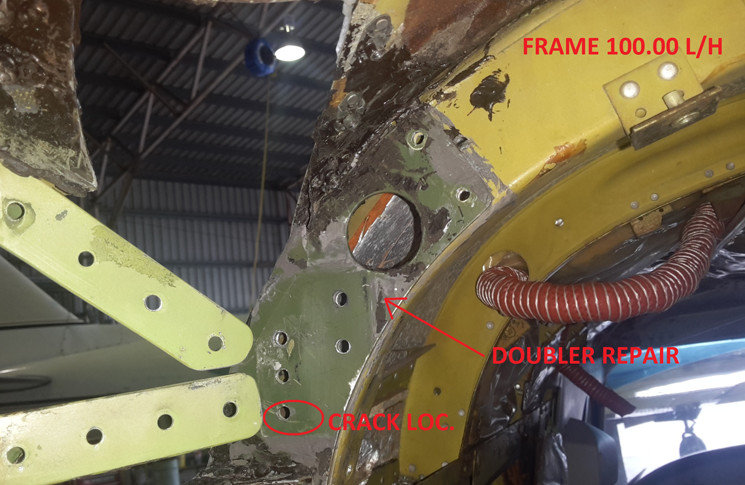 AERO COMMANDER 500 S–ATA 5741 WING, FUSELAGE ATTACH FITTINGS–FRAME–CRACKED. DR 611750243 (photo above)
During inspections IAW AD/AC/93 Req 3, L/H FR 100 was found cracked from the lower O/B 'T' bracket fastener hole. Crack had been stop drilled previously and a doubler repair made to the frame. R/H frame 100 was also found cracked from the lower 'T' bracket fastener hole and stop drilled but the crack has progressed past the stop drill. The doubler repairs & the damaged sections of frame 100 will be replaced with a splice repair. Also the 'T' brackets & the leading edge to W.S. 24 rib attachment fittings will be replaced with new items due to oversized fasteners being used during reassembly after the original doubler repair causing reduced edge distances in these items. All repairs are to be made using a Part 21M approved repair scheme.