AGUSTA AW139–ATA 3221 NOSE/TAIL LANDING GEAR ATTACH SECTION–BOLT–SHEARED. DR 611750469
During 300-hourly inspection, nose landing gear retraction actuator attachment bolt was found to be cracked. Immediate inspections were completed on all company AW139 helicopters. PN in question are 1661-0009 and 1650-0010. All defective bolts will be replaced before the helicopters are returned to service. Advice will be sort from Leonardo Helicopters.
SIKORSKY S92 A–ATA 6320 MAIN ROTOR GEARBOX–TAB–BROKEN. DR 611750510
During a turnaround inspection on the aircraft, it was discovered that there was a small gap of approximately 0.010″ between the number two MGB lube scavenge pump and the main transmission. A decision was made to remove the pump and inspect it along with the transmission and vespel spline adapter. Upon removal of the lube scavenge pump, lower mounting tab fell off. Further inspection also revealed damage to the threads on the upper mounting stud on the main transmission. Lube scavenge pump, damaged stud replaced.
AGUSTA AW109 SP–ATA 6410 TAIL ROTOR BLADES–TAIL ROTOR BLADE–CRACKED. DR 611750534
Crack having approximate length of 25 mm was found in tail rotor blade during daily inspection. It is located on the inboard skin, 260 mm from the blade root and 65 mm from the trailing edge. Serviceable blade installed. OEM has been contacted and provided with the details and photographs of the crack. The unserviceable tail rotor blade has been quarantined.
BELL 206 B–ATA 6320 MAIN ROTOR GEARBOX–Lock wire–FOULED. DR 611750562
After transmission chip light illuminating, chip plug was inspected and a large piece of lock-wire was found. MGB filter was then inspected and more debris was found. The MGB was then removed for a strip down inspection. During this inspection, it was found that the lock-wire on the top of the input driven gear had fouled the lock-wire on the bottom of the planetary gear carrier. The transmission was stripped completely and inspected to eliminate any possible secondary damage and returned to service. All personnel involved made aware of this issue and counselled.
AGUSTA AW139–ATA 2590 NON STANDARD EQUIPMENT SYSTEM–NVIS mount–UNSERVICEABLE. DR 611750594
NVIS dual tube failure was experienced in flight. Pilot attempted to rectify by selecting secondary battery however this did not work. Pilot then exchanged the battery pack, which was also unsuccessful. Pilot elected to exchange the mount itself, which was successful. NVIS set made u/s and will be sent away for investigation and servicing.
KAWASAKI BK117 B2–ATA 6210 MAIN ROTOR BLADES–MAIN ROTOR BLADE–CRACKED. DR 611750598
During daily inspection, pilot noted a crack on the main rotor blade top side between the cuff and the blade bond line. Inspection carried out in accordance with Kawasaki BK 117 MM CH 14-4C para 10A. Repair required. Upon further investigation, damage has been confirmed to be within limits and the blade can be returned to service with a minor repair. IAW manual.
BELL 206 L3–ATA 5302 ROTORCRAFT TAIL BOOM–LONGERON–CRACKED. DR 611750600
Crack found in upper left longeron. It could be possibly due to fatigue. BHT TB-206L-07-226 incorporated.
SIKORSKY S76 A–ATA 2590 NON STANDARD EQUIPMENT SYSTEM–Night Vision Goggles–UNSERVICEABLE. DR 611750647
While adjusting IPD of the NVG, LH tube failed. Black power wires appeared to have been pulled out of the PCB. Spare goggles utilised, faulty goggles being sent for repair.
EUROCOPTER AS332 L–ATA 6320 MAIN ROTOR GEARBOX–CHIP DETECTOR–Chip detector light ON. DR 611750654
Number 2 engine chip light presented in flight. During maintenance, fine filaments were detected on chip detector plug. Plug cleaned and serviceability check carried out.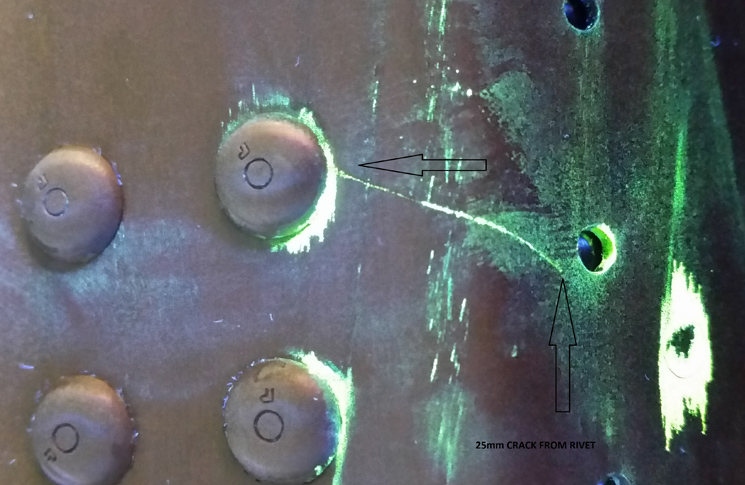 BELL 206 L3–ATA 5313 FUSELAGE MAIN, LONGERON/STRINGER–LONGERON–CRACKED. DR 611750667 (photo above)
Crack found in upper left longeron. Area is known for fatigue damage. BHT-TB-206L-07-226 will be incorporated.
AGUSTA A109 S–ATA 2215 AUTOPILOT MAIN SERVO–Fork lever assembly–INCORRECT FIT. DR 611750755
During test flight, A/P altitude trim was erratic. During the course of troubleshooting, it was found that control tube was installed with the forks of the lever facing down instead of up. A/P pitch servo actuator fork lever assembly was disconnected from the control tube, rotated 180 degrees, and reconnected.
SIKORSKY S92 A–ATA 2590 NON STANDARD EQUIPMENT SYSTEM–Tag line–DAMAGED. DR 611750786
During winching in, empty hook guided by tag line weak link parted and plastic D ring fractured.
ROBINSON R22 BETA–ATA 5302 ROTORCRAFT TAIL BOOM–FRAME–DAMAGED. DR 611750791
On carrying out 100-hourly inspections, noticed A046.1 was bent at the rear support. Suspect heavy landing has taken place. Overhauled frame fitted. Pilot had no recollection of incident taking place. Helicopter inspected per RHC MM Section 2.550 Part A.
SIKORSKY S92 A–ATA 7810 ENGINE COLLECTOR/TAILPIPE/NOZZLE–EXHAUST PIPE–Detached. DR 611750795
Rotorcraft suffered an in-flight detachment of the engine exhaust tailpipe assembly just prior to landing. A full investigation is underway as to the cause. Maintenance control will issue a fleet inspection of correct assembly of the attachment hardware as per ASB 92-78-001A.