ATA 2820 AIRCRAFT FUEL DISTRIBUTION SYSTEM–PIPE–Defective–PART NO. 2600101-74. DR 611750593
Fuel line assembly received defective from Textron Aviation. Double flare at one end of pipe had been malformed. Shows signs of damage to the back of the flare. Poor de-burring prior to forming has metal flare with sharp edges breaking away in fluid zone. Flare end not square to pipe. Quality inspections not carried out sufficiently at manufacture to pick up manufacturing defect. Part was rejected and manufacturer requested to build a new part. Manufacturer was alerted about whole batch of suspected pipes in circulation.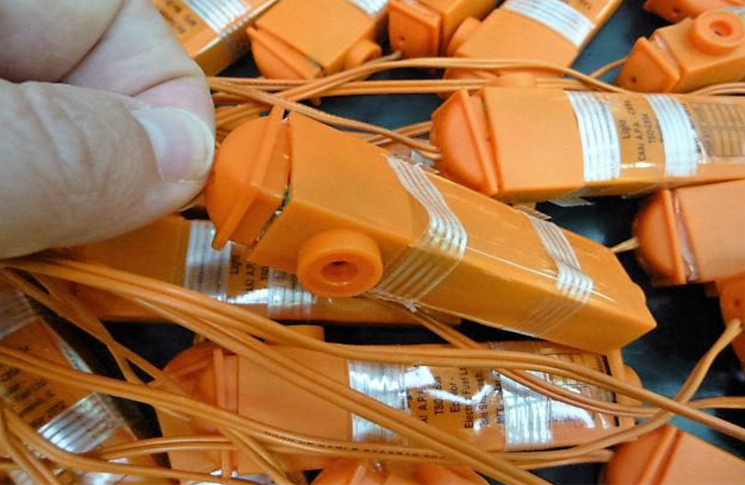 ATA 2561 LIFE JACKET–BATTERY PACK–UNSERVICEABLE–PART NO. 517-09. DR 611750620 (photo above)
Swollen battery case/light assemblies found on multiple EAM life jackets model KSE-35L8 P/No P0723E109PW & KSE-35L8 P/No P0723E105PW. It could be due to manufacturing defect at the composition level of the batteries and/or moisture or humidity. Defective model WAB-H18's P/N 517-09 light/battery assemblies have been found to be unreliable for many years. The OEM has again provided a report on this latest batch of defective units. Defective batteries have been replaced under warranty.
ATA 7414 MAGNETO/DISTRIBUTOR–COIL–LOOSE–PART NO. BL-600644-201. DR 611750804
Coil movement noted inside magneto housing. Once component was disassembled, coil clamp fastening screws found loose.