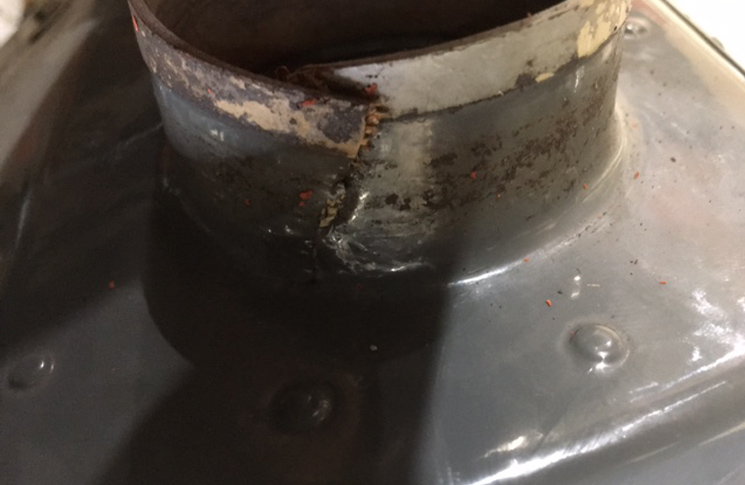 LYCOMING O360 J2A–ATA 8510 RECIPROCATING ENGINE FRONT SECTION–CLAMP–OVERTORQUED. DR 611750495 (photo above)
During inspections, crack was found in hot air inlet flange. It could be due to over torque of clamp installation. Duct repaired. Concerned maintenance personnel informed.
LYCOMING O540 F1B5–ATA 8520 RECIPROCATING ENGINE POWER SECTION–EXHAUST VALVE–NOT SEATING. DR 611750535
During 100-hour inspection, #2 cylinder compression noted as 0/80. Investigations found exhaust valve not seating. Cylinder assembly was replaced.
LYCOMING IO360 M1A–ATA 8530 RECIPROCATING ENGINE CYLINDER SECTION–BUSHING–LOOSE. DR 611750611
All four Conrod bushings found loose IAW Lycoming MSB 632B. Possibly due to non-conforming bushings. Two similar defects reported.
CONTINENTAL TSIO520 A–ATA 7322 FUEL CONTROL/RECIPROCATING ENGINES–FUEL–LOW PRESSURE. DR 611750634
LH engine power decreases after take-off, RPM reduces by 200 with fuel flow increasing to 167 L/hr, in addition, black smoke observed coming from exhaust. Engine returned to normal when mixture was leaned. Defect traced to low unmetered fuel pressure, which was found to be out of limits. Necessary adjustments carried out. Full power runs completed. Aircraft returned to service.
CONTINENTAL O200 A–ATA 7322 FUEL CONTROL/RECIPROCATING ENGINES–CARBURETTOR–SUSPECT FAULTY. DR 611750666
Engine power decreasing, with engine still running. Also engine not reaching full power. Suspected carburettor sent away for overhaul and repair. Moreover, accelerator pump seal found dislodged.
CONTINENTAL GTSIO520 C–ATA 8097 STARTING WIRING–RELAY–STUCK. DR 611750686
After starting RH engine, starter relay remain engaged. A/C departed and approx. 5 minutes afterwards battery voltage became low. After landing, inspection found starter motor had burnt. Afterwards, starter relay found sticky with moisture damage evident. New relay and starter installed.
LYCOMING TIO540 J2BD–ATA 8550 RECIPROCATING ENGINE INTERNAL OIL SYSTEM–VERNATHERM–FAULTY. DR 611750707
Pilot reported high oil temp, low oil pressure. Upon removal of Vernatherm, shaft appeared to be fractured. Broken off top section of shaft was later found jammed in oil cooler supply hose reducing oil flow by around 9/10th. Part was replaced with Lycoming PN 53E22144. Comparing both parts (removed and new) found that, PN SL53E19600 is roll pinned, whereas the Lycoming part PN 53E22144 is crimped at the end.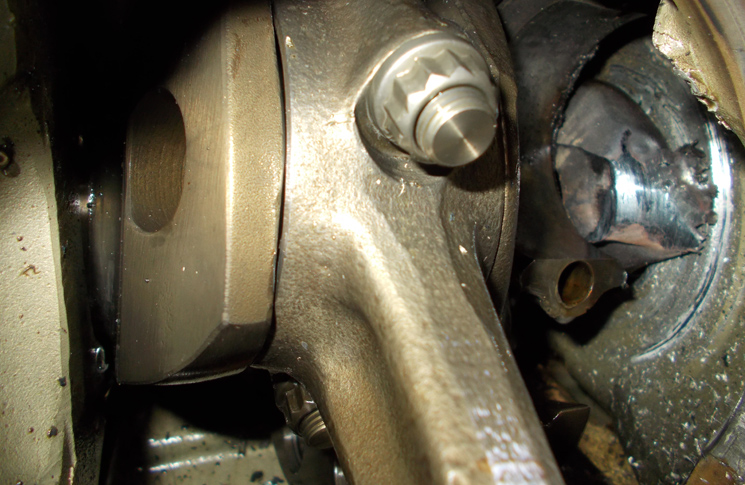 CONTINENTAL IO520 A–ATA 8530 RECIPROCATING ENGINE CYLINDER SECTION–CONNECTING ROD–FAILED. DR 611750738 (photo above)
Engine seized after failure of #2 cylinder con rod big end.
Centrum AI-14RA–ATA 7322 FUEL CONTROL/RECIPROCATING ENGINES–CARBURETTOR–FAULTY. DR 611750747
Operator reported rough running as well as engine surging. Defect was traced to faulty carburettor. Carburettor removed for inspection by approved overhaul facility. Serviceable carburettor installed.
CONTINENTAL IO360 A–ATA 8550 RECIPROCATING ENGINE INTERNAL OIL SYSTEM–Oil pump–SEIZED. DR 611750807
Loss of engine oil pressure reported. Investigation is still ongoing, however initial inspection has found failure of engine driven oil pump and alternator drive coupling. Further disassembly of accessory housing is required to determine root cause of oil pump seizure.