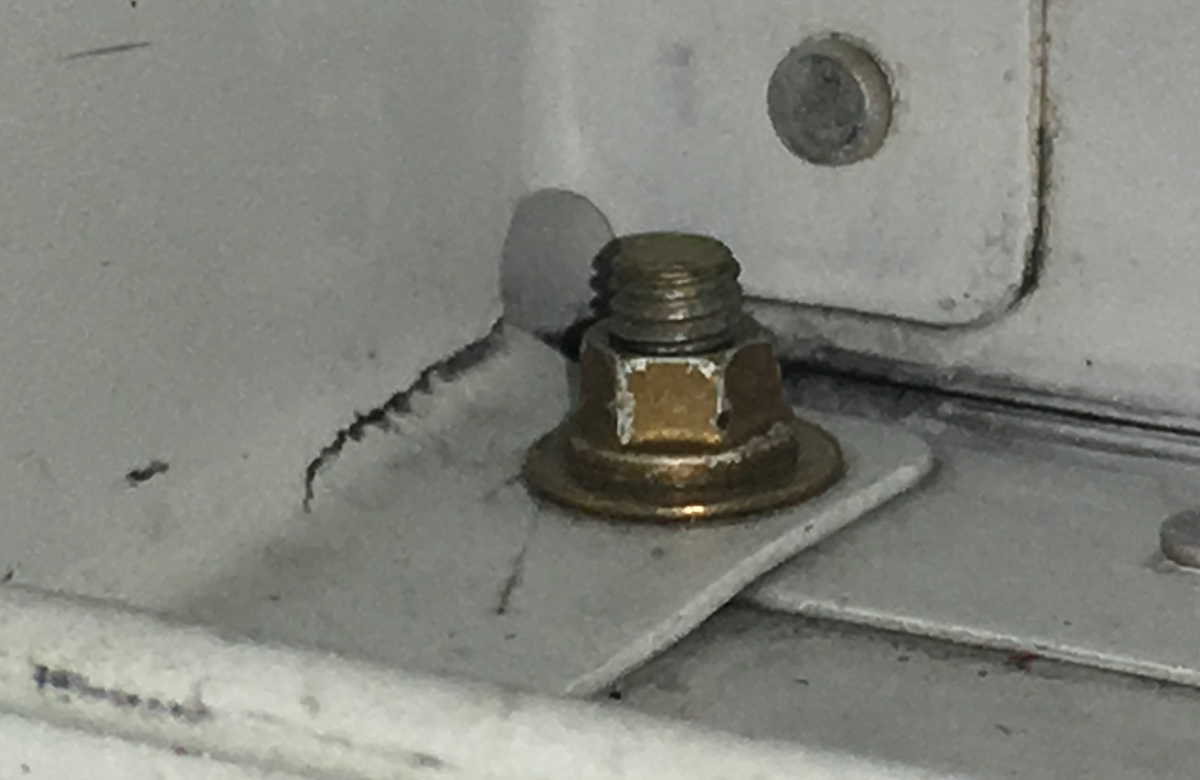 GIPPSLAND GA8—ATA 5711 WING SPAR—SPAR—CRACKED. DR 611750854 (photo above)
Two cracks found on rear spar. Repair due as per SB-GA8-2009-59.
CESSNA 441—ATA 5711 WING SPAR—SPAR—DELAMINATED. DR 611750945
During NDT inspection IAW AD/CESSNA 400/103, delamination was detected outside of the original repaired area. Aircraft grounded and a CASR Part 21.M. organisation contacted for further repair details.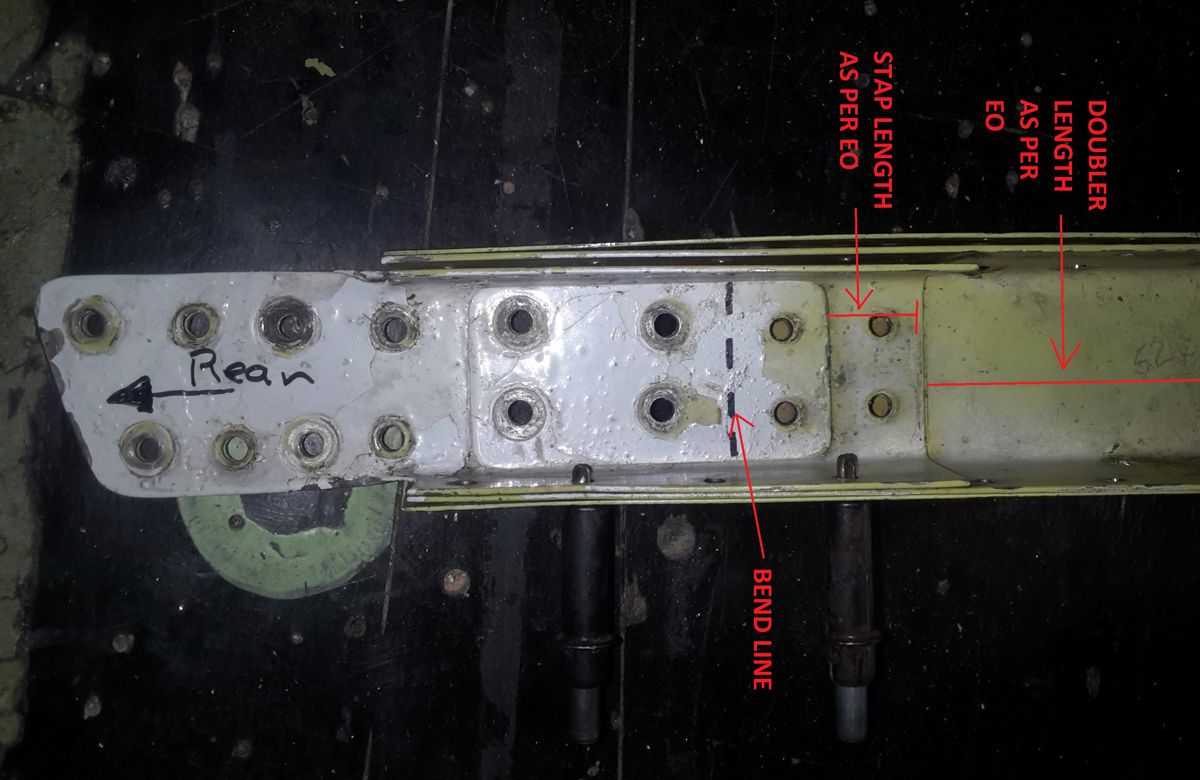 CESSNA 402 C—ATA 7120 ENGINE MOUNT SECTION—FASTENER—LOOSE. DR 611750948 (photo above)
Aircraft has been modified with spar straps as per approved EO to exempt the aircraft from the requirements of AD/C400/40. However, during routine inspection, it was noted that the fasteners in the R/H engine inboard spar to engine beam fitting were loose. Upon disassembly of the engine beam to spar assembly, it was found the manufactured parts did not conform to approved EO thereby severely undermining the structural integrity of the engine beam to wing spar interface.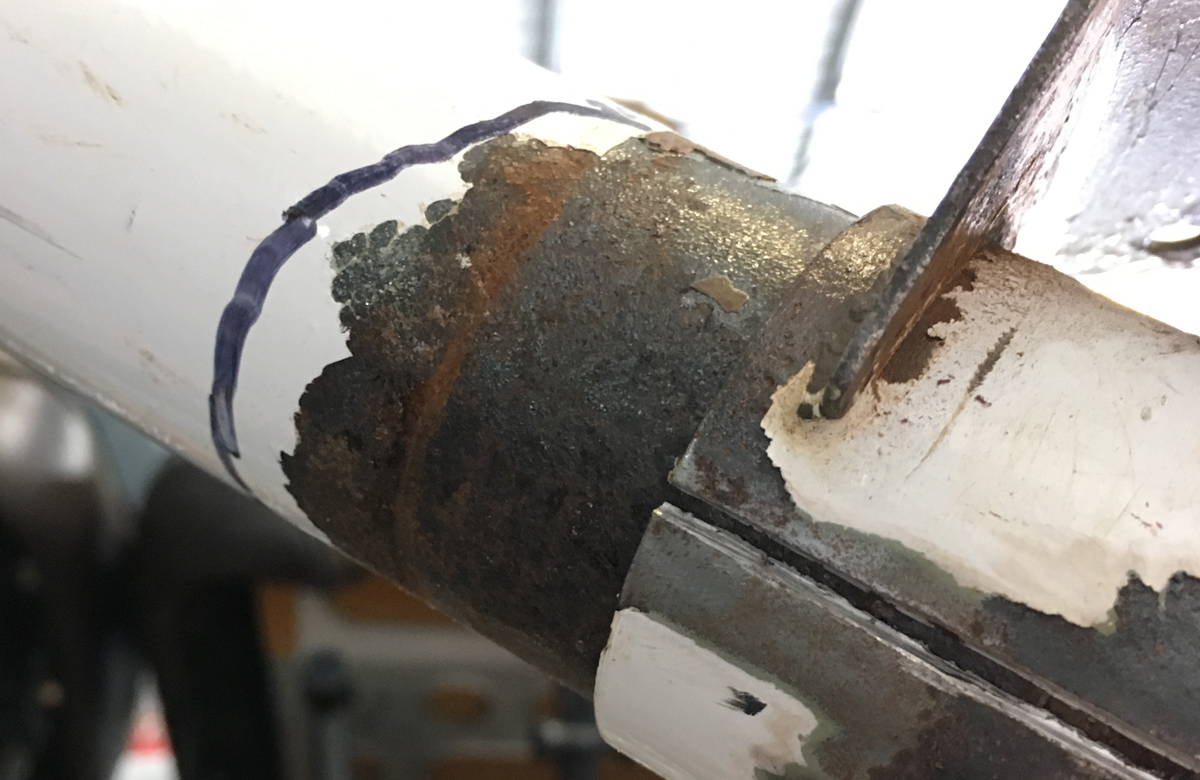 CESSNA 172 R—ATA 3210 MAIN LANDING GEAR —STEP—CORRODED. DR 611750999 (photo above)
During phase 3 inspection, L/H step attachment bracket on L/H MLG leg assembly was found corroded. On closer inspection, leg was found to have severe corrosion (estimated depth of 0.023″) between the bracket and leg extending 3/4″ up the leg from the bracket & 1-1/2″ down the leg from the bracket. It could be due to inadequate surface protection and material treatment. There was no evidence of primer on leg or step in glue area. Glue was uneven in application allowing moisture to sit under the step bracket. MLG leg replaced with serviceable item. Corroded leg assembly was sent away for repair.
CESSNA 210 N—ATA 5550 EMPENNAGE FLIGHT CONTROL SURFACES, ATTACH FITTING—Stabilator attach bracket—CRACKED. DR 611751009
During 100-hourly inspection, LH stabilator attach bracket was found cracked. The bracket was replaced with a new item; SIDs inspections 55-30-01 and 55-10-01 were carried out with no other defects found.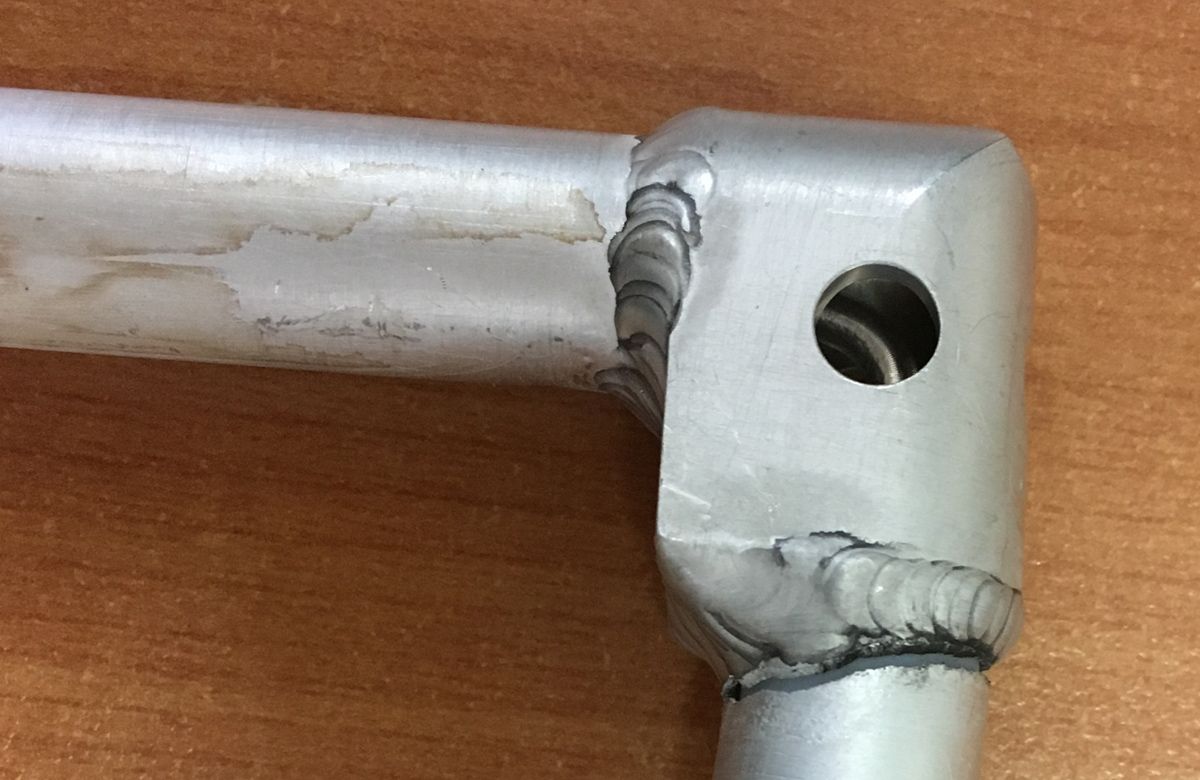 CESSNA 172 R—ATA 2842 FUEL QUANTITY SENSOR—Capacitance Tube—CRACKED. DR 611751021 (photo above)
In flight, RH fuel level indication failed. Fuel level sensor removed for troubleshooting; capacitance tube found cracked at welded joint. Part replaced.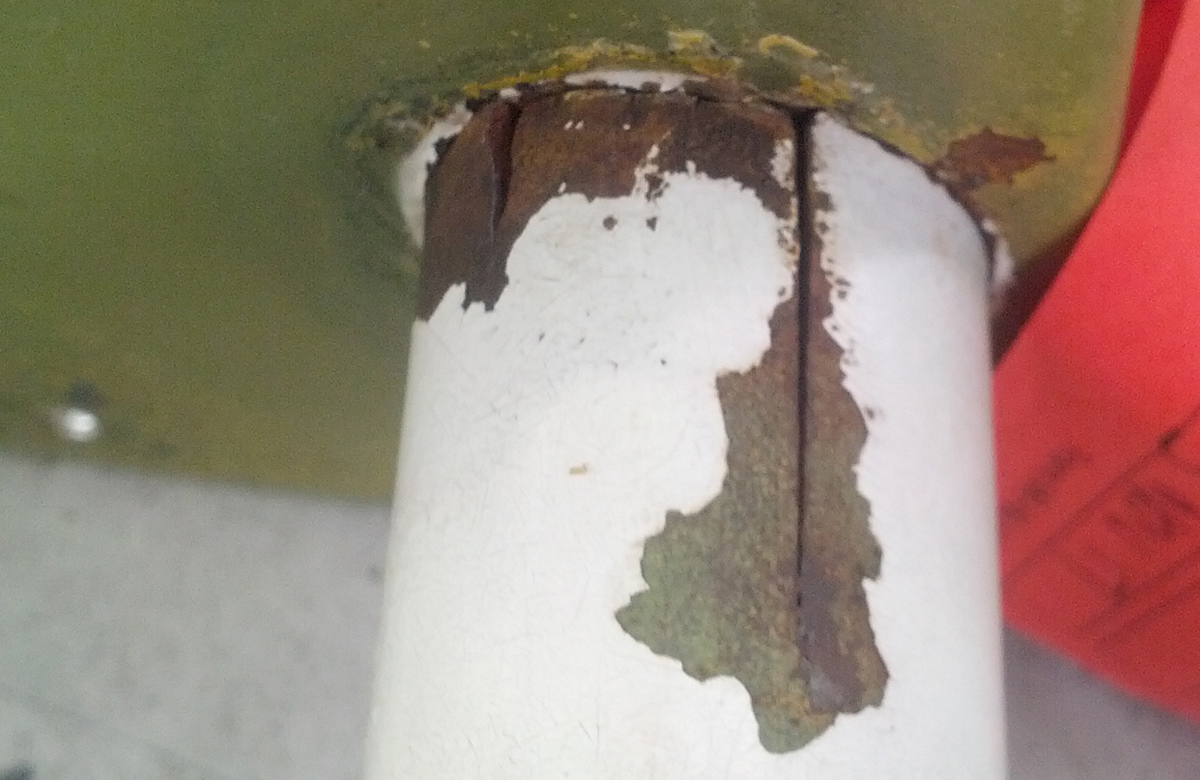 PIPER PA34 220T—ATA 2720 RUDDER CONTROL SYSTEM—TORQUE TUBE—CRACKED. DR 611751029 (photo above)
During routine 100 hr/annual inspection, a crack was visible, having length of approx. 25 mm along the rudder torque tube in the vicinity of the lower welded flange. After removing torque tube from the rudder, a total of four cracks were noted running lengthwise with the tube, moreover one crack (10 mm long) was located circumferentially. Part will be replaced with serviceable item.
CESSNA 208 B—ATA 3246 WHEEL/SKI/FLOAT—NUT—SHEARED. DR 611751076
During post flight inspection, four bolts were identified as having sheared nuts. Secondary damage was caused to brake lining. Upon engineering inspection, it was confirmed that the correct bolts were fitted I.A.W approved STC. Company has a practice to install new bolts at each tyre change. Involved wheel hub is removed from service and quarantined; a new wheel assembly is purchased.
CESSNA 404—ATA 5711 WING SPAR—SPAR—CORRODED. DR 611751091
During routine maintenance, a cracked turbo-charger dump pipe support bracket was discovered at the rear of the LH engine nacelle. This bracket is attached to the forward spar of the centre wing section. On removal of the cracked bracket, evidence of corrosion was found at the forward spar lower cap. Further investigation revealed corrosion on the spar cap forward face between engine mount beams at LH wing STN 88.320. Further disassembly of the wing and nacelle will be required to ascertain the full extent of the corrosion.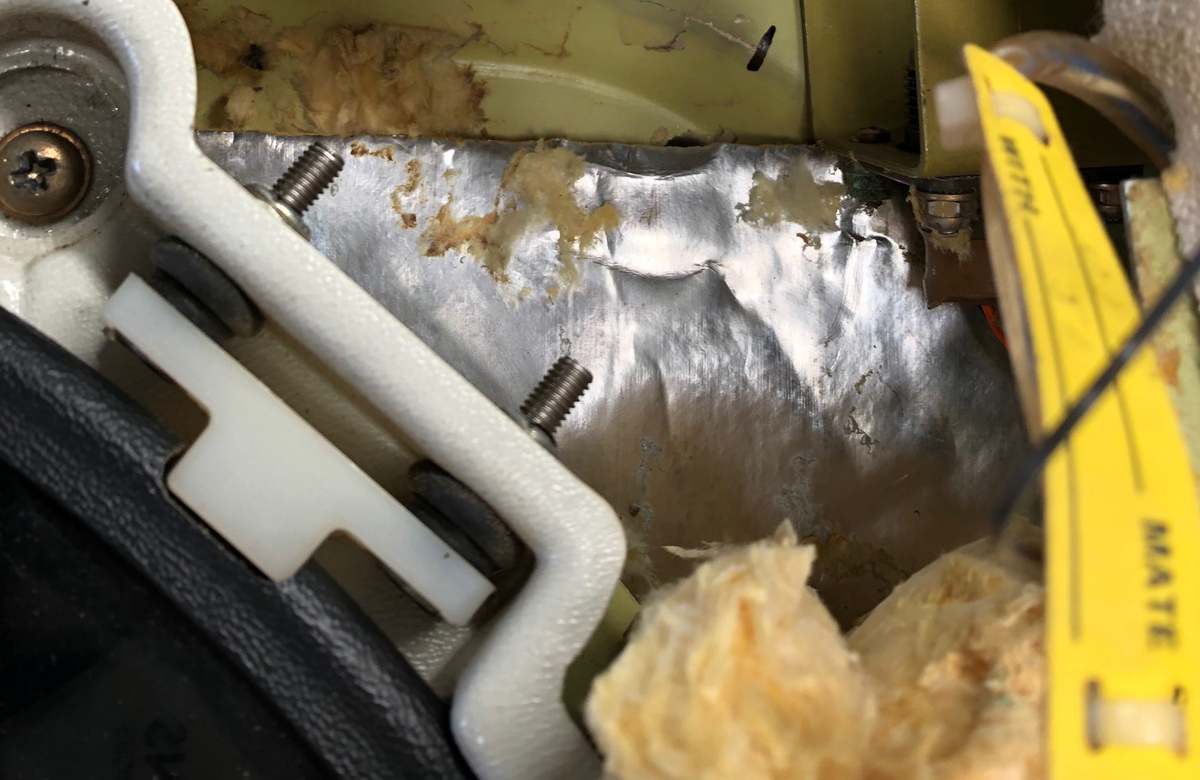 BEECH 200—ATA 5220 EMERGENCY EXITS—EMERGENCY EXIT—CRACKED. DR 611751125 (photo above)
During execution of inspection called out by AWB 52-001, a crack was found in the emergency exit. Crack repaired IAW with engineering order.