ROBINSON R22 BETA—ATA 6300 MAIN ROTOR DRIVE SYSTEM—DRIVE BELT—LOOSE. DR 611750883
V-Belts overstretched after ground run & main rotor track & balance. Time to engage initially starting at 1 min 42 seconds (limit is < 1 min 40 seconds maximum). Further, time to engage increasing by 20 seconds after every start during track & balance operation. Final time to engage before belts were removed was 2 Min 43 Seconds. Moreover, excessive vibration and smell of hot rubber was also felt in cabin during flight. Original Revision Z V-Belts had accumulated approximately 500 hours before being replaced due to normal wear. Suspected it is due to a manufacturing quality issue.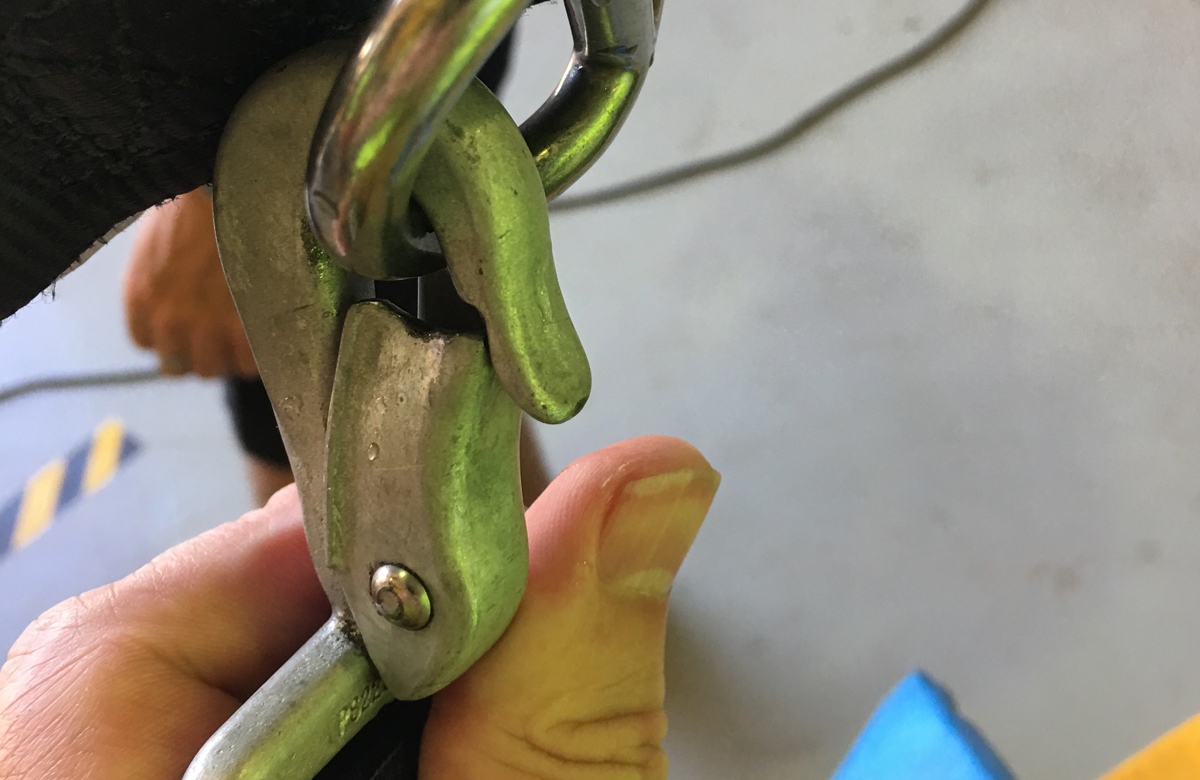 SIKORSKY S92 A—ATA 2590 NON STANDARD EQUIPMENT SYSTEM—Restraint strap snap—Deformed. DR 611750884 (photo above)
Post water winch training flight, while inspecting equipment, it was identified that the strop snap hook was deformed which resulted in the snap hook not being able to be actioned. This occurs where the snap hook is side loaded on the D ring and weight is brought on. Dispatchers' restraint strap was removed from service.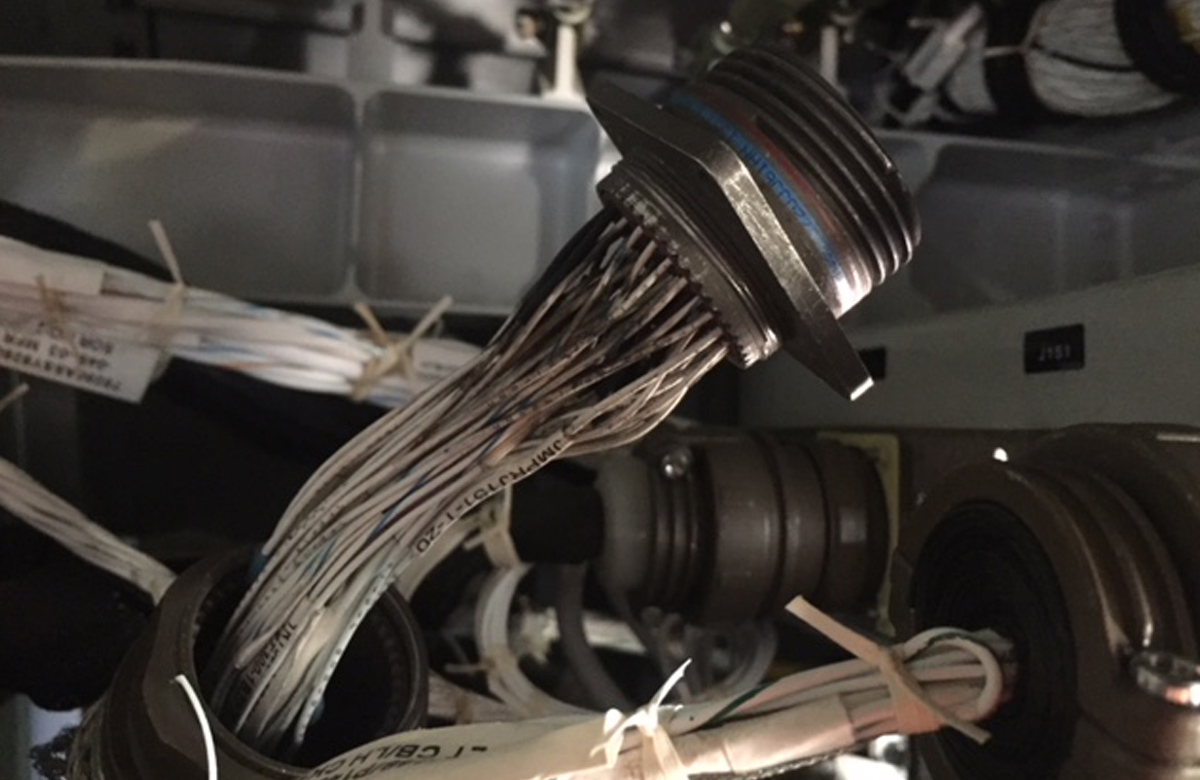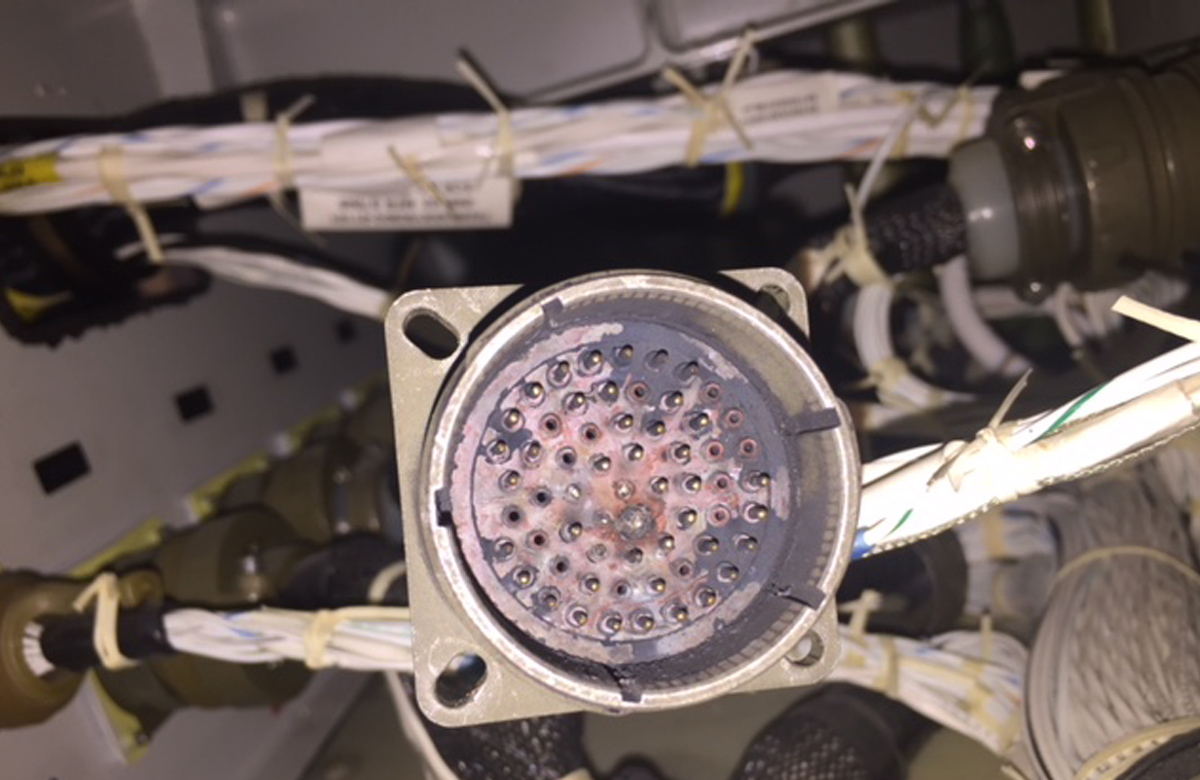 SIKORSKY S92 A—ATA 2497 ELECTRICAL POWER WIRING—CONNECTOR—BURNT. DR 611750907 (photo above)
Inflight #1, 2, and 5 MFDs dimed significantly, shortly after, master caution illuminated and a backup conv off caution was noticed. On further inspection, it was noticed the BU CONV CONT, MFD 1 Fan, MFD 2 Fan, MFD 5 Fan, and Cab Evap/Vent BLWR CBs were popped. ECL actions carried out and flight continued with no further incident. During the course of troubleshooting, co-pilot CB panel was assessed, Connector P151 and wiring was found to be damaged requiring replacement and re-termination. Moreover, there were multiple damaged contacts resulting in shorting between pins. Detailed wiring inspection is continuing in consultation with Sikorsky.
SIKORSKY S92 A—ATA 6320 MAIN ROTOR GEARBOX—LUG—BROKEN. DR 611750930
Engineers were removing the MGB scavenge pump to carry out scheduled maintenance and during this process the mounting flange lug broke. Suspected fatigue as root cause. Component was replaced with serviceable item.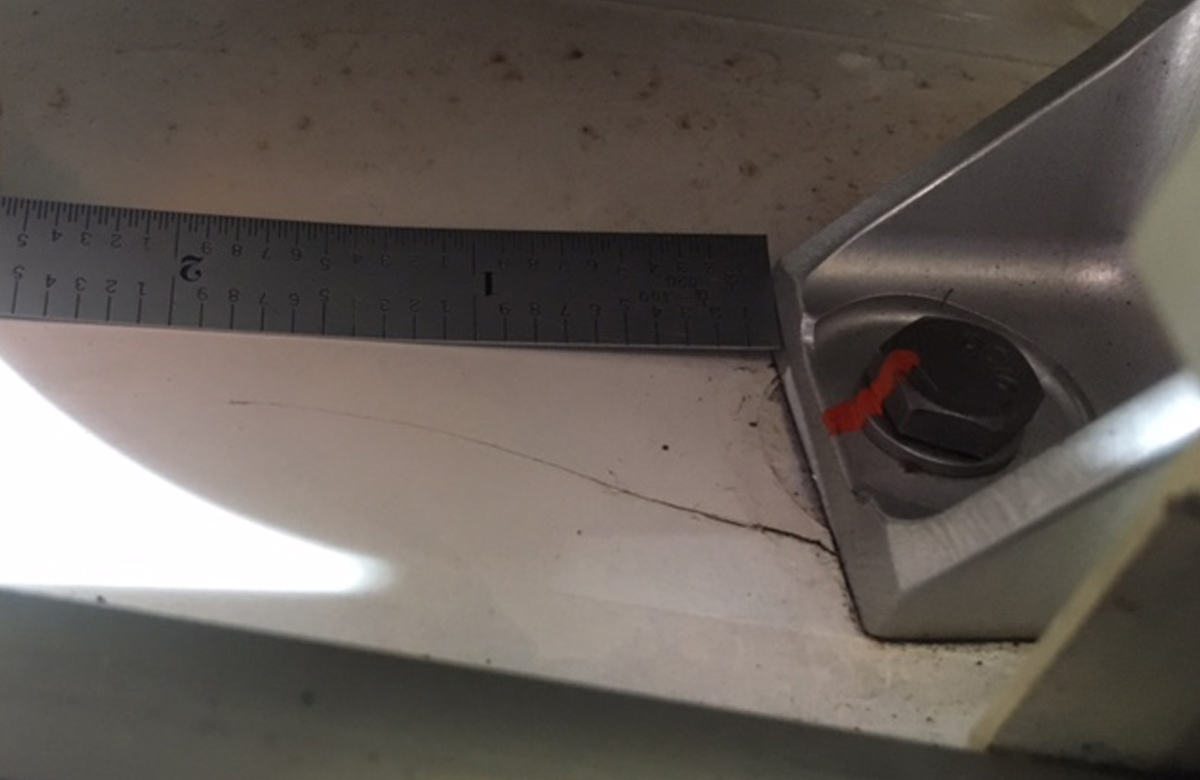 AGUSTA AW139—ATA 2900 HYDRAULIC POWER SYSTEM—MOUNT—CRACKED. DR 611750957 (photo above)
During maintenance, a crack having length of approximately 1.75″ was located extending from under the #2 Power Control Module R/H Aft attachment mount. Aircraft grounded and information sent to Leonardo for a repair scheme.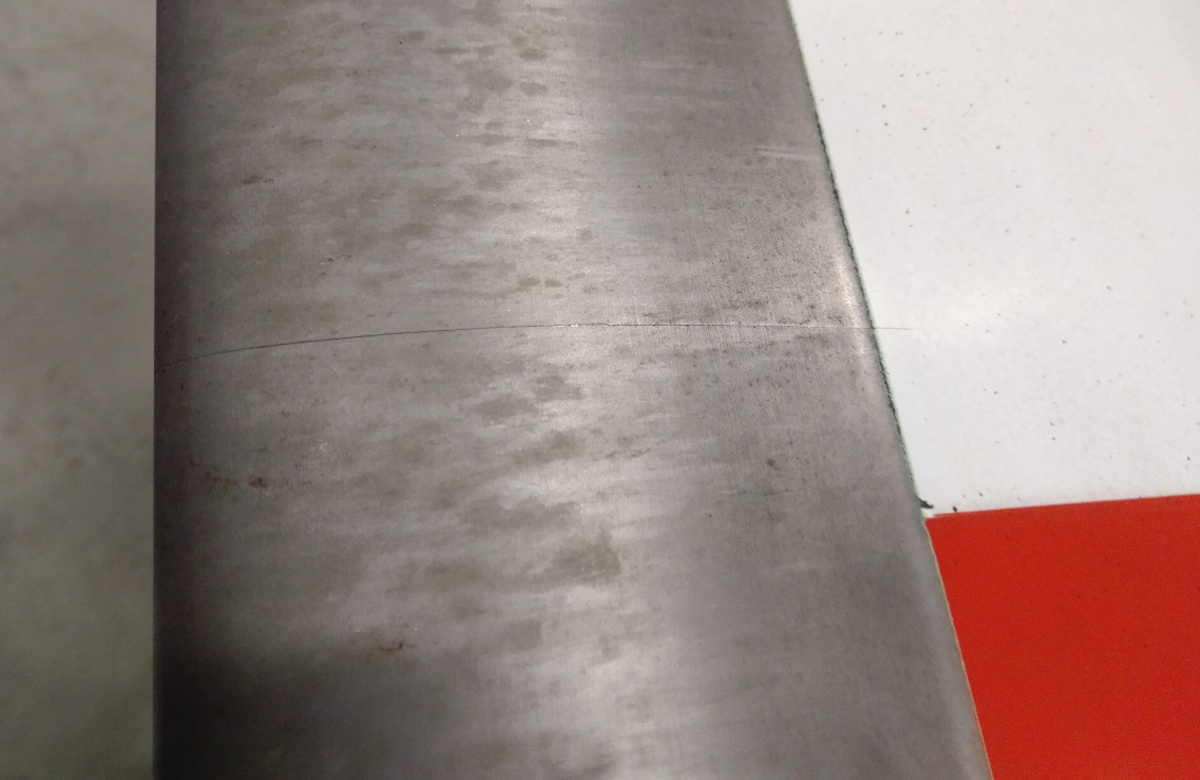 BELL 429—ATA 6210 MAIN ROTOR BLADES—MAIN ROTOR BLADE—CRACKED. DR 611751042 (photo above)
During inspections, crack was located (approx. 40 cm inboard of scarf joint taco cap) in main rotor blade leading edge nickel abrasion strip. Crack extends around the leading edge and 12 mm into the upper paint. Tap test carried out on blade and no deboning found along or around the adjacent area of the crack.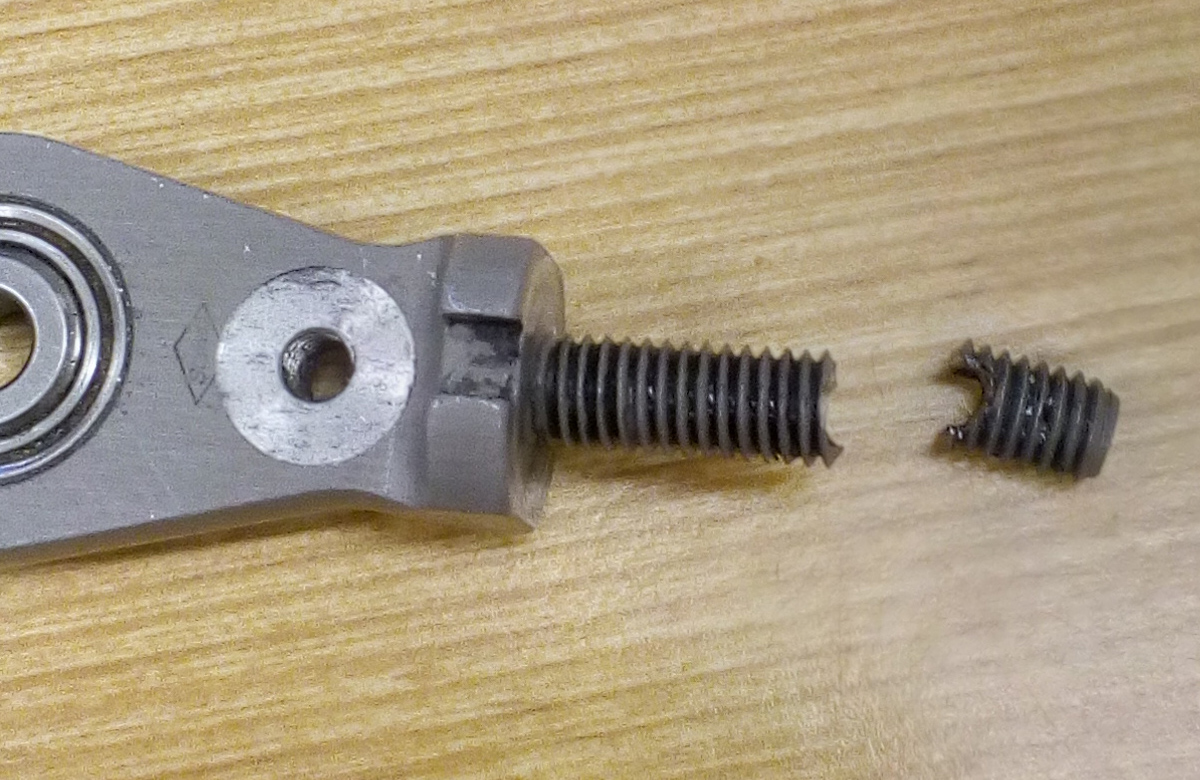 KAWASAKI BK117 B2—ATA 7603 POWER LEVER—CONTROL ROD—BROKEN. DR 611751060 (photo above)
While N2 override spring assembly was removed and disassembled for routine inspection, rod end was retrieved in two pieces and found to be cracked through rivet hole. Closer inspection revealed rod end to have been cracked for some time with excessive wear at rivet hole location.
BELL 206 B—ATA 6410 TAIL ROTOR BLADES—ROTOR BLADE—DELAMINATED. DR 611751097
During pre-flight inspection, tail rotor blade trailing edge found delaminated. Rotorcraft was grounded, LAME confirmed blade was unserviceable. Blade was a high time unit with only 46.7 hours left before retirement. Blade will be replaced with a new item.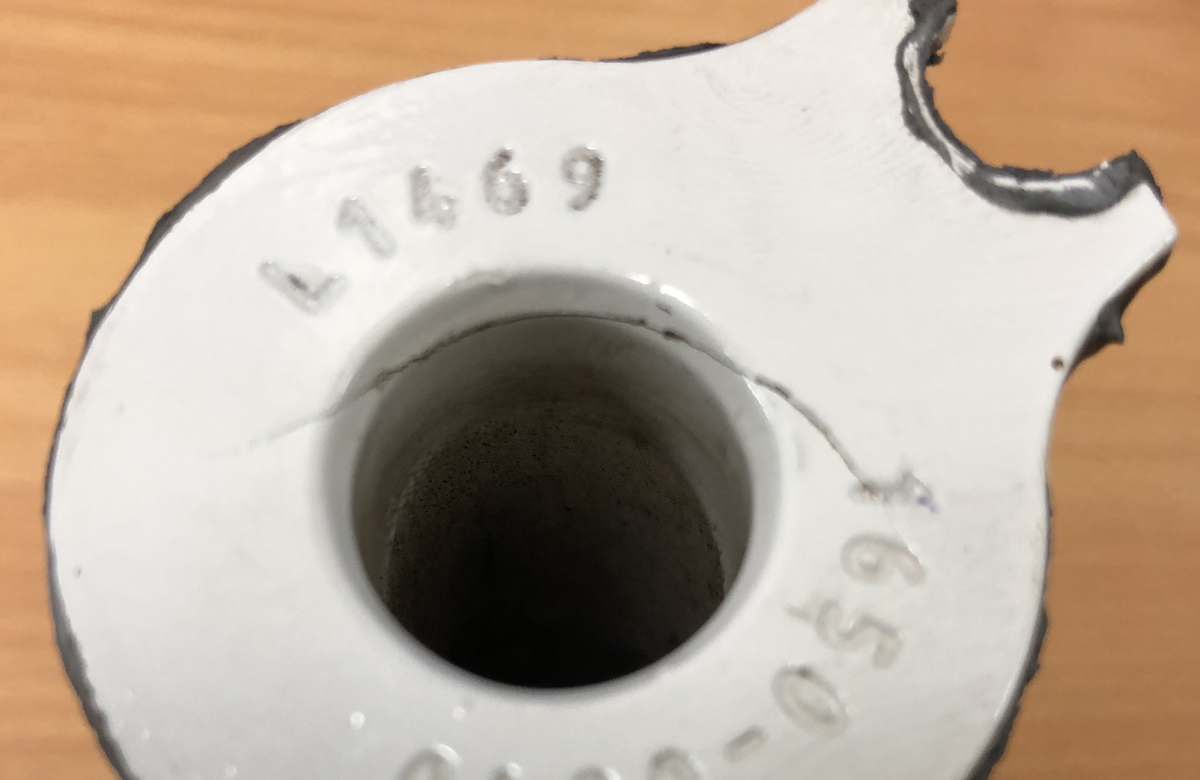 AGUSTA AW139—ATA 3211 MAIN LANDING GEAR ATTACH SECTION—BOLT—CRACKED. DR 611751117 (photo above)
RH MLG Actuator connection bolt found cracked during 300 hr inspection. Bolt was replaced.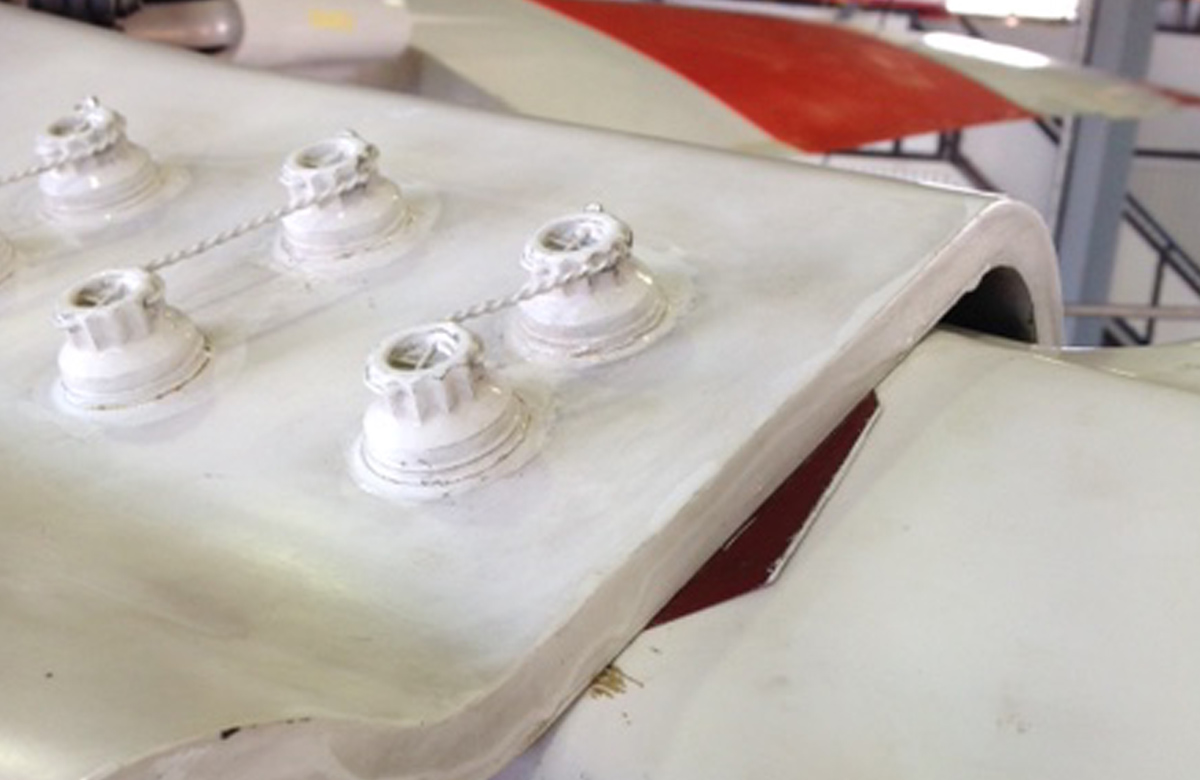 SIKORSKY S92 A—ATA 6210 MAIN ROTOR BLADES—SHIM—MIGRATED. DR 611751146 (photo above)
During a turn-round inspection, engineering found a shim out of place (migrated) between the blade cuff and the spar. OEM has stated that blade S/N XX will need to be removed from service and sent back to approved repair facility. Per the drawing, shims are not bonded, and are put into place before the cuff is installed. Once the cuff is installed and the blade bolts are torqued the shims are then tighten in place.