SIKORSKY S92 A–ATA 6210 MAIN ROTOR BLADES–SHIM–MIGRATED. DR 611751177
During 50-hourly inspection, blue main rotor blade cuff shim found protruding. There is not currently an existing field evaluation in the manual for this condition. There is concern that a cracked shim would continue to migrate, until it departs during flight. Sikorsky advice sought.
KAWASAKI BK117 B2–ATA 7600 ENGINE CONTROLS–ACTUATOR–INTERFERENCE. DR 611751186
RH engine N2 beep trim actuator control rod assembly contacting fuselage structure when moving through travel range. Installation of actuator assembly appears to be correct as per aircraft maintenance manual. Cause yet to be determined.
ROBINSON R44–ATA 2140 CABIN HEATING SYSTEM –SHROUD–BROKEN. DR 611751189
Cabin heater firewall attachment shroud broken. New cabin heat firewall shroud fitted.
SIKORSKY S92 A–ATA 2610 DETECTION SYSTEM–CANNON PLUG–CONTAM-WATER. DR 611751242
In flight, engine fire warning kept coming on intermittently. Defect was traced to moisture ingress. Cannon plugs disconnected, cleaned and reinstalled.
AGUSTA AW139–ATA 5302 ROTORCRAFT TAIL BOOM–LONGERON–CRACKED. DR 611851266
Rotorcraft is now grounded as a result of a cracked lower RH tail boom longeron. This crack was detected during routine inspection. Fleet wise inspections planned.
SIKORSKY S92 A–ATA 6510 TAIL ROTOR DRIVE SHAFT–Temperature indicator plug–turned black. DR 611851312
Aircraft inspected against EASA AD 2017-02-51 with appropriate corrective actions taken. Testing has shown that S92A Tail Rotor Pitch Change Shaft bearings with less than 300 hours of TIS tend to operate at higher temperatures and there have been numerous in-service temperature excrescences that are not indicative of bearing degradation. Remedy was to replace the tail rotor pitch change shaft and temperature plugs. Temperature plug PN 92358-06134-042 installed.
BELL 206 B–ATA 6510 TAIL ROTOR DRIVE SHAFT–Drive shaft indicator pin–SEIZED. DR 611851328
Tail rotor drive shaft indicator pin found seized during routine maintenance, further inspection discovered bond line failure. Complete tail rotor drive and tail rotor was inspected with no indication of any torsional events found. The aircraft has no history of any tail rotor sudden stoppages.
SIKORSKY S92 A–ATA 2823 FUEL SELECTOR/SHUTOFF VALVE–SELECTOR VALVE–SUSPECT FAULTY. DR 611851390
On descent from 5000 ft, aircraft had two intermittent ENG 1 FUEL PRES cautions appearing for a few seconds then disappear. No other indications of low fuel pressure followed so the crew continued with the flight and subsequent landing. After landing on deck, ENG 1 FUEL PRES caution illuminated in short, intermittent intervals. No 1 engine spooled down; with associated 'Engine Failure' aural warnings then restarted using the automatic ignition/starting system. After second engine run down/restart occurrence, No. 1 engine throttle was retarded, followed by a complete shutdown of both engines. Investigation is ongoing by the maintenance department and a number of fault-finding tasks have been carried out. At this stage and in consultation with the OEM, it is suspected that the LH fuel selector valve is the faulty component and as such, it has been replaced. Ground and flight checks are planned.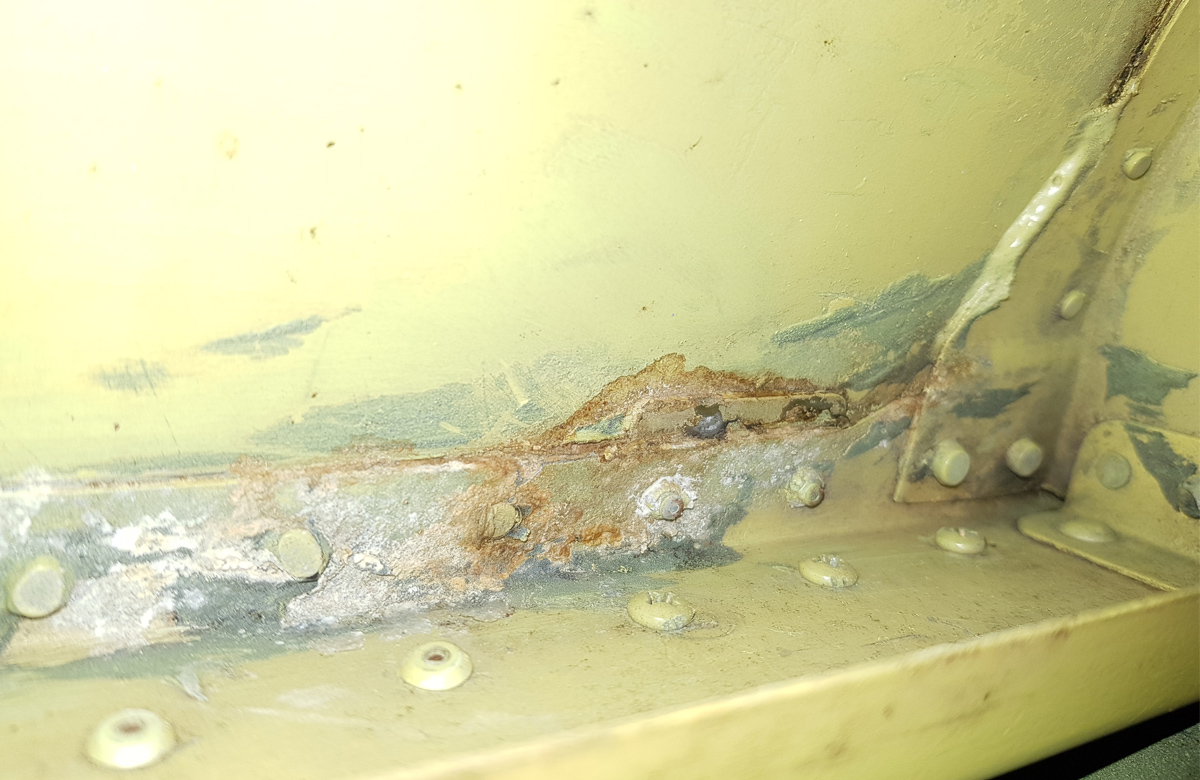 BELL 206 B–ATA 5302 ROTORCRAFT TAIL BOOM–LONGERON–CRACKED. DR 611851413 (photo above)
Visual inspection IAW OEM requirements revealed corrosion and a crack in the LH longeron. Longeron replaced with a new part using SRM and other approved data.
EUROCOPTER EC135 P2–ATA 7111 ENGINE COWL FLAPS–COWLING–Part departed aircraft. DR 611851431
LH engine cowl aft hatch door missing.