AIRBUS A320 232–ATA 2590 NON-STANDARD EQUIPMENT SYSTEM–Personal Electronic Device–SMOKE. DR 611851507
During flight, a personal electronic device caught fire. Cabin crew onboard followed standard procedures and extinguished the fire immediately. Engineering carried out an inspection, minor burn damage found to the seat belt which was replaced.
AIRBUS A321 231–ATA 5311 FUSELAGE MAIN, FRAME–FRAME–CRACKED. DR 611851515
During routine inspection, cracks were noticed on the LHS lateral windshield framing at FR4 level on upper integrated stiffener. Repair was carried out per repair drawing R53XX issue A rework 1 without deviation. Repair conducted was classified as Major.
BAE BAE146 300–ATA 5321 FUSELAGE FLOOR PANEL–SEAL–DISLODGED. DR 611851516
During pre-flight inspection, a section of rubber seal from underside of cabin floor panel was found dislodged and fouling with control cables in the hydraulic bay. Prior to issue discovery, no noticeable effect on aircraft control evident. Excess section of rubber seal (3M tape 4516) trimmed from underside of floor panel and control cable run checked free and clear of obstruction. Aircraft returned to service.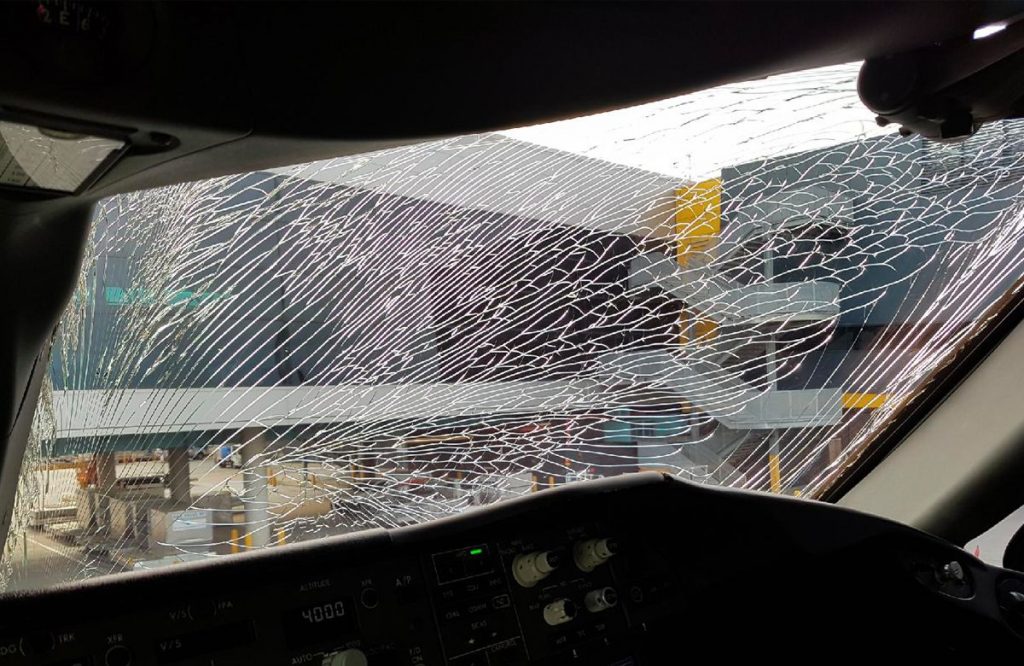 BOEING 787 8–ATA 5610 FLIGHT COMPARTMENT WINDOWS–WINDSHIELD–CRACKED. DR 611851525 (image above)
Right cockpit windshield cracked during flight. Subject windshield replaced.
SAAB 340 B–ATA 2710 AILERON CONTROL SYSTEM–CABLE–SUP. DR 611851539
During installation of aileron control cables, engineering inspections found jaw marks in swaged cable fittings with no yellow indication paint. OEM contacted. Parts quarantined. OEM issued SNL 340-1801 to address the issue. Parts already delivered and installed in operational aircraft or carried in operators' stock will be handled via planned recommended inspection Service Bulletin 340–27–127. Conclusion: Deviations from manufacturing specifications have been identified on control cable assembly 7227151-522. The deviations found do not have any impact on continued safe flight or would not cause an unsafe condition. Affected control cables do not require immediate replacement but is recommended to be replaced at the next convenient opportunity.
AIRBUS A321 231–ATA 5310 FUSELAGE MAIN, STRUCTURE–STRUCTURE–CRACKED AND CORRODED. DR 611851553
1. During inspection against SB A320-53-1310 (LH fuselage inspection hole, damage indication), crack was found on fastener hole at FR35.2 STGR 29LH. Repair was carried out per RDAS XX /2018 Issue B. Repair was classified as Major.
2. Re-occurrence corrosion damage was found on LH wing, top skin panel 2, upper surface, between ribs 9 -11, at the rear spar, inboard of the existing repair plate, trailing edge overhang outboard and under the edge of the existing repair plate. Repair was carried out per RDAS XX/2018 Issue A. Repair was classified as Major.
3. During SB A320-53-1258 R02 accomplishment, existing repaired fastener holes were reported at LH MID (hole # L2), RH MID (hole # R2), RH AFT hole (hole # R3). Cracked fastener hole was found in LH AFT (hole # L3) fastener holes on side box beam structure at FR43. Repair was carried out per RDAS Issue C. Repair was classified as Major.
AIRBUS A380 842–ATA 5420 NACELLE/PYLON, MISCELLANEOUS STRUCTURE–Spherical bearing–MIGRATED. DR 611851558
During execution of SB-A380-57-8119 (replacement of the wing mounted spherical bearing at wing to pylon area), it was found that #4 pylon RIB 14 I/B spherical bearing was loose and no longer secured by the retaining lock nut. Once disassembly was completed and inspections carried out, following were the observations:
1. FWD fish plate was scored from the loose nut being jammed between the plate and Rib 14.
2. Front face of the FWD fish plate was also scored from the support pin.
3. Lock washer was broken in two with only one piece being found (approx. 50% of the washer).
Investigation is in progress.
AIRBUS A330 243–ATA 2565 ESCAPE SLIDE–Escape slide–FAILED TO DEPLOY. DR 611851566
During scheduled maintenance, while confirming operation of the emergency door slide and door damper, slide failed to deploy correctly. Slide pack detached from release rail prematurely. Investigation initiated.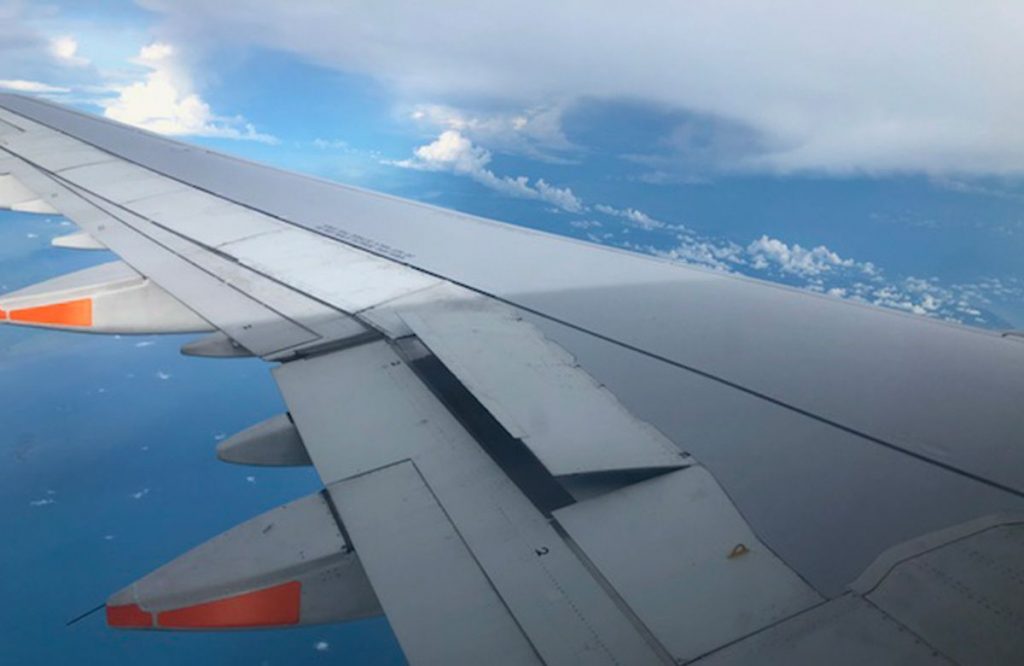 AIRBUS A321 231–ATA 2760 DRAG CONTROL SYSTEM–SPOILER–Dispatched in Maintenance Mode. DR 611851568 (image above)
During flight, F/CTL SPLT fault on ECAM was presented. No.1 spoiler was deployed on the LHS wing. Reset unsuccessful. During ground inspection, spoiler was found in maintenance mode. Spoiler was re-activated per the AMM procedures. Subsequent tests including independent inspection found nil further issues.
EMBRAER EMB120 ER–ATA 2133 PRESSURE REGULATOR/OUTFLOW VALVE–PRSOV–SUSPECT FAULTY. DR 611851596
Pack 2 did not turn off completely at engine start (pack fail light illuminated), at the same time burning smell in cabin and flight deck observed. Suspect PRSOV at fault. Valve replaced, functional tests c/o satisfactory at time of inspection.