CESSNA 208 B–ATA 3411 PITOT/STATIC SYSTEM–PITOT STATIC SYS–CONTAM-WATER. DR 611851641
On departure, LH ASI appeared to be under-reading, confirmed by RH instruments. Altimeters were initially in tolerance but then disagreed by 300 ft. Defect was traced to water present in pitot and static system. Several millilitres of water purged from static system plumbing. All plumbing reconnected, functional, leak checks of # 1 and #2 pitot static systems c/o IAW AMM 43-11-XX.
SWEARINGEN SA227 DC–ATA 2430 DC (DIRECT CURRENT) GENERATION SYSTEM–GENERATOR–FOD. DR 611851644
RH starter generator drive FOD screen has broken apart with debris lodged in windings. Generator replaced, removed unit sent for overhaul.
CESSNA 402 C–ATA 3230 LANDING GEAR RETRACT/EXTENSION SYSTEM–LINE–LEAKING. DR 611851652
NLG failed to retract then failed to extend to full locked position. Emergency blow down was carried out to lock the gear down. During retractions, hydraulic fluid observed to be leaking from the pressure line nose gear actuator pipe PN 5052-0-3/8, under floor aft of pilot's seat. Pressure line was replaced. Gear swings carried out found satisfactory.
PIPER PA28 151–ATA 2750 TRAILING EDGE FLAP CONTROL SYSTEM–Return Spring–BROKEN. DR 611851666
Flap would not retract on ground after landing. Operated normally during approach and landing. No connection between flap lever and flaps–each moving independently. During the course of troubleshooting, return spring from flap control system was found to be broken off. Same found on the bottom of the fuselage. A replacement return spring was fitted.
PIPER PA31 350–ATA 5544 RUDDER, MISCELLANEOUS STRUCTURE–TORQUE TUBE–CORRODED. DR 611851700
AD/PA31/130 borescope inspection revealed evidence of corrosion on torque tube and suspected crack on upper rib attach plate. Rudder disassembled, and replacement rudder torque tube kit installed (P/N 767-346) per SB1105A. Corrosion confirmed, however suspect cracking turned out to only be contrasting colours of paint on rib attach plate. Nil cracking found on disassembly.
PIPER PA28 181–ATA 2740 STABILISER CONTROL SYSTEM–CABLE–WORN. DR 611851714
Stabilator control cable found worn out. New cable fitted.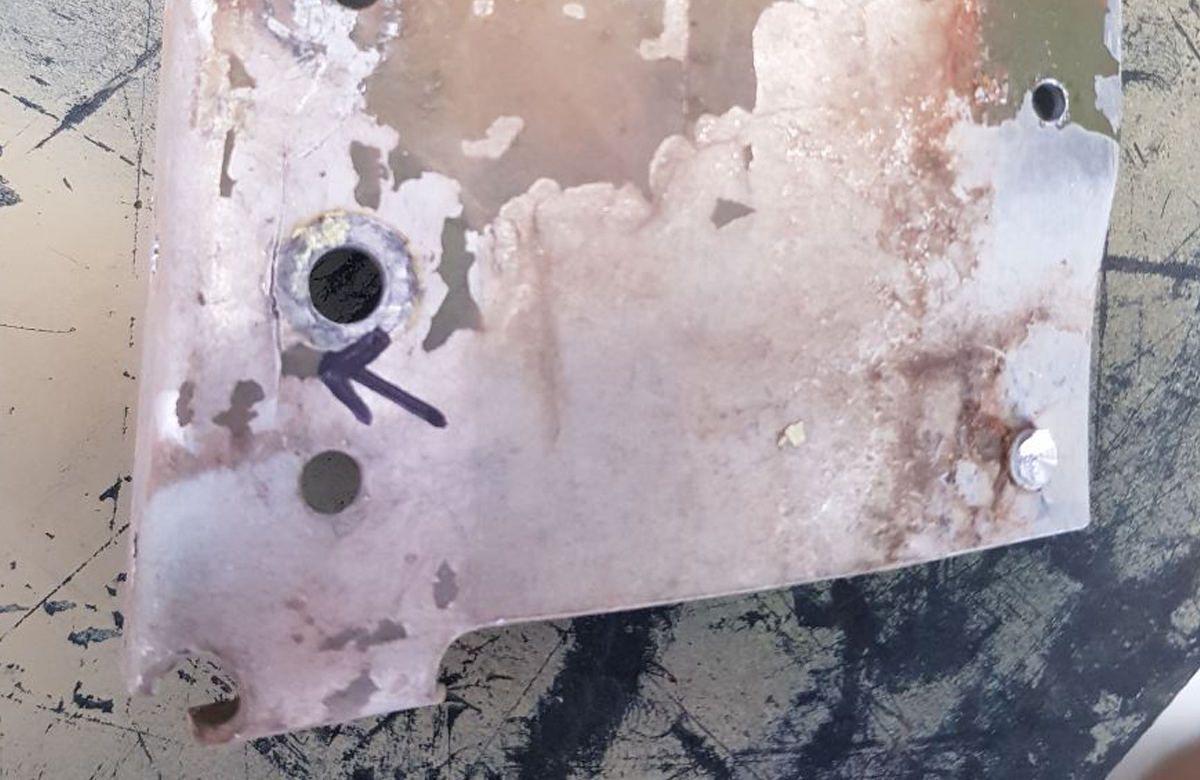 CESSNA 210 N–ATA 5510 HORIZONTAL STABILISER STRUCTURE–BRACKET–CRACKED. DR 611851724 (photo above)
During 100-hourly inspection, crack was noted at radius of bend relief on LH bracket. Moreover, RH bracket was found cracked above stabiliser mounting hole as well. Brackets to be replaced with new ones.
PILATUS BN2A 20–ATA 2720 RUDDER CONTROL SYSTEM–DRIVE ROD–CRACKED. DR 611851729
Rudder final drive rod was found cracked against SB inspection. New part ordered; NB-45-0991 to replace cracked U/S part.
PIPER PA28 181–ATA 2710 AILERON CONTROL SYSTEM–CABLE–RUBBING. DR 611851734
Piper SB 1313A stabilator trim pulley bracket inspection refers. L/H aileron cable rubbing on stabilator trim cable bracket. Replace pulley bracket I.A.W Piper SB 1313A.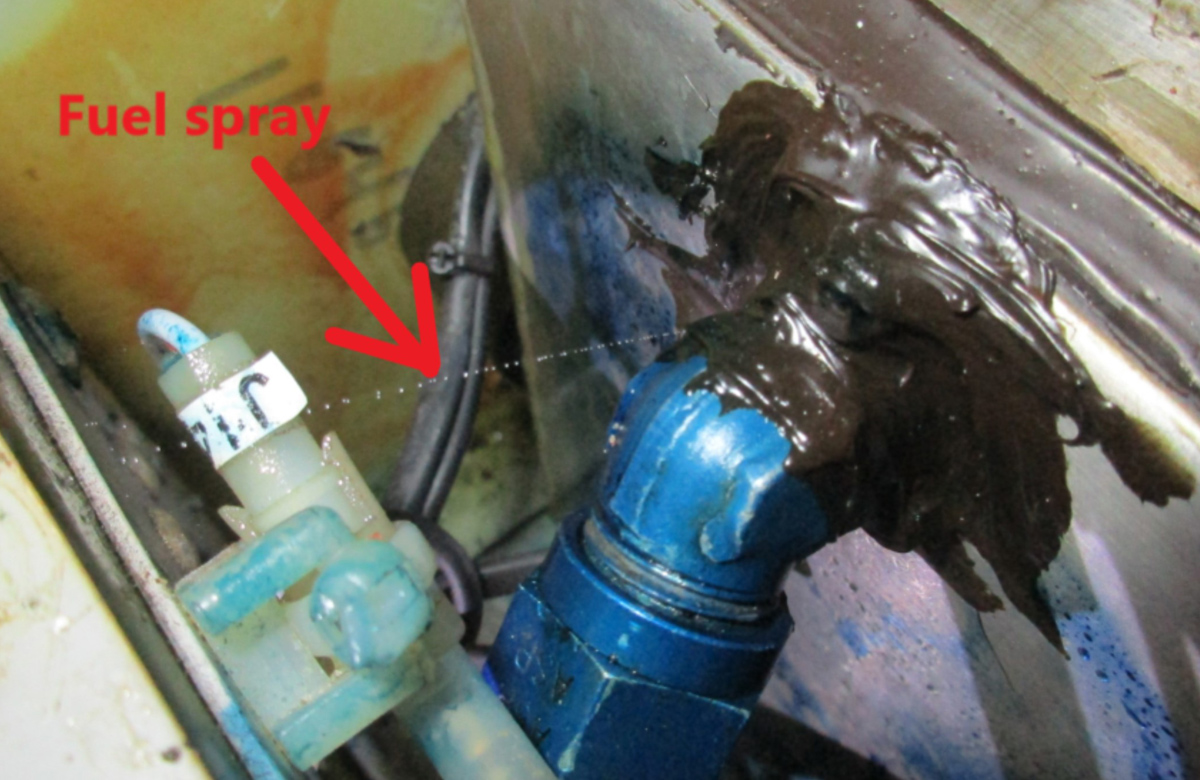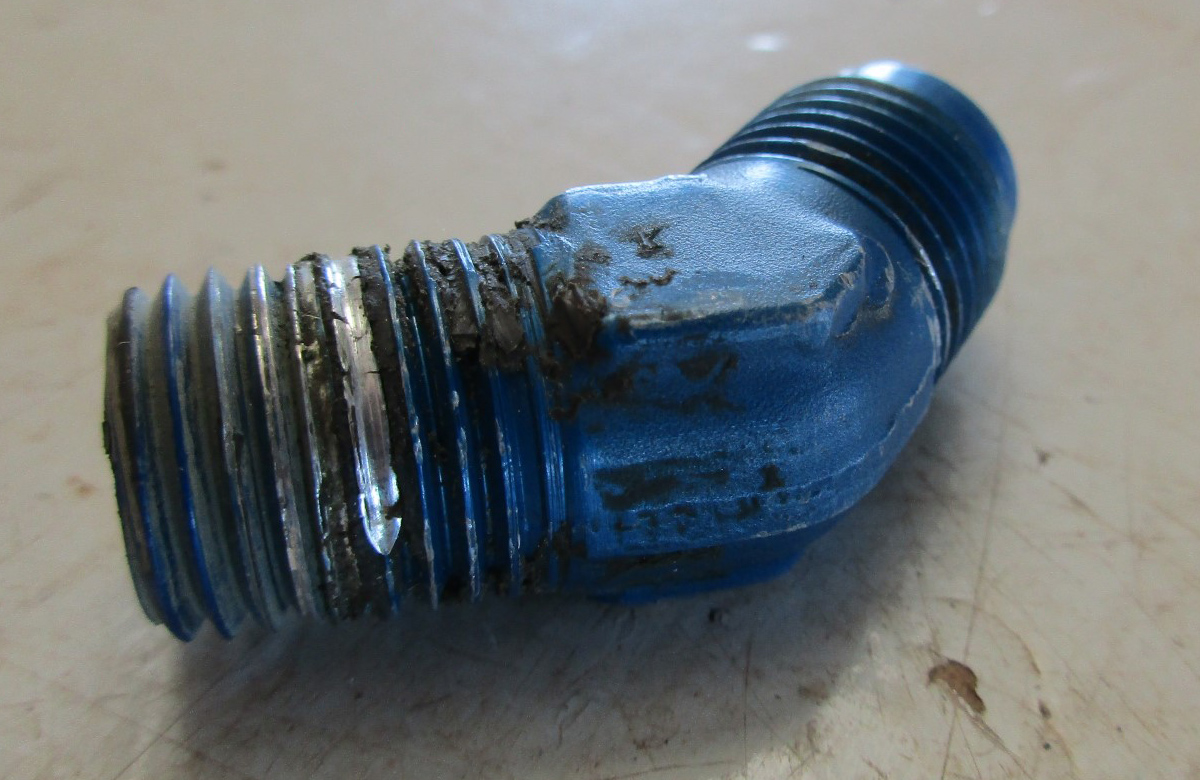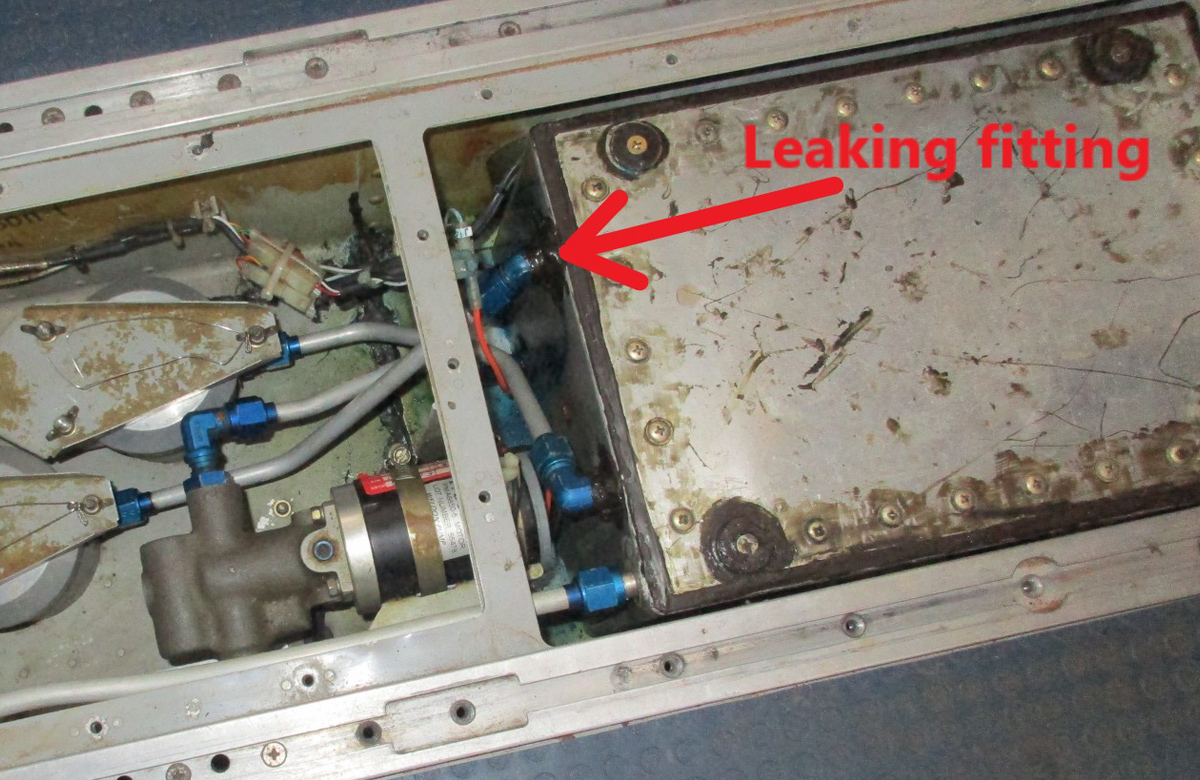 GIPPSLAND GA8–ATA 2820 AIRCRAFT FUEL DISTRIBUTION SYSTEM–Attach fitting–Fuel leak. DR 611851746 (photos above)
Fuel leak (coupled with fuel smell) located at sump tank (below co-pilot seat) from LH inlet fitting. Fitting had damaged threads. Polysulphide sealant surrounding the fitting sealed the fuel in for some time but eventually a pinhole developed allowing the fuel to spray out. Inlet fitting renewed. Fitting screwed into float valve all the way (until tight and angled correctly) prior to installation of attaching hardware. Sump tank and float valve assembly/inlet fitting sealed with PR sealant. Leak check c/o–nil leaks.