CESSNA 441–ATA 3246 WHEEL/SKI/FLOAT–Wheel Assembly –DEFLATED. DR 611851801
Nose wheel assembly deflated on line up for take-off, same replaced. No other damage was noted. Likely caused by FOD, as a small puncture was found through the tyre and inner tube. It is not possible to know the exact FOD item that caused the puncture as nothing was found embedded in the tyre or along the aircraft taxi track.
CESSNA 402 C–ATA 5520 ELEVATOR STRUCTURE–ELEVATOR–CRACKED. DR 611851810
After maintenance on elevator, pilot reported the indicator was not in the same place as usual. Investigation found cracked frames, that have caused trim tab to have flexing.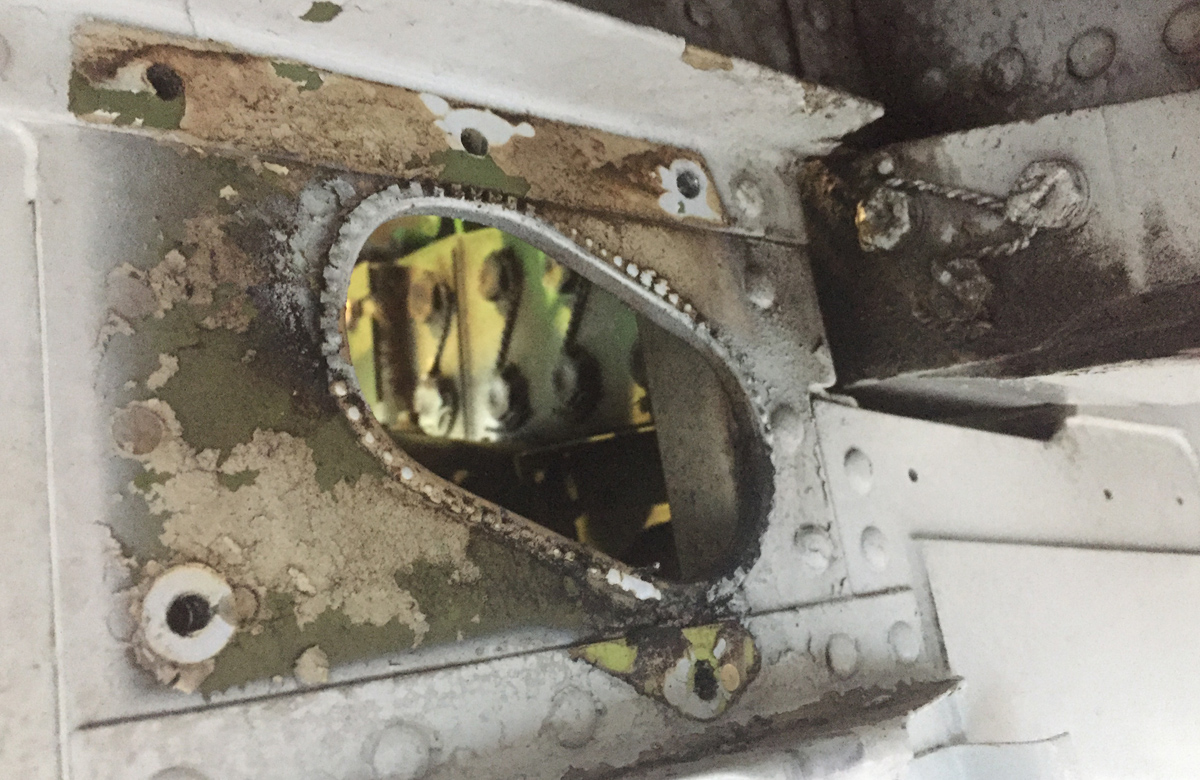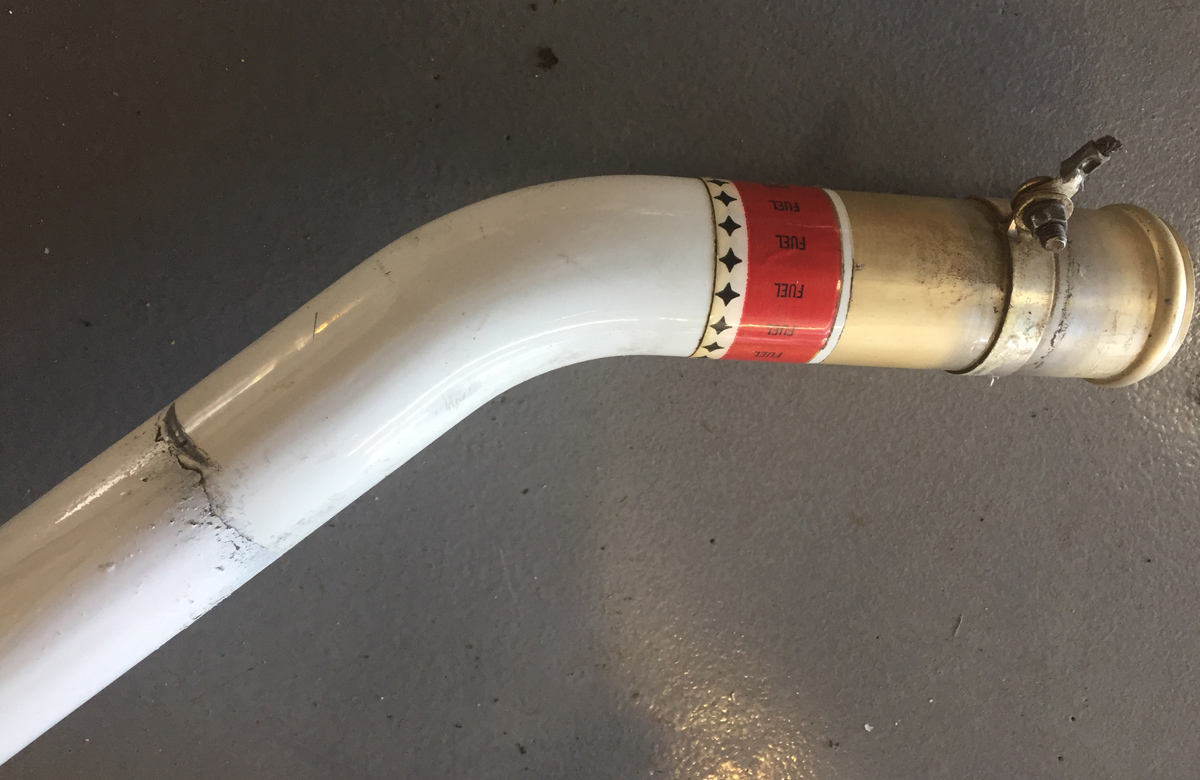 BEECH 200 B200–ATA 2820 AIRCRAFT FUEL DISTRIBUTION SYSTEM–PIPE–CHAFING. DR 611851812 (images above)
Pipe found to be rubbing on nylon grommet. The pipe runs through a protective plastic or nylon type grommet.
New part fitted.
SWEARINGEN SA227 DC–ATA 5753 TRAILING EDGE FLAPS–FLAP–DAMAGED. DR 611851813
During approach, while selecting half flap, unusual noise was heard. Moreover, it required a lot more aileron input (right). After shutdown and walkaround inspection, damage to the inner section of the flap was found. Fore flap removed and replaced. M7 is being contacted.
BEECH 200 B200–ATA 5610 FLIGHT COMPARTMENT WINDOWS–WINDSHIELD–CRACKED. DR 611851825
With windshield heating rendered inoperative, windshield cracked. Suspected heating element failure. Serviceable installed. Operational check carried out to confirm system functionality. Further investigation is continuing.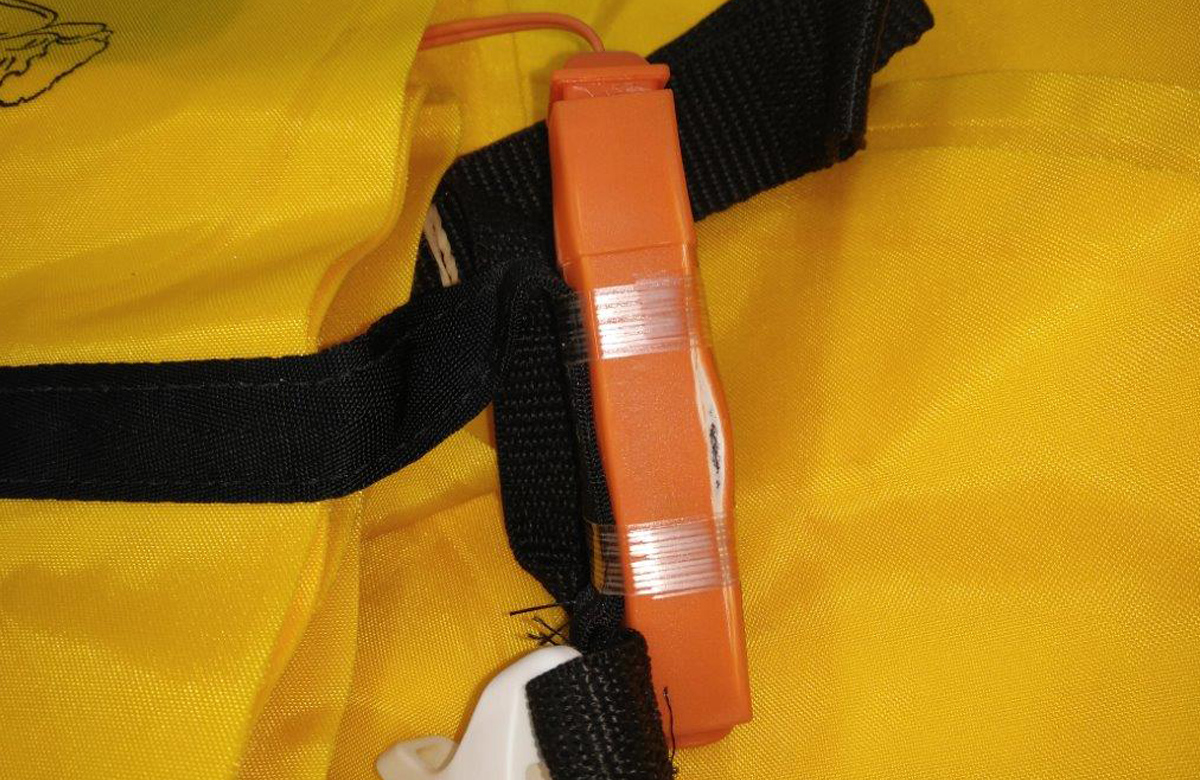 BEECH B300C–ATA 2561 LIFE JACKET–BATTERY PACK–Swollen. DR 611851849 (image above)
Several life vests failed inspection against AWB. Same replaced.
CESSNA 182 T–ATA 2497 ELECTRICAL POWER WIRING–CLAMP –RUBBING. DR 611851854
A wiring loom clamp was found to be rubbing on aileron cable. Defect discovered during an avionics upgrade.
CESSNA 402 B–ATA 3260 LANDING GEAR POSITION AND WARNING SYSTEM–Actuator Arm–FRACTURED. DR 611851859
RH down lock indicator micro switch stainless steel actuator arm assembly found to be fractured. Serviceable item installed, gear swings carried out. Aircraft returned to service.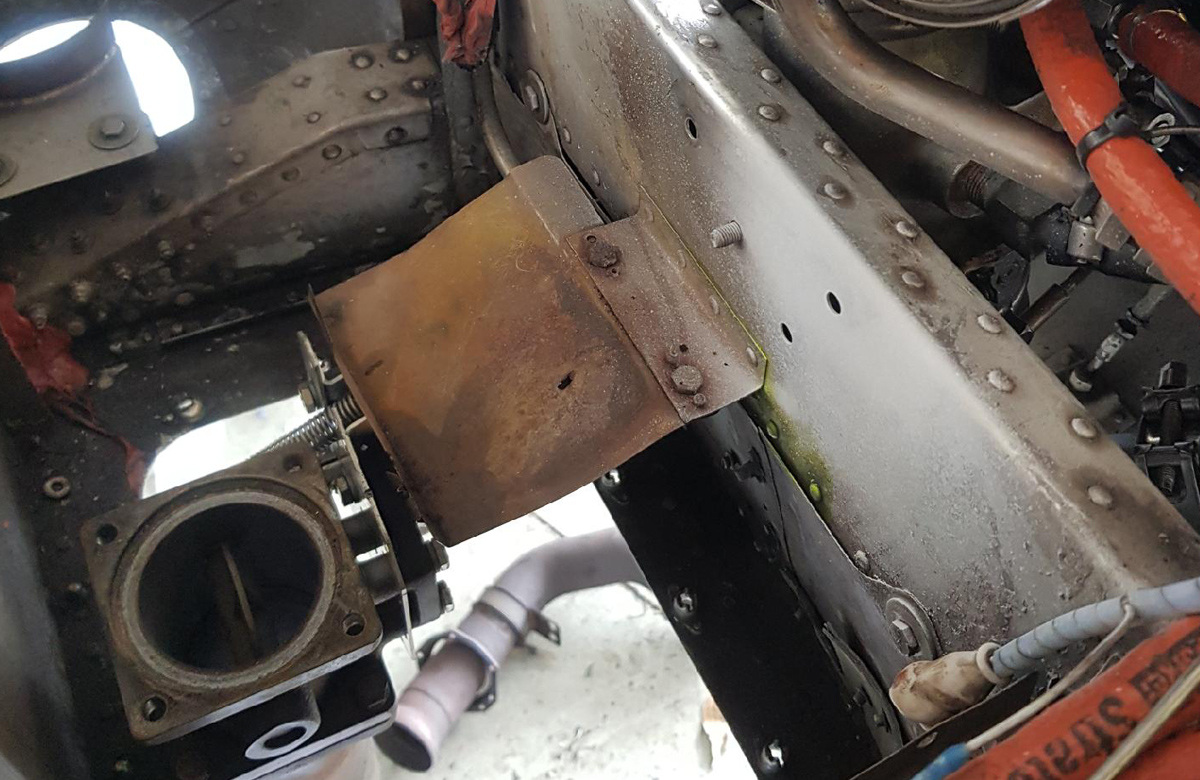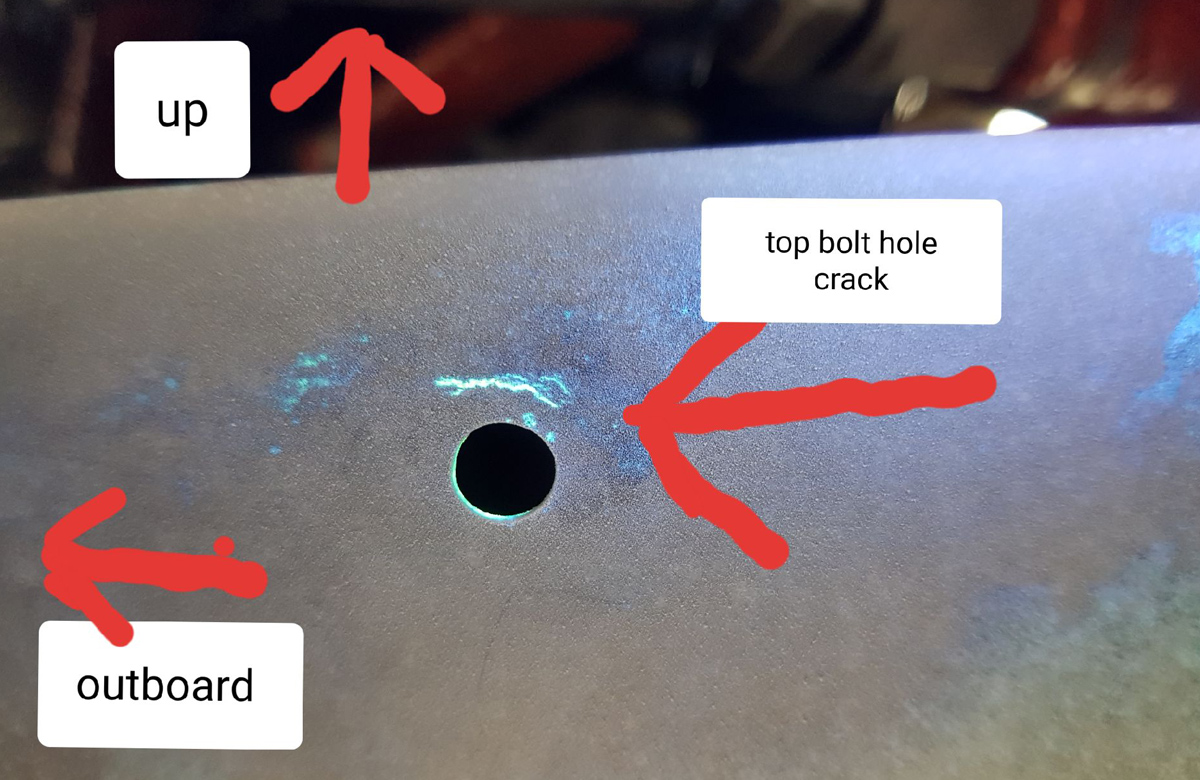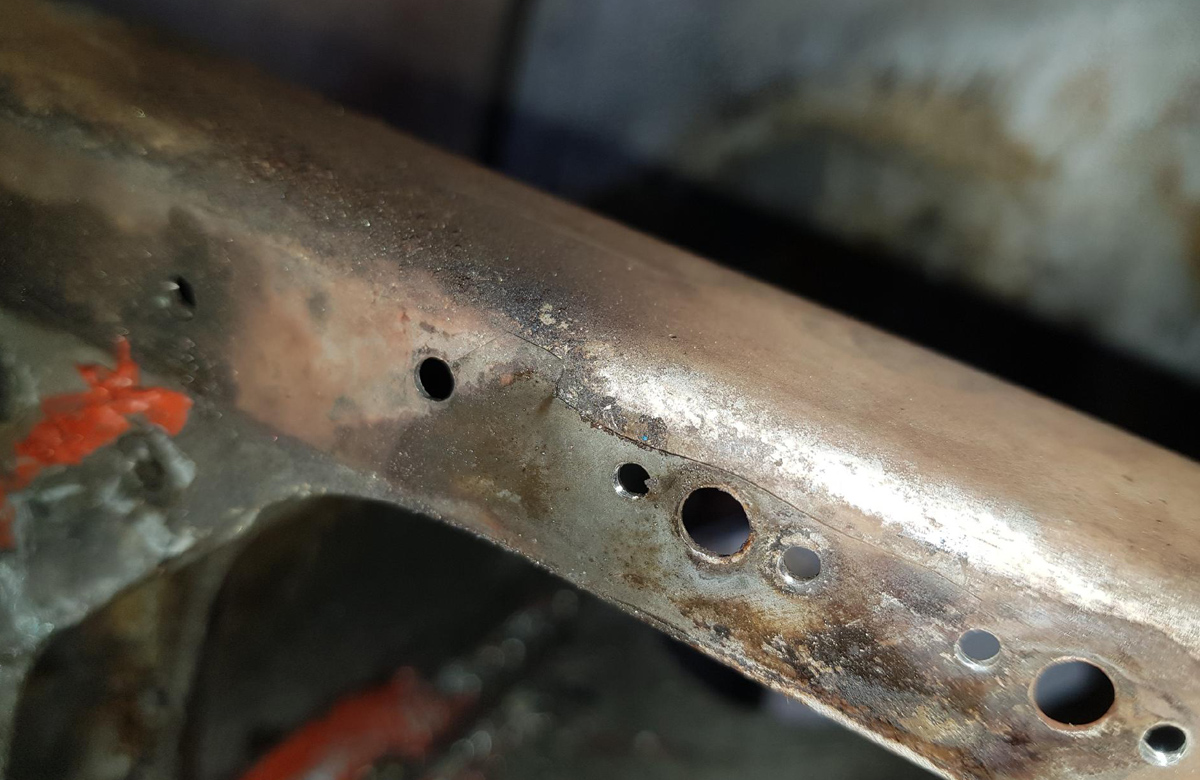 CESSNA 402 C–ATA 5415 NACELLE/PYLON, ATTACH FITTINGS–BEAM–CRACKED. DR 611851891 (images above)
While removing exhaust collector from turbo housing, turbo support bracket (P/N: 5250110-1) was found broken. Bracket was removed for repair, at the same time support beam (P/N: 5654104-11 IAW C402C IPC 54-10-00 Fig. 1. Item. 56) was found to be cracked around the attaching bolt.