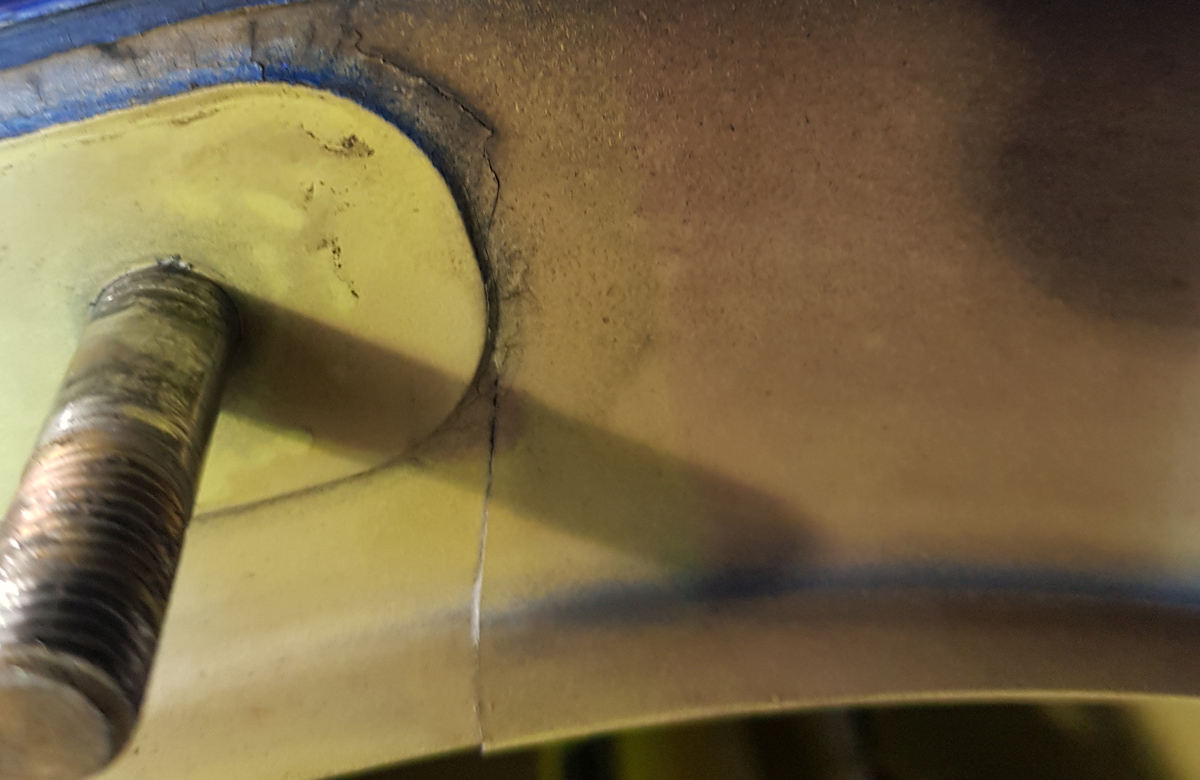 BELL 206 L4–ATA 5302 ROTORCRAFT TAIL BOOM–BULKHEAD–CRACKED. DR 611851802 (image above)
Tail boom bulkhead cracked at upper LH attachment. Bulkhead replacement to be carried out.
AGUSTA AW139–ATA 6700 ROTORCRAFT FLIGHT CONTROL–trim actuator–FAULTY. DR 611851827
Inflight, unusual roll control feedback felt in cyclic. Shortly after, a 'Mistrim' and 'no 1 trim fail' CAS illuminated. Fault repeated for each no 1 and 2 trims. During landing, 'mis-trim' and malfunctioning trim actuator induced two more 'trim fail' CAS lights and a right roll which was arrested by the pilot. Defect was reproduced on ground where faulty roll trim motor was replaced. Adjustment test carried out, no adjustments required, rotorcraft serviceable.
BELL 412 EP–ATA 2930 HYDRAULIC INDICATING SYSTEM–PRESSURE SWITCH–FAULTY. DR 611851832
Hydraulic pressure caution light illuminated in flight. Defect traced to faulty hydraulic pressure switch. Switch replaced.
EUROCOPTER BO105 A3–ATA 6500 TAIL ROTOR DRIVE SYSTEM–Teeter bolts–EXCESSIVE PLAY. DR 611851834 (image above)
Excessive play in tail rotor teeter bolt and bearings. Could be due to lack of maintenance and pre-flight inspections. Repaired IAW BO 105 MM.
AGUSTA A109 E–ATA 2430 DC (DIRECT CURRENT) GENERATION SYSTEM–GENERATOR–UNSERVICEABLE. DR 611851845
During flight, no 1 DC generator amber caution light appeared on the EDU screen. Appropriate failure procedure actioned. Generator selected off. Engineering notified.
SIKORSKY S92 A–ATA 7732 ENGINE VIBRATION ANALYSER–AVC computer–SUSPECT FAULTY. DR 611851907
Whilst in the cruise at 3000 ft 'AVC FAIL' warning caution light illuminated, afterwards aircraft vibration increased substantially. Checklist consulted, fault persisted, return to base executed. After troubleshooting, AVC computer replaced with serviceable item. System test carried out, no further defect, aircraft returned to service.