CONTINENTAL GTSIO520 K–ATA 8530 RECIPROCATING ENGINE CYLINDER SECTION–Rocker Thrust Retainer–BROKEN. DR 611851956
Oil pressure reduced to bottom of green arc during flight, with all other engine parameters normal. After landing, oil noted on outboard bottom cowl. During inspections, rear exhaust rocker thrust retainer was found to be broken. Broken section located in rocker hat. Thrust retainers, attaching bolts, and 2 lock tabs fitted. Serviceable rocker hat & new gasket fitted. Engine ground runs carried out, oil pressure now indicating in the top of Green arc. Oil temperature in normal range as well.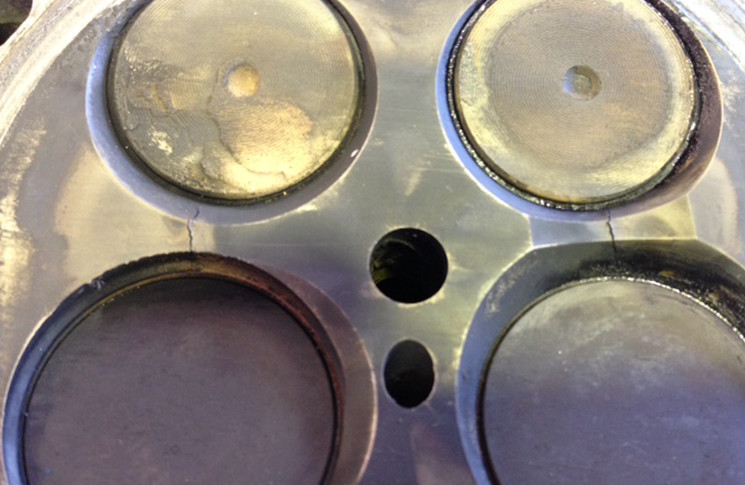 Austro E4 A–ATA 8530 RECIPROCATING ENGINE CYLINDER SECTION–CYLINDER HEAD–CRACKED. DR 611851972 (image above)
Engine coolant system over pressurising and loosing coolant. Engine cylinder head cracked in numerous places, also possibly head gasket is leaking. Upon removal of cylinder head, cracking found between inlet and exhaust valve. Six of the eight pairs of cylinder valves had cracks. New cylinder head and head gasket fitted.
Four similar defects reported.
LYCOMING O360 J2A–ATA 8520 RECIPROCATING ENGINE POWER SECTION–COOLING FAN–FAILED. DR 611852044
Prior to making a normal landing, pilot reported slight increase in airframe vibration through the seat and tail rotor control pedals. Engine cooling fan tapered hub and lower fan shaft bearing were found to be cracked in numerous places. Engine cooling fan and lower fan shaft bearing assemblies were replaced with serviceable items. Aircraft was returned to service.