AIRCRAFT ABOVE 5700 kg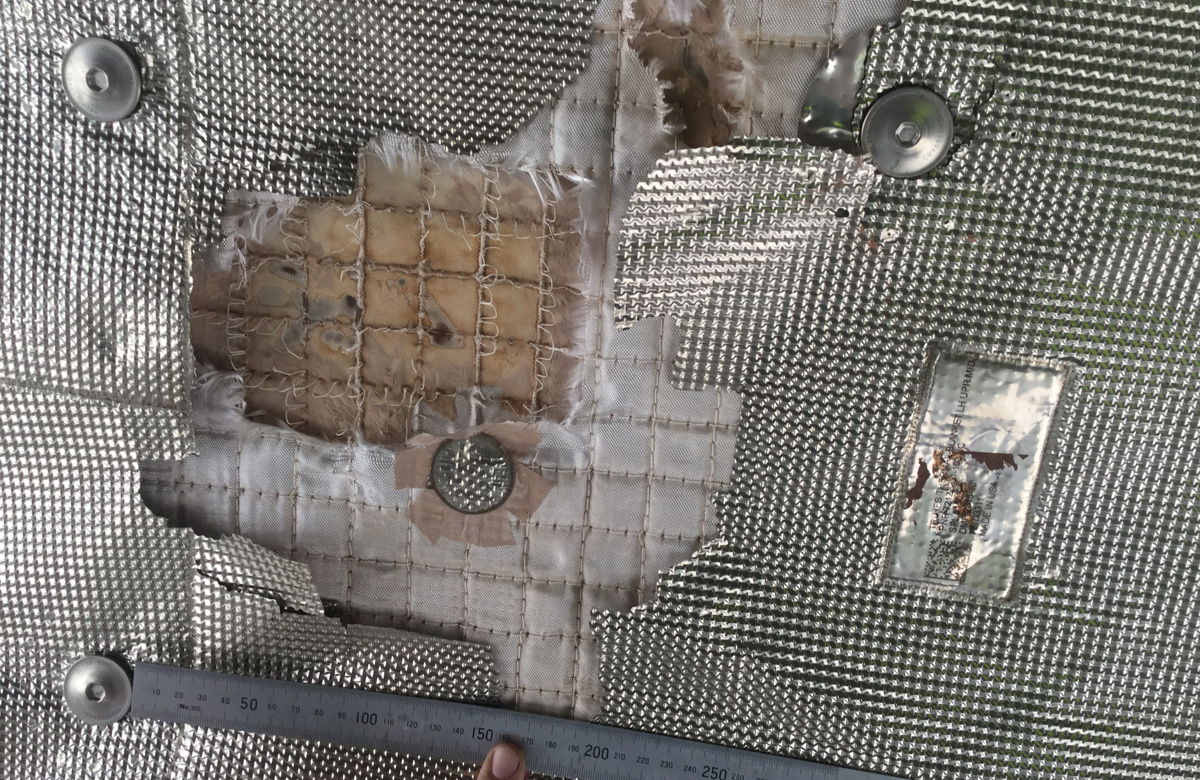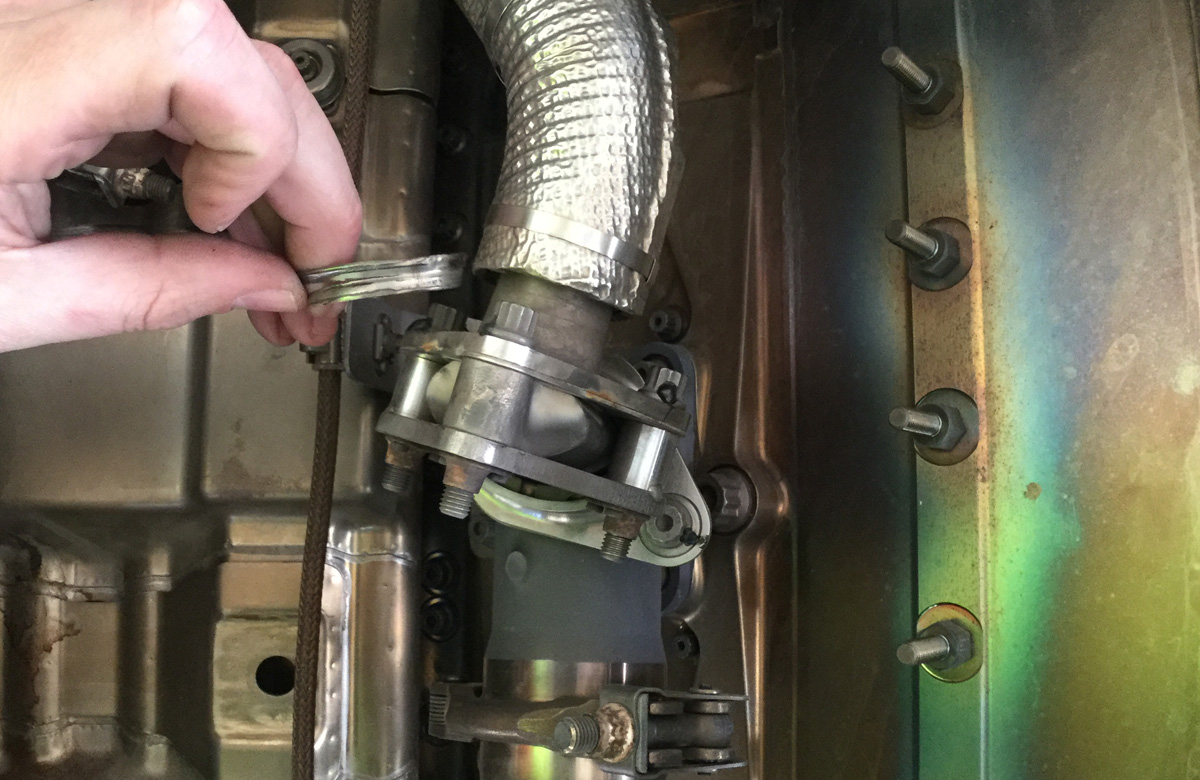 BOEING 787 8–ATA 3020 AIR INTAKE ANTI-ICE/DE-ICE SYSTEM–CLAMP–DETERIORATED. DR 611852076 (images above)
During maintenance, damage found on engine #1 left-hand thrust reverser thermal (heat shield) blanket. It was observed that hot air was blowing through damaged pneumatic line. Damage was caused by a degraded clamp.
SAAB 340 B–ATA 3445 TRAFFIC COLLISION AVOIDANCE SYSTEM (TCAS)–TCAS–Burning smell. DR 611852080
Strong plastic burning smell around centre pedestal and TCAS area. Suspected fault in ATC and TCAS control unit. ATC and TCAS control unit were replaced.
AIRBUS A320 232–ATA 5344 FUSELAGE DOOR HINGES–FITTING–CRACKED. DR 611852082
During keel beam inspection, L/H MLG door forward hinge fitting found cracked.
AIRBUS A321 231–ATA 2750 TRAILING EDGE FLAP CONTROL SYSTEM–FLAP SYSTEM–STUCK. DR 611852123
Flap locked at position 1 on approach. Flaps cycled multiple times without fault. No faults showing on SFCC 1 and 2 as well.
AIRBUS A320 232–ATA 5700 WING STRUCTURE–WING–CORRODED. DR 611852124
LH ENG pylon removal required due to corrosion findings. Repair satisfactory by removal per R57X-XXX. No reinforcement required.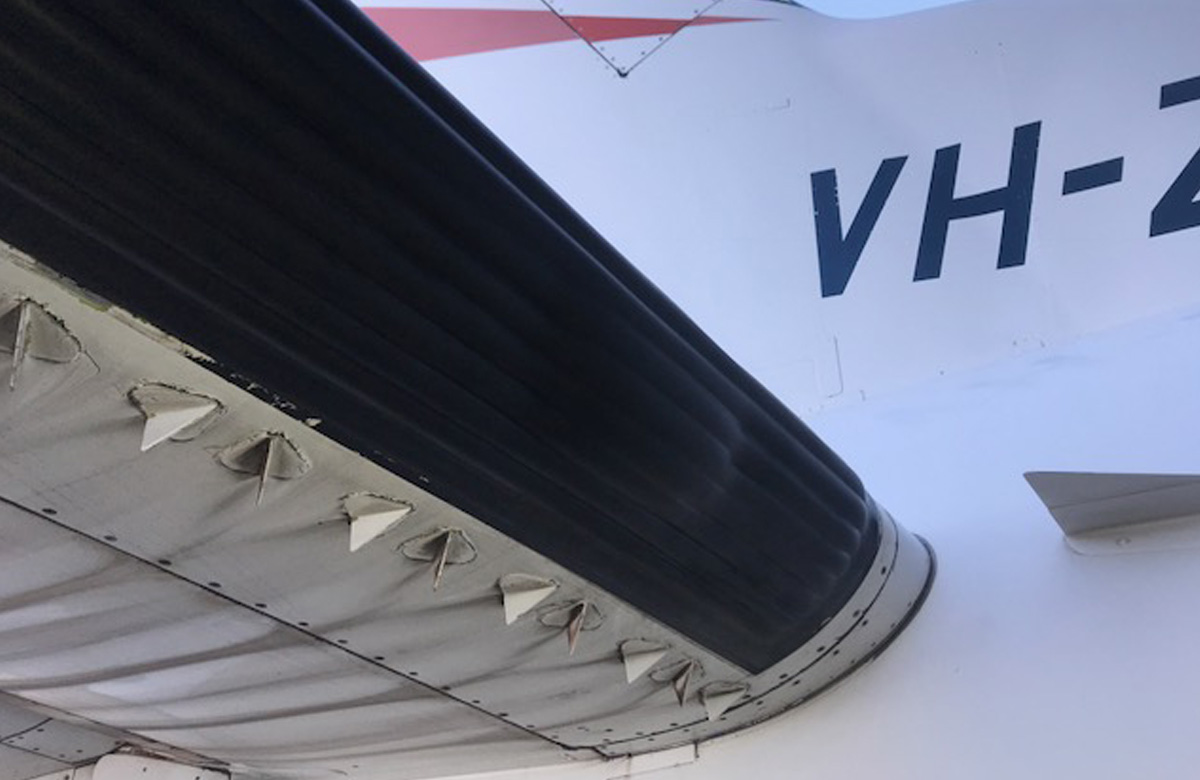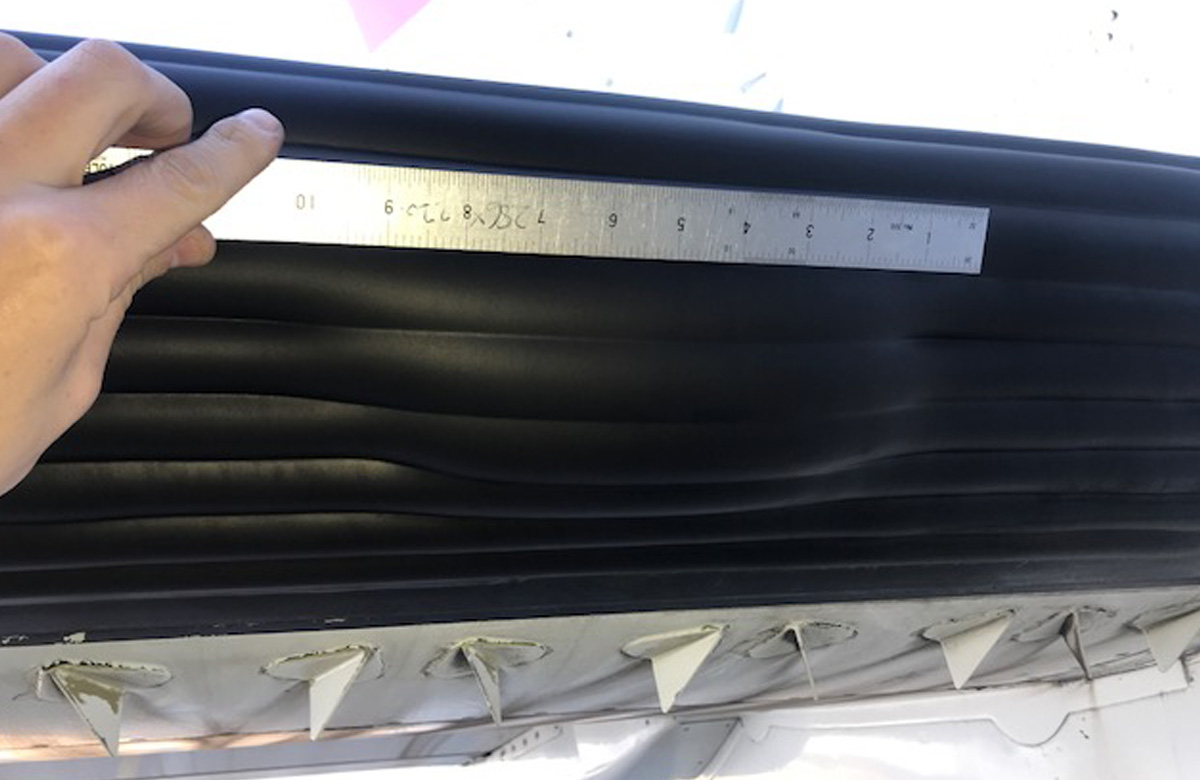 SAAB 340 B–ATA 3010 AIRFOIL ANTI-ICE/DE-ICE SYSTEM–De-icer boot–PUNCTURED. DR 611852132 (images above)
During scheduled horizontal de-icer boot inspection per SB340-30-094 and EASA AD 2017-0144-part ii, RH horizontal stabiliser leading edge de-icer boot was found to be ballooning on the I/B section. Balloon is approx. 10″ wide covering 7 stitch lines. R/H horizontal stabiliser leading edge replaced. Relevant closing actions completed
BOEING 717 200–ATA 5610 FLIGHT COMPARTMENT WINDOWS–WINDSHIELD–CRACKED. DR 611852137
Co-pilots windshield noted as cracked on bottom inboard corner—inspection found the middle core ply cracked. Windshield replaced IAW AMM 56-11-XX, adjustment/test of windshield temperature controller carried out per AMM 30-41-XX.
SAAB 340 B–ATA 3160 CENTRAL DISPLAY–MPU–BURNT. DR 611852167
Unpleasant smell (dirty toilet and rotten fish) detected in the cockpit and cabin in the middle of the flight, smell become stronger as flight continued. This was followed by MFD failure. Troubleshooting carried out on MFD, MPU found faulty, burning was confirmed. Avionics rack inspected, nil contamination found. MPU tested serviceable IAW AMM 34-25-XX.
AIRBUS A320 232–ATA 5344 FUSELAGE DOOR HINGES–HINGE BRACKET–WORN. DR 611852169
During inspections, RH MLG door FWD hinge was found to be having an approx. 2 mm vertical movement. The door hinge hardware was dissembled whereupon, spherical bearing was found with excessive wear. The outer race was also noted to be moving in the fitting. MLG door inspection is mandated by AD and this finding is being reported as part of that requirement.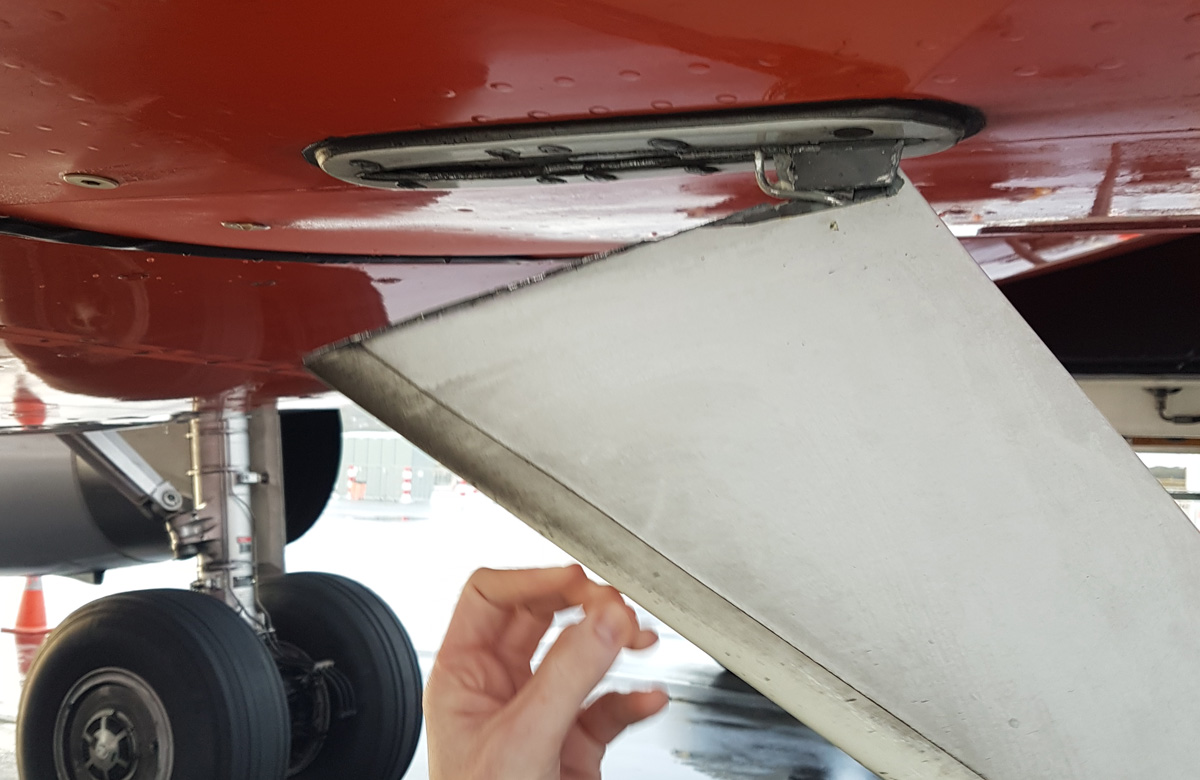 AIRBUS A320 232–ATA 2312 VHF COMMUNICATION SYSTEM–ANTENNA–Part departed aircraft. DR 611852171 (image above)
Number 2 VHF antenna found broken at mounting face. Antenna replaced.