ROTORCRAFT
EUROCOPTER BK117 C2–ATA 1830 HELICOPTER VIBRATION DAMPING–MOUNT–BROKEN. DR 611852105
LHS Z Axis vibration absorber mount broken. Broken part replaced.
AIRBUS HELICOPTERS H135T3–ATA 3160 CENTRAL DISPLAY–Hardware–FAULTY. DR 611852109
FLI degrade with a 'R' on the PFD. 'Yaw Degrade' on the PFD. VEMD secondary screen shut down with no TOT readout on number 2 engine via the VEMD.'BEWARE SOFT ERROR ERROR CODE 1027' displayed on second screen. If aircraft is powered down and powered up, fail codes clear and VEMD operates correctly. Airbus has notified that it is not a software issue, but a hardware one and P/N B19030GB12 or GC12 is not affected by this problem. Crew procedures are detailed in section 3 of the AFM. This requires the aircraft to land as soon as practicable. Depower and reboot the power gain.
SIKORSKY S92 A–ATA 3411 PITOT/STATIC SYSTEM–AIR DATA SYSTEM–SPURIOUS. DR 611852134
AFCS, FD, ADC2 degraded, loss of IAS, ALT, VSI, RHS but no mis compare arrows present. Aircraft returned to base with the following codes: ADS 2ALT FAULT 002, ADS 2 IAS FAULT 002, ADS 2 ADC FAIL 001. All air data pitot/static lines disconnected and purged with nitrogen with nil blockages or debris evident. Drains opened with nil water present. Air data system test carried out IAW AMM 34-11-XX satisfactory. Fault history cleared. AFCS test carried out serviceable IAW AMM 22-11-XX.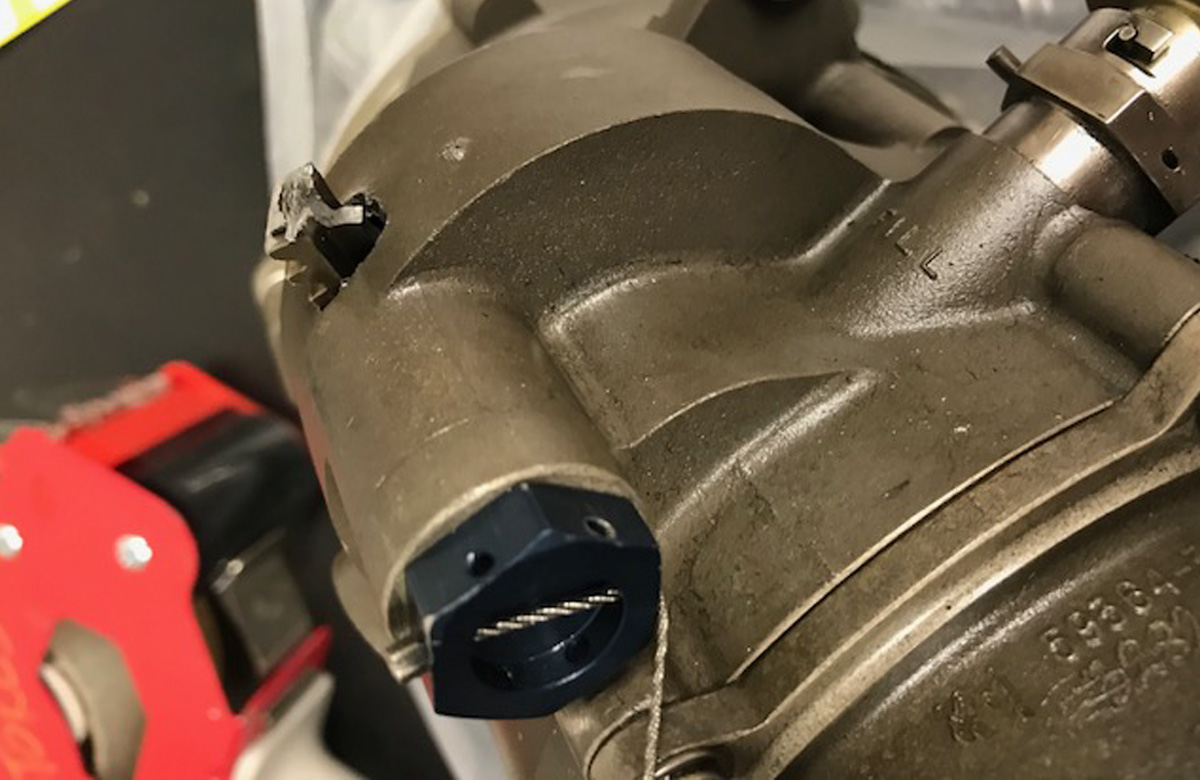 SIKORSKY S92 A–ATA 8011 ENGINE STARTER–Starter–FAILED. DR 611852144 (image above)
Starter would not engage during attempted engine start, inspection found that the starter had an uncontained failure, with a piece of the internal gear puncturing the starter casing.
EUROCOPTER EC175 B–ATA 6220 MAIN ROTOR HEAD–Upper Sleeve–DEBONDED. DR 611852186
Leading edge found disbonded during daily inspection. Cause is unknown and still being investigated by OEM.
EUROCOPTER EC175 B–ATA 6320 MAIN ROTOR GEARBOX–GEARBOX–CONTAM-METAL. DR 611852189
During heavy hover post-main gearbox change–chip light indication was observed to intermittently illuminate four times before the aircraft was landed. An inspection of the MGB chip detectors confirmed that considerable debris had been collected on all chip detectors installed. Determination from Engineering IAW procedures and advice from Airbus, the MGB to be changed out for another serviceable gearbox before further flight. MGB to be returned to Airbus for further investigation.