PISTON
LYCOMING O540 F1B5–ATA 8520 RECIPROCATING ENGINE POWER SECTION–CYLINDER–LOW COMPRESSION. DR 611852357
Number 3 cylinder found to be leaking from exhaust valve during leak-down test at 100-hourly inspection. Moreover, paint found to be missing from cooling fins and area around exhaust port on cylinder head. Cylinder removed and disassembled for inspection. Exhaust valve, associated valve guide found to be elongated allowing valve to become unseated. Exhaust valve and guide to be replaced with new items IAW Lycoming direct drive overhaul manual and refitted to aircraft.
CONTINENTAL IO520–ATA 7421 SPARK PLUG/IGNITER–SPARK PLUG–Ceramic broke. DR 611852387
Pilot reported engine vibration and loss of power. After landing, oil noted coming from induction drain and exhaust stack of no. 3 cylinder. Spark plugs removed, top plug insulator found missing. Borescope inspection revealed damaged piston. However, valves appeared normal. Damage to piston suggested detonation/pre-ignition event.
LYCOMING IO540 K1A5–ATA 7322 FUEL CONTROL/RECIPROCATING ENGINES–NOZZLE–clogged. DR 611852415
Number 5 cylinder head temperature too high, moreover engine had higher fuel consumption than normal. Fuel nozzle partly clogged. Fuel nozzles, spark plugs cleaned and tested OK. Engine ground run performed, serviceable.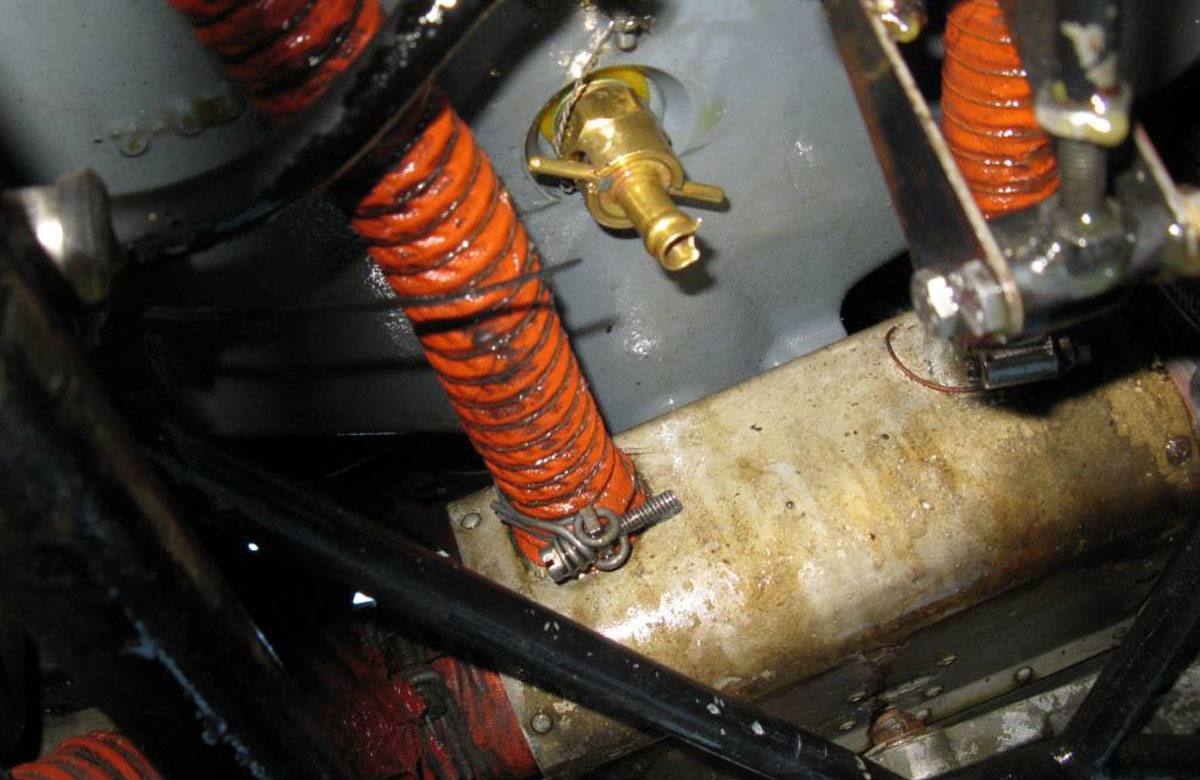 LYCOMING IO360 C1C6–ATA 8550 RECIPROCATING ENGINE INTERNAL OIL SYSTEM–DRAIN VALVE–INCORRECT FIT. DR 611852426 (image above)
During flight, rough running was encountered, and no oil pressure observed on cockpit gauge. During inspections, incorrect engine oil sump drain valve found to be fitted. Aircraft nose undercarriage retraction mechanism contacted engine oil sump drain valve causing loss of engine oil.
THIELERT TAE 125-02-99–ATA 8520 RECIPROCATING ENGINE POWER SECTION–PISTON ENGINE–POWER LOSS. DR 611852434
Partial power loss due presumed fuel contamination. OEM involved, relevant checks satisfactory. Ground run carried out, it is assumed that the contamination has passed through the system and is no longer a problem. Return to service planned.
LYCOMING IO720–ATA 7314 ENGINE FUEL PUMP–BODY–CRACKED. DR 611852440
Fuel pump found cracked in area of blanking plug mount. Necessary repairs made.
LYCOMING O360 E1A6D–ATA 8520 RECIPROCATING ENGINE POWER SECTION–CONNECTING ROD–FAILED. DR 611852450
Engine failed during cruise, connecting rod separated at small end (piston rod connection). Rod bent and twisted. All oil lost.
LYCOMING O320 B2C–ATA 8520 RECIPROCATING ENGINE POWER SECTION–CYLINDER–LOW COMPRESSION. DR 611852496
Number 3 cylinder failed compression (leakage) check past exhaust valve. Exhaust valve u/s due flames getting through to the backside of valve face causing valve face edge to warp.
LYCOMING IO360 L2A–ATA 8520 RECIPROCATING ENGINE POWER SECTION–EXHAUST VALVE–STUCK. DR 611852500
Following rotation, engine RPM dropped to 2000–2100 RPM with severe vibration. Take-off aborted. During taxi in, engine continued to vibrate above 900 RPM. During investigation, no. 2 cylinder exhaust valve found partially stuck open. Serviceable cylinder installed.
LYCOMING O360 J2A–ATA 8520 RECIPROCATING ENGINE POWER SECTION–ROCKER ARM–WORN. DR 611852505
On carrying out 300-hourly inspection of exhaust valves, IAW Textron Lycoming SB #388C, it was noticed that ends of the push rods rocker arm end have some excessive worn ends. All rocker arms excessively worn, rocker sockets too. Excessively worn push rods PN 15F19957-30 and worn sockets in rockers assy PN NF19387. This is a roller rocker engine. Feedback from industry has found that there have been issues with this arrangement, new rocker arms and rods refitted.