ROTORCRAFT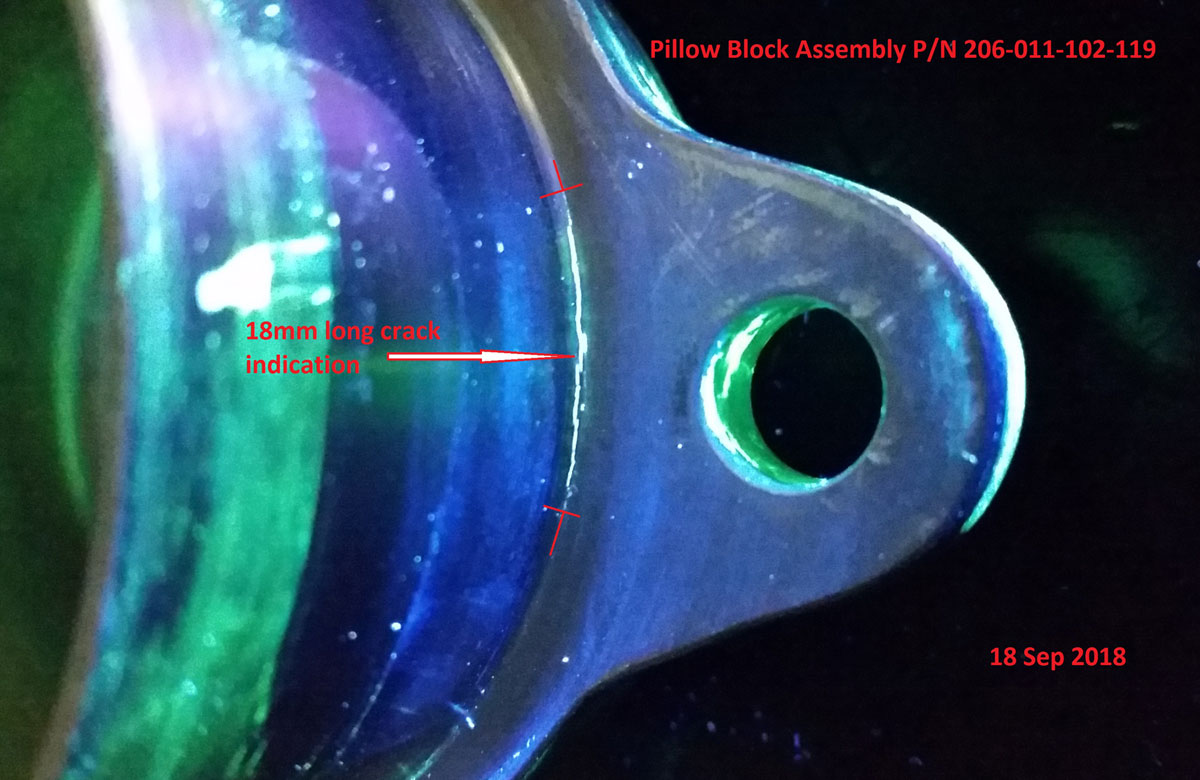 BELL 206 L1–ATA 6220 MAIN ROTOR HEAD–PILLOW BLOCK–CRACKED. DR 611852551 (image above)
During a standard main rotor hub overhaul, 18 mm long crack-like indication was evident in the radius of pillow block assembly. P/N 206-011-102-119 removed from M/R Hub Assembly P/N 206-011-100-159. Fluorescent penetrant inspection completed as required by BHT 206L CR&O-3 Vol-3 Rev.6. CH 62-33. Possibly natural wear and tear of component nearing overhaul life. Pillow block assy replaced with 'new/serviceable' item.
AGUSTA AW139–ATA 2913 HYDRAULIC PUMP, (ELECTRIC/ENGINE), MAIN–HYDRAULIC OIL–CONTAM-METAL. DR 611852606
On approach, PIC noticed a higher than normal #2 hydraulic pressure indication. Afterwards, #2 hydraulic filter bypassed, pressure indication began to drop, temperature started to increase. Emergency checklist #2 HYD OIL TEMP completed for a safe landing. Investigation found metal contamination in the # 2 hydraulic pressure filter indicating No 2 and\or no 4 hydraulic pump failure. TC holder advised.
SIKORSKY S76 A–ATA 5210 PASSENGER/CREW DOORS–Snap vent–Part Departed Aircraft. DR 611852640
After routine flight, it was noted that RH door vent is missing. It is suspected that vent was open when the door was opened and that it may have contacted the airframe. The snap vent was replaced with a serviceable item.
SIKORSKY S76 A–ATA 7720 ENGINE TEMPERATURE INDICATING SYSTEMS–T5 indication–INTERMITTENT. DR 611852641
Shortly after take-off, No. 1 Engine T5 indication started to fluctuate from 750-350. All other engine indications were stable. Aircraft returned to base. No fault found. T5 Gauge connection, junction box inspected. Terminal area cleaned, leads checked for security. Ground run and test flight carried out. No further defect evident currently.
EUROCOPTER EC130 T2–ATA 2510 CREW STATION EQUIPMENT SYSTEM–BUCKLE–BROKEN. DR 611852560
Rotating belt buckle plastic assembly failed, pilot unable to unlock his seat belt. Poor material in manufacture. New belt assembly fitted.