AIRCRAFT ABOVE 5700 kg
EMBRAER ERJ170100–ATA 3610 PNEUMATIC DISTRIBUTION SYSTEM–PRECOOLER–LEAKING. DR 611852558
ATB due 1 bleed leak. LH pre-cooler rear gasket found u/s. New gasket fitted.
AIRBUS A320 232–ATA 4990 APU OIL SYSTEM–FCU–LEAKING. DR 611852568
Unusual odour detected during cruise in cockpit. Safe landing made. During troubleshooting, oil was observed to be dripping onto plenum and intake assembly, APU starter and FCU leaking. Both components were replaced. Pack decontamination c/o.
DE HAVILLAND DHC8 315–ATA 2422 AC INVERTER–INVERTER–Burning Smell. DR 611852582
During preparation for departure, primary inverter caution light was noted to initially illuminate then extinguish. Approximately 4 minutes later, a strong electrical smell and dense white/grey smoke was noted originating behind the captain's seat on the left-hand side near the inverters. APU and batteries were selected OFF. Both pilots exited the flight deck. Primary inverter replaced. Test carried out IAW 24-22-XX, primary inverter sent for repair and strip report has been requested.
DE HAVILLAND DHC8 315–ATA 2750 TRAILING EDGE FLAP CONTROL SYSTEM–RELAY–FAULTY. DR 611852583
During approach with 15 flaps selected, flaps failed to extend, indicator however remained at 5. Go-around initiated and abnormal flap landing carried out. Aircraft landed safely. Fault confirmed, 70 second relay timing out and not resetting when going from flap 5 to 15. Relay 2752-K1 replaced, arming switch on flap handle adjusted. Follow-up tests satisfactory.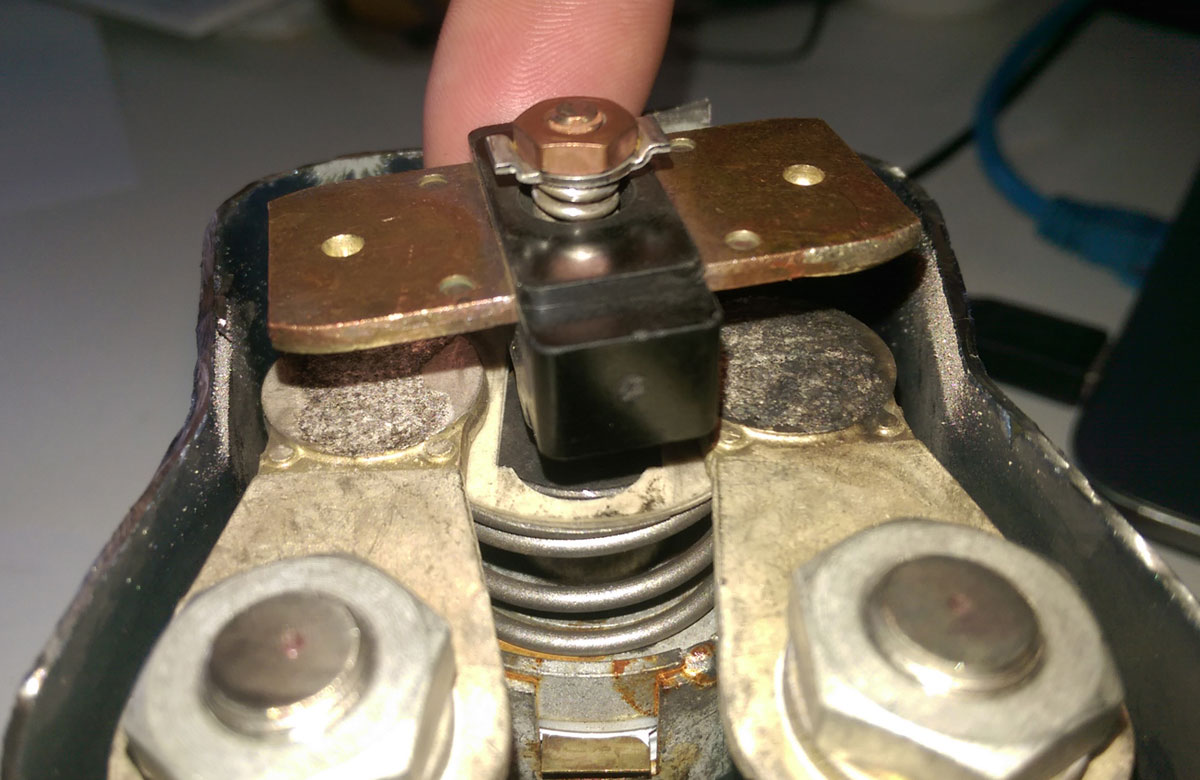 SAAB 340 B–ATA 2997 HYDRAULIC POWER WIRING–RELAY–BURNT. DR 611852586 (image above)
During engine ground run, hydraulic pump failed to operate in auto and override mode, causing loss of hydraulic pressure to the nose wheel steering and brakes. Investigation found loose parts from within the power supply relay 7ML. Internal contacts were severely burnt/melted. Relay 7ML replaced.
AIRBUS A380 842–ATA 2590 NON-STANDARD EQUIPMENT SYSTEM–Personal Electronic Device–SMOKE. DR 611852593
In flight, smoke was witnessed in the vicinity of seat XX. Crew approached, fire extinguished. Passenger advised movement of seat and a cracking noise heard. Moreover, mobile phone could not be located. It was established that mobile phone has been crushed in seat reclining and was the origin of smoke. Post-incident maintenance completed. Investigations are continuing.
BOEING 737 8FE–ATA 2710 AILERON CONTROL SYSTEM–Bearing Race–DAMAGED. DR 611852608
Crew reported, during manual flight, roll control to the left exhibited resistance at approximately 4 to 6 units. High control wheel and column forces in B737NG fleet is a known issue as per Boeing Service Letter 737-SL-27-203-B. Extensive troubleshooting carried out identified captain's control column lower bearing outer race has slipped when column is turned left. Replacement is being carried out.
DE HAVILLAND DHC8 402–ATA 3230 LANDING GEAR RETRACT/EXTENSION SYSTEM–SEQUENCE VALVE–UNSERVICEABLE. DR 611852614
After take-off, RH main landing gear retracted. Gear indicated unsafe and 'R Door' Amber advisory light illuminated. Flight crew confirmed gear retracted but RH MLG door remained open. Alternate gear extension carried out, hydraulic indications normal and aircraft landed safely. Final fix: RH MLG door Solenoid Sequence Valve (SSV) replaced IAW AMM 32-31-XX. Primary and alternate operational test carried out satisfactory.
FOKKER F28 0100–ATA 2730 ELEVATOR CONTROL SYSTEM–Elevator servo capstan–Excessive grease. DR 611852619
In flight, with #2 Auto-Pilot (AP) engaged, aircraft made an uncommanded pitch down movement for approximately one second, following which it resumed the correct descent profile. Relevant maintenance completed. Root cause: Ice accretion to the elevator servo-motor system. Once sufficient force is applied to the elevator system as a result of increased aerodynamic pressure (often as a result of movement of the stabiliser), or from flight crew input, elevator is freed, and the ice dispersed. Preventive measures: Maintenance teams briefed about correct lubrication procedures, as over lubrication could close in moisture. Investigation into 'Uncommanded Movement' is being discussed within Reliability Committee and in Fokker Operator meetings as required.
BOEING 737 838–ATA 2565 ESCAPE SLIDE–Escape slide–NOT SEATING. DR 611852644
Shortly after take-off, it was identified that the R 2 door escape slide lanyard was at full stretch and under tension with fabric protruding from the bottom of the escape slide whilst door girt bar was in the armed position. Root cause: Escape slide container lower spigot was not correctly seated in the door lower spigot fitting with the escape slide attach bolts under load. Escape slide was sitting up higher than it normally would. Corrective action: Door slide assy was removed, slide disarmed, slide repacked and reinstalled IAW AMM 25-66-XX. Preventive measures: Unable to definitively determine the source that would have caused the mis-alignment. Corrective action as described is considered adequate to address the issue.