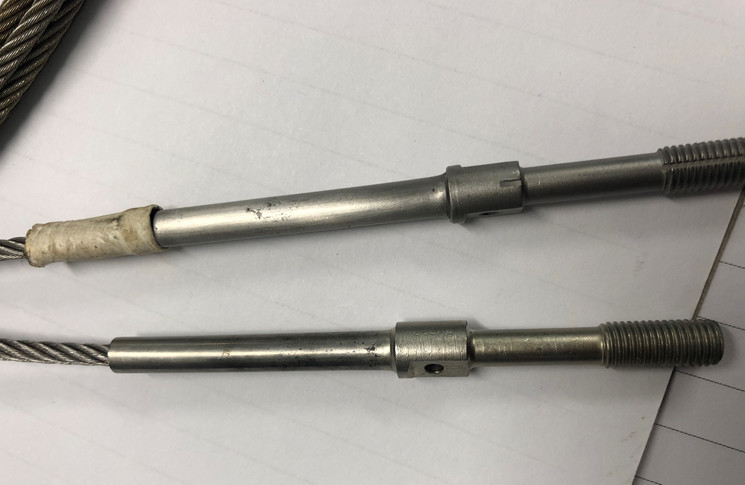 CESSNA 208 B–ATA 2730 ELEVATOR CONTROL SYSTEM–TERMINAL–CORRODED. DR 611852682
Corrosion pitting found on stainless cable terminal ends against initial (15 years) AD/ENG/87 Amendment 1 inspection. Areas affected were noted as Down Elevator Forward Cable (P/N 2660001–147) aft terminal & Down Elevator Aft Cable (P/N 2660001–102) forward terminal. Cables removed & new items installed.
PIPER PA31 350–ATA 2710 AILERON CONTROL SYSTEM–CABLE–WORN. DR 611852683
Cable had worn/broken strands in vicinity of a rib rub block in LH wing. Cable replaced.
CESSNA 208 B–ATA 2410 ALTERNATOR–GENERATOR DRIVE SYSTEM–PULLEY–MISALIGNED. DR 611852724
During cruise, 'Standby Alternator off' message came. Root cause: Drive unit pulley was not turning and belt out of alignment. Further investigation found a circlip dislodged from its locating groove that was floating free within the assembly. Inspection of the gearbox drive pad and phenolic drive coupling revealed no damage. Rectifications: New drive unit fitted to the aircraft. Operational checks conducted, deemed normal.
CESSNA 208 B–ATA 2310 HF COMMUNICATION SYSTEM–HF SYSTEM–SMOKE. DR 611852729
Upon landing, FO noticed smoke from HF controller. HF switched off, latter replaced.
DE HAVILLAND DHC2 I–ATA 5310 FUSELAGE MAIN, STRUCTURE–FUSELAGE FRAME–CRACKED. DR 611852730
Ultrasonic inspection carried out, following observations were made: 1. Front Fuselage Struts at Windscreen, LH & RH, iaw AD/DHC–2/30 Amdt 1 Complies with the test requirements. 2. Fuselage–Forward Tubular Frame iaw DHC–2 SB 2/49 Rev. C. Does not meet test requirements.
CESSNA 402 C–ATA 3230 LANDING GEAR RETRACT/EXTENSION SYSTEM–Hyd sight tube–MELTED. DR 611852734
After take–off, red GEAR UNLOCKED light and amber R HYD FLOW light remained illuminated. Pilot recycled. On descent, smoke started coming out under the main instrument panel for approximately five seconds. Root cause: Worn bearing/support assembly P/N: 0841211–1. With hydraulic system remaining pressurised, temperature of the hyd fluid rose quickly resulting in hydraulic reservoir sight tube melting. This is believed to be the cause of the smoke reported by the pilot. Final fix: bearing replaced. Strut resealed/serviced, 'melted' hydraulic reservoir sight glass replaced. Follow up satisfactory.
CESSNA 210 M–ATA 3230 LANDING GEAR RETRACT/EXTENSION SYSTEM–POWER PACK–FAILED. DR 611852760
During approach, landing gear failed to extend using normal procedures and had to be extended manually. Root cause: landing gear power pack had failed. Rectifications: serviceable installed. Landing gear power packs are of an electro/hydraulic design with a TBO of 60 months between overhauls.
PILATUS PC12 47E–ATA 2432 BATTERY/CHARGER SYSTEM–BATTERY–smell. DR 611852764
In-flight, rotten egg smell reported by pilot. After detailed troubleshooting, smell was traced to medical battery. Battery was observed to be drawing current in flight and on ground with external power connected. Rectifications are continuing.
PIPER PA28RT 180–ATA 2720 RUDDER CONTROL SYSTEM–TERMINAL–CRACKED. DR 611852745
During cable inspection against AD/GEN/87, a crack was evident on terminal. Cable replacement is required, same carried out.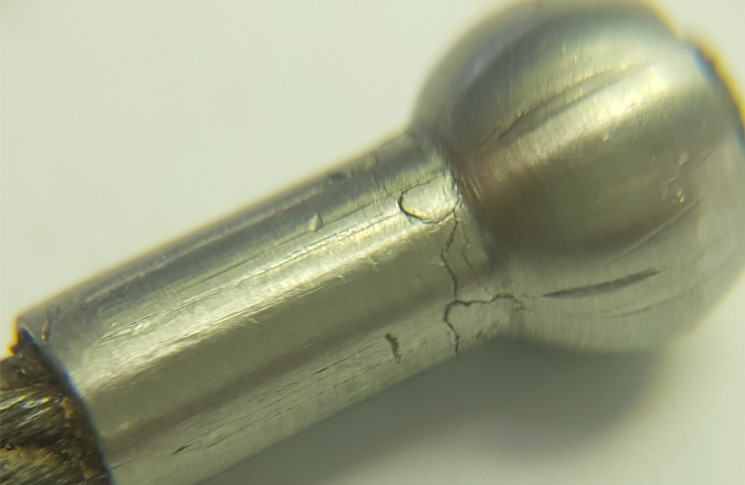 CESSNA 337 F–ATA 2710 AILERON CONTROL SYSTEM–TERMINAL–CRACKED. DR 611852773
Crack evident during AD/GEN/87 cable inspection. Five cable replacements are required.