CESSNA 208 B – ATA 7722 ENGINE EGT/TIT INDICATING SYSTEM – EGT SYSTEM – FAULTY WIRING. DR 611953342
During Take Off, engine ITT gauge started fluctuating. Gauge inspection and confirmation of serviceability carried out. Faulty engine compartment wiring found during further inspections. Wiring repaired, ground runs carried out. ITT system confirmed serviceable.
CESSNA 172 N – ATA 3213 MAIN LANDING GEAR STRUT/AXLE/TRUCK – AXLE – CRACKED. DR 611953370
Cracked axle found against SID 32-13-03.
AEROPRAKT AEROPRAKT-32 – ATA 3222 NOSE/TAIL LANDING GEAR STRUT/AXLE – FORK – CRACKED. DR 611953384
During taxi, aircraft nose gear fork attachment fitting failed, resulting with the nose gear stub contacting the ground followed by a prop strike. 

As this is not possible to lubricate/flush the nose gear lug fastener effectively, along with direct contact between the nose gear fitting and attachment bolt, three suggestions are apparent.

1-Fit grease point to nose gear lug for lubrication/flushing contaminants.
2-Fitment of sintered bushings in fork attachment fitting.
3-Review of metal grain direction in regard to manufacture.
CESSNA 172 S – ATA 2842 FUEL QUANTITY SENSOR – Sender – HIGH RESISTANCE. DR 611953388
RH fuel gauge dropping to zero and low fuel light flashing intermittently during flight. Sender intermittently open circuit at the near full position. Known problem with this P/No sender. Unit to be replaced under warranty.
KAVANAGH KAVANAGH Double Tee 4.3X 1.5 – ATA 5102 BALLOON REPORTS – BASKET FRAME – BROKEN. DR 611953394
Movement was detected in the upper basket frame rail. The stainless-steel upper frame has multiple cracks and is broken loose in 2 places.
Leather covering and foam padding that covers the entire top rail of the basket was removed and the entire frame checked for further defects. Cracking was found in all the corners of the pilot's compartment. Cracks and breaks can be repaired by welding.
CESSNA 172 S – ATA 2842 FUEL QUANTITY SENSOR – Sender – HIGH RESISTANCE. DR 611953396
LH fuel gauge dropped to zero. However, Fuel tank was full. Fuel qty sender open circuit, occurs at full or near full position only. Long term known problem with this sender.
CESSNA 210 N – ATA 3222 NOSE/TAIL LANDING GEAR STRUT/AXLE – STEERING COLLAR – Dislocated. DR 611953403
Landing gear failed to retract after take-off. Inspection carried out, fault found at NLG strut centering collar. 
Collar re-positioned and re-secured with new hardware. Rigging and retracts carried out with nil fault.
CESSNA 402 C – ATA 5711 WING SPAR – RIVET – FAILED. DR 611953406
RH wing lower FWD spar doubler immediately inboard of RH engine has failed rivets, several have pulled through the doubler and number of the remainder show signs of severe working.
GIPPSLAND GA8 – ATA 2720 RUDDER CONTROL SYSTEM – CABLE – CORRODED. DR 611953422
In the course of control cable inspections I.A.W. AD/GEN/87, RH rudder control cable was found to have very minor pitting on the rear swaged terminal. RH rudder control cable replaced with new cable.
GIPPSLAND GA8 – ATA 3243 MASTER CYLINDER/BRAKE VALVE – BRAKE FLUID – LEAKING. DR 611953426
Pilot reported LH brake to pedal to move all the way to the bottom without actuating the brake. LH brake master cylinder was low on fluid and there was some fluid on the cabin floor. 

Corrective action: Brake master cylinder was removed and serviced with all new seals. System bled, tested serviceable. As an additional step, overhaul of the park brake valve was scheduled during next shop visit.
PIPER PA28 161 – ATA 2421 AC GENERATOR-ALTERNATOR – ALTERNATOR – FAULT MESSAGE. DR 611953431
Low Volts + Alternator Fail light illuminated. Could not fault on initial ground run. Alternator and alternator wiring inspected found satisfactory. Voltage checked, satisfactory.
BEECH 58 – ATA 5220 EMERGENCY EXITS – EMERGENCY EXIT – Part Departed Aircraft. DR 611953433
The emergency exit assembly has fallen off the aircraft in flight. Investigations are continuing.
CESSNA 185 E – ATA 2720 RUDDER CONTROL SYSTEM – BALL JOINT – CRACKED. DR 611953441
While carrying inspections against AD/GEN/87, AFT LH rudder cable ball joint found cracked around ball to swage. Cable replaced.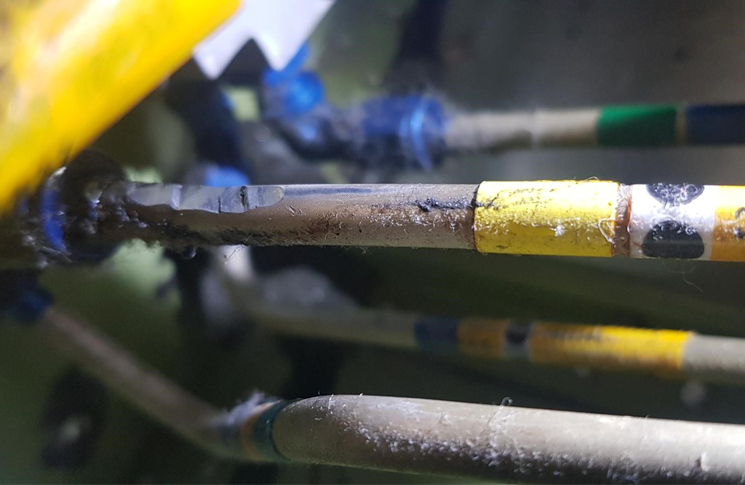 BEECH 100 C90GTI – ATA 3240 LANDING GEAR BRAKE SYSTEM – TUBE – CHAFING. DR 611953446 (image above)
Partial brake failure detected. Brake tube assy inspected, chaffing damage found. New tube installed.
CESSNA 208 B – ATA 5610 FLIGHT COMPARTMENT WINDOWS – WINDSHIELD – BIRD STRIKE. DR 611953463
Bird strike on windshield during take-off. ATB to departing base. Bird strike inspection carried out with nil damage. Aircraft returned to service.