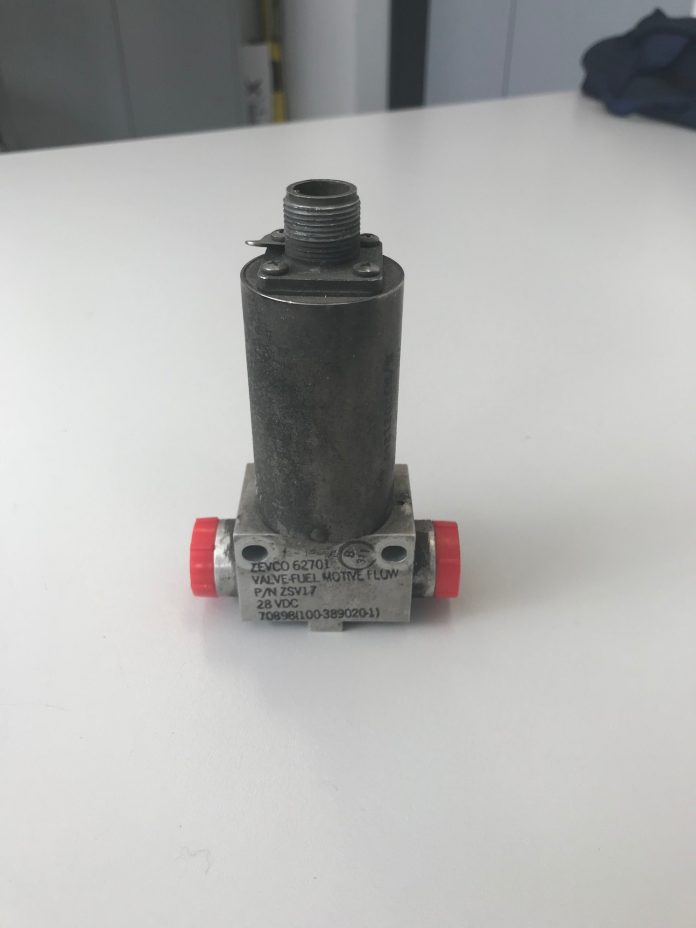 BEECH 300 B300 – ATA 2820 AIRCRAFT FUEL DISTRIBUTION SYSTEM – Motive Flow Valve – UNSERVICEABLE. DR 611953680
Fuel from RH main tank found its way into the RH Auxiliary tank within a short period of time.

Root cause: RH Fuel Motive Valve not closing intermittently.

RH fuel motive valve staying open after power removed from valve solenoid. Solenoid spring not overcoming the tightness of the valve at times. Faulty Fuel Motive valve replaced.

 
BAE JETSTREAM 3100 3206 – ATA 3246 WHEEL/SKI/FLOAT – Wheel Assembly – DEFLATED. DR 611953617
RH NWA flat on landing. NWAs inspected, no other defect or damage evident. NWAs replaced.
CESSNA 402 C – ATA 2215 AUTOPILOT MAIN SERVO   – CABLE – FRAYED. DR 611953618
Autopilot no Heading hold. Broken Bridle Cable. Cable replaced.
CESSNA 208 B – ATA 2750 TRAILING EDGE FLAP CONTROL SYSTEM – FLAP SYSTEM – STUCK. DR 611953624
During flap retraction, flaps failed and remained at 10 degrees. Internal roll pin sheared causing flaps to remain at 10 degrees. Flap gear box replaced with serviceable unit.
 
 
PIPER PA44 180 – ATA 5751 AILERONS – RIB – CRACKED. DR 611953633
Outboard hinge fitting attach bolt found loose. Moreover, cracks detected in 3 of nose ribs after disassembly of aileron for skin replacement after hail damage. Replace aileron assy IAW Piper SB 1016B.
BEECH 76 – ATA 3230 LANDING GEAR RETRACT/EXTENSION SYSTEM – POWER PACK – INCORRECT COFG. DR 611953634
During descent, Landing Gear did not extend when selected down. Emergency gear extension procedure used.

Root cause: Failure of hydraulic power pack. Incorrect part HYC5001 (12V) fitted to 24 V system.

Final fix: Overhauled 24 Volt Hydraulic Power Pack P/N HYH5001 fitted and aircraft returned to service.

CESSNA 210 L – ATA 3230 LANDING GEAR RETRACT/EXTENSION SYSTEM – SOLENOID – OPEN CIRCUIT. DR 611953648
On gear down selection, gear C/B popped, gear failed to extend. Alternate gear extension carried out successfully.
Root cause: Landing gear motor solenoid found open circuit.
Landing gear motor solenoid replaced.
 
BAE JETSTREAM 3100 3200 – ATA 2120 AIR DISTRIBUTION SYSTEM – DUCT – Detached. DR 611953677
Cabin altitude reached 10000 ft, during aircraft climb to 15000ft.

Root cause: LH & RH side Air conditioning ducting inspected; RH side / cabin duct detached. Insufficient air flow into cabin causing higher than selected cabin altitude.

Ducting reconnected. Outflow valve, pneumatic lines, valves, filters and connection on RPB inspected with no obvious fault. Pressurisation controller, pneumatic lines and connections inspected OK.

BEECH 300 B300 – ATA 5311 FUSELAGE MAIN, FRAME – FRAME – CORRODED. DR 611953678
Missing rivet head and corroded rivet heads of forward striker plate. Powdery deposits under striker plate noted as well.

Root cause: Dissimilar metal corrosion caused by stainless steel striker plate fastened to Aluminium channel with aluminium rivets in an environment exposed to moisture.

Channel/Frame assembly replaced.