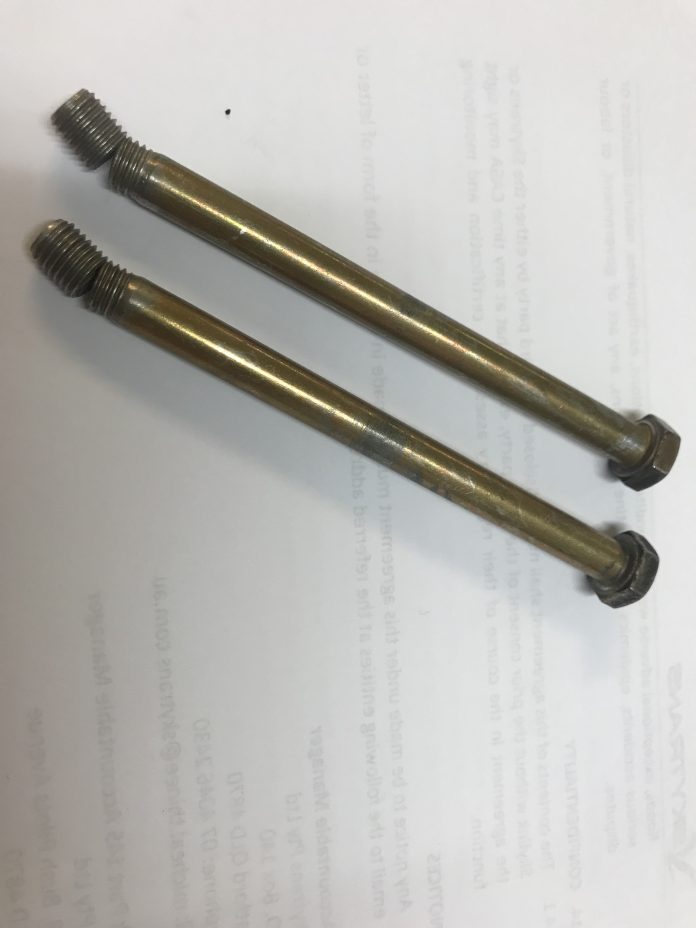 AIRCRAFT ABOVE 5700kg
SAAB 340 B – ATA 3010 AIRFOIL ANTI-ICE/DE-ICE SYSTEM – De Icer Boot – PUNCTURED. DR 611953828
RH horizontal stabilizer de-icer boot ballooning on lower outboard surface. Investigation on going, OEM has been contacted for assessment.

RH stab leading edge assembly was replaced. A/C returned back to service.

AIRBUS A320 232 – ATA 2810 FUEL STORAGE – FUEL TANK – Fuel leak. DR 611953839
After refuelling, fuel leak witnessed from Inner tank witness hole. Requires tank entry and repair of sealant.
DE HAVILLAND DHC8 202 – ATA 2731 ELEVATOR TAB CONTROL SYSTEM – TRIM TAB – FROZEN. DR 611953871
During descent at 230 KIAS, with R autopilot coupled to VNAV, a 'MISTRIM [TRIM NOSE DN]' annunciation displayed on the advisory display.

Elevator trim system inspected IAW AMM Ch 27-30-00, suspected freezing of trim tab actuators.
Lubrication of elevator trim tab actuators and elevator trim cable chains in empennage and horizontal stab carried out IAW AMM 12-20-01. Cable tensions found low and adjusted. Elevator trim cable tensions adjusted IAW AMM 27-36-00. Elevator trim bridle cables installed and rigged IAW AMM 22-11-19.

Elevator servo motor trim switches adjusted; operational test carried out IAW AMM 22-11-19. Elevator trim range of movement and full and free checked IAW 27-36-00.

CESSNA 208 B – ATA 3243 MASTER CYLINDER/BRAKE VALVE  – MASTER CYLINDER – UNSERVICEABLE. DR 611953879
During taxi out to runway, pilot applied Right brake to commence turn, however, RH brake pedal remained firm with nil actual braking pressure on RHS.

Root cause: Defective Pilot-RH Brake Master Cylinder Assembly (Part Number 2682001-1).

Engineers then removed Pilot RH Brake Master Cylinder and It was noted that there was 'occasional' restricted movement when operated by hand.

Upon disassembly of the Master Cylinder, Initial inspection revealed that the internal return spring (PN: 0541148) was not straight and most likely the cause of the 'occasional' interference when moving the Brake Cylinder rod.

Engineers also removed and inspected LH Brake master cylinder and observed similar defects. Both master cylinders have been replaced with serviceable items.

BOEING 737 8FE – ATA 2510 CREW STATION EQUIPMENT SYSTEM  – SPRING – BROKEN. DR 611953886
F/O seat failed to lock in the seat track.

Root cause: Seat track lock springs PN 3A500-0931 were missing/ failed.

Subsequently F/O crew seat PN 3A296-0008-01-01 was replaced IAW AMM. 25-11-01-000/400-801.
Considered a random and isolated event.

BOEING 737 8FE – ATA 5711 WING SPAR – SPAR WEB – CRACKED. DR 611953887
During scheduled inspection, crack has been found in RH centre wing rear spar vertical pressure deck web primary structure between RBL 40.00 and RBL 46.64.

Temporary repair completed, Permanent repair to be carried out within 750 FC.

Centre wing vertical pressure deck web cracking on Boeing 737NG fleet is a known issue per fleet team digest 737NG-FTD-57-09002. CAMO engineering has started the campaign to install a preventive modification of the vertical pressure deck web in the wing centre section on affected aircraft.

BOEING 737 8FE – ATA 5312 FUSELAGE MAIN, BULKHEAD  – BULKHEAD – Oil canning. DR 611953897
During inspections against AD 2007-25-03, oil canning was found on aft pressure bulkhead, L/H outer dome web, at WL 246, approx. between STR 13 and 14l.

Repairs completed. Reporting made as required by AD.

EMBRAER EMB120 ER – ATA 3260 LANDING GEAR POSITION AND WARNING SYSTEM  – PROXIMITY SENSOR – FALSE INDICATION. DR 611953898
Landing gear selected up after take-off. Right hand main gear system A indicated that leg was still extended , with all the other indications up and locked.

Landing Gear proximity sensor indication fault. This was isolated by crew through Indication systems disagree checklist in QRH EAP-80 and Electrical Override checklist.

 
CESSNA 208 B – ATA 3246 WHEEL/SKI/FLOAT  – BOLT – SHEARED. DR 611953912
One tie bold on the RH Main Wheel was found broken off just below the nut, nut and threaded section of bolt had separated completely. The remainder of the bolt was still in the wheel – displaced approximately 1/4 inch out at the head end (disc side of wheel). Wheel Assy was replaced prior to next flight.

U/S Wheel and section of bolt were sent to approved repair facility. Remaining bolts were also found cracked.

 
BOEING 737 8FE – ATA 3350 EMERGENCY LIGHTING  – POWER PACK – UNSERVICEABLE. DR 611953914
On scheduled maintenance, during an emergency lights test, it was found that the emergency lights system did not come on when cockpit switch selected "on" or AFT flight attendant panel switched on.

Emergency Power Supply M1676 was found to be the cause of the issue.

Emergency Power Supply M1676 was replaced IAW AMM 33-51-06-960-806, system tested serviceable. Emergency Power Supplies are monitored under approved Reliability Program.