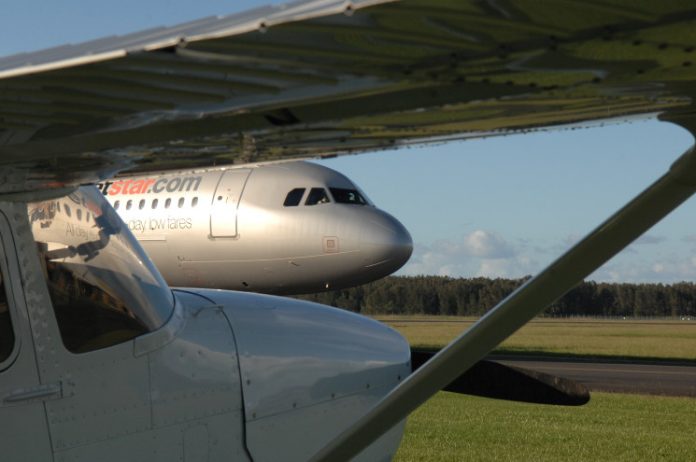 New Surveillance Flight Information Service (SFIS) begins on 12 August
SFIS will use existing CTAF frequency 124.2 MHz
Operates from 8am until 6pm local time
CA/GRS will be withdrawn from service
Ballina Airport on the north coast of NSW is a busy airport, with general aviation, recreational, sport and airline traffic. It has been the site of several undesirably close encounters between aircraft over the past few years. Now its radio service is being upgraded from a local certified air/ground radio service (CA/GRS popularly known as a 'cagro') to a Surveillance Flight Information Service (SFIS) based in Brisbane Centre. The change happens on 12 August.
The SFIS will be provided by Airservices Australia on the CTAF frequency. The position and frequency will be managed by a dedicated  air traffic controller at a dedicated console on the dedicated CTAF frequency 124.2 MHz from Brisbane Centre. The service will operate every day from 8am until 6pm local time (2200-0800 UTC).
The service will not provide separation and sequencing, only relevant traffic information. You are still required to self-separate from other aircraft.
Outside of SFIS operating hours, Brisbane Centre will provide Flight Information Services on 120.3 MHz.
All pilots are required to make radio calls when flying within 15 nautical miles of Ballina from the surface to 8500 feet AMSL, excluding a section defined by a 30 nautical mile arc from Gold Coast DME and a section defined by a 5 nautical mile radius from Lismore. There are new broadcast requirements for this airspace. These can be found in the AIP supplement.
What you need to do:
Before heading into Ballina, pilots should review the Aeronautical Information Publication supplement.
Make sure you understand the change, the new radio call requirements (which can be found in the AIP Supplement) and where and when you need to make these calls.
If equipped with a transponder when flying VFR, switch your transponder to mode C and squawk 1200 – the code for VFR in Class G airspace.
If you have an ADS-B unit, such as the low-cost ADS-B recently approved by CASA, use it.
Make sure you comply with the requirements of operating in Class G airspace and on the CTAF.
And, of course, look out for other aircraft and be wary that some pilots might not be using their radio as required.
You can also register for an education session with the SFIS operational team via the Airservices Engage, or contactamp@airservicesaustralia.com for additional support.
Airservices will be conducting a review of this service at regular intervals. You can provide your feedback and learn more on the Airservices Engage website