This story was first published in 2015.
How's your situational awareness?
Loss of situational awareness led the crew of a British Airways Boeing 747-400 to hit a building while taxiing to take-off, the South African Civil Aviation Authority (CAA) has found.
The incident, which occurred at Johannesburg International Airport in December 2013, tore a sizable hole in the building, injuring 4 people inside and left the aircraft substantially damaged.
The BA 747's crew ran into trouble after missing a left turn and continued to taxi in the dark, despite the first officer noticing the taxiway seemed smaller. It was later revealed that both the centreline and taxiing sign lighting weren't working.
Air traffic control (ATC) noticed the crew's error and instructed them to hold position – but it was too late. At that moment the aircraft's right wing struck the building, slicing through the second story and injuring workers inside.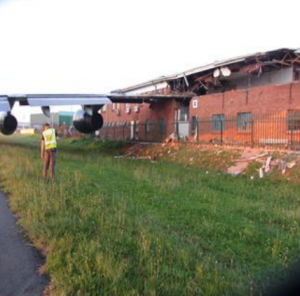 With the aircraft immobilised, passengers disembarked through the rear exit after a fuel leak was contained.
In its report, the South African CAA said the 'loss of situational awareness caused the crew to taxi straight ahead on the wrong path, crossing the intersection/junction of Bravo and Mike instead of following Bravo where … it leads to the Category 2 holding point. Following aircraft stand taxi lane Mike; they collided with a building on the right-hand side of Mike.'
The CAA also said 'the crew did not conduct a briefing to discuss the cleared route, nor did they refer to the correct taxiway information in chart 10-6. In combination with the ground movement visual aids, this created confusion and loss of situational awareness when taxiing on taxiway Bravo.'