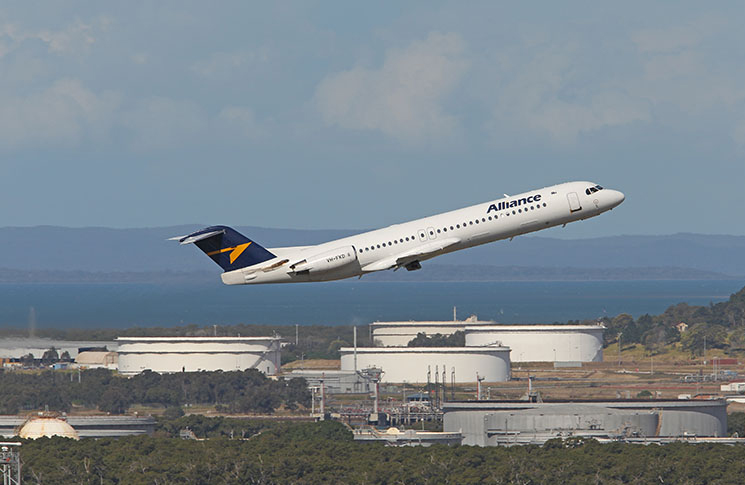 Departure reports are designed to enable pilots to concisely provide details of their initial tracking/altitude information to air traffic control (ATC) and other pilots. This information provides:
position and level information that ATC may use for aircraft identification and level verification (where applicable)
situational awareness for ATC (including a trigger for them to provide you with relevant information, such as Area QNH, or to commence coordination for any initial clearances you may require)
times and levels that ATC may use for separation
times that ATC may use for search and rescue purposes
situational awareness for other pilots about the flight.
Not to be confused with Airborne Reports, the requirements for a Departure Report are subtly different.
An Airborne Report is required on first contact with Centre, Approach or Departures after departing a Class C or D aerodrome with a surveillance service (for example, radar or ADS-B).
A Departure Report is required after departure from a non-controlled or from nominated Class D aerodromes at which the tower provides procedural approach services (that is, no radar or ADS-B information). The ERSA entry for your departure aerodrome will specify if this is the case [for example, Albury and Broome. Metropolitan Class D (formerly GAAP) aerodromes do not require a Departure Report].
The only exceptions for the requirement to provide a Departure Report are:
if you are a VFR aircraft and are departing the Class D Control Zone directly into Class G airspace
if you have been directed to contact Centre, Approach or Departures after becoming airborne. In this case, you will be required to make an airborne report on the directed frequency.
What do I need to say?
AIP GEN 3.4 and ENR 1.1 provide guidance for Departure Reports. In addition to departures from nominated Class D aerodromes, phraseology from non-controlled aerodromes allows for two scenarios—one where there is no surveillance available and one where surveillance exists and aircraft identification is expected with the Departure Report.
Detailed phraseology requirements are contained in AIP GEN 3.4 but in general terms, the following information must be included in the Departure Report.
Class D tower
Non controlled–non-surveillance
Non controlled – Surveillance
Track being flown
Departure time
Current position
Intended cruising level
Outbound track in degrees magnetic
Present level
Intended cruising level
Intended cruising level
Estimate for the first en route reporting point
Estimate for the first en route reporting point
The phraseology for surveillance locations has been specifically formulated to reduce the number of transmissions where ATC will identify your aircraft on departure. Phrases are particularly useful where the base of controlled airspace is relatively low (for example, if operating from Williamtown during CTAF hours) by reducing cockpit workload and improving the timely provision of clearances from ATC in this often time-pressured scenario.
What don't I need to say?
An area of confusion commonly experienced by pilots relates to the 'climbing to' altitude and how it ties in with existing or required clearances. If you have been given a clearance by ATC, this will become the altitude you need to report climbing to. If your intended climb takes you into controlled airspace and you require a clearance, your Departure Report will include your intended altitude. All you need to do is to add the phrase 'REQUEST CLEARANCE' to the end of your Departure Report.
Do not include information and phrases such as, 'PENDING CLEARANCE' or 'INTENDED LEVEL' — this increases the length of the transmission and introduces the potential for misinterpretation and confusion regarding the levels.
Examples of Departure Reports in a surveillance and a non-surveillance environment.
Non-surveillance
Element 1: DEPARTED (location) (time in minutes) TRACKING [TO INTERCEPT] (track) CLIMBING TO (intended level) ESTIMATING (first reporting point) AT (time)
Element 2: REQUEST CLEARANCE
Pilot call
BN CENTRE UTY372 DEPARTED THE GRANITES AT 15 TRACKING 132 CLIMBING TO FL310 ESTIMATING HONGI AT 33, REQUEST CLEARANCE
Surveillance
Element 1: (location reference departure aerodrome) PASSING (current level) CLIMBING TO (intended level) ESTIMATING (first reporting point) AT (time)
Element 2: REQUEST CLEARANCE
Pilot call
BN CENTRE JST473 3NM SOUTH OF YWLM PASSING A025 CLIMBING TO FL360 ESTIMATING DONIC AT 47, REQUEST CLEARANCE
Remember: do not enter controlled airspace until you receive a clearance to do so from ATC.