In the five years since a very near miss put the issue of flight control deterioration into clear focus, sixty-one unserviceable and potentially dangerous cables have been discovered on aircraft, and four cable failures.
It was to be a charity flight, giving a special needs child and their carer the chance to experience the wonder of aviation. Just before take-off, the pilot of the Beechcraft B33 Debonair did the final full-and-free movement control check.
The elevator controls felt odd, and the pilot decided to return and have them checked out. The inspection of the pilot's uneasy hunch discovered the up elevator cable had failed where it ran between (over and under) two forward pulleys in the elevator control circuit, ahead of the instrument panel, where the cable changes direction from horizontal to vertical.
There was another Beechcraft, an A36 Bonanza, at the aerodrome, which was also due to do children's joy flights that day. The owner of this aeroplane had its elevator cables inspected as soon as he heard of the B33's failure. A quick blind feel behind the instrument panel about where the B33 cable had failed found an extensively frayed control cable in the same place on the A36.
Because the Beechcraft 'single-pole' control system has a downward spring load on the elevators to provide stability in cruise, had the cable broken in flight, the spring-loaded elevator would have immediately put the aircraft into a dive.
Soon after hearing of the incident CASA sent an email to Hawker Beechcraft, (now Textron), Beechcraft type clubs and major maintenance facilities. The email strongly suggested all flight control cables that have been installed for 15 years or more should be replaced and all other cables be inspected over their full run for wear and fatigue.
About the same time, CASA published Airworthiness Bulletin 27-001, issue 2, of October 2011. It applied to, 'All aircraft flight control cable terminal fittings over 15 years old made from stainless steel specification SAE-AISI 303 Se, including, but not limited to, standard terminal part numbers AN669 and MS21260.'
The issue was internal failure of the stainless steel cable terminals.
The only solution for terminal failure of these types of cable is to replace the entire cable assembly. Internal corrosion in cable terminals cannot be detected by eye.
AWB 27-001 says: 'An inspection for pitting on the terminal surface is not considered adequate to determine the extent of the intergranular corrosion that may exist beneath the surface of the terminal, because with this form of corrosion, in this material, the terminal may be close to failure and may even fail, with no visible pitting on the surface.'
The cables involved in the stainless steel terminal failures had been in place for 15 years or longer.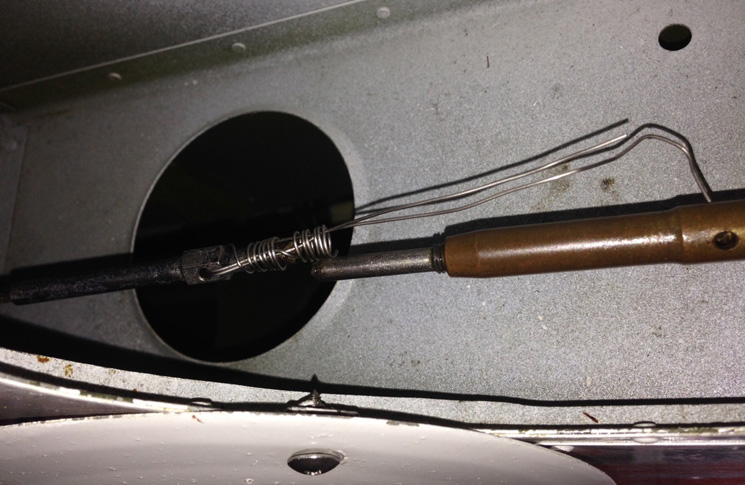 In January 2012 CASA issued a series of urgent airworthiness directives (AD/BEECH 33/48, AD/BEECH 35/74, and AD/BEECH 50/34) requiring owners of affected Beech types to immediately inspect the forward elevator cable and replace elevator cables over 15 years old. It also required continuing inspections of the entire elevator control system.
The issue was real: within days of the directive's issue five more cables were found to be unserviceable.
After the directive, Beechcraft issued an improved inspection process and CASA amended its directives to remove the need for all cables to be replaced after 15 years in service.
Meanwhile, the parallel issue of cable terminal failures smouldered on.
In May 2012 CASA received a report of the control cable terminal separating in a Piper Cherokee Six. While turning from a holding position to the runway, during final control checks, the pilot reported remembering that the elevator control 'felt unusual' as he began the take-off run. Seconds later, he felt a change in elevator feel through the yoke and rejected the take-off. Investigation found one elevator cable terminal had separated. Only lock-wire kept the controls from complete failure. The aircraft was only 22 hours out of a 100-hourly inspection where the terminals had appeared to be quite serviceable.
CASA updated AWB 27-001 to Issue: 3 in June 2012:
'Reports of flight control cable terminal fitting separation failures continue to be received in Australia, New Zealand and the United States,' it said.
'Investigations have revealed that the failed terminals had been in service for approximately 15 years or more.
Reports of terminal failures continued over the next several years and in February 2015 CASA published Airworthiness Directive AD/GENERAL/87.
It applies to any aircraft fitted with primary flight control cable assemblies using terminals constructed of SAE-AISI 303 Se or SAE-AISI 304 stainless steel, which have total time in service of, or exceeding, 15 years.
Its requirements are brief, and in the minds of some aircraft owners, brutal. Cable replacement is not cheap, it is true. But the alternative—failure in flight—is very likely to cause a crash, and has done so overseas. Indications suggest the problem of cable failure, through fraying or terminal separation is becoming acute. Of the 69 cable unserviceabilities recorded on the CASA Service Difficulty Report database, 61 have occurred since 2012, as have four of the 11 cable separations. The most recent involved a Cessna 150 in June 2016 which was undergoing its Supplementary Inspection Documents (SIDs) inspection. Its right aileron control cable terminal was found to be completely severed. Only lock wire held it together. The aircraft was 43 years old, but had a relatively low 3000 hours.
AD/GENERAL/87 requires control cables more than 15 years old, or of unverifiable age in an aircraft more than 15 years old, to be removed and then 'mutilated in a manner that ensures the cable assembly can no longer be used in an aircraft.'
The compliance date for AD/GENERAL/87 is 1 January 2018. Cables more than 15 years old, or of unverifiable age must be replaced by then. It will be money well spent.