'The frustrating part was that I really should have known better. I thought I was a safe pilot.'
Those were the words of a 2000-hour civilian seaplane pilot who flew straight through restricted military airspace in southeast Queensland, after failing to carry out adequate flight planning including NOTAM checks.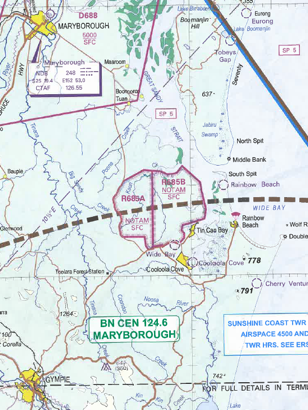 Unfortunately, it's a mistake made all too often by civilian pilots flying in the Wide Bay—Burnett region of Queensland, leaving Defence personnel fearful of a mid-air collision.
The Wide Bay training area (R685A/B), near Tin Can Bay, is used by the army to test-fire weapons and explosives throughout the year. The army also uses the airspace to fly its Shadow drone, a 200kg remotely piloted aircraft capable of 70 kt and altitudes of 15,000 ft, with flights taking place day and night, predominantly during the months of April/May, August and November.
The airspace is classified as a restricted rea two (RA2). Pilots can check the R685A/B or any other restricted areas' status by completing a NAIPS location, area or restricted area briefing. When completing the area briefing you will need to check for the status of R685A/B in the FIR NOTAM.
However, despite the availability of NOTAMs, and Defence engaging with the local community to raise awareness around this important safety issue; civilian breaches of R685A/B remain a common occurrence.
As this close call from a relatively experienced pilot shows, it's a mistake easily made, particularly when rushing to avoid looming bad weather…
RESTRICTED AREAS CAN CATCH YOU OUT
I was flying a Lake Buccaneer amphibian VFR from Hervey Bay to Caboolture; my wife was with me as a passenger. The route I planned was to track Hervey Bay – Eumundi – Nambour – Caloundra (for landing), which would have taken us to the west of the Sunshine Coast control zone, and then on to Caboolture.
I prepared my flight using the WAC chart and the Brisbane VTC which has the VFR route marked OCTA for the Sunshine Coast control zone. At the time of departure there were showers in the area, so picking our way around those added some additional complications. Once established on track for Eumundi at 2500ft it was just a matter of holding on for the bumpy ride.
 As we approached Cooloola I gave an overflying call 10 nautical miles north on 126.7. The only response to my call was from another aircraft to the east which was bound for the Sunshine Coast via Rainbow beach. I had contemplated amending my route to the east to avoid the turbulent conditions, but upon hearing his transmission I decided it was probably safer to stay where I was – WRONG! Here I was about to charge through an active restricted area, R685A/B.
Even as I flew over the top (and looked down to what appeared to be army vehicles and soldiers looking up at me), I didn't even think about this place being a restricted area. When I saw the activity on the ground, I actually thought they were working on the airstrip. I later spoke to an army officer who had reported the incident to Airservices and CASA. After that conversation, I did some soul searching and self-evaluation of what went wrong:
I was in a hurry to depart to avoid the rain showers. I relied on the wrong maps – a better map would have been the Bundaberg VNC. Had I used the Bundaberg VNC I would have been prompted to call Flight Service to confirm the status of R685A/B.
The frustrating part was that I really should have known better. I later recalled my seaplane instructor actually telling about these restricted areas during my water endorsement training – it all came flooding back to me after the event. As it was, with the turbulence (wind 140/20) I ended up changing course to Noosa Heads and requesting a clearance through the zone over water – it was a nice smooth ride after that.
The scary part was that the army officer informed me they had an unmanned aircraft in the air which weighs over 200 kg and flies at 70 kt. They were just about to catapult launch another one when I popped into view. Imagine hitting one of those!
My aviation background is nearly 2000 flying hours, with over 1700 hours in aeroplanes and more than 200 hours in helicopter. My ratings include retractable undercarriage, constant speed propeller, twin-engine, instrument rating and floating hull. I thought I was a safe pilot.
Following the incident, I did a lot of thinking of what would have helped me as a pilot to avoid this situation. My primary navigation for that flight was done on the iPad using the OzRunways navigation system, which is extremely accurate. However, it was only as good as the charts which I had downloaded. Way back then, the choice of VFR charts was the WAC chart (Editor's note: which does not show the restricted areas), VNC, or the VTC – too many charts. Since then OzRunways have developed the 'hybrid VFR' chart which is basically an Australia-wide WAC chart, but has all the restricted areas, danger areas, control zones and so on displayed on the one chart. They have even gone further and developed the program to highlight air space in red when it is active; it's just fabulous, I would recommend it to all pilots. (Editor's note: The other widely used flight planning software, AvPlan, from version 3.0 and above, also displays the current status of prohibited restricted and danger areas on the map. Don't forget, too, that OzRunways needs an active internet connection for active restricted airspace to be highlighted in red.)
Restricted areas are also marked on visual terminal charts (VTC), visual navigation charts (VNC) and the en-route charts (ERC).
There is more safety information on NOTAMs on CASA's website. You can retrieve NOTAMs from Airservices NAIPS Internet Service, as well as information about the status of restricted areas.