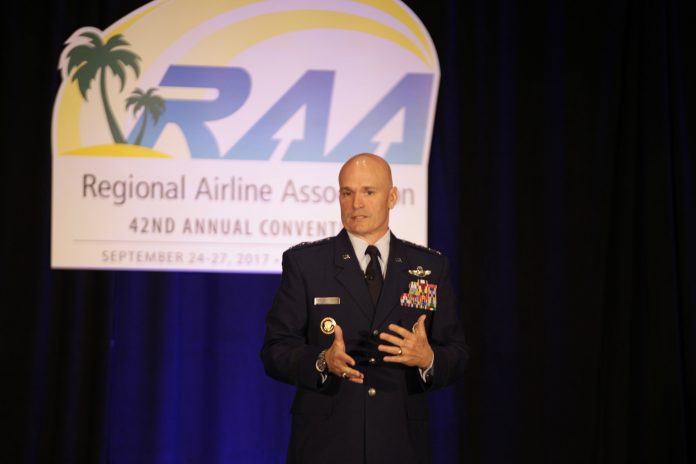 The US Air Force and regional airlines are discussing developing a joint national training academy to help address the country's pilot shortage.
FlightGlobal reports the academy would provide advanced simulator training to help pilots meet the 1500-hour total time requirement for first officers on commercial passenger and cargo airlines. However, such training does not currently count towards the 1500-hour requirement.
A US Air Force press release on the issue says, 'Because Air Force pilot training includes full motion simulators to better challenge and prepare pilots for a wide variety of situations and developments too risky to replicate in the air, the Air Force's practices and use of this technology could serve as a beacon to demonstrate effectiveness.
Commander of the USAF Air Mobility Command, General Carlton Everhart, spoke to the US Regional Airlines Association (RAA) last week about the developing concept of establishing a National Training Academy with military and civilian tracks for attendees.
'Right now, we're starting to move past the concept stage and more toward making the National Training Academy a reality,' Everhart said. 'We're examining and refining three primary courses of action from which to decide. If approved at the Department of the Air Force level, I'd envision an initial operating capability in late 2019, with full implementation around the end of 2021.'
The US Federal Aviation Administration (FAA) introduced the 1500-hour rule in 2013 after the February 2009 Colgan Air accident near Buffalo, New York, in which 50 people died. That accident, which involved a Dash-8 Q400, was blamed on pilot fatigue and inappropriate response to stall warnings.
Before the changes, first officers required only a commercial pilot licence with a minimum of 250 hours of flight time. They must now hold an airline transport pilot certificate and aircraft type rating.
The US RAA says that the industry will require 50,000 new pilots in the 10 years to 2026 and that the shortage has been exacerbated by a decline in pilot numbers of nearly 1000 a month between 2009 and last year.
General Everhart said the 9000-strong command expects to lose about 500 of its pilots a year between 2018 and 2020. Typically, they will have accumulated 2000 to 3000 hours of flight time, and many flock to US airlines.
'There is no one easy solution to addressing our pilot shortage,' Everhart said. Getting this right is absolutely critical and means looking at all angles of the issue. What can we collectively do to retain our pilots and maintainers, expand the pool of eligibles and reduce the need to compete for talent with the airline industry? It's a shared problem. And it will require a shared solution.'