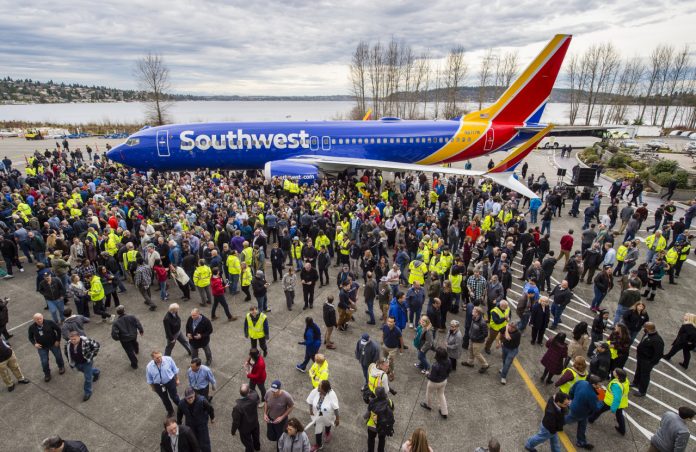 Boeing has rolled out the 10,000th 737, a result that would have seemed unlikely for the first decade of the type's 51-year life.
The milestone aircraft came from Boeing's Renton, Washington factory on Tuesday, where it was the focus of an employee celebration.
The 10,000 aircraft, a 737 Max-8 that will go to the type's largest operator, US budget carrier Southwest Airlines, carries more than twice as many passengers as the first 737-100 (up to 220 vs 101), weighs nearly twice as much at MTOW (88,300 kg vs 50,000 kg) and has more than twice the range (3825 nm vs 1540 nm) despite carrying only 45 per cent more fuel (25,941 litres vs 17,865 litres). Sales of these larger, economical versions of the 737 began to take off in the mid-1980s with the introduction of what is now known as the 737 Classic, which introduced high-bypass turbofan engines with a distinctive flat-bottomed cowl to maintain ground clearance for their larger fan.
It took 16 years (until 1983) for Boeing to sell 1000 of the first versions of the 737, but only seven years (until 1991), to sell the second thousand. Production accelerated as air travel expanded from being a luxurious novelty, in the 1960s, to an everyday form of transport, in the 1990s and 21st century. The 5000th 737 was built in 2006. At the same time airline safety has improved almost exponentially: the Aviation Safety Network records 1335 air transport deaths in 1967, in 2017 it recorded 59 deaths (although 186 people have died in 2018, so far), despite passenger numbers having grown by more than tenfold.
Boeing's usage calculations tell the story of how ubiquitous the 737 has become. By its reckoning:
a 737 takes off or lands every 1.5 seconds
on average, more than 2800 737s are in the air at any given time
more than 22 billion people have flown on a 737
the 737 has flown more than 122 billion miles, the equivalent of 5 million times around Earth.
Strictly speaking, the 737 is the world's most produced civil airliner, with more than 10 times as many built as the Douglas DC-3, of which only 607 were made. However, more than 10,000 Douglas C-47s, closely based on the DC-3, were produced as military aircraft in World War II, and many of these served as airliners in the decades after the war. If Soviet Lisunov Li-2 and Japanese Showa/Nakajima L2D versions are counted, about 16,000 DC-3 designs were made.
However, the DC-3's production record is by no means assured. Boeing plans to increase 737 production from the current rate of 47 aircraft per month to 52 per month later this year. And the company has outstanding orders for more than 4600 737s.