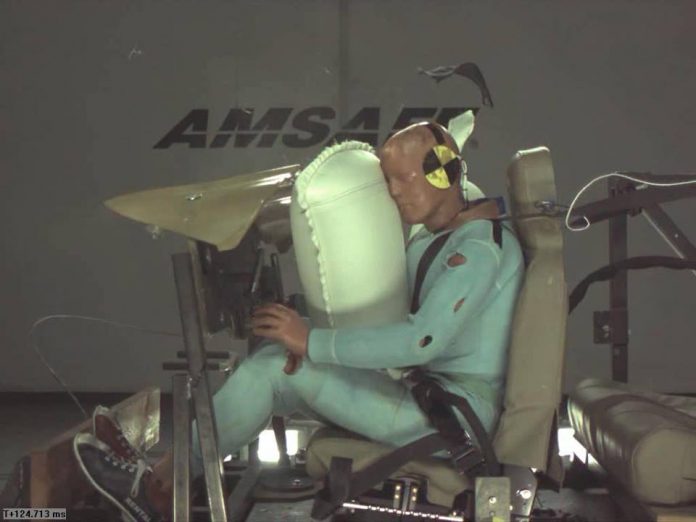 A generic retro-fit airbag is being developed for general aviation aircraft by the US manufacturer that supplies them as standard equipment in new aircraft.
Airbags made by AmSafe have been standard equipment on Cessna piston engine and Cirrus SR20/22 aircraft since 2005. AmSafe is developing a three-point restraint system with the airbag in the lap belt, and a detachable and retractable shoulder strap.
The airbag is set to deploy when the sensor detects a force at or above 6 Gs for approximately 50 milliseconds. After firing it deflates immediately to allow aircraft occupants to get out quickly after an accident.
The crash sensor module battery and the airbag inflators last for 10 years and the system has a pushbutton self-test function.
AmSafe says its goal is 'a rollout price in the $US2500 ($A3200) range for a 2-seat kit'. Installation is expected to take about 4–6 hours.
The company already makes retro-fit airbag kits for specific aircraft types, but this will be the first generic kit, suitable for most GA aircraft types.
In a Facebook post AmSafe made a case for airbags. 'The majority of all GA accidents reported happen during take-off and landing operations; the airbag provides supplemental protection and can help mitigate the problem of the occupant getting knocked unconscious during impact and allowing the ability to egress the aircraft before fire and smoke become the survival consideration,' the post says.
AmSafe president Jim Crupi told Aviation Consumer that AmSafe seatbelt airbag systems had logged more than 400 million hours of service and that there had not been a reported in-flight activation.