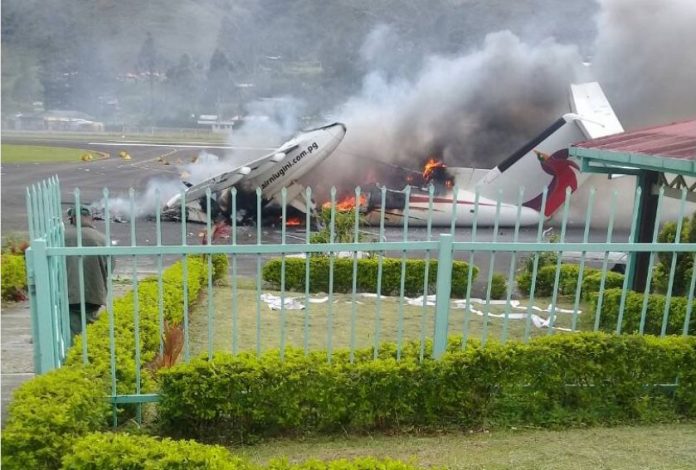 Date 14 June
Aircraft de Havilland Canada DHC-8-202Q Dash 8
Location Mendi Airport (MDU), Papua New Guinea
Fatalities Nil
Description The aircraft was parked on a ramp at the airport when it was deliberately set on fire by supporters of an election candidate after losing a court case. The aircraft was destroyed. A Notam was subsequently issued, stating the airport was closed 'due to civil unrest'. The airport had been closed from 1 October 2017 until 11 February 2018 'due to public intrusions onto the runway, damage to airport facilities and threats to NAC staff.'
---
Date 4 June
Aircraft Gippsland GA10
Location Los Angeles International Airport, (Mojave)
Injuries Nil
Description During a spin certification test, the aircraft entered an unrecoverable spin. The crew bailed out and the aircraft collided with terrain. The aircraft was substantially damaged.
Date 5 June
Aircraft Cessna 208B Grand Caravan
Location NW of Njabini, Kenya
Fatalities 10
Description The aircraft was en route from Kitale to Nairobi and crashed into a mountainside, killing all 10 occupants. The wreck was located on the morning of June 7 at an elevation of 11000 feet on Elephant Hill in the Aberdare mountain range.
Date 6 June
Aircraft Antonov An-2R
Location Baleni, Galati County, Romania
Fatalities Nil
Description The aircraft was spraying insecticide on a wheat crop when it crossed a road at low altitude and collided with a truck. It burst into flames and was destroyed on impact.
Date 9 June
Aircraft de Havilland Canada DHC-6 Twin Otter
Location Jumla Airport (JUM), Nepal
Fatalities Nil
Description The aircraft bounced several times on landing causing the nose landing gear to collapse. The aircraft subsequently run off the runway and crashed into an airport fence.
Date 11 June
Aircraft Airbus A340-313
Location Frankfurt International Airport (FRA), Germany
Fatalities Nil
Description The aircraft was being towed when a fire broke out in the tow tug. The plane sustained substantial damage to the nose and cockpit section. Ten airport staff, consisting of ground crew and emergency responders, suffered minor injuries as a result of smoke inhalation.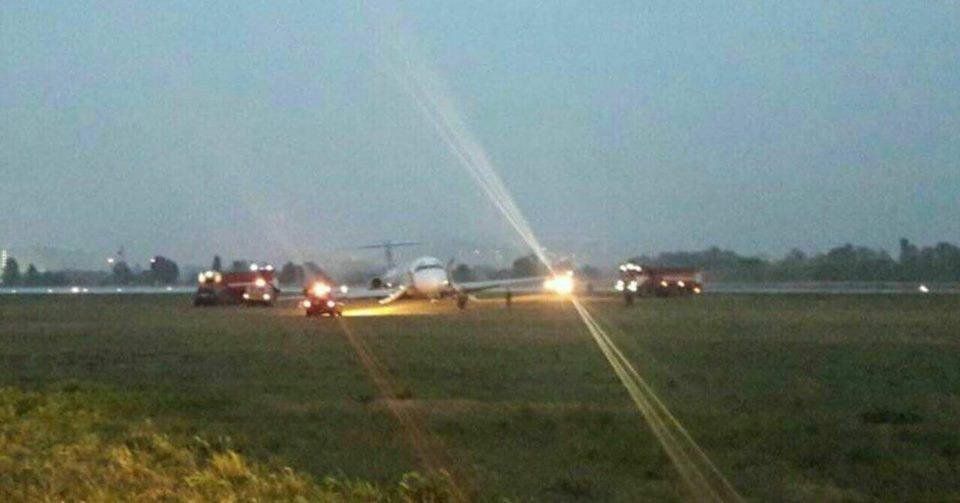 Date 14 June
Aircraft McDonnell Douglas MD-83
Location Kiev-Igor Sikorsky International Airport (IEV), Ukraine
Fatalities Nil
Description The aircraft suffered a runway excursion after landing. There were no injuries among the 169 occupants. At the time of landing a thunderstorm was passing the airport with light rain and wind changing in direction at 19 knots, gusting to 33 knots.
Date 22 June
Aircraft de Havilland Canada DHC-6 Twin Otter 300
Location Kenyam Airstrip, Indonesia
Fatalities Nil
Description After landing, the plane was shot at by Papua separatists. The airframe sustained bullet holes. The co-pilot was injured as a result of a gunshot.
Date 24 June
Aircraft Let L-410UVP
Location Souguéta, Kindia, Guinea
Fatalities 4
Description The aircraft was transporting kerosene from Conakry to a reserve depot of a mining company at Léro and crashed killing all four crew members.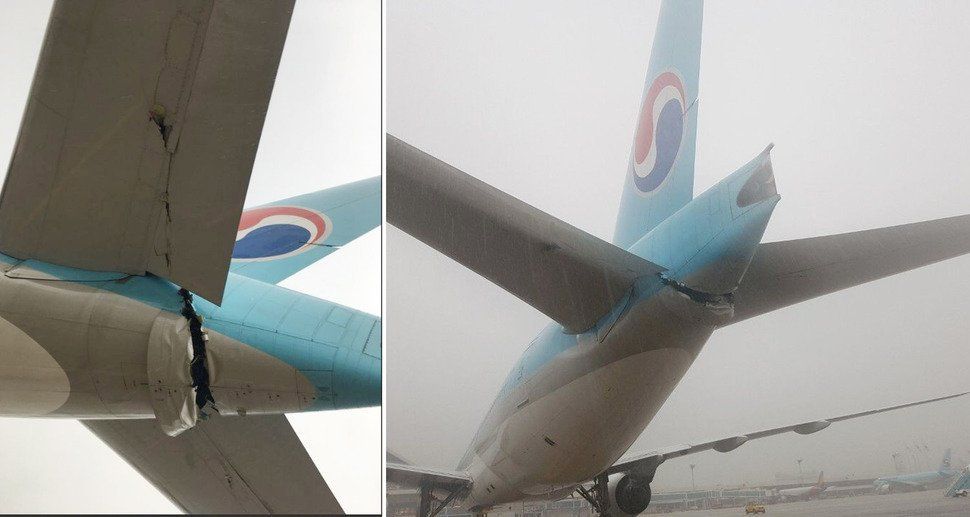 Date 26 June
Aircraft Boeing 777-2B5ER
Location Seoul-Gimpo (Kimpo) International Airport (SEL/RKSS), South Korea
Fatalities Nil
Description The aircraft sustained substantial damage to the rear underside of the fuselage after being struck by an Asiana Airlines Airbus A330 that was being towed from a parking spot to a gate. The Boeing 777 was also being towed to a gate but had stopped on the apron at an intermediate holding position opposite the gate. The right-hand winglet of the Airbus then impacted the horizontal stabiliser and underside of the rear fuselage of the Boeing 777.